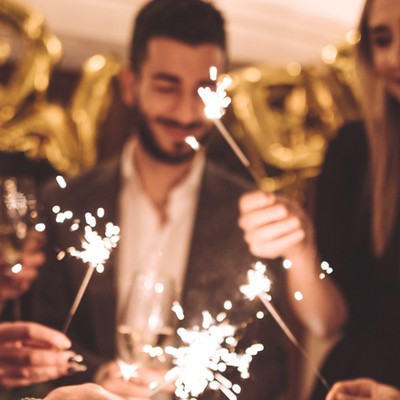 12 Ideas For A Memorable New Year's Eve

Often overpriced and over-hyped, New Year's Eve can be tricky to navigate - particularly when you're the one hosting. But whether you're a first timer or a dab hand, ringing in a new decade calls for a certain level of celebration. Here are our top tips to ensure your New Year's Eve is one to remember…

What To Do…
Build A Photo Wall
Whether it's just a small group of friends or a full house of guests, transforming decking out one wall with an array of temporary accessories - think glitter curtains, garlands, bunting and balloons - will keep kids and adults entertained for hours. Put a table beside it full of disposable cameras - the photos are sure to provide a great memento of the night once the drudgery of January kicks in.
Host A Silent Disco 
This is the entertainment hack every host should have up their sleeve. Silent discos work just as well with small or large numbers of people, while the equipment doesn't cost a fortune to rent either. There's also the added bonus of keeping your neighbours happy! You can calso make the playlists yourself - just watch as your friends and family skip from channel to channel, getting steadily more out-of-tune. Throw in a disco light and a few LED balloons allow everyone to dance the night away. 
Plan A Murder Mystery 
It might be a tad retro, but hosting a murder mystery party is a sure fire way to keep everyone occupied as the hours tick down to midnight. Take a look online where there are plenty of kits and themes to choose from: Christmas, James Bond and Prohibition - take your pick. If you're feeling particularly creative, you could even try coming up with your own by basing it on funny memories with friends and family.
Prep Some Coversation Starters
A great way of diving a little deeper on the night is to scatter the dining table with reflective questions. Whether it's the funniest moment of the year or the biggest lesson they've learnt, it'll help the conversation start flowing while your friends and family reflect on the year that's passed.
What To Eat…
Build Your Own... 
For low key eating that will keep everyone happy, set up a 'build-your-own' buffet station. This works with anything from tacos and pasta to poké or jacket potatoes, and is easy to prep in advance. It's great if you're left juggling various dietary requirements, too. 
Pizza Making 
Entertainment and sustenance all rolled into one: pizza-making is a fun, memorable and low-maintenance New Year's Eve activity. Simply prep the dough in advance, provide the baking sheets, track down a few rolling pins and let everyone get stuck in. Doing this around a big table will also help people to relax into the evening - crucial if you're attempting to mix different friendship groups. 
Hire Some Help
Those looking to up the ante might consider splashing out on a professional chef or hiring a catering firm for the evening. Menus can be agreed beforehand and by hiring professionals, you'll not only ensure your guests are treated to a delicious meal, you'll also be able to focus your attention on them, rather than the dishes mounting up in the kitchen. 
Just Go Bite-Sized 
If a full on dinner party just isn't the vibe, some festive canapés are likely to do the trick. After all, who doesn't love a miniature version of their favourite dish? Keep things on the smart side by going for canapé versions of classic, well-known favourites. A good rule of thumb is to ensure between five and six canapés per person, but if you're really stuck for inspiration, check out these ideas for some original, mini festive bites.
What To Drink…
Jazz Up The Champagne
It wouldn't be New Year's Eve without something bubbly, but give your fizz a party twist by adding raspberries, sherbet or even edible 'fairy' dust. Fruity liqueurs such as damson gin or Chambord will also help give things a festive flair.
Set Up A Cocktail Station
A help-yourself cocktail making station will take the stress out of keeping everyone topped up. Set up an area with the alcohol  and create stations for mixers and garnishes – you could even place in a cocktail making book on the table for those wanting to attempt something a little more professional. It's considerate to set up some virgin options too, so any designated drivers or teetotallers still feel included.
Midnight
Eco-Friendly Lanterns 
As the countdown begins and midnight looms large, mark the passing of one year and the start of the next by sending off lanterns into the night sky. Instead of thinking about a New Year's resolution, encourage your guests to write down something they're thankful for - it'll offer a fresh take on the New-Year attitude that leans more towards positive thinking rather than the pressure of self-improvement. Just make sure you pick an eco-friendly brand - you can find biodegradable ones here.
Sparklers 
Sparklers are a wallet-friendly and easy way of adding a bit of a bang to the midnight celebrations. Just make sure you've got a bucket of water ready for any health and safety emergencies and keep an eye on little ones. If you're looking to go the extra mile, see if your group can sky-scribble '2020' before the sparklers go out and be sure to have a camera handy ready to capture the moment.
DISCLAIMER: We endeavour to always credit the correct original source of every image we use. If you think a credit may be incorrect, please contact us at info@sheerluxe.com.