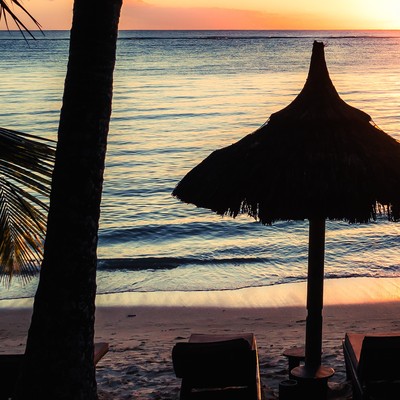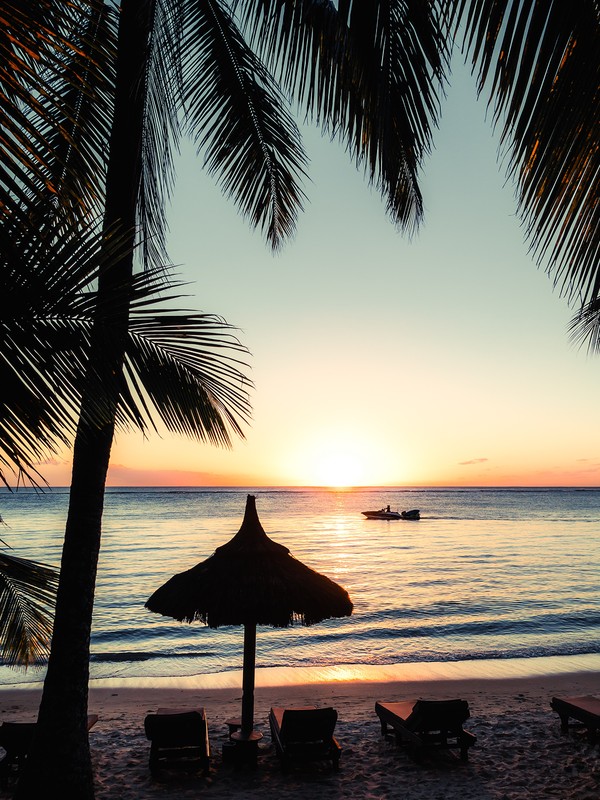 The SL Guide To Mauritius

With its endless beaches and clear waters, Mauritius has long been one of the world's dreamiest destinations. Off the east coast of Africa, it's also a more varied and affordable alternative to the neighbouring Maldives. Its mid-to-high season runs from October to May, so if you fancy some sun before next summer, here's where to stay, what to eat and everything to do on the island…

All products on this page have been selected by our editorial team, however we may make commission on some products.
Lying about 500 miles east of Madagascar in the Indian Ocean, Mauritius is volcanic and surrounded by coral reefs – making it one of the great natural beauties of the world. The northern part rises to a central plateau, bordered by small mountains. More than half of the country's area is arable, and it is almost entirely planted in sugarcane, the major export crop. The subtropical climate also means there's a uniform temperature throughout the year.
One of the island's biggest claims to fame is that it was once home to the dodo, a flightless bird that was extinct by 1681. Although English is the official language, it is spoken by a very small percentage of people. Creole, a French-based patois, is the lingua franca.
The east of the island is where you'll find the bulk of the island's best hotels – mainly because the beaches here are white, pristine and the water is clear. The Anantara Iko only opened its doors shortly before the pandemic, so in light of its sudden closure in March 2020, it's still pretty much brand new. The vibe here is modern and cool – think sharp, contemporary architecture and minimal furnishings. That said, the reception space is one of the most impressive we've seen – with open walls leading to views beyond of the Indian Ocean. The food here is exceptional, with three restaurants available to hotel guests. We recommend Zafran (more on that later) but you can also request private dining experiences on the beach and take cooking classes on site.  
Tradition and premium luxury loom large on the east coast, which is where you'll find hotels such as the Four Seasons, One&Only's Le Saint Géran, the Shangri-La and The Residence. At the Four Seasons, every villa and private retreat comes with its own private garden and pool – and there are two golf courses and an overwater spa. The choice of food is arguably one of the best on the east coast, but we'd recommend booking a table at AquaPazza, set at the water's edge, where you can try dishes served by chef Roberto Macigno's – spanning stone-baked pizza and fresh pasta to locally caught seafood, expertly paired with a curated wine list.
Meanwhile, the Shangri-La is what honeymoons are made for. Complete with its own private island, the resort offers uninterrupted views of the Indian Ocean and white sand beaches right on your doorstep. There are 189 rooms, plus three suite beach villas, five restaurants, three bars and two golf courses. While this one is perhaps better suited to couples, there is a kids' club available and plenty of water sports on offer to keep older children entertained. 
The One&Only Le Saint Géran has to be one of the best-known hotels on the island. Located on 10km of coastline, and almost entirely surrounded by coral reef, you can also enjoy the services of a personal butler during your stay. A selection of complimentary water sports includes kayaks, pedal boats, banana-boat and tube rides, as well as water-skiing, and there's also a fully supervised club for children aged three to 11 including a playground, swimming pool and a club house. Meanwhile, the hotel has called on ESPA to offer a range of pampering treatments in the spa. For the ultimate in luxury, book the Villa – which comes with its own private swimming pool, separate entrance and relaxing private position in a peaceful corner of the estate.
For something a little more accessible, The Residence remains one of the island's most popular resorts – especially for families. While the beach has suffered from erosion in recent years (a result of climate change which plagues much of the Mauritian natural habitat) it's still one of the best mile-long stretches of sand. Inspired by turn-of-the-century plantation houses, the interiors blend modern elegance with classic–inspired details that feel comforting and nostalgic. The on-site cuisine is distinctly Creole – and it's worth trying to overlap your stay with Sunday night's lobster special.
It has to be said that many of the east coast hotels are in the upper bracket budget-wise, but if you are looking for something a little more affordable there are two options worth exploring. The first is La Maison D'Ete in the Flacq region, a boutique hotel framed by pristine beaches, clear waters and lush tropical vegetation. A particularly good one for foodies, it also has two pools, with snorkelling, cookery lessons and private breakfast experiences all on offer. Finally, adults-only SALT of Palmar is one for cool couples looking to avoid the usual 'big resort' feel. Part of the Design Hotels group, the pop-art interiors and peach-coloured architecture (courtesy of designer Camille Walala and local architecture studio JFA) make it entirely different to the usual accommodation you find in Mauritius. Offering an altogether more relaxed experience, there's a bakery, pool bar and rooftop bar all on site, while The Good Kitchen is renowned for its modern, hipster take on fine dining.
The north of the island is different to its more popular eastern side. Quieter and less touristy, the beaches are more rustic, and the resorts are designed more to be destinations in their own right. Veranda Paul et Virginie Hotel on the north coast is a pretty, adults-only boutique hideaway in the fishing village of Grand Gaube close to Grand Baie. All 81 rooms overlook the sea and have recently been refurbished with light décor, pale wood furnishings and neutral fabrics. With a wide choice of facilities – including two restaurants, a wellness spa, two pools and an array of water sports – if you're looking for a quiet getaway, you will love this laid-back beach oasis. Traditional influences still loom large in Mauritius, and Le Jadis plays into this theme with its dark and moody interiors – think mahogany flooring and furniture, slatted shutters and pale linens. The spa is particularly tranquil – head there to have your chakras read by resident healer Vanessa – and the on-site restaurant boasts some of the best food on the island.
The LUX chain is one to check out for hotel stays in Mauritius – and two of our favourite outposts towards the north of the island include LUX Grand Gaube and LUX Grand Baie. Both family-friendly, we'd say the latter is slightly better suited to couples, whereas the former has a vibe better suited to kids and especially teens. If you do book a stay at the latter, make sure you book a table at INTI, the island's first Peruvian restaurant, which is headed up by a Peruvian born-and-raised chef. Back on the more populated east coast, keep an eye out for the brand new LUX Belle Mare – which will reopen from 1st October 2023. 
Finally, 20 Degrés Sud is smaller and more intimate. Set in an old-style mansion and nestled in a coconut grove right at the water's edge, the soft, neutral shades of Flamant Home Interiors furniture in its individually designed guest rooms stand in brilliant contrast to the blue of the sea and green of the coconut palms. The restaurant, also at the water's edge, serves delicious creole and international dishes. Make sure you book a trip on the M/S Lady Lisbeth, the oldest motorboat on the island which, when evening falls, takes a party of guests to dine under the stars on the bay.
The south of the island is where golf enthusiasts will find Heritage Le Telfair. The Heritage Golf Club is consistently recognised as the Indian Ocean's best golf course – the Le Château Golf Course, features the region's only 45-hole golf course. Set between majestic mountains and idyllic ocean views, the hype is worth it. If golf isn't your thing, there's still plenty to do in and around the resort, including nature hikes and wellness experiences in the spa – plus, there's an excellent kids' club on site.
Finally, anyone looking to escape the faceless resort feel should make a beeline for La Pirogue on the west coast. Multi-generational family stays are arguably what the hotel is all about – but the vibe is altogether cooler and more relaxed than some of the bigger hotels on the island. With four bars, three restaurants, a pool and a white sandy beach, there's plenty available to keep everyone entertained. There's also a spa on site, while kids' clubs are split by age to ensure activities are suitable to both little ones and teens. Make sure you book a table at Magenta Seafood, the on-site fish restaurant, while you're there to enjoy the best daily catches – there's also a special BBQ night held on Fridays, which is accompanied by traditional Mauritian Séga music and dancing.
While most people won't have to venture beyond their resort to find good food in Mauritius, there are plenty of alternatives that exist for foodies looking to be a little more adventurous. The street stalls around Mauritius – especially in the capital Port Louis – are considered some of the best in the world, so they shouldn't be missed if you're keen to expand your horizons. Mahebourg Market has a great selection of vendors, including Maraz, where you'll find local Mauritian dishes like dholl puri (a kind of tortilla wrapped around different types of curries).
Equally, cocktails are a must in Mauritius, and there are plenty of venues to choose from. Think of The Bay Hotel as an exclusive guesthouse – the perfect spot for sundowner drinks after a long day at the beach. Speaking of the beach, insiders agree the best beach club is Heritage C Beach Club. There, you can either relax in one of the beach cabanas or spend the day on a sun lounger by the pool (we're told the picantes are a must-order). Plus, don't feel you have to leave the kids at home – the Rum Shed Bar & Grill Restaurant, part of Shanti Maurice Resort & Spa, has a fun vibe. Not only are there over 200 different types of rum to choose from, the family-style sharing menu also has plenty of mocktail options and dishes suited to little ones.
That said, if a smarter, sit-down dinner is what you're after, Mauritius is not short on options. Blue Marlin at The Paradis Hotel is right on the water's edge, offering views out over the Indian Ocean. Fish is the star of the show here, and there's a special lobster menu on Mondays and Thursdays. If you have kids in tow, Cosa Nostra makes some of the best pizzas on the island in a casual and friendly environment. Elsewhere, the views at Le Chamarel are best appreciated first thing in the morning or at sunset. The restaurant hosts regular supper clubs, too, but you can also drop by for afternoon drinks. 
Hinduism is one of the dominant religions on Mauritius, so Indian food is in abundance. If you want to try one of the best options on the island, head to the Anantara Iko to give Zafran a go. It only opened a few months back, and the menu is designed to take diners on a culinary exploration of the subcontinent with a chef from North Delhi showcasing dishes from the clay oven, Kerala, Chennai and Punjab. Finally, if you want to appreciate more of the French influence that's also felt strongly in Mauritius, then Maison Eureka is worth a visit. Built back in the 1830s, today it serves delicious Creole food made with local ingredients. While you're there, you can book a tour of the house and drop by the museum of Mauritius, which explains the island's history in fascinating detail. The lush gardens are also home to four waterfalls.
When it comes to activities in Mauritius, taking in the natural surroundings should be top of the list. An island of unparalleled beauty, it's worth booking a guided tour to take it all in. The area known as 7 Cascades includes the Tamarind Falls, deep ponds, cliff jumps and lush greenery – residents will tell you it's one of the most beautiful spots. The La Vanille Nature Reserve is also must-see – you can spot wild animals in their natural habitat, like crocodiles, tortoises and bats and there are lots of family-friendly experiences offered on site. If you're comfortable with tougher terrain then a visit to Black River Gorges National Park is also worth adding to the list. With wild swimming, bird spotting and hiking all on offer, just bear in mind that the area remains mostly unspoiled, so paths aren't always clear beyond a certain point – it's best to book a guide and take proper gear with you. Also, in Chamarel towards the southeast of the island, La Vielle Cheminée is a tropical farm with eco lodges where you can book horse riding trips and hiking trails around the island. 
If you want to get out on the water, then make your way to Blue Bay – one of the best snorkelling spots in Mauritius. The emerald-blue waters are home to tropical fish and the white sand beach is pristine. Tap up Vitamin Sea for boat trips, sunset cruises and dolphins and whale watching. It even offers catamaran experiences which include dinner and overnight accommodation. If at any point you make the drive from east to west (or vice versa) it's worth planning to stop off to take in the breath-taking beauty of Mangal Mahadev – a 33m (108ft) tall sculpture of the Hindu god Shiva standing with his trident at the entrance of Ganga Talao, a crater lake situated in the district of Savanne. A replica of the Shiva statue in Sursagar lake in Vadodara, Gujarat in India, it's the tallest statue in Mauritius and considered the most sacred Hindu place on the island.
Finally, the shopping scene in Mauritius has come on leaps and bounds in recent years. In 2010, it became a duty-free port and is known for diamonds, designer clothing, cashmere and linen – which can sometimes be a third of the price back home. Its resident department chain Concept Store mainly stocks furniture and homeware, but you can find great accessories there, too. Plus, in the capital, the Port Louis Market (down near the Le Caudan Waterfront) has an impressive selection of fresh produce and artisanal finds if you're looking more for original souvenirs than designer goods. Other island markets worth checking out include Flacq (Wednesdays and Sundays) and Quatre Bornes (Thursdays and Sundays). Even if you don't stay at One&Only's Le Saint Géran, we still recommend at least visiting its boutique, which has a good mix of brands.
Flight time from London: Approx. 12 hours.
Time difference: GMT +3 hours.
Average temperatures: High season (October-May) – 29°C-30°C. Low season (June-September) – 22°C. 
Main languages: English & French.
For more information visit Mauritius.net
DISCLAIMER: We endeavour to always credit the correct original source of every image we use. If you think a credit may be incorrect, please contact us at info@sheerluxe.com.