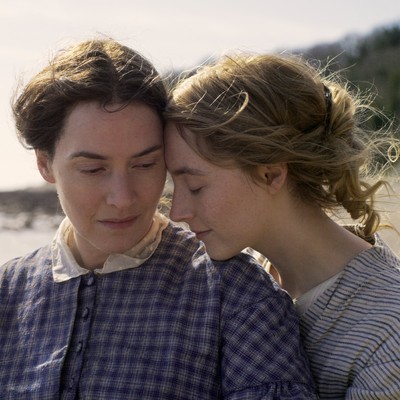 What To Watch This Weekend: Ammonite

Acclaimed palaeontologist Mary Anning works alone selling common fossils to tourists in Lyme Regis to support her family, but her life changes when she's hired to care for a visiting scientist's melancholic wife. Landing on streaming services this weekend and featuring star turns from Kate Winslet and Saoirse Ronan, here's why Ammonite is worth a watch…

When it was announced last year that multiple award-winners Kate Winslet and Saoirse Ronan were teaming up for Francis Lee's second film, we were excited. Lee's directorial debut was 2017's God's Own Country, a moving love story centred on two farmhands in Yorkshire – one, a typical Yorkshireman, played by a pre-The Crown Josh O'Connor, the other a Romanian migrant worker, played by Alec Secareanu (who's also in Ammonite). An unlikely story on paper, it has gone on to win cult status.
Forbidden love is also the theme of Lee's newest film, Ammonite. Love here takes many forms – both in the relationship that slowly develops between the two leads but also in the passion the women have for their work – something that's frowned upon by Victorian society almost as much as their relationship would have been.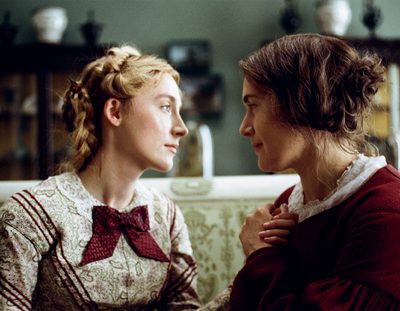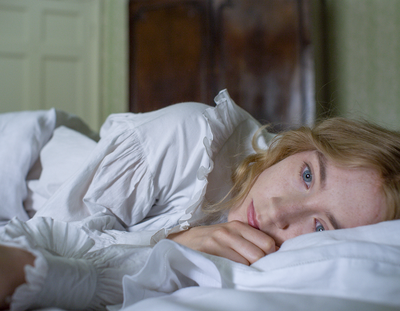 The story takes place in the 1840s, and centres on the brilliant, self-taught palaeontologist Mary Anning, who works alone on the wild English coastline. The days of her famed discoveries behind her, she hunts for common fossils to sell to wealthy tourists to support herself and her ailing widowed mother (Gemma Jones – less biting but more gloomy than she was as Bridget Jones's mum). By daybreak, Anning is out on the shore, covered in mud as she toils for ammonites; in the evenings, she's a scientist who makes a living by crafting mirrors decorated with shells.
When Roderick Murchison (James McArdle, Mary Queen of Scots) arrives in Lyme Regis on the first leg of a European fossil-hunting tour, he entrusts Mary with the care of his young wife Charlotte, who is recuperating from a personal tragedy and needs a bit of fresh sea air to sort her out. Mary cannot afford to turn him down, so opts to curl up in an uncomfortable chair so Charlotte can occupy her single bed. Proud and fiercely passionate about her work, she clashes with her unwanted guest. They are two women from completely different worlds: Charlotte arrives with a wardrobe full of white, ruffled dresses that were never designed for raking through earth; Mary prefers to be alone, scowling off into the distance. 
Despite the gulf between their social spheres and personalities, Mary and Charlotte discover they can each offer what the other has been searching for: the realisation that they are not alone. It is the beginning of a passionate and all-consuming love affair that will defy social boundaries and change the course of both of their lives.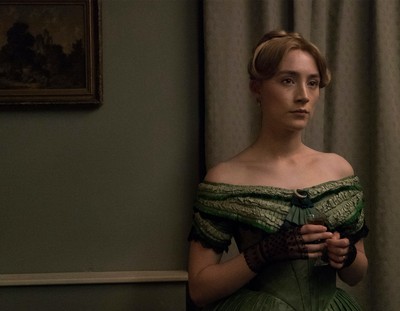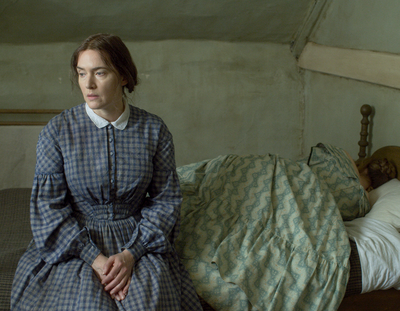 Like recent biopics Colette and Radioactive, a key theme in Ammonite is men taking credit for women's work. Like Sidonie-Gabrielle Colette (Keira Knightley) and Marie Curie (Rosamund Pike), Mary's findings – uncovered, cleaned, prepared and identified by her – are often passed off as those of prominent explorers. Even Charlotte's husband is at it, as we see when we visit their vast London home. Like these films, Ammonite is beautifully shot and made all the more atmospheric through its gorgeous costumes (fans of British labels Meadows and Back By Sundown will love the fashion here), which have earned the film a Bafta nod. Often shot by candlelight, the sense of hidden desire is made all the more intriguing. 
For all its beauty, this is a slow-burner that favours lingering glances over explosive dialogue. And yes, a few liberties have been taken here and there – there isn't any evidence to suggest that Anning was a lesbian, although Charlotte Murchison was a real person, who became a geologist and was friends with Anning. But these unknown parts of history are where Lee really hits his stride, telling stories that really make you care for the characters. Even smaller roles like Mary's mother, who knew great sorrow in her long life, and Mary's apparent former lover Elizabeth (the always-brilliant Fiona Shaw) resonate. 
Ammonite is one of the many recent films that cruelly never made it to the big screen, save for a few preview screenings between lockdowns. It's a real shame, as the crashing waves and sweeping shots of the coastline were made for cinemas. If you're still plotting a staycation this summer, this might be the thing that convinces you to pay Dorset's striking Jurassic coastline a visit. And if you can't do that, be sure to pay tribute to the woman herself at the Natural History Museum, where Mary Anning's name now sits proudly alongside her phenomenal discoveries.
Ammonite is available to watch from 26th March
DISCLAIMER: We endeavour to always credit the correct original source of every image we use. If you think a credit may be incorrect, please contact us at info@sheerluxe.com.