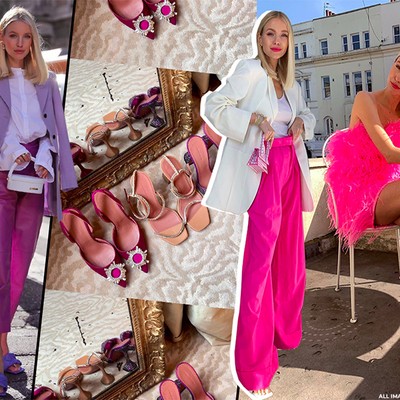 Style Rules With Blogger Leonie Hanne

One of the original big-time bloggers, Leonie Hanne is now a familiar face at Fashion Week thanks to her 2m-strong Instagram following. Renowned for her colourful, feminine style, she's also collaborated with some of the world's most glamorous brands. Here, she tells us about her favourite purchases, what's on her spring/summer wish list and the style rules she lives by…

My style is creative, modern, trendy, and feminine – although it's definitely changed over time. A few years ago I would never wear items that were very revealing of my upper body, but as I've grown and evolved, I've learnt to love my body the way it is. Now I'm able to have fun with so many different silhouettes. It's a liberating feeling.
I had my eye on a Chanel bag pre-lockdown but you can't shop the brand online or in stores at the moment. Inevitably, this means I've been dreaming about it even more...
Like everyone, I'm wearing a lot of loungewear right now. Especially joggers and hoodies from Pangaia, an amazing eco-friendly brand made from recycled fabrics in really cool colours. My favourite go-to is a white tank top from Re/Done which is so simple, but amazing quality, and I also have quite a few Zara bodysuits. These fitted basics work much better with looser sweatpants and don't make me look like I'm drowning in fabric. I also like to add a chunky, gold chain necklace to make everything feel more chic.
I've been getting into homeware lately. I usually travel a lot, so I haven't had much time to make my London apartment feel homely until now, particularly the kitchen. The silver lining is that I've had more time to experiment with a lot of home-cooked, vegan meals and have been buying cute kitchen items to make my meals look and taste even better.
Chiara Ferragni has nailed lockdown content. Italy was the first European country to be hit hard by Covid-19 and Chiara reacted instantly, providing clear communication to her audience but also keeping them entertained. I think it's so important and inspiring when influencers and businesswomen use their platforms to send out responsible messages in a way that's engaging.
Usually, my everyday, go-to outfit formula is cropped pants, an oversized blazer and chunky gold jewellery. It works every time, no matter the colour palette. For a night out, I usually opt for something with feathers or a little sparkle. 
My Black Kelly Hermès handbag is my favourite piece in my wardrobe – it was a birthday present from my boyfriend. It's very special to me because neither of us come from a wealthy background, but I'd always dreamed of owning an Hermès bag. He hunted down the right one and saved up the money to buy it. It's such a timeless colour, too, which I'll wear forever.
I think it's so important and inspiring when influencers and businesswomen use their platforms to send out responsible messages.
The secret to good style is less is always more.
When it comes to German brands one of my favourites is Marc Cain because they've worked with international bloggers from the very beginning. I have some really fond memories of the amazing projects we've worked on. For interiors, I'd always recommend Westwing. They helped create and style my London apartment. 
If I could swap wardrobes with anyone, it would be Carrie Bradshaw. I'm sure I'm not the only one with that answer. My second choice would be Cher from Clueless. It's my all-time favourite movie and I'm obsessed with her matching co-ords.
Elsa Hosk is my favourite person to follow on Instagram. I feel that we have a lot of in common, and we also have a similar approach to how we like to mix colours. But because she's not a content creator, she has a cool, more laid-back approach, which makes her exciting and interesting to follow. Plus, she has a really amazing selection of vintage Chanel bags.
My favourite outfit I've ever worn would have to be the first time I wore a full Dior look. They were the first luxury brand I ever worked with. Now, with summer coming up, if I could only wear one label, I think I'd have to say Jacquemus.
My first cover shoot was the highlight of my career. As a teenager, I bought so many fashion magazines and spent hours flicking through them, admiring all the luxury items and editorials. I always dreamed of modelling for them one day but never imagined I'd actually do it, let alone appear on the cover. It was such a pinch-me moment and I'll never take that for granted.
You can only feel confident if you wear items that make you feel good. If something doesn't fit properly or if you're doubting whether your outfit works, it will play on your mind all day. Confidence is always the most attractive accessory but it can only come from within. If you don't think you look good, you won't feel good.
The secret to good style is less is always more. If you're wearing a statement piece, don't add lots of layers on top, or something that will distract from the item you're trying to highlight. Just keep it simple. 
Follow @LeonieHanne
Shop Leonie's Favourite Pieces Below...
INSPIRATION CREDITS: Instagram.com/LeonieHanne
DISCLAIMER: We endeavour to always credit the correct original source of every image we use. If you think a credit may be incorrect, please contact us at info@sheerluxe.com.