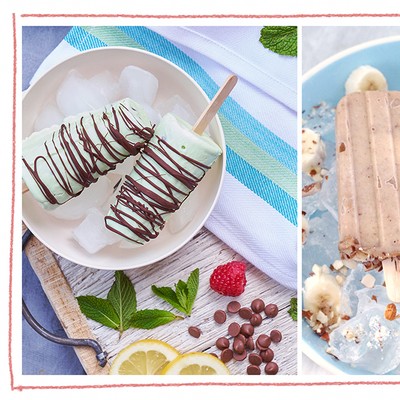 7 Summer Lolly Recipes To Try Now

This summer, keep the kids occupied with afternoons spent whipping up some homemade lollies the whole family can enjoy. From classic chocolate and vanilla combinations, to fruit-filled treats, here are some of our favourite recipes to make at home.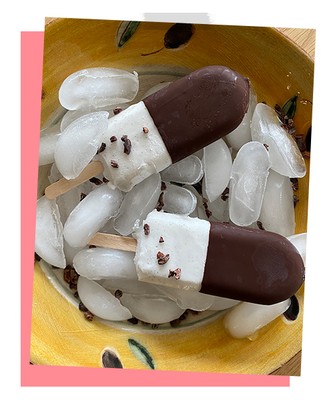 My Baba's Chocolate & Vanilla Lollies
INGREDIENTS:
1 tin of coconut milk

1 tsp of vanilla bean paste

1 tsp of maple syrup

100g of milk or dark chocolate, melted
METHOD:
Blend together a tin of coconut milk with 1 tsp of vanilla bean paste. Add 1 tbsp of maple syrup. Freeze in ice lolly moulds. 

Once frozen, melt the chocolate in a bowl over simmering water until runny. Pull the lollies from the moulds and dip into the melted chocolate. Place on a baking sheet lined with non-stick paper. 

Eat them straight away or pop them back in the freezer to repeat the dipping stage for an extra chocolate crunch. 
Visit MyBaba.com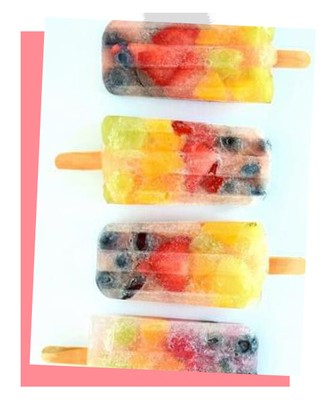 Eats Amazing's Rainbow Fruit Popsicles
INGREDIENTS:
One handful of blueberries
One handful of red grapes
One handful of strawberries or raspberries
1 x tin of peach slices
One handful of green grapes
500ml of real lemonade
METHOD:
Prepare the fruit – wash the blueberries, grapes and raspberries, slice the grapes, hull and slice the strawberries. Drain the peach slices and cut them into small pieces.

Fill your ice lolly moulds with fruit in the following order; blueberries, red grapes, strawberries or raspberries, tinned peach pieces and green grapes. Make sure you fill them quite tightly so the fruit doesn't move around when the liquid is added.

Pour over the lemonade to fill the moulds. You might need to tap the ice lolly mould gently on the counter to release any air trapped beneath the fruit. Then top up with more lemonade until all of the moulds are full.

Pop the moulds into the freezer until completely frozen through.
Visit EatsAmazing.co.uk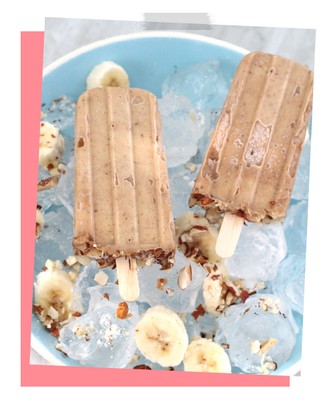 My Fussy Eater's Peanut Butter Banana Popsicles
INGREDIENTS:
3 small bananas

3 tbsp of smooth peanut butter

1 tsp of chopped nuts
METHOD:
Blitz the bananas and peanut butter together in a blender until smooth. Pour into the lolly moulds before inserting the sticks and placing in the freezer. 

After 30 minutes, sprinkle some chopped nuts on the top of each popsicle and return to the freezer for a few more hours until they are frozen. 
Visit MyFussyEater.com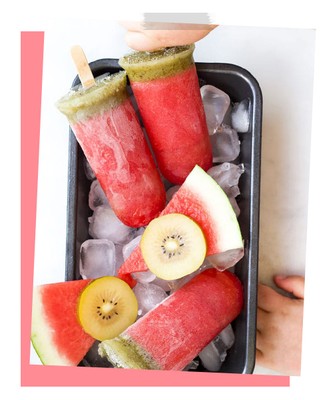 Healthy Little Foodies Watermelon Popsicles
INGREDIENTS:
500g of watermelon (or ½ a good size watermelon)

4 kiwis
METHOD:
Remove the rind of the watermelon, then blend in a food processor.

Fill your moulds with the watermelon puree. Leave enough room at the top to add a kiwi layer (around ½ cm/¼ in) and allow the popsicles to expand as they freeze.

Freeze until partially frozen (around 30 minutes) and slide a stick gently into the centre of the pop (it should stand on its own without falling over) and return to the freezer for a further 30 minutes. 

Add peeled kiwi to a blender and blend until pureed. Top the frozen watermelon layer with the kiwi. Return to the freezer and freeze for at least 4-6 hours. 
Visit HealthyLittleFoodies.com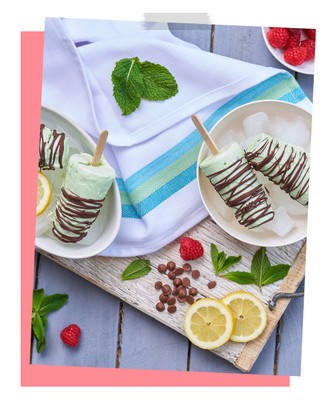 Annabel Karmel's Mint Chocolate Chip Lollies
INGREDIENTS:
100ml of double cream 

250ml of Greek yoghurt

200g of condensed milk

¼–½ tsp of peppermint extract

A little green food colouring 

25g of plain chocolate chips

100g of plain chocolate, for serving
METHOD:
Lightly whip the cream to soft peaks. Add the Greek yoghurt and condensed milk. Whip again until thickened slightly. Add the peppermint extract to taste. Add a small amount of green food colouring to make it a minty green colour. Add the chocolate chips.

Spoon into the lolly moulds before inserting the sticks. Freeze for 6 hours.

Melt the chocolate in a bowl over simmering water until runny. Remove the lollies from their moulds and drizzle over the melted chocolate. Place on a baking sheet lined with non-stick paper. Put back in the freezer for 30 minutes until set.
Visit AnnabelKarmel.com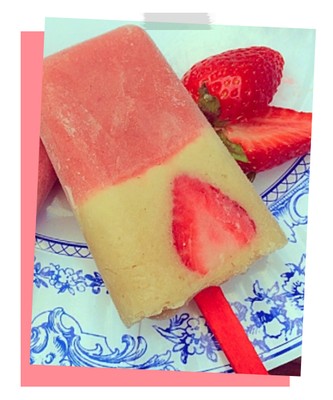 Lizzie Loves Healthy's Strawberry Vanilla Stripe Lollies
INGREDIENTS:
1 cup of almond or rice milk

1 tbsp of vanilla extract 

1 banana (fresh or frozen)

1 cup of strawberries (fresh or frozen)
METHOD:
Combine the milk, vanilla extract and banana in a blender and whizz until smooth. Pour half of the mix into a jug. 

Add the strawberries, reserving one. Blend until smooth. 

Pour the strawberry mixture halfway up the lolly moulds and put in the freezer. 

After about half an hour, insert the lolly sticks into the semi frozen mix and return to the freezer to harden, for roughly half an hour. 

Pour the vanilla mix on top, then push one or two sliced fresh strawberry pieces into the mould, making sure they are pressed against the side so you can see them. 

Freeze until solid. 
Visit Lizzie-Loves.com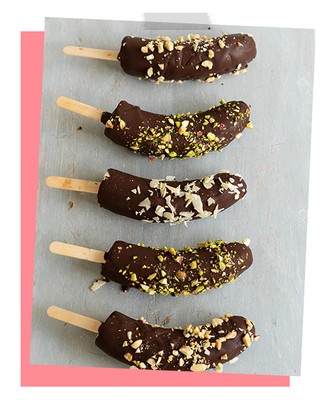 The Conscientious Cook's Banana Iced Pops
INGREDIENTS:
5 small bananas

2 bars of 85% Green & Blacks dark chocolate

Selection of chopped nuts: flaked almonds, pistachios & salted peanuts

Lollypop sticks or skewers
METHOD:
Trim each banana so they have a flat bottom and pierce with a lollypop stick or skewer.
Place on a lined baking sheet or tray.
Place in freezer for at least two hours, ideally overnight.
Melt the chocolate and then dip the bananas into it, making sure to cover it completely. You need to work quickly as the chocolate will set. 
Before the chocolate has set, sprinkle on the nuts.
Place them back in the freezer until you need them or enjoy straight away.
​
DISCLAIMER: We endeavour to always credit the correct original source of every image we use. If you think a credit may be incorrect, please contact us at info@sheerluxe.com.