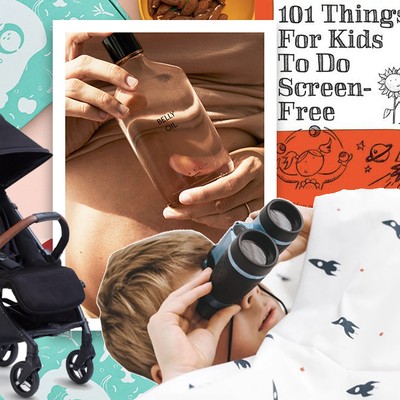 In The Know: Cool Things For Parents & Kids

Each month we round up some of the best finds for mums and dads, guaranteed to keep the children busy and parents happy – more important now, perhaps, than ever. From the latest at-home baking activities to the latest beauty buys for expectant mothers, here's everything you need on your radar this month…

101 Things for Kids To Do Screen-Free by Dawn Isaac
If there's one book to put on your pre-order list, make it this. From creating a mini golf course to mastering hands-free eating, from squirt gun painting to microwave mug cakes, every single activity is this collection is fun, easy and 100% screen free. Take advantage of the extra family time, and get busy away from tablets and television to keep little ones entertained for the foreseeable. 
Available for pre-order here
 

Addie & Harry
It's business as usual over at children's bedding and interiors site Addie & Harry, and it's now more than ever that small companies such as these need support. Whether it's 100% cotton fitted sheets, pillowcases and duvet covers, kids' wash bags, home accessories or wallpaper, this is the destination to know for stylish and high-quality pieces. UK delivery is currently free, too.
Visit AddieAndHarry.com
 

Dazzle & Fizz
You might not be a planning a big get-together just now, but for future party planning, this is the name to know. Dazzle & Fizz creates family events that are both visually beautiful and fun. From the moment guests arrive to long after the candles have been blown out, Dazzle & Fizz ensures everyone is captivated throughout. Not just a party, it's an experience for the whole family.
Visit DazzleAndFizz.co.uk
 

​Malory Towers 
All 14 episodes of the BBC series – based on the classic books by Enid Blyton – are available to watch on iPlayer. Watch as Darrell arrives for her first term at new boarding school Malory Towers – full of midnight feasts, lacrosse games, picnics and even a mysterious ghost story. With adventure around every corner, this story passed down between generations is one the whole family can enjoy.
 
Watch here
 

P.E With Joe
Worried your children aren't getting the right amount of physical activity being house bound? Work out each morning with Joe Wicks – AKA The Body Coach – to start the day right. Broadcast every day from Joe's house at 9am, these are kid-friendly workouts the whole family can get involved in. It won't take long for kids to get used to Joe's infectious enthusiasm, with workouts designed for all fitness levels and capabilities. 
 
Visit YouTube.com
Hatch Belly Oil
The US beauty brand expectant mothers should know, you can now have your goods sent to the UK free of import taxes when you spend £135 and over on Hatch's main site. With a full range including bump masks and cooling creams, we love the look of the quick-dry, botanical belly oil, which intensely hydrates and reduces the appearance of stretch marks and scars. Created with mamas-to-be in mind, it supports skin as it stretches during pregnancy and beyond, while providing nutrient-rich moisture without a greasy feel. 
Visit Hatchcollection.com
 
Little Cooks Co
It looks like the Easter holidays are going to be largely spent inside, so what better time to get kids into the kitchen to hone their cooking skills? These healthy cooking kits come as part of a monthly subscription posted through the letter box, in 100% recyclable and compostable packaging. All the natural and healthy dry ingredients for that month's delicious and nutritious recipe are included, with customers able to choose from three, six or 12-month subscription packages.
Visit LittleCooksCo.co.uk
 

Silver Cross Jet
Small, light and agile, the Jet pushchair from Silver Cross makes getting out with a baby super easy, no matter how far you plan to go. The ultra-compact fold makes it amazingly portable, too, while it's worth remembering for the future that it fits easily into overhead storage racks and is cabin approved for most airlines. It might only be suitable for a walk round the block for now, but the many features will make it a great all-rounder later on. 
Visit SilverCrossBaby.com
 
The Wind In The Willows The Musical
If you're missing family trips to the theatre, all is not lost. Recorded live at the London Palladium in 2017, The Wind In The Willows The Musical is now available to stream online for free in the UK. Simply head to the site and click play to watch. If you feel so inclined, there's also a chance to donate to Acting For Others, a charity which provides financial and emotional support to all theatre workers in times of need – especially important at the moment when most venues are unable to operate as normal. 
Visit WillowsMusical.com
 
Tynker
In today's world, the ability to code is an incredibly useful skill. Set your kids up for a bright future by starting them young with this learning programme, suitable for children ages five or older. During the current school closures, Tynker has made all its premium content free to access, while all the equipment that's needed is a normal computer and an internet connection. With over 3,700 different learning modules, there's plenty to keep busy minds occupied. 
 
Visit Tynker.com
 

National Geographic Kids
Remembering there's a big, wide world out there has never been more important. To ensure your child's view of world doesn't shrink, plug into the National Geographic Kids YouTube channel, which is full of fun and informative videos about the world and wildlife. Whether it's talking about climate change in the Arctic as part of the Explorer Academy or tuning in for the weekly 'Weird But True!' episode, there's plenty on offer. 
 
Visit YouTube.com
DISCLAIMER: We endeavour to always credit the correct original source of every image we use. If you think a credit may be incorrect, please contact us at info@sheerluxe.com.