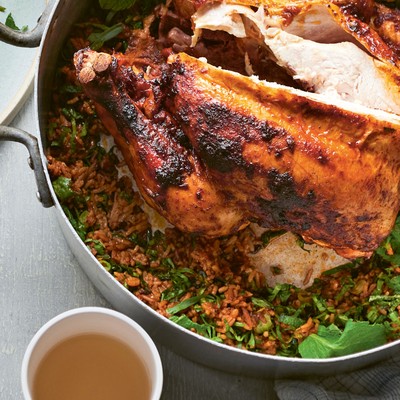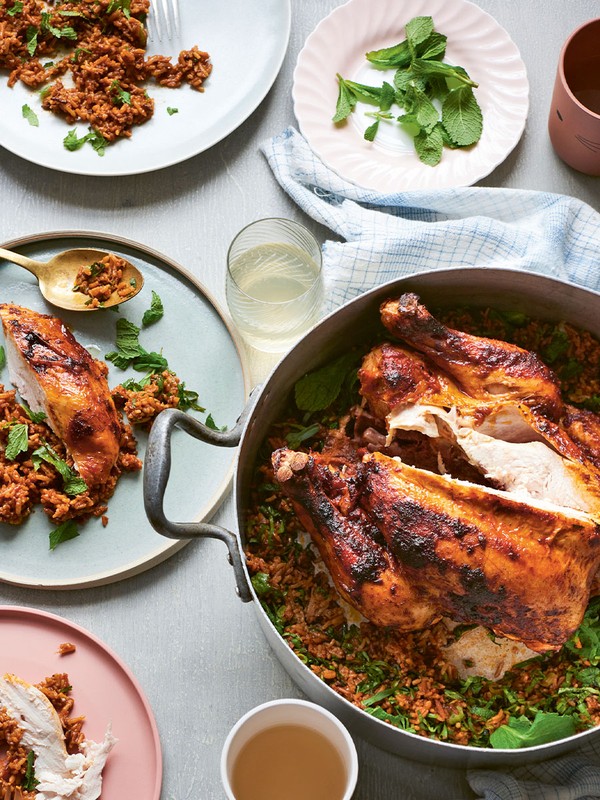 3 Delicious Family Meals To Make This Month

Chefs in Schools is a charity that operates in over 80 schools, feeding more than 30,000 pupils every school day. Its mission is to teach children to love and understand real food that's cooked using fresh ingredients. Now, 'Feed Your Family: Exciting New Recipes Tried & Tested By 1000s Of Kids' is a new compilation of all the charity's hits, designed for anyone who wants to cook food from scratch for their families. Packed with energy, positivity and inspiration, founders Nicole Pisani and Joanna Weinberg share the wisdom of a wide range of chefs to guide parents through the world of family cooking, with recipes for every taste and occasion. Here are some of their favourite recipes…

By Heather Steele
All products on this page have been selected by our editorial team, however we may make commission on some products.
Every day, children in our schools come into the dining hall to find sharing platters on the tables for them to explore. Some days, this will be tender whole cauliflowers, roasted until golden in star anise, with a knife sticking out of them for the children to carve up themselves. On others, it might be earthy, garlicky falafel to dip into yogurt, or vegetable sushi rolls. Afterwards comes the hot main course – sometimes inspired by dishes from the restaurant experience of our head chefs (such as the 'Edible Garden' from Nopi that one of our chefs David made for his large secondary school in Hounslow), but just as often they come from the home cooking of our school kitchen teams.
We've had plenty of disasters. There was the lunch hour that our co-founder, Nicole, spent weeping over (and sweeping up) the 500 rejected portions of fresh mushroom tagliatelle she'd been making since 6am. But that doesn't stop us being brave about our dishes, at least most of the time. We'll add a kick of chilli or a fragrant note of lemongrass because we believe that kids deserve to be offered food every bit as delicious as the variety we adults get to make and eat.
Feeding kids every day is a rollercoaster. When a child picks up an asparagus spear and chomps the top off, or names a fresh herb, it's exhilarating. When they tip a perfectly executed 24-hour-braised lamb into the bin, or reject lovingly debearded mussels (seriously, imagine making enough to feed 500) it's crushing. But we come back the next day and do it all again. We're dedicated to feeding kids. We know the risks and the rewards, and we love doing it. 
Sometimes, a parent will ask for a recipe their child has mentioned. We've always tried to share whenever we can and yet receiving a piece of paper with notes and volumes to feed 500 isn't all that helpful. That's why we decided to collect some of our favourite – and most successful – recipes into a book. After all, why should the fun be limited to school? And we've also included family recipes from some of our greatest supporters in the food world, like Yotam Ottolenghi, Thomasina Miers, Anna Jones and Henry Dimbleby.
Cooking at home for our families is a different world to producing the large quantities of food needed for a school meal. But the spirit is just the same. A shared meal, made from fresh ingredients, does take time, and might not always be appreciated. However, it can also be the most rewarding, memorable and joyful thing you can do for, and enjoy with, your family. It's definitely worth a try.
---
Inspired? Here Are Three Recipes To Try At Home…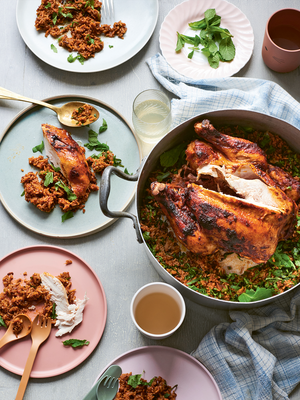 Toni's Jollof Rice With Pot-Roast Chicken
"When I arrived as chef at Gayhurst, the multicultural kitchen was battling to cook British food for a diverse school community. When I suggested the kitchen cook a menu from home, Toni, a school kitchen assistant, made her jollof rice and it went down a storm. It's been on the menu ever since. To make the rice without chicken, simmer it on the hob in the sauce for 25 minutes."  – Nicole Pissani
Ingredients
1

whole chicken (around

1

.5kg)
2

tbsp

of olive oil, plus extra for roasting
1

onion, peeled and roughly chopped
2

red peppers, stalk and pith removed, roughly chopped
1

red chilli, seeds removed and roughly chopped (optional)
1

garlic clove, peeled and roughly chopped
Herbs of your choice, to serve
Method
Step 1
Preheat the oven to 220°C Fan/200°C/Gas mark 6.

Step 2
Rub the chicken with a little olive oil and roast for 30 minutes.

Step 3
Meanwhile, make your jollof sauce. In a large flameproof casserole big enough to fit the whole chicken in and for which you have a lid, heat the 2 tablespoons of olive oil and cook the onion until soft and golden, around 10 minutes.

Step 4
Add the cooked onions to a large jug along with the peppers, chilli (if using), garlic, tomato purée, passata, salt, and 500ml of water and, using a stick blender, blitz to a smooth sauce, then set aside.

Step 5
Wash the rice in cold water until the water runs almost clear. Drain well and add to the large casserole, along with most of the jollof sauce and stir to combine.

Step 6
After the chicken has been roasting for 30 minutes, take it out of the oven and reduce the temperature to 160°C Fan/180°C/Gas mark 4. Carefully transfer the chicken (it will be very hot) to the casserole dish and nestle it gently into the rice. Pour the remaining jollof sauce over the top of the chicken, then put the lid on the pot and transfer to the oven.

Step 7
Cook for 45 minutes, then remove the lid and cook for a further 15 minutes, until the chicken skin is nicely bronzed. Check the chicken is cooked by inserting a sharp knife between the thigh and the breast; the juices should run clear.

Step 8
Once the chicken is cooked, remove the pot from the oven, take out the chicken and put on a board to rest for 10 minutes before carving. Replace the lid on the rice so it can sit and steam.

Step 9
Fluff up the rice with a fork, carve the chicken and serve on top of the rice, sprinkled with herbs of your choice.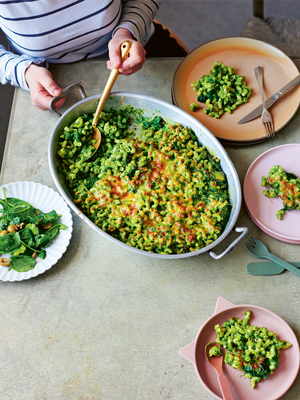 Green Mac 'N' Cheese
"Our trustee, Thomasina Miers, was ruminating the other day on how much she'd hated cauliflower cheese when she was little. Now, loving cauliflower, and loving cheese, she wonders why. Inspired, we set about creating the ultimate, veg-packed cheesy dinner in the form of this recipe. The sauce works brilliantly with cauliflower, too."
Ingredients
1

½

tsp

of English mustard powder
175g

of extra mature cheddar cheese, grated
1

tsp

of sweet smoked paprika
Several good gratings of nutmeg
300g

of frozen spinach, defrosted and liquid squeezed out
400g

of small pasta, like macaroni
5

tbsp

of stale breadcrumbs
40g

of parmesan cheese, grated
Method
Step 1
Preheat the oven to 200°C Fan/220°C/Gas mark 7.

Step 2
Fill a large pan with water, add a tablespoon of salt and bring to the boil – you're going to cook the pasta in this shortly.

Step 3
In a medium pan, melt the butter, stir in the flour and mustard powder and season with salt and pepper. Stir over a medium heat for a few minutes, then add a good glug of the milk and whisk to combine. Gradually add the rest of the milk, whisking In-between additions to get a smooth, creamy sauce. Stir in the cheddar cheese, paprika and nutmeg and remove from the heat. Taste and add a little more salt and pepper, if you like. Add the spinach into the sauce and, using a stick blender, blitz until smooth.

Step 4
Cook the pasta for 2 minutes less than the instructions on the packet, then drain well. Tip into the green sauce and stir well until everything is combined.

Step 5
Arrange the coated pasta in an ovenproof dish and scatter with the breadcrumbs and Parmesan cheese. Bake in the top of the oven for 20-25 minutes, until bubbling and golden on top.

Step 6
CHEF'S NOTES
This sauce also makes an excellent cauliflower cheese. Chop your cauliflower into florets and blanch in boiling, salted water for 3 minutes, then drain and sit in a colander to allow the water to steam off (letting it dry ensures you won't end up with a watery dish). Tip the cauliflower into the baking dish, cover generously with the sauce and sprinkle with grated cheddar, then bake as per the macaroni and cheese instructions.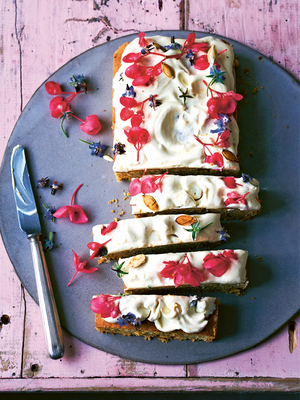 Nerissa's Butternut Squash Cake
"This recipe is one we share with every school we work with. It was developed out of necessity but became a hit. I was at a school one day and we needed a cake ASAP for lunch. We like to get as much fruit or vegetables to our cakes as we can and I was hunting around for some to put in, when I remembered we were baking butternut squash whole in the oven for the next day. It was a lightbulb moment and what a tasty result." – Nerissa Buckley, School Chef Trainer
Ingredients
125g

of golden caster sugar
200g

of cooked butternut squash
250g

of self-raising flour
Edible flowers, to decorate
For the icing:

100g

of unsalted butter, at room temperature
100g

of soft light brown sugar
Method
Step 1
Preheat the oven to 180°C Fan/200°C/Gas mark 6 and line a 20-cm cake tin with reusable baking paper. In a large bowl, cream the butter and sugar together until light and fluffy. Add the eggs, one at a time, and beat again until pale and creamy.

Step 2
Add the cooked squash, flour and spices and gently fold in to combine. Pour the mixture into the lined tin and bake for 45 minutes until lightly golden on top and a knife or skewer inserted into the centre comes out clean.

Step 3
Make the icing while the cake is cooling: beat the butter, sugar and maple syrup (an electric beater makes this easier) until light and airy, then add the cream cheese, a quarter at a time.

Step 4
Continue to beat for about 2 minutes until smooth and thick. When the cake is completely cool, smear all over the top and sides. Decorate with edible flowers.

DISCLAIMER: We endeavour to always credit the correct original source of every image we use. If you think a credit may be incorrect, please contact us at info@sheerluxe.com.