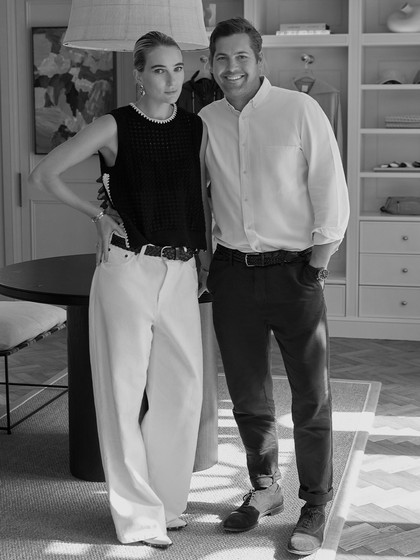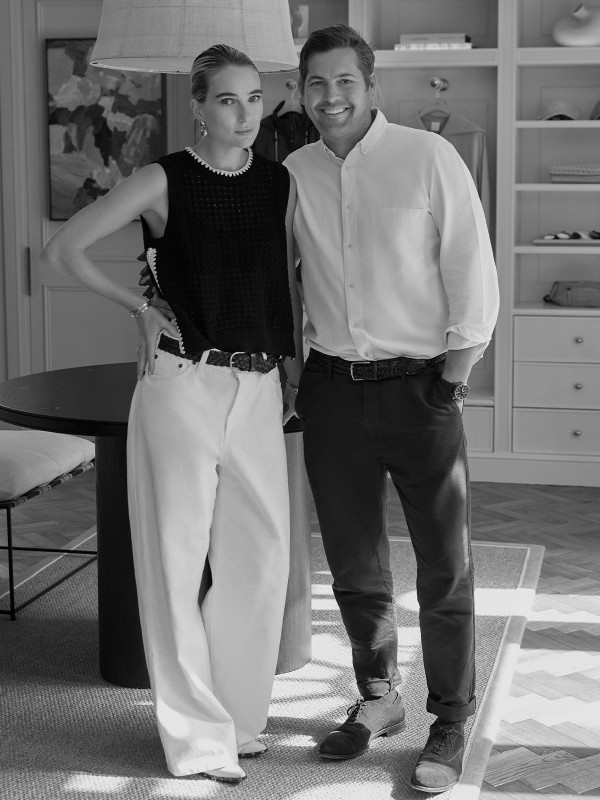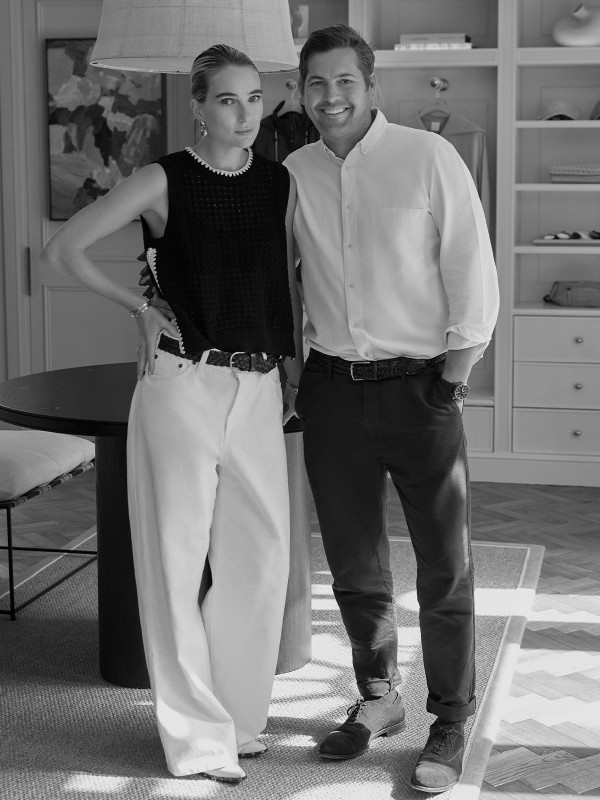 3 Women On How They Run A Business With Their Spouse

Going into business with your spouse is risky – but many of those who have taken the plunge will tell you it's the best decision they ever made. Here, we spoke to the power couples behind three companies to find out how they make it all work.

Marilia Bunch, co-founder of supplement brand Purolabs with her husband Adam, says…
Before we launched the business, we'd already worked together for around eight years on other projects – so we're very used to working as a team. Adam worked in marketing online for over 15 years and I worked in the supply chain for a multinational company. We're both quite different and bring different skills and ideas to the table, but we complement each other really well.
After coming up with the idea for the business in lockdown, the first couple of years were very chaotic. We grew fast and, like all small business owners, you end up doing a bit of everything. It was very messy to start with, but at the beginning of this year we decided to define our roles and work in separate areas. Doing this has really clarified things and made us more organised. We trust each other's opinions, so we stay in our lane and let each other get on with what we need to do. 
Today I'm mostly focused on the operational side of things – customer service, logistics, admin – while Adam heads up marketing and the more technical and financial side. There are still a lot of areas of crossover and we both offer our opinion to the other when it's needed. The biggest challenge has been the fact that I came from a more corporate background and struggled to figure out what her strength was as a co-founder in such a fast-paced environment. To Adam, it was clearer as he'd been doing this for longer. Now, instead of fighting it, we play into those strengths. Adam is extremely creative, driven and outgoing, while I'm good with spreadsheets, reports and handling management.
There's probably not an entrepreneur out there that gets the work/life balance right. We do our best but, when you're growing a business, things move extremely fast and the lines often get blurred when it's a 24/7 operation. Sometimes it takes us days to even talk about some more personal things as we're so busy. Also, Adam has ADHD which makes him super-focused – in fact, he can be a bit of a workaholic – so it can be hard to turn his switch off. Christmas is the one time we can slow down as it's a quiet time for e-commerce in general. August is also a quieter time as most of the UK is on holiday, so we try to make the most of it.  
One of the biggest business lessons we've learnt is to always respect and listen to each other. Of course, we don't agree on everything all the time, but we always respect our differences. We also try to not talk much in the mornings and focus on getting our 'deep work' done then – it's definitely Adam's most productive time of the day and it can be a struggle to get his attention back if we divert to something else. Finally, it's extremely important to have the same goals and values when you're running a business together. We always ask ourselves: what are we trying to achieve here? Why did we start Purolabs? Does it align with our values? If the answer is no, then we need to change something.
To other couples thinking of going into business together, we'd say make sure you share a similar view on how things should work. Working together full time is more challenging than being married at times, so ask yourself: where is our relationship at? How do we deal with problems as a couple? If you already fight a lot over small things, this will make everything more challenging. Being a business owner, you're constantly in problem-solving mode, so good communication is key.
Visit Purolabs.com 
Jeany Cronk, co-founder of wine label Mirabeau with her husband Stephen, says…
In the early days, Stephen was at the forefront of building the business. I offered moral support and practical input whenever possible, but I also had to look after three young children after we had relocated to France, so my focus was more on them during the first few years. Once they were settled and at school, I became increasingly more involved, especially as the business grew pretty fast.  
Stephen was a former wine professional and sales director with a natural gift for the commercial side of the business. It was clear that that was going to be his focus. I'm much more into design and marketing, so we both found our place without too much marital debate. As for everything else our job throws at us, we work together and try to ensure that nothing major falls through the cracks. It's typical in a family business that you end up doing everything occasionally.  
Today, Stephen is the CEO. He looks after the strategy and makes sure all the key relationships with our distributors and customers are well handled – which is why his job involves a huge amount of travel. He's also focused on sustainability and spends a lot of his free time working for a non-profit he co-founded to bring climate-conscious viticulture to the mainstream. Meanwhile, I look after PR and creative execution, meeting with journalists, influencers and visitors. I'm also passionate about winemaking and loves helping our oenologist create our signature rosé cuvées. 
We have quite different personalities and so we also soften each other's extremes. Stephen has boundless energy and optimism and is an amazing ideas person – he finds it easy to bring people with him. I'm much more careful and will try to look at a situation from different angles before proceeding. I'm also often able to put Stephen's ideas into words and I love to write, which helps him communicate more effectively. Overall, we're pretty good at covering off the most important business functions.  
We're pretty useless at separating business from pleasure. Our business is often very emotional, so we find it hard to distance ourselves. But we are trying to get better at this so that we can switch off occasionally and recharge our batteries. It's easier when we have all our kids in the house and when we spend time out and about in nature or by the seaside on the Côte d'Azur.   
Together, we've learnt that sometimes it's best to sleep on things – especially if it's something that may cause conflict between the two of you. It's hard to do, but the world almost always looks different after a few hours of sleep. Second, as you spend a lot of time together during your work life, give each other space when you can. We often do things apart because it helps us switch off and be more balanced. Thirdly, try to find a common goal – it's very hard to work with your spouse when you have different values and expectations. Once you are aligned, things are much easier and you move naturally in the same direction.  
Going into business as a couple is a big decision, so talk about it a lot beforehand. Play through scenarios of how you would deal with difficult situations, especially when you may not see eye to eye. If you are supportive of each other, it can be a great professional partnership and help you get through the inevitable ups and downs of business life. To be honest, most people instinctively know if they could work with their partner or not, and if your first reaction is 'no way', then that's probably a good indicator.  
Visit MaisonMirabeau.com 
Lara Mead, co-founder of lifestyle brand Varley, with her husband Ben, says…
Our journey as co-founders began in 2010 when we met training for the London Marathon. Our shared love for sports sparked an instant connection, which laid the foundation for what would become Varley in 2015. The brand's core values revolve around quality, community, and timeless designs, drawing inspiration from both LA and London to create an elevated everyday wardrobe for the modern woman.
While I was always the face of the brand and even modelled our first collection, our roles were not initially well-defined. In the early days, we were doing everything ourselves, so our roles naturally evolved over time. As the CEO, Ben is responsible for shaping the overall strategy, fostering our company culture, and ensuring the business performs at its best. He's equally passionate about branding and data and apply both aspects to the management of Varley. As the CCO, I oversee our content, marketing, and PR departments. I not only represent the face of Varley but also play a hands-on role in shaping the design direction of every collection.
Ben and I have different strengths and weaknesses. My creative vision and attention to detail are unmatched, which is essential for overseeing design and marketing. On the other hand, Ben brings a strategic mindset and a knack for data analysis, which helps shape the business's direction and performance. While our strengths complement each other, we've also learned to balance our weaknesses through collaboration and open communication.
Our work and personal life all blends together. There's no clear distinction because we truly love what we do, and our joint passion naturally flows into every aspect of our lives. It can be challenging to completely switch off from business, especially when you're passionate about what you do. However, we do prioritise downtime and relaxation. We schedule moments when we consciously step away from work to enjoy personal activities, travel, or simply spend quality time together as a family.
Three of the biggest lessons we've learned about working with your spouse are respect, trust and communication.  We value each other's unique skills and talents, which is vital in our partnership. We also have complete trust in each other's abilities, especially in areas where one of us has more expertise. Finally, we have constant conversations about our visions for the brand and to stay updated on what's happening in the business.
Our advice to other couples thinking about going into business together would be to embrace the journey wholeheartedly. It's a unique opportunity to merge your strengths and passions to create something special. However, it's equally important to establish clear roles and boundaries, communicate openly, and remember to nurture your personal relationship alongside your professional one. Working with your spouse can be incredibly rewarding, but it requires patience, understanding, and a shared vision to make it successful.
Visit UK.Varley.com
DISCLAIMER: We endeavour to always credit the correct original source of every image we use. If you think a credit may be incorrect, please contact us at info@sheerluxe.com.