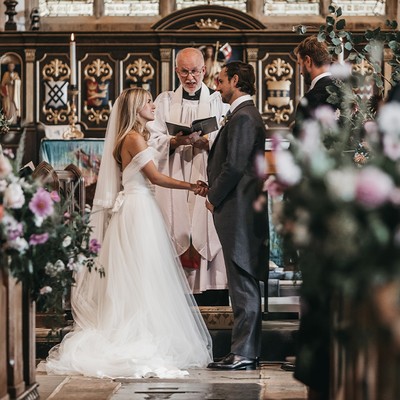 Me & My Wedding: A Traditional, Seaside Celebration

From the proposal to the cake, the flowers to the dress, we love hearing what goes into making someone's big day their own. If you're after some inspiration, look no further. We're shining a spotlight on some of the most stylish weddings out there...

Events planner Georgia knew she wanted a September wedding on the banks of The Mere in Suffolk – her husband-to-be, Fred, knew he wanted a Guinness tap. She tells us how they incorporated their personal style into their big day.

The Engagement
We got engaged in Costa Rica over New Year. I wasn't expecting it on a long holiday but he proposed on our first day. We were walking along the beach at sunset, and unbeknown to me he had put the engagement ring in the basket I was carrying. I got a bit suspicious when I wanted to go swimming and he was uncharacteristically concerned about leaving the basket unattended. We told our family the next day, but didn't tell friends until we were home which meant we were in our own little engagement bubble for as long as possible.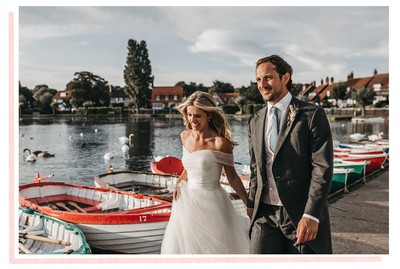 The Ring
He designed the ring himself, although he had some help from my very stylish sister-in-law. He had it made by W&W Jewellery – it's a beautiful and classic design: an oval diamond in the middle with a baguette either side set in platinum.  Every time he went to the jeweller, he would say he was going swimming – looking back he never came home with a wet towel. I can't believe I didn't clock it. My wedding ring is yellow gold – the mixed metals really work.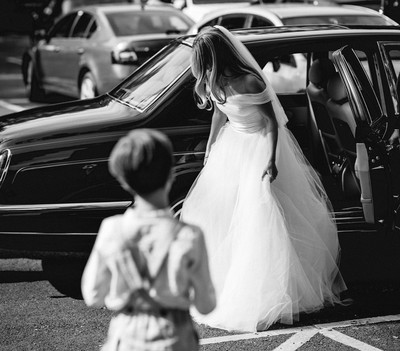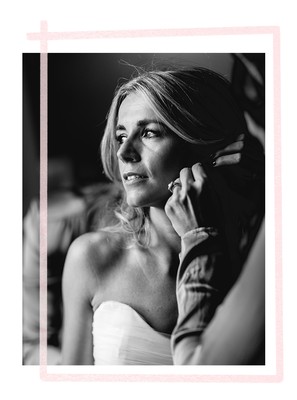 The Non-Negotiables
Neither of us wanted a long engagement and I always wanted a September wedding, so we did everything in nine months. A Guinness tap was a non-negotiable for Fred – I can't tell you how many calls we had about Guinness. I didn't want a huge wedding – we wanted to know everyone there really well. It's so easy to get carried away, so when it came to the budget, we identified the things which meant the most to us. We're big foodies and love eating out, so the food was a top priority, as was having a live band. I work in events and love the creative and decorative side, so I spent a long time planning the look and feel. Pinterest was key.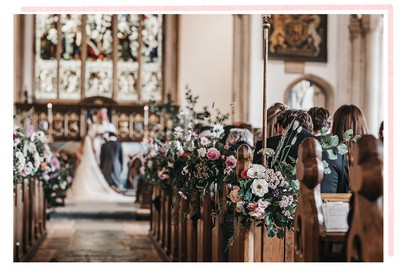 The Venue
The wedding reception venue was in a tiny place called Thorpeness in Suffolk, which is near my family home. I have wanted to get married there since I was a little girl. The land is privately owned and not an event venue, so we were very fortunate to be allowed to have our reception there. The marquee was positioned by the Mere, a big natural boating lake where J. M. Barrie, author of Peter Pan, used to write. The islands on the lake all have names taken from the story – The Lost Boys, Pirates Lair, Wendy's House and so on. It's the most magical place. Because of the location we went for a nautical theme. My best friend's dad is an artist, so he created our invites with an illustration of a boat; the usher's lunch was fish and chips and they all wore matching reef knot ties decorated with different fish.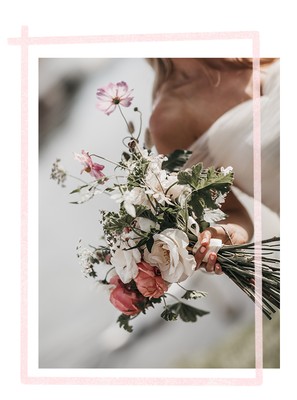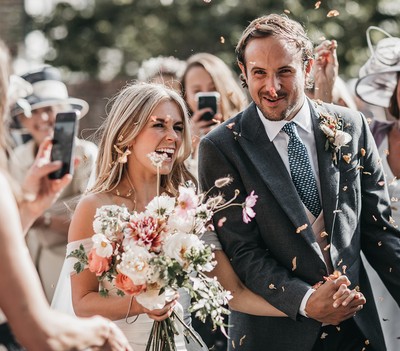 The Planner
Working in events I thought I could make do without a professional planner, but I wasn't familiar with local Suffolk contractors and got nervous that on the day of the wedding I would go into work mode, so decided it would be helpful to have someone there, both for the build-up and the day of. One of my caterers in London recommended a lady called Jenny Loyd who is based in the area, and she was amazing – incredibly patient and helpful.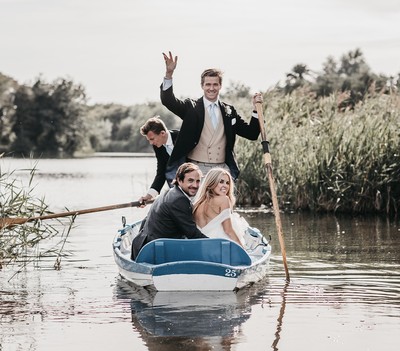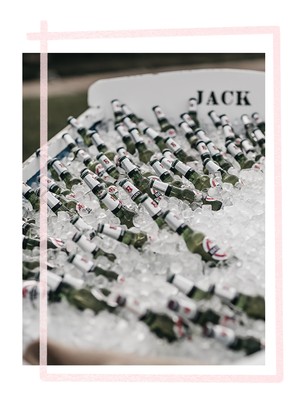 The Dress
My sister got engaged just before me and I had been dress shopping with her, so I knew what was out there and the main boutiques to go to. I thought I wanted to get married in something slinky but ended up going for something completely different. I was mad about the French brand Laure De Sagazan, but when it came to trying on her dresses, they just didn't feel quite right for me.
I went to a big designer name and found a style I loved, but hated the experience – it was January, and she told me I was running out of time. I really didn't like the pressure. When I had a clear idea of what I wanted, I turned to a designer called Emma Victoria Payne. She has a great eye, and was brilliant at pinning things on me that came together to make a look and a dress I loved but couldn't quite visualise before. She came up with a stunning off-the-shoulder neckline, tulle ruching on the corset and a clever way of getting the slinky look I wanted for the evening, but a bigger style, overall.  She didn't limit my appointments and I could pop in any time; it was such an enjoyable experience.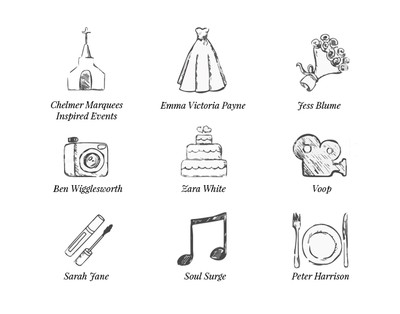 The Accessories
I wasn't that fussed about my shoes, I just wanted something comfy with a bit of height. I wore some simple pearl earrings and no other jewellery. I wasn't going to wear a veil, but then tried one on and loved it so much I just went for it. The corset in my dress had blue ribbon woven through it, and my very stylish best friend lent me her Shrimps pearl bag for the day. 
The Beauty
Originally, I thought I'd do my own make-up, but in the end decided it was better to not worry that it might go wrong and get a pro in. My bridesmaids got ready with me and we had a fun morning. I couldn't find a make-up and hair stylist I liked in Suffolk, so Sarah Jane came down from London on SheerLuxe's recommendation. I really wanted to feel and look like me, and she nailed it.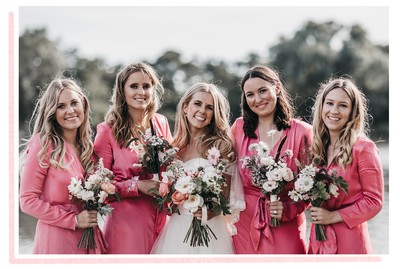 The Bridal Party
My husband and I have lots of nieces and nephews, so we had an army of little bridesmaids and page boys who wore smock dressers from Trotters and linen shorts and shirts from Simply Grey. I had four girlfriends too, who wore hot pink Ghost dresses – handily I could spot them really easily throughout the day, and they looked amazing in the photos. The ushers all wore light pink waistcoats, which coordinated well. 
The Ceremony
We put a lot of time and thought into the ceremony. We wanted to get married in a church but with some slightly less conventional elements thrown in – we incorporated some of our favourite songs into the service, including 'Here Comes The Sun', which was sung by a choir as we signed the register. Fred and I went to see Ludovico Einuadi in concert which is when I discovered the song I wanted to walk in to. It was my favourite part of the day.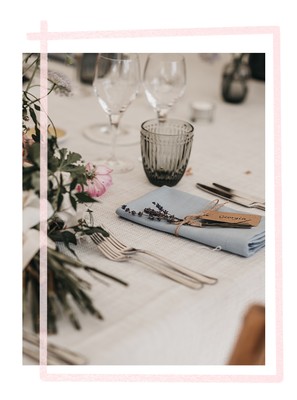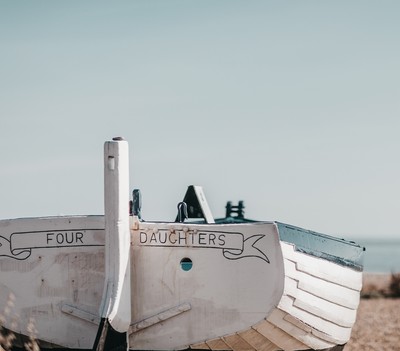 The Photographer
I really struggled to find a photographer until someone recommended Ben Wigglesworth to me. He's based in Cornwall, and his Instagram is filled with the most beautiful coastal shots. He was laid back and felt like a member of our wedding party – it was lovely not having a camera in my face all the time. I am beyond thrilled with the photos. We used Voop for the video – we so nearly didn't, but I'm really glad we allocated some budget for a video. It's so fun watching it all back.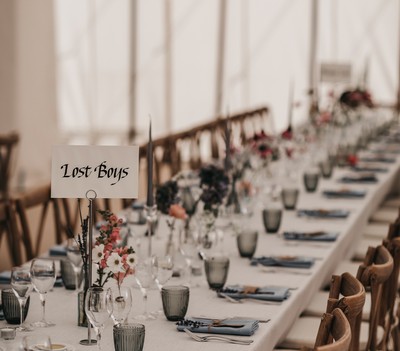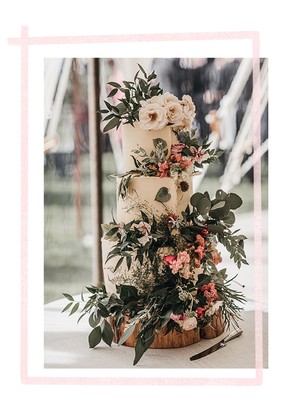 The Decorations
Our flowers were done by my friend Jess Blume - she owns a flower studio and used only British blooms for the day. She's got a great eye – I still get so many compliments on my natural, rustic bouquet. The marquee didn't need much dressing – we went for a traditional, unlined style that had a beautiful wooden framework. I was very particular about having nice linen, which we dotted with little vases filled with flowers. A calligrapher drew the name tags, which added to the rustic feel. Our name places were polaroid pictures of us with the guests – it was really time consuming but lots of fun digging out silly pictures with our friends. We gave them to everyone to take home as favours. The tables were named after the Peter Pan references on the lake. Four of Fred's best friends rowed the Atlantic, so they rowed us across the lake to the reception. Our guests were then able to use the boats – at one point we were the only two standing on the bank, whilst everyone else was on the water. We were really lucky with the weather, but being in the UK, we planned for rain. We could have had the drinks reception in the marquee if it had rained and the car we drove off in was covered too.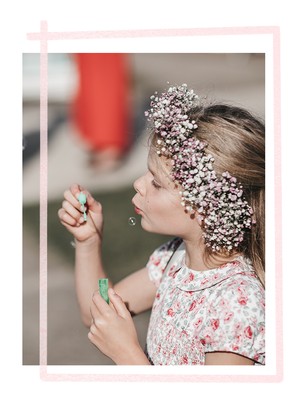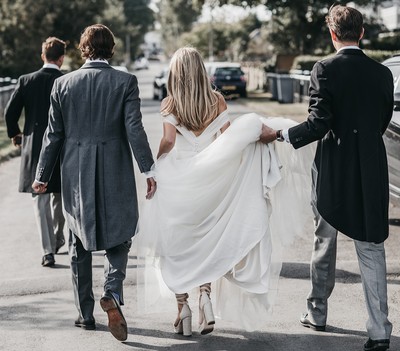 The Food and Drink
We decided not to spend money on fancy cocktails and mixologists. Instead we served champagne and rosé, gin and tonics and big jugs of Moscow Mule. We filled one of the boats with ice and beer bottles, too. 
For the food we drew on Ottolenghi for inspiration because that style is the speciality of our caterer, Peter Harrison. We kept it simple, fresh and delicious – chicken with couscous and salad, and had a flower-adorned chocolate cake made by Fred's talented cousin Zara's Kitchen for dessert. We finished the night with espresso martini shots.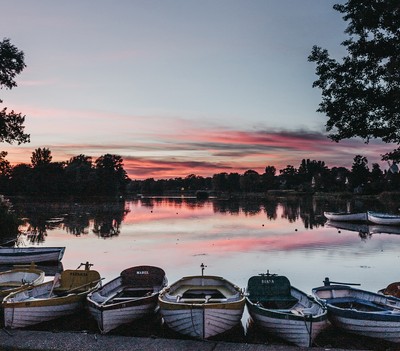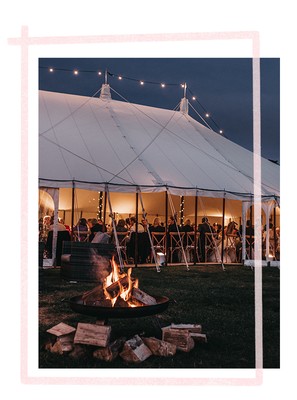 The Days After
The day after the wedding we had a barbeque with a steel band, which I can't recommend enough if you're able to. We were so relaxed and for our friends who had driven such a long way, it was an opportunity to digest the day and chill out in the sun. We went to Tuscany the Monday after the wedding, and stayed at Il Pellicano for five nights. It was heaven – normally we like to do lots of site seeing and try different restaurants, but it was bliss to completely crash and hang out at the hotel.
The Final Thoughts
The lead singer of our band cancelled two days before. I had chosen the band because of her, so it was pretty stressful. She found us a great replacement however – I think the biggest take away is to not stress too much about hiccups. You don't notice them on the day.
Photography by Ben Wigglesworth
DISCLAIMER: We endeavour to always credit the correct original source of every image we use. If you think a credit may be incorrect, please contact us at info@sheerluxe.com.