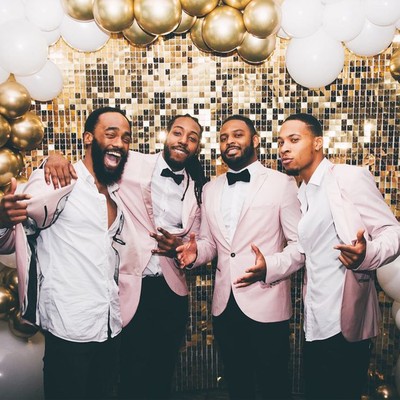 21 Unusual Entertainment Ideas For Your Wedding

Wedding entertainment used to just mean choosing between a band or DJ – but things have moved on a bit since then. Today, couples want to keep their guests entertained throughout the event, but with so many ideas out there, it's difficult to know where to start – not to mention what's on trend or a bit too cheesy. To narrow the search, we asked the experts to share some fun ideas – from the welcome drinks to the end of the night.

On Arrival 
"It's a really good idea to set the tone for your reception by having some great entertainment just when the guests arrive," advises Gemma Jane, entertainment coordinator from Alive Network. "If you're looking for interesting drinks ideas, then the Campervan Cocktail Bar might suit your day. The team are great fun and guests will love it. Or, if you have the space and are outdoors, perhaps try a Bubbleologist to greet your guests – children will be enthralled. Want to get the party started with something a bit different? Our Traditional Swingboats will add an unexpected thrill to your day."
At The Table
"Having a magician at your wedding has somewhat fallen out of fashion in the last decade or so," says Holly Poulter, creative director at Revelry Events. "But it's making a bit of a comeback – especially in the form of close-up performances. A 'Dynamo'-style illusionist can perform some sleight of hand tricks during cocktail hour or in between courses to keep guests occupied when there might otherwise be a lull". 
Gemma agrees: "We have some great magicians on our books who are really popular. Guests also love The Caricaturetainer and Francesco Digital Caricatures – the pictures make for great keepsakes of the day, as well as causing lots of laughter at the time. Or, for something really unique, perhaps silhouette artist Charles Burns is for you. His incredibly delicate and personal cuttings will definitely impress your guests." 
"For entertainment during the wedding breakfast (which can go on for quite a while) people always love The Mind Reader. His Derren Brown-style of entertainment is always a hit," says Naomi Lehepuu from Warble Entertainment. 
For The Party
"To get the evening started properly, why not set up a DIY cocktail bar (with help from a professional, of course). Design some easy custom cocktails that they can learn to make themselves with a mixologist – it's great fun," says Holly. Gemma agrees about setting the atmosphere for the evening ahead: "Make sure your guests are aware the evening fun has most definitely started. One of the acts we love is a mariachi band. There'll be no doubting the party has started when they lead your guests from the dining area to the dance floor."
"For something unique, your guests might love the atmosphere of a Retro Arcade," says Gemma. "It's great fun and brings out the competitive side of your guests – plus, it's something you don't tend to see at many weddings. Another impressive idea is to book The People's Parlour – a whole mini festival in its own right. If you book the 'act' they come with artwork, furnishings, marquee and performers. It's a really great option if you have the budget and it suits your wedding venue.' 
At The After Party
"If you want to end the night, we've often suggested couples finish the night with a bit of piano karaoke. A pianist brings his own baby grand and plays background music and sings before revealing a cluster of microphones and songbook. It's perfect for winding down the night with a nightcap after a few hours on the dance floor," says Holly.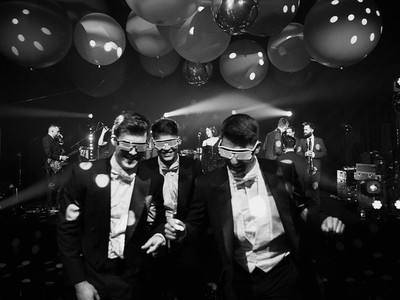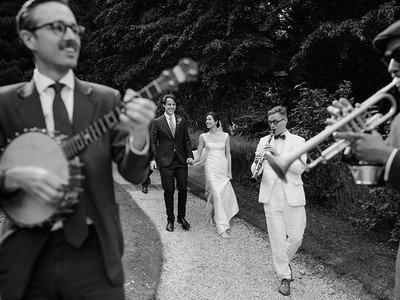 After some further inspiration? Mark Nimierko is responsible for some of the UK's most extravagant weddings. Here, he gives SL the inside track on what's hot – and what's not – in the world of entertainment right now...
What's the coolest form of wedding entertainment you've seen recently?
"A 30-piece orchestra at a wedding ceremony – it still makes the hairs on the back of my neck stand up, no matter how many times I've seen it done before. The ceremony should always be timeless, and, if you ask me, nothing is more classic than strings!"
And what about the most extravagant?
"Barry Manilow as the surprise evening performer. Our groom worked in media law and was still holding onto an IOU from Mr Manilow from the 90s, which is when he helped him with a contract. The backstory helped the act carry a bit more meaning, which made it even more of a 'wow' moment. 
What are the latest trends in entertainment? 
"The big showy wedding is over – I can tell you that much – and with it, booking any old high-profile celebrity performer. Any millionaire can book John Legend – it's obvious and lazy. For the very top end, it's far cooler to poke fun at yourself by booking look-a-likes – but not to perform on stage in any kind of sincere way. For example, have a Prince or George Michael impersonator suddenly appear at 1am around the bar. The next morning, your once-inebriated guests will be asking themselves – did George Michael really serenade them as they sipped their last martini?
Any trends that have really died a death?
"One of my pet hates is to walk into a dining room and see an empty dancefloor and stage, but one loaded with sound equipment and instruments – as a guest you know what's coming. It's far more sophisticated to hide your wedding dancefloor, be it in another space or behind a screen or curtain. Keep your guests guessing where possible." 
What type of entertainment is just a bit too cheesy these days?
"Singing waiters. Just… no. Also, toastmasters – please, we've had enough of being told what to do for the last 18 months. Guests don't need to be herded like sheep – a couple of handsome waiters with a tray of drinks can do this much more subtly." 
What always gets a crowd going?
"My favourite thing to do is what I call the 'wedding wind down'… think after-party, 2am, in a hotel bar. Hire a singing pianist like Danny Mills who can take requests from the crowd, put a bit of cash behind the bar and order in some good fast food. It will feel like a spontaneous lock-in after all the formal activities – but requires zero production or extra décor." 
Who do you suggest for something a bit different?
"Dancers for the dance floor – but not a performance as such. Think more dancers to ensure the crowd get going, should they be shy. From the Frobacks to a gaggle of drag queens, or even some professional dancers from HG Entertainment, they'll all guarantee the floor is full in no time." 
 
For more information visit Niemierko.com, AliveNetwork.com, JoinTheRevelry.com & Warble Entertainment.com
DISCLAIMER: We endeavour to always credit the correct original source of every image we use. If you think a credit may be incorrect, please contact us at info@sheerluxe.com.