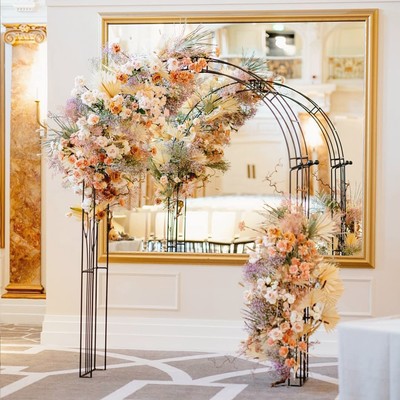 The Best Flowers For Autumn Weddings

Imagine an autumnal wedding and a colour palette of deep reds, rich bronzes and an abundance of foliage, berries and fruits instantly springs to mind. If you're looking to choose your flowers for an imminent ceremony – or perhaps want to offer some help to a bride-to-be – then here's what the experts recommend for the big day.

Traditional
What to pick:
"When it comes to traditional flowers, roses and jewel-toned hydrangeas are a classic autumnal choice, especially when paired with interesting foliage. One can never go wrong with the myriad of varieties of garden roses, wiry jasmine or clematis tendrils at this time of year. Go for warm colours – jewels, maroons, violets, or burnt orange and toffee colours if you're more adventurous." – Michal Kowalski, master florist at Blooming Haus
"Colour is the most important factor when it comes to autumn flowers. You'll find moody burgundy and deep red tones, burnt orange and rusty toned florals on offer, while the specific flowers typically found at this time of year include chocolate cosmos and dahlias." – Kai Kaimins, founder of My Lady Garden
"Traditional autumnal flowers are associated with a change in the seasons, with flowers showing their warmth through rich reds, deep oranges and buttery yellows. If it were me, I'd pick chocolate cosmos, café au lait dahlias or ruby red hydrangeas." – florist Ronny Colbie 
How to style them:
"Bud vases are a traditional but sweet way to decorate your wedding reception. Style them in clear vessels, such as milk bottles, with a mixed number of flowers and foliage. En masse, bud vases create a sea of blooms which look really effective." – Kai 
"Keep it simple by pairing show-stopper florals with autumnal foliage to bring the outside in. Use natural looking vases to accentuate the stems." – Ronny
"Classic styles are round or oval in form. They can be tight with little space between flowers or airier, which is the preferred style for most modern couples. Make sure the choice of vessel reflects the style of the wedding, be it crystal, silver or gold. All textures, fabrics and materials should pair nicely together and tell a story. Traditional style is very decorative, so the larger and more opulent the better – just try to limit the variety of flower types in your designs." – Michal
Contemporary
What to pick:
"I love bloom-heavy palettes with lots of texture, and a focal flower for me is often a toffee rose, which has the most beautiful brown tone and triple centre. Both golden mustard and combo roses give off a golden hue, while  quicksand offers a touch of nude contrast." – Kai
"These days, florists and couples often request novelty or Pinterest-worthy wedding flowers. It explains why a lot of modern arrangements use dried materials (we would stay away from the chemically coloured grasses unless it's done in-house with acrylics and food dyes) and unusual textures with strong colour contrasts, using flowers such as anthuriums, kniphofias, proteas, orchids and pincushion flowers." – Michal
"Contemporary autumn florals could mean looking at more tropical orchids and anthuriums to create stylish, unique and architectural designs. They're all varieties worth exploring." – Ronny
How to style them:
"Strong contrasts of textures, colours, shapes, forms, space – that's the contemporary style. Together, it provides tension in the design and plenty of visual excitement. When it comes to contemporary style, anything unusual will be appealing, so pair shiny anthuriums with ruffled tulips, south African proteas with anemones. Most of all, be playful and daring." – Michal
"Statement bar arrangements, with layers and depth are a great idea. Think sculptural and clustered when arranging, as it will draw your attention and eye to each layer. It will also highlight each colour and convey a story to your audience in a more defined way." – Kai
Rustic
What to pick:
"Go for scabiosas, hot chocolate dahlias, antique hydrangeas and copper beach in a rustic, autumnal wedding design." – Ronny
"Dainty flowers, soft textures, delicate stems, thousands of petals and small details, that's what rustic style means to us. Go for heather, zinnias, clematis, hellebores, cosmos, rudbeckias, autumn textured ferns and double-toned foliage." – Michal
"Rustic flowers mean an abundance of autumnal foliage. Romantic and whimsical, foliage at this time of year really lends itself to complimenting the tonal colours of florals, too. Mix your foliage with celocia, yarrow and zinnias." – Kai
How to style them:
"I would go for table centrepieces with lots of autumnal foliage – full to the brim with textures and shapes, as well as arches overflowing with lush branches in warm, rusty colours. You could even transform a space or feature in the room, such as a fireplace, with this beautiful foliage, creating a super-romantic mood and softening the interior of your venue." – Kai
"Use several types of flowers in the arrangements to create a light and airy style and give the flowers space to let them show off their full beauty. As for the colour scheme, choose saturated colours with plenty of depth – autumnal flowers and foliage have a lot of vibrancy and saturation." – Michal
Some additional tips … 
Michal says: "Ask your florist to choose local foliage over imported ones. Not only is it a more sustainable choice, but the colour scheme will also be richer and more interesting due to variegation occurring in locally grown plants. When creating installations, be it arches or ceiling flowers or centrepieces, think of scale and proportion as your guiding principles – large palatial spaces with high ceilings call for classic opulent designs, while modern and minimal restaurant settings will benefit from contemporary styles." 
Kai says: "The main tip for arches and ceiling flowers is to make sure you create a unique shape first. Texture mixed with a tonal palette usually creates the most striking installation. I like to work with lots of depth and focus on repetition in the design. I cluster flowers but add them in one at a time – this lets me create the perfect shape, which slowly comes to life as each flower is added."
Visit BloomingHaus.com, MyLadyGardenFlowers.com and RonnyColbie.com for more information.
DISCLAIMER: We endeavour to always credit the correct original source of every image we use. If you think a credit may be incorrect, please contact us at info@sheerluxe.com.