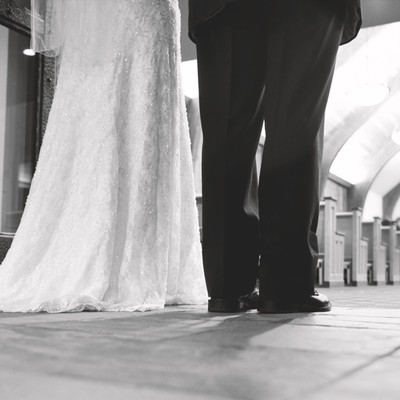 The Best Music For Your Wedding Ceremony

Whether it's for the processional or recessional, music has the power to set the entire tone and atmosphere for your wedding ceremony. And these days, there's a host of genres and musicians to choose from – spanning everything from traditional strings and organ music to gospel choirs and jazz. To help narrow the search, heed this expert advice.

Traditional Processional 
"When the entry music strikes up, it signals one of the most important moments in any wedding day," says Gareth Giles of Last Minute Musicians. "Couples want to capture these memories for the rest of their lives, so it's important to think carefully. 
"Processional music describes the pieces played when the bride walks down the aisle. Depending on the size of the church or aisle, there's usually between 30 seconds and two minutes of music to work with. All the following pieces make a statement within the opening bars, and can be adapted, lengthened or shortened to fit the venue. With over 40 years of wedding ceremony experience, these are the ones I'm most often asked to play:
"The Prince of Denmark's March (also sometimes referred to as Trumpet Voluntary) by Jeremiah Clarke, composed around 1700. With its opening declamatory trumpet tune, this makes for a very grand opening.
"The Bridal Chorus from 'Lohengrin' (colloquially know as Here Comes The Bride) by Richard Wagner, composed in 1850, is a popular, well-known, traditional and frequent request. Trumpet Tune by Henry Purcell, composed in 1878, is again, another excellent choice.
"Prelude from 'Te Deum' by Marc-Antoine Charpentier, composed around 1692, is another popular option. The opening has a bright sense of occasion and, with its steady beat, it always works well for the walk down the aisle. Canon in D by Joachim Pachelbel composed around 1700, is a much quieter, stately entry choice. It's best suited to churches with a long nave, or where there are multiple bridesmaids in attendance."
Jo Warren from The Rose String Quartet adds: "Largo from Winter by Vivaldi (from The Four Seasons) is a stirring, beautifully uplifting piece – perfect for entry music."
When the entry music strikes up, it signals one of the most important moments in any wedding day.
Traditional Recessional 
"The music played when the couple exit is called recessional music," explains Gareth. "The bride and groom are more relaxed and, following their final blessing, turn to begin their walk out of the church as a married couple. There is often spontaneous applause from the guests, and, whatever one thinks about this, there's no denying the smiles and palpable sense of happiness. As an organist, I always play until all the guests have departed, and will often repeat, or play other music if it's a particularly large ceremony. Sometimes, if the weather isn't too kind, some of the photos are done inside, and music needs to cover that, too. Some favourites are: 
"The Wedding March (from A Midsummer Night's Dream) by Felix Mendelssohn. Composed in 1842, this is the most traditional and popular choice. From its opening fanfare, it exudes joy. Toccata from Symphonie 5 by Charles-Marie Widor composed in 1879 is also hugely popular, famous and appropriate.
"Arrival Of The Queen of Sheba by George Frideric Handel, composed in 1748, can also be referred to by its original title of Sinfonia from Solomon. Sortie in Eb by Louis-James-Alfred Lefébure-Wély, composed around 1845, is a quirky, bouncy and extremely jubilant piece of French organ music, vaguely reminiscent of a fairground organ.
"Finale from Symphony No. 3 for organ by Camille Saint-Saëns, composed in 1886, is an eclectic choice. This famous piece of organ music is extremely popular as a grand exit and finale to the wedding ceremony."
Jo agrees: "The Wedding March by Mendelssohn is one of our most requested pieces, as is Spring by Vivaldi (from The Four Seasons)." 
Sarah-Jane Morris, director of music for Last Minute Musicians advises: "Purcell's Rondeau from Abdelazar is a gorgeous piece. I had this as my entrance at my own wedding. Handel's La Rejouissance from the Fireworks music is excellent for strings and organ if you're in church – it's a really bright, uplifting piece. As for songs, things like Ave Maria, Mascagni (from Cavalleria Rusticana), O Mio Babbino Caro from the opera Gianni Schicchi and Franck from Panis Angelicus, are all beautiful."
On the way out of the ceremony many couples see this as a chance to add to the atmosphere of celebration and pick something happy and upbeat.
Contemporary Processional
Fern Godfrey of Fern Godfrey Weddings says: "One of my couples had a quartet of friends perform Harvest Moon by Neil Young as the bride walked down the aisle. It sent shivers down the spine because it was so personal. Strings are always perfect for a wedding ceremony, but now thanks to Bridgerton, reworking modern pop songs for classical instruments has never been more popular."
"There are so many gorgeous contemporary pieces that couples request these days," says Harlano Weekes from the UK Gospel Choir. "For walking down the aisle, Adele's Make You Feel My Love is simple, elegant and has really romantic lyrics. 
Pianist Dorel Oprea adds: "Music is a huge part of any wedding and it's a perfect way for couples to reflect their feelings or personality in a fun and emotional way. Remember to work with your musician regarding timings – it's often a question of getting the bride and bridesmaids down the aisle in time. There are a lot of classic love songs I get asked to play – A Thousand Years by Christina Perri, All Of Me by John Legend and Songbird by Eva Cassidy – there won't be a dry eye in the house."  
Contemporary Recessional 
Pianist Lee Mathews says: "At Last by Etta James is such a great piece and really popular – it's classic jazz and very soulful. I've also been asked for lots of unusual requests, but one of the most popular is The Glasgow Love Theme, which really gets the tears flowing."
Dorel adds: "One of the more unusual requests I've had is the sweet little piano tune from Forest Gump. It's sentimental and tuneful."
"For those who are looking to step outside of the traditional entrance and exit music, there's nothing to say you can't pick a pop/rock song that's particularly special to you and your partner," says Jon of Two Man Band. "All of our songs are arranged in an acoustic live-lounge style, which is really popular for ceremonies." 
"For couples that met around the mid-point of the last decade, Ellie Goulding's How Long Will I Love You may well hold a special place in their hearts. It has a wonderful set of lyrics and a great melody.
"On the way out of the ceremony many couples see this as a chance to add to the atmosphere of celebration and pick something happy and upbeat. Ho Hey by The Lumineers is popular with couples looking for a more indie-style tune, but be warned – you may end up with an impromptu singalong." 
Sarah-Jane adds: "We are also noticing that demand for folk music like guitar and fiddle, bagpipes, ukulele groups or French-style jazz are becoming more popular. Couples definitely want the music to reflect them and also be a bit different."
Visit LastMinuteMusicians.com, AliveNetwork.com and FernGodfreyWeddings.com
DISCLAIMER: We endeavour to always credit the correct original source of every image we use. If you think a credit may be incorrect, please contact us at info@sheerluxe.com.