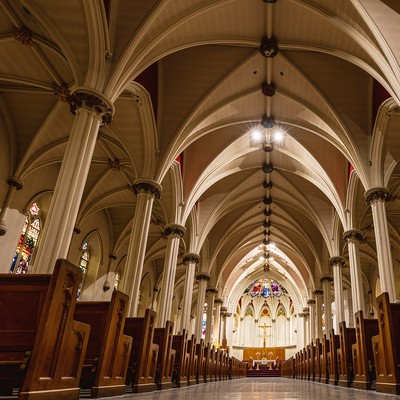 Church Weddings: What You Need To Know

Perhaps you feel getting married in a church is non-negotiable, but it might be a little more complex than you first think. To understand the different options, including the various rules for different religions – which also differ depending on the area of the country – we spoke to founder and creative director of wedding and event planning company Pink Palms Ashleigh Li…

What are the different rules for Catholic, Protestant or Quaker church weddings? 
The wedding ceremony itself will differ according to each faith. Some are stricter and allow less flexibility or personalisation, while some will have more traditional elements which have to be incorporated, so they will be longer. All are legally binding in the UK, but there can be a lot of differences, so don't assume the rules are the same in each place of worship – or even every part of the UK; there are different rules for England, Scotland and Wales as all Protestant churches across the regions operate independently. Ultimately, your request to be married will be decided by the pastor, vicar or priest at each church, and while some legal requirements will be universal, others will be specific to the area or the diocese.
Christian weddings include both Protestant or Catholic weddings and are relatively strict in terms of structure. They must be conducted in a church, which usually means you need a connection to that specific church. If your venue has a church on site that's part of a parish, the reverend may visit the venue and conduct your ceremony on site (although this is only usually the case for protestant ceremonies). The two ceremonies don't differ that much from each other, and both weddings must be conducted inside.
Quaker weddings are different in that there's no officiant – Quakers apply to a committee first, which then approves the marriage. They are sometimes known as silent weddings, as guests enter the Quaker Meeting House and generally settle into silence. Both the bride and groom enter together, say their vows and then another Quaker will oversee their marriage licence. Quakers allow divorced and same-sex weddings, the only requirement being a link to the Quaker faith and community. 
What are the legal requirements and what licenses/documents do you need to have on hand? 
You'll be asked for proof of ID – usually a passport – and evidence of your connection to the church. That might include utility bills that show your address or your parents' marriage certificate. Other legal requirements include proof you're of an age to marry; you are not already married or your divorce is finalised (you will have to show a decree nisi); and you are both willingly entering into the marriage. It is sad to note that not every religion will allow same sex marriages in the UK, so a civil or Humanist ceremony may be the best option for LGBTQ+ couples.
Can you get married at a church not near where you live?
It is possible to get married at a church elsewhere, but it does require a little more planning. Some parishes request that you have a special connection with the area, or they may ask that you to live within the parish for a specific period of time (usually a week at a time) before they will agree to marry you. Don't let this put you off – some of my couples really enjoy this part of the process. Some have even hired an AirBnB and taken a full week out to have a 'wedmin' holiday. 
Some churches will ask you to attend a service every week for a minimum period of time before agreeing to marry you – which is obviously more difficult if you live further away. Each church is different, so again, make sure you're really clear on the rules before you make any bookings.
Do you have to be religious to get married in a church? 
Not necessarily, but church weddings tend to be very focused on the specific faith and less so on the couple – so if you aren't particularly religious, have a good think as to whether a church wedding is the right option for you. Most follow a strict traditional structure, too, with little room for personalisation, other than choosing hymns and readings. So if you want your family to be more involved or add music or other forms of entertainment, it might not be the right venue.
Church weddings tend to be very focused on the specific faith and less so on the couple – so if you aren't particularly religious, have a good think as to whether a church wedding is the right option for you.

Can you still get married in a church if you're divorced?
The general rule of thumb is that the Roman Catholic Church does not allow divorced people to get re-married in their churches (assuming their ex-spouse is still alive), but Protestant churches do. However, there was some controversy last year when Boris Johnson, a baptised Roman Catholic, married his third wife Carrie Symonds in a Roman Catholic Church. They decided that seeing as neither of his previous two marriages took place in a Roman Catholic Church, they weren't valid and didn't count. Whether that's a rule that only applies to the Prime Minister, who knows? But it seems there may be loopholes if you want to look into it.
Is there a 'right' time to book a church ceremony?
Your church ceremony and wedding venue should be booked at the same time to ensure simultaneous availability – so be sure to check as soon as possible if you have your heart set on a specific church that everything aligns. Usually, the venue and the church are some of the first things to be booked – but if you're finding it confusing, an independent planner can help guide you through the process.
Is there a fee to get married in a church?
It's usually around £500 – but this varies depending on whether it's your home parish or if you're travelling. It covers the cost of the vicar/priest, the use of the church, the banns and any administration. If you wanted to use the church choir or have bell ringing included as part of the ceremony, then that might be extra. 
Is it possible to recite your own vows in a church? 
Not usually. The official vows must stay as they are, as they are legally binding. You may be allowed to add a few sentences after the official vows – but make sure you check with the officiant first. If personalisation of the ceremony is very important to you, look at having a humanist wedding as opposed to a church one. 
The official vows must stay as they are, as they are legally binding. You may be allowed to add a few sentences after the official vows – but make sure you check with the officiant first.

Can you decorate the church to suit your style?
This really varies. Some churches use specific florists and while you can choose the colours or theme you might not get much say in anything else. Other churches allow you to bring in your own florist and will allow things like floral arches outside and flowers along the aisle. Others allow you to go all-out with décor. Again, it's another element to thoroughly check with your desired venue before you book anything.
Is a wedding rehearsal guaranteed?
It's one thing that often gets overlooked, but a church rehearsal is critical. Knowing the order of your wedding party entrance, what the cues are and getting familiar with the order of ceremony is so important to ensure you're really present on the day. It also really helps small children if they are part of your wedding party. If you're working with a planner, they will help organise and orchestrate the ceremony, which will take some of the weight off, too. 
Finally, is confetti allowed?
Despite what you might read, most churches still allow confetti, and biodegradable confetti is now widely available if you're concerned about the environmental impact. You can also use real dried petals if you prefer but bear in mind these drop in the air quickly because of their weight, so the effect isn't as magical. To get those incredible confetti shots you see on Instagram, opt for the biodegradable paper. 
 
Visit PinkPalms.co.uk
DISCLAIMER: We endeavour to always credit the correct original source of every image we use. If you think a credit may be incorrect, please contact us at info@sheerluxe.com.