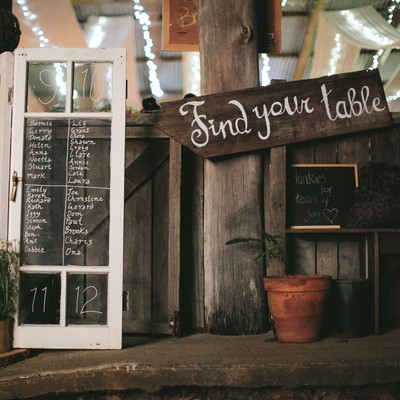 The Dos & Don'ts Of Seating Plans

If you're sitting down to eat, choosing where to seat your guests is a decision often riddled with anxiety – not least because of the inevitable family politics involved. To take the stress out of it, we asked two experienced wedding planners to share their dos and don'ts.

DO have a plan of some kind
"You should definitely think about having assigned seating, especially if you have a large wedding – either way you look at it, a seating plan is essential for logistics," says Chenai Bukutu, founder and principal planner at ByChenai Events. "Your caterers will also rely on the seating plan to help them identify those guests with dietary requirements. Having a plan also reduces the amount of time guests spend milling around looking for their seat, and it ensures most people are seated with someone they know or will get along with."
DON'T just assign the tables and forget the seats
"For a small or micro wedding this could be quite fun and means people can sit themselves where they like," says Chenai, "But only for a wedding of less than 30 people – it will be easy enough for your planner or caterer to identify any special-requirement guests at a party of this size. For a larger event, it would be too confusing." 
DO seat couples together
"There's not really a case for splitting up partners at a wedding," says Chenai. "From a guest-experience point of view, you want people to be comfortable, and some prefer to have their partner with them if they aren't natural extroverts."
 
Holly Poulter, creative director of Revelry Events, agrees: "As much as you want to encourage your friends and family to chat and have a good time, it's not a networking event – people will want to be seated relatively near to the person they came with."
DON'T have a singles' table
"It will make sense to group some people together – uni friends, distant family, colleagues – but there will always be stragglers," says Holly. "Resist the urge to put all the odd people onto one table unless you have to. Instead, try to fit a few people in with other groups who you think they might get along with. Your neighbour couple might have the perfect sense of humour for work friends, your cousin and his wife could have a lot in common with some of your friends from school."
 
Chenai agrees: "There is a case to be made for seating those without plus ones together to avoid couples and family members having to talk around them, but it's a little out-dated, as if you are banishing single people to a dark corner."
DO think of the children
"If you're inviting children to your wedding, depending on their ages, you might decide to seat them all together. Give them their own menu and some table games to keep them entertained," says Holly. "Just make sure parents are aware of the plan in advance."
DON'T bend over backwards
"Be careful how much you listen to other people take on their individual concerns," explains Holly. "Especially when it comes to extended families or warring ex-partners. Be amenable and considerate, to an extent, but if you find yourself bending over backwards for a handful of difficult people, you're not outside your rights to lay down the law."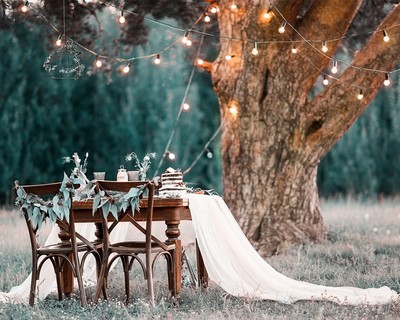 ISTOCK / VYACHESLAV PETELIN
Sweetheart tables (where the couple have their own private table) are actually a wonderful way for a couple to enjoy their reception together.
Chenai Bukutu
DO consider a sweetheart table
"Sweetheart tables (where the couple have their own private table) are actually a wonderful way for a couple to enjoy their reception together," says Chenai. "They offer some much-needed intimacy for newlyweds to eat and talk to each other when the rest of the day is spent talking to other people, too."
DON'T force different groups of friends to mix
"If your friendship groups have met before and got along, then there's no harm in mixing the groups," says Chenai. "But it's still safest to seat those who know each other well next to each other to ensure a positive guest experience.
 
Also, remember the art of hosting a great party is who is on your guestlist. Having some social butterflies who are comfortable talking to anyone, and can include who may be a bit shy, is a great strategy to ensure everyone has a positive experience." 
DO consider the shape of your tables
"Be aware of table sizes when you're drawing up a seating plan," advises Holly. "A 6ft round table can comfortably seat 10, maybe 12 at a push. Meanwhile, a rectangle trestle table will seat three each side, and one on each of the ends. Make sure you're giving people elbow room."
 
"Round tables have always been popular because they ensure guests have a view of everyone sitting there. The banquet table is increasingly popular, too. Although they have more people down the length of each side, you can speak to those next to you and in front of you, creating quite an intimate bubble," adds Chenai. 
DON'T openly number your tables 
"Sure, numbers are easier and more logical, but they can also indicate a hierarchy. Names require a bit more thought and creativity, but they eliminate any questions around importance," advises Holly. 
DO be considerate of older guests
"You may not think it matters, but consider who is on the table," says Holly. "If you have any older guests or those with disabilities, make sure they are facing where you're sitting. When it comes to speeches you won't want them to be straining their necks for long periods of time."
 
"Also don't forget those who are less mobile," adds Chenai, "They should always have adequate room to manoeuvre if they have a wheelchair or cane. Always seat them towards the end of a banquet table so they don't have to shuffle between seats, and as close to the exits as possible so they don't have to travel to far to the bar or the bathroom."
DON'T think there has to be a top table 
"The head table can be one of the trickiest parts of the seating plan," says Holly. "Even more so if you have a slightly complicated set up – parents who aren't together, are with other partners, or if you have a large bridal party. Remember, your head table can be as big or as small as you want. A long, double-sided table works for big wedding parties. Or be diplomatic and sit with your parents, your best man and your maid of honour only." 
 
"A head table is definitely a tradition you can ditch if you prefer," adds Chenai. "The bridal party (maids and groomsmen) can sit among family and friends, and the idea of seating parents together is lovely. In some cultures, the parents don't meet or spend time with each other very much prior to the wedding, so this might be an opportunity for them to do so."  
 
For more information on seating charts and general wedding planning visit ByChenai.com and JoinTheRevelry.com
CREDITS: SETH MOURRA/STOCKSY UNITED, ISTOCK/VYACHESLAV PETELIN
DISCLAIMER: We endeavour to always credit the correct original source of every image we use. If you think a credit may be incorrect, please contact us at info@sheerluxe.com.