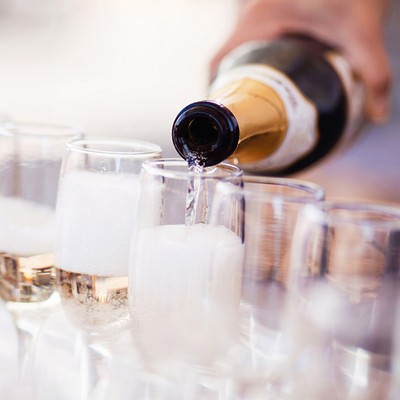 How To Buy Affordable Wedding Champagne

The fizz you serve can set the tone for the whole day, so you want to get it right. To help you find the best bubbles within your budget, we asked the experts for their advice and their favourites…

FIRST, GET TO KNOW THE DIFFERENT CHAMPAGNE STYLES
Learn the different champagne categories before you start your research. There are the three to know:
Non-Vintage
A blend of several harvests – perhaps the best example of a house style. 
Vintage
A blend of a single harvest, with the year written on the label.
Prestige Cuvée
Top-of-the-line champagne that can be quite rare, and always comes at a cost.
Within these categories, there are then three main varieties: 
Blanc de Blancs
A white champagne made from only white grapes, i.e. Chardonnay.
Blanc de Noirs
A white champagne made from red-skinned grapes, i.e. Pinot Noir and Pinot Meunier.
Rosé
Pink champagne. Different in colour and born from a region that is one of the very few areas in the world that allows for white and red base wines to be blended to create a rosé wine.
"Most of us will know champagne as being 'brut', meaning 'dry', but there are 'sec' wines and 'demi sec' wines which indicate sweetness. Brut is the most commonly served at a wedding", explains George Sandbach, MD of Sandy's Group. 
THEN, THINK ABOUT THE STYLE YOU PREFER
"Three grapes are used in champagne making: Chardonnay (white grapes), Pinot Noir and Meunier (both black grapes). The blends will determine if the champagne is light, full-bodied, elegant, bready, yeasty, fruity or floral. Rely on what type of still wine you like: if you tend to prefer full-bodied wines, choose a blend with a higher content of black grapes; if you prefer lighter styles, pick a Chardonnay-based champagne," says Francoise Peretti, director of the Champagne Bureau UK. Harry Crowther – wine advisor at Grain to Grape and The Cricketers On The Green – agrees: "Blanc de blancs can offer more freshness and citrus-driven character. If you're after a richer style, look for Pinot Noir or champagnes that have used oak in the production process."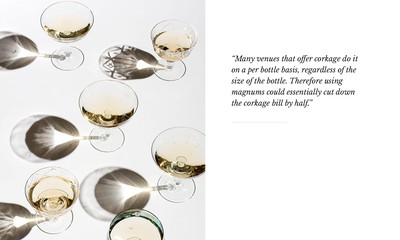 RESEARCH PRICE BRACKETS
"Champagnes vary in price due to a few reasons," says George. "The main factor is simple: quality. A smooth, well-balanced, full-of-fruit champagne will be more expensive simply because it's tastier." As Harry explains,  the price of a champagne also depends on "the reputation of the producer as well as the site the grape has come from. Ageing also plays a factor. Champagne is famous because of the production method. It involves keeping the juice/wine in contact with what we call the 'lees'. The longer the contact with the lees, the more complex – and expensive – the champagne can be." Francoise advises: "Non-vintage champagne prices range between £20 and £40 a bottle; vintage from £40 to £60; and prestige cuvées from £60 to over £150. NV is both the most widely bought and the one that comes in a wide variety of styles – brut, rosé, blanc de blancs and blanc de noirs. It's the producer's flagship style, so buy it with confidence."
CONSIDER BUYING MAGNUMS
"Magnums not only look impressive, but the taste is better as the champagne matures better in the bottle," says Julien Lonneux, UK CEO of Vranken Pommery UK.  "A magnum is a double bottle, so it's 150cl of champagne – you can get 12 flutes per magnum. Also, with more wine in the bottle and less empty space between the cork and the wine, there's less chance of oxidation, which can make the wine go off. Many venues offering corkage do it on a per bottle basis, regardless of the size of the bottle, so using magnums could essentially cut down the corkage bill by half. But always check with your venue before ordering, as some may charge a higher rate for magnums." However, Harry warns: "Larger bottles and packaging, as well as the need for greater cellar storage space, can result in magnums being more expensive." So, make sure you do your research.
TRY ENGLISH SPARKLING WINE
"Consider an English sparkling wine for your wedding – especially if you are getting married in the region the wine is made. Louis Pommery England is the first English sparkling wine to be released from a champagne house. You know you will get a high quality product – and it's made in Hampshire," says Julien. George agrees: "English sparkling is fantastic. There are some great wineries – in the south of England especially – that are making some stunning stuff, and the price is fairly similar to champagne. They are both made from the same grape varieties on the same soil, which is very important to know, too."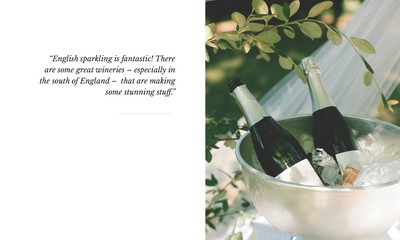 WORK OUT HOW MANY BOTTLES YOU WILL NEED
"Once you know your guest numbers for your reception, it is easy to work how many bottles you will need. You can get six standard flutes to one bottle, or 12 to a magnum. You should allow at least one glass for every guest. So simply divide the number of guests by six and this should give you the minimum amount required," says Julien. "If budget is an issue, look for a good-quality sparkling wine, such as a cava, crémant or DOCG prosecco, for the reception, then hold a few champagne bottles for the bridal table," suggests Harry. 
ASK THE EXPERTS
"Let the experts – for example your retailer – help you choose. Whether you're buying from a wine shop, supermarket or online, rely on the wine sales advisors. Tell them what wines you like, the occasion you'll be drinking the champagne, and what your budget is," advises Francoise. George recommends you "ask your local wine merchant what they are enjoying at the moment, as hopefully they'll recommend something independent and niche". However, says Harry: "Be cautious of using some event caterers' preferred suppliers or products, as these can often be overpriced."
HAVE THE CORKS RETURNED
"Corkage is the fee associated with opening the bottle. Depending on your wedding package, this may or may not be included in your price. If you are opting to buy champagne from the event planner or catering company, we can assume they are making a reasonable margin on the wines and therefore corkage should be minimal to nothing. If you are sourcing your wine from an external supply chain (e.g. supplier or merchant) then your venue/organiser may add corkage as a way to make direct income from the wines," says Harry. If this is the case, "Always ask for the corks to be returned to you," advises Julien. "Some venues tell you that all the champagne has been drunk, but that may not be the case!"
Visit OxfordWine.co.uk, ChampagnePommery.com, Champagne.fr, Sandy's.co.uk,
Follow @GrainToGrape, @ChattingWine
Shop our experts' selection of champagne below...
DISCLAIMER: We endeavour to always credit the correct original source of every image we use. If you think a credit may be incorrect, please contact us at info@sheerluxe.com.