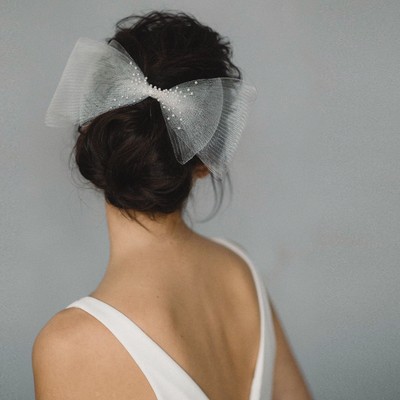 How To Find & Style An Updo To Suit You

Many brides opt to wear their hair up on their wedding day. But like most things, there are options – from sleek ponytails to classic chignons. We went to some of the industry's leading hairstylists to get their advice.

It sounds like an obvious question, but does hair always need to be long to wear it up?
"You can achieve an updo with hair of almost any length, but it's ideal if it comes to your shoulders at least. Anything below the bra strap could actually be too long to put up – something not a lot of people realise. If you have a particular look you're after, but the hair lacks volume, a few discreet extensions can help you get that extra length and thickness. Taped ones are best as you can use them, remove them, and save them for another day. Plus, they don't damage your natural hair nearly as much." – Vicky Demetriou, Larry King stylist
"Lengthwise, anything around shoulder-length is ideal, but that doesn't mean that if your hair is shorter it can't be worn up. We can work wonders with extra hair pieces and accessories to cover any loose, shorter strands. Speak with your wedding stylist and your cutting stylist to come up with a plan. If you aren't going for a sleek low bun or ponytail, it's worth having some layers cut in around the face to soften the look. Also, avoid having it cut too near the actual wedding date – the ends will be far too blunt and the updo will be harder to blend." – Laura Hulbert, founder of Lalo Hair & Makeup 
"Because of all the technical advances in hair – extensions included – anyone with any hair length can choose to wear their hair up on their wedding day. However, it's worth bearing in mind some styles will suit different face shapes better." – Boe Wright, founder of Botias
 
Okay – so can you tell us more about which updos suit different face shapes then? 
"Finding the perfect style for you comes down to highlighting your best features," says Boe. "Face shapes are generally categorised into six shapes – oval, long, square, round, diamond and heart shaped." 
1. Heart-shaped face: "Try to draw attention to the eye area with soft fringes or volume along the sides. Also choose a hairstyle with width at the back to balance out a narrow chin."
​2. Long face: "Softness around the face will add width, while a side parting tends to suit this face shape better. Try avoiding too much volume or severe slicked back looks as they usually only work to elongate the face."
3. Oval face: "The good news is this face shape suits nearly all updos, so focus more on texture. Softness over the top of ears and a few curls will add some nice movement."
4. Round face: "With round faces, less width at the sides is often a more flattering choice. Sleek buns can be very chic – just remember to add a bit of volume on top to elongate your face."
5. Square face: "You may want to soften the jawline here, so adding layers around the face can be pretty – especially with a soft wave. Texture and choppy ends work well, too." 
How do you ensure an updo looks modern?
"Forget the old-school prom hairdo – an undone, teased-out, messier style works much better on a modern bride. Try a ponytail with a bit of volume or a low tousled bun. Also, a sleek, low bun or ponytail is very Hayley Bieber – it can look quite fashion-forward, you just need to be confident about having your neck and shoulders exposed." – Laura 
"Texture is key for a modern finish. Use a salt spray to encourage some gentle movement – it'll help the look appear more 'undone', which isn't just modern, it also lets the dress do all the talking." – Boe 
 
Talk us through a few more of your favourite updos…
"I love a chignon – it's such a classic look. Go for a low chignon-like bun with an ornamental hair band or make it textured for a softer look. I love buns because you can really accessorise them – for a modern look try an oversized white scrunchie or a long ribbon wrapped around it. If you've got a second dress or evening look, you can also change this into a ponytail later on for a more relaxed vibe." – Vicky 
"Low chignons, classic French pleats, textured buns or princess-style high buns are all very on-trend right now, but remember, not everyone's comfortable wearing their hair up. From experience, some brides can feel quite exposed, especially if they are wearing a strapless dress. Ponytails are a great way to combat this. They are pretty, but still make you feel like your hair is partially down. Another option is a soft, tousled hair-up look – with more curls or strands falling down around the back and face, it can make the overall look feel less severe and formal." – Boe
 
How can the right accessories elevate an updo? 
"These days, the choice of headbands, pearls and combs are endless. Pearls look beautiful with plain satin dresses, as do statement headbands. Fresh flowers and pins are a good choice for more intricate hairstyles as they can draw attention to the details. You can also change them up for the evening – perhaps go for something more classic for your ceremony or ones which work specifically with a veil. Then, add a bit of sparkle for the party." – Boe
"Accessories can change your whole look. They can also add a touch of something extra if you've opted for a plain, simple dress. Check out Garter and Veil and Eden b. Studio. Your hair stylist should then be able to show you how to work with them – some will be used at the crown, as a sidepiece or dotted around the back of the hair to break up the style. Real flowers look beautiful as part of a loose waved style, too." – Laura 
Forget the old-school prom hairdo – an undone, teased-out, messier style works much better on a modern bride. Try a ponytail with a bit of volume or a low tousled bun.

Do things like necklines matter? 
"If your dress is completely closed at the neck, then it's best to wear your hair up and off your face to stop it getting caught in any of the beading, buttons or zips. Strapless dresses are the most versatile to work with and V-necks are great with half-up dos." – Vicky 
"I agree – dresses with high necks and long sleeves usually call for hair up. That way, the dress can shine without being too lost in lots of hair. Low buns or hairstyles gathered at the nape are a great choice for strapless and low back dresses. A-line dresses have width, so high hairstyles tend to complement this cut best. If a dress is very embellished, wearing your hair up will avoid it getting caught in the beading." – Boe
"Halter neck dresses look beautiful with waterfall-style up-dos. What we mean by that is essentially wearing the hair up and out of your face, but letting it cascade down your back to maximise the length. Adding width and height to any hairstyle will also make you feel less exposed, so bear that in mind if you feel a bit self-conscious." – Laura
 
What products will help keep the style in place? 
"The Larry King Social Life for Your Hair Fly Away Kit is perfect for keeping in your bag. Make sure to have a few grips and pins with you, too." – Vicky  
"A few kirby grips and a hairspray that isn't too sticky are both wedding day essentials. My hero products are Nine Yards hairspray and Living Proof dry shampoo if you suffer with oily roots – for anyone with fringes, you might need a quick spritz before the evening event starts." – Laura 
Interested? Here's where SL recommends you go for a bridal updo…