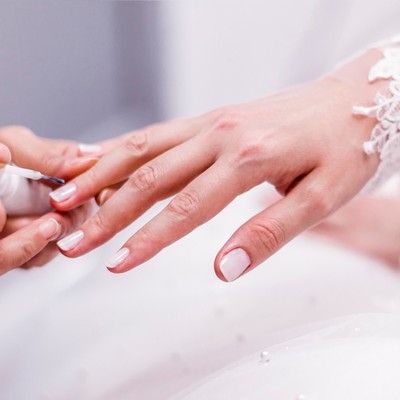 How To Get Wedding Nails Exactly Right

Hands and nails are very much in the limelight on your wedding day, so it's crucial they look good. From delicate pinks to barely there nudes, there's a nail shade to suit everyone. We went to the experts for their advice on finding the perfect colour and to discover the most requested bridal shades at their salons. Here's what they said…


"It's good to know if you have a cool, warm or more neutral skin tone as a guide. There is a shade of every colour for everyone, so it's not true that certain skin tones should avoid certain colours. The likelihood is that someone with a cooler skin tone (more blue or pink undertones) can wear a blue-based or cool red, just as someone with warmer skin tones (olive and peach) can wear an orange or yellow-based red. Once you understand what a warm or cool shade is, you have your whole colour palette to complement your skin tone. A simple way to find out whether you are cool or warm is: if you know pinks suit you better than peach shades, you are cool; if you think peach suits you best, then you are warm." – Belinda Price, expert & educator, OPI

Light Skin Tones
"Pastel colours complement lighter skin tones really well. I always suggest shades that contain no red or orange undertones, as these can pick up and draw attention to colours in the knuckles, which can be unflattering. Darker shades can also work very well with lighter skin tones. These can add fun and drama, especially for a winter wedding." – Sherrille Riley, celebrity brow expert & founder, Nails & Brows Mayfair
Tanned/Olive Skin Tones
"For tanned skin I always recommend lighter colours such as pastel and neutral shades. Brighter colours such as corals or rich reds look great too, though our nude and natural shades and whites are still the most popular for bridal nails. We recently launched our Pearl collection – a luminous modern take on bridal nails." – Belinda
"For medium and olive skin tones, coral can be a great choice, along with bright, rich orange." – Fatima Naveed, senior brand manager, Duck & File
Dark Skin Tones
"Darker skin tones suit a sheer white or creamy yellow. At Duck & File, a firm favourite is Chinchilly by Essie, which is flattering on practically every skin tone." – Fatima

"The prep is what makes the difference between a professional manicure finish and a quick fix. Start with clean hands; file and shape; apply a cuticle exfoliator and massage in. Leave for five minutes, then wash off using a soft nail brush in the cuticle area. Wipe nails dry, apply OPI Chip Skip (a wear extender), followed by a basecoat and then your favourite colour and a topcoat." – Belinda
"Make sure you moisturise your hands and nourish your cuticles in between manicures, and keep cuticles neat by pushing them back and trimmed if necessary." – Sherrille

"Protect your manicure from household chores by wearing gloves. Use a cuticle oil every day (twice a day if you can) and use a good hand cream that doesn't contain Lanolin or mineral oil." – Belinda
"Always wear gloves for any jobs that allow your hands to get wet. I even recommend washing your hair wearing surgical gloves. Although this might sound odd, it actually preserves a fresh manicure for much longer and also prevents the hands from drying out. I recommend re-applying a top coat over the existing polish to preserve longevity." – Sherrille
 
Inspired? Here Are Some Of The Most Requested Bridal Nail Shades…
Salon: DryBy
Shade: CND Shellac UV Gel Polish in Uncovered, £14.95
According to Dryby, its metallic accents are very popular with brides, with base colours such as Romantique, Beau, Negligee and White Winter. Shades from CND's nude collection are also top sellers for the wedding season.
Buy it here
Salon: Nails Inc at Harvey Nichols 
Shade: Mayfair Lane, £15
This ultra-high-gloss rose-pink shade from Nails Inc is a pretty choice for bridal nails, and suits all skin tones. 
Buy it here
Salon: Duck & Dry
Shade: Infinite Shine 10-Day Wear in Bubble Bath by OPI, £13.90
This delicate shade is really popular with brides, according to Duck & Dry. The beautiful hue, with a pretty pink undertone, is wearable on every skin tone.
Buy it here
Salon: Nails & Brows Mayfair 
Shade: Kure Bazaar French Rose, £15
Easy-to-wear shades and natural, clean colours are particularly popular with brides, reports Nails & Brows in Mayfair. Its most popular bridal shades are Essie's Ballet Slippers and Kure Bazaar's French Rose. Delicate nail jewels are also increasingly popular.
Buy it here
Salon: House of Lady Muck (HOLM)
Shade: Marshmallow By Gel Bottle, £14.50
The most-used nail shade for brides at HOLM is the timelessly coloured Marshmallow by Gel Bottle. Some brides take it up a notch by adding HOLM's signature dried flowers on top of the colour to give it an ultra-pretty look. 
Buy it here
DISCLAIMER: We endeavour to always credit the correct original source of every image we use. If you think a credit may be incorrect, please contact us at info@sheerluxe.com.