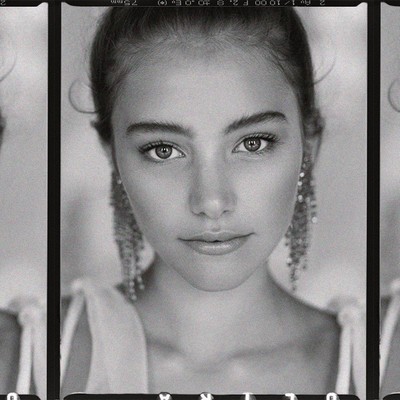 How To Have Great Lashes On Your Wedding Day

If your lashes could do with a bit of TLC before the big day, help is at hand. We spoke to three experts about the products to try, the best treatments out there, and how to work with false lashes and extensions if the real thing just isn't enough.

All products on this page have been selected by our editorial team, however we may make commission on some products.
Vanita Parti, CEO and founder of Blink Brow Bar, says…
Treat your lashes like you would your skin. Our Luscious Lash Oil is full of natural essential oils to condition, hydrate and strengthen the lashes – a good lash oil is vital to keep your lashes nourished and allow them to grow.
Invest in a treatment. Our Dream Lash Lift or Curl promises to alter the shape of your natural lashes by lifting and curling them from the base to the tip. It involves positioning a curling rod at the base of the eyes and attaching the natural lashes to the rod to form the desired result. Lifting solutions are then applied to deposit hydrogen into the cortex of the hair. The hydrogen breaks down the scaffolding disulphide bonds, and the hair moulds itself to the shape of the curling rod. The lashes can appear longer and fuller – it's like a hair perm. It takes approximately an hour and 15 minutes to complete, compared to a full set of extensions which takes around an hour and 30 minutes. Results are instant and there's zero down time.
Remember, costs can vary. It'll largely depend on the treatment you go for. For example, the Dream Lash Lift or Curl starts at £70, a full set of extensions is £150, and half sets come in at £80-£85. It also depends on location and salon. In central London, you can expect to pay between £120-£200 for a good set of lash extensions. It's intricate work that requires great concentration from the therapist – and the knowledge or experience is always reflected in the price.
Start threading at least three months before. Especially if you're a first timer. That way, you can ensure you won't have any reactions and get the results you want. It's best to get brows and lashes treated for a final time a few days before the event – you want lashes to look fresh, brows beautifully groomed, and everything to be in place – but you also need a couple of days for the skin to settle down and to get used to the sensation of having lashes on. If you've had extensions, try to avoid rubbing your eyes or having very hot showers or saunas. When you remove your mascara, do so gently with a non-oily remover. Remember, the lashes are attached with a glue, so anything that melts it will result in them not lasting as long.
I tell brides to get their lashes applied three days before the wedding. However, it's good to trial this treatment two months or so before so you know what to expect.

Sherrille Riley, founder and CEO of Nails & Brows Mayfair, says…
Try a growth serum. In my opinion, the best is Revitalash, as it's one of the only ones out there that helps the lashes grow and makes them look stronger and thicker. 
Know your eye shape and what suits you. A good lash specialist will go over this with you – remember, it's about working with your natural lashes to add volume and thickness. The eyelash extension therapist will also be able to recommend how many lashes you may need and at what length. Depending on the shape of your face, different lengths are often applied to different parts of the eyelid or trimmed to look more natural and flutterier. I tell brides to get their lashes applied three days before the wedding. However, it's good to trial this treatment two months or so before so you know what to expect and can confirm the desired look at your final treatment.
After any lash treatment, let the lashes dry for 24 hours. That means no water, gym, steam or sunbeds. They must be left alone to allow the adhesive to dry. Don't use oil-base products during the extension cycle to prevent the adhesive loosening. Instead, use a lash brush to gently brush the lashes into place and use an oil-free make-up cleanser at night.
False lashes are a great 'instant' option. Follow the manufacturer's guidance and do an allergy test of the adhesive 24 hours before to prevent nasty reactions. I like Eyelure ones best. Strip lashes can also be cut and popped on the end of your natural lashes for extra length. However, bear in mind that any other kind of false lashes other than a strip lash probably need to be done by a professional to get the right look.
Try a lash lift as an alternative. A specialist like Brow Bar London, Shavata – or even Primark these days – can lift your lashes into position before a solution is applied to keep them there.

Sophie Tilley, owner of Sophie Tilley, says…
Don't be scared of lash extensions. I rate Edy London and Daxita. They'll apply a single lash (which are black and already curled) to every one of your own lashes, enhancing your look for several weeks. You can choose the length and thickness, so it's completely tailored to your taste. 
Try a lash lift as an alternative. A specialist like Brow Bar London, Shavata – or even Primark these days – can lift your lashes into position before a solution is applied to keep them there. The results are astounding; they tint them too, so day-to-day you may not need mascara. It's a great option if your lashes are fair.
'Cluster' or 'partial' lashes aren't as fiddly as individuals or a full strip. They're probably the easiest to apply, too. If you have some full strip lashes, consider cutting them in half, or into three sections to make them easier to layer along your lash line, or just apply one or two. False lash brands I rate include Lashify, Kiss, Vieve, InVogue and Eye Candy. Use Duo Glue as your adhesive – it comes in black and white, the latter of which dries completely clear. Apply it to your false lash and allow it to dry for about a minute so it becomes 'tacky'. It's much easier to position into place.
When applying false lashes, don't line them up with your own. Count a few hairs in and then place them on. This goes for the inner corner, too – there's nothing more uncomfortable than them pinching there. Give the outer corner a few millimetres to achieve a lifted and widening effect. Too far out and you'll get a droopy look – no one wants that. Also, ensure the rest of your make-up is done before applying false lashes. They should be the last thing to go on and the first thing to come off.
Understand lash curlers are a must. Even on natural lashes, it can make all the difference in helping you look wide awake and perky. All fake lashes are pre-curled but if you want to curl them further, give them a very gentle squeeze. Eyelash curlers I rate include ones by Shu Uemura, Kevyn Aucoin and Surratt. From there, grab a black liquid liner to go over the false lash band. Although the glue is clear and dry, you'll get a more seamless finish if you go over it. Take your liner outwards for a flattering flick and also inwards, to continue the lash line band of the false lashes into your tear duct.
Consider tightlining as a final touch. Lift your upper eyelid and scribble in the upper water line with a black kohl pencil. This way, you won't be able to see the 'gap' of skin between the lashes and your eyeball. Then, to amplify lashes even further, apply a bit more mascara. Be careful though – use a thinner wand to coat them evenly.
Shop The Products The Experts Recommend Below...
DISCLAIMER: We endeavour to always credit the correct original source of every image we use. If you think a credit may be incorrect, please contact us at info@sheerluxe.com.