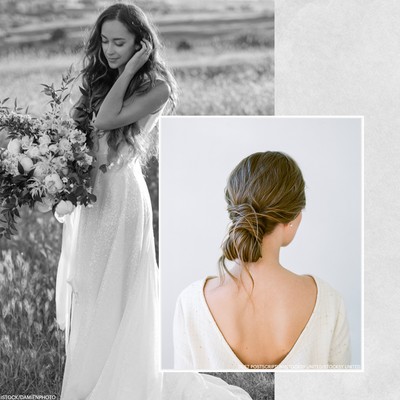 How To Have Long Hair For Your Wedding

Many brides will decide to grow their hair out in the run up to their big day, but is it something you need to allow time for or is there anything you can do to speed up the process? From the importance of supplements to why switching up your products could make all the difference, here the pros explain all.

Is it possible to 'help' my hair to grow? 
"Most definitely," says Anabel Kingsley, trichologist and owner of Philip Kingsley. "Taking a holistic approach that promotes healthy hair growth from an internal as well as external standpoint is the most effective way to improve hair growth. Use strengthening and hydrating products to improve the actual condition and integrity of your strands and your scalp (the bedrock of your hair follicles). Optimising your diet and stress levels will also give hair growth a boost from within."
"It's certainly possible to help your hair to grow longer," says Centred creative director and hair stylist Kieran Tudor. "The key is to maximise its potential. Many factors are responsible for how well your hair grows including genetics, lifestyle, diet, hormones, medication and the environment. Some of these factors are easier to address than others, but even when it comes to genetics or hormone levels, you can make changes to your routine to maximise this.
"It's also important to know hair grows in cycles – the anagen stage is when each individual hair follicle is actively producing hair. Next is the catagen stage, which is when the follicle enters a resting phase, where it detaches from its blood supply meaning it's not actively growing anymore. The final stage is the telogen stage, or the shedding stage, in which the follicle sheds the old hair as a new strand begins its journey in its place, beginning the anagen stage all over again."
 
Is there anything you can do to tackle extreme hair loss?
"If you have concerning hair loss, and you can't make it to see a specialist, there are some simple steps to take to get growth back on track," advises Anabel. Here are four:
Take care of your scalp – it's your hair's support system. Start treating your hair and scalp with the same care as you do your face, and you will most certainly see an improvement in its strength and condition. A healthy scalp promotes healthy hair growth – and, in fact, a flaky scalp can cause hair loss. Cleanse (i.e. shampoo) regularly, tone daily and use a targeted scalp mask once a week to address any concerns.

Eat well. Hair growth depends on nutrition. The reason for this is that, because hair is not an essential tissue, it's one of the last parts to receive any nutrients. This means any nutritional deficiency, even a small one, can negatively impact your hair – and long before it affects your general health. Eating at least a palm sized portion of protein (what your hair is made of), and a serving of complex carbohydrates (which provide your strands with the energy they need to grow) at breakfast and lunch will really help your hair grow longer. Iron is also essential because ferritin is crucial to produce the protein your hair is made of.  

Ask your doctor for blood tests. This will reveal any underlying vitamin and mineral deficiencies or imbalances that may be contributing to your hair loss. Nutritional deficiencies are a very common cause of hair loss and the growth of poor-quality hair – the most common being iron, ferritin and vitamin B12 deficiency. Based on your results, make appropriate changes to your diet and take a relevant multi-vitamin.

Be kind to your hair. Unlike your skin, your strands don't regenerate themselves if they are damaged, nicked or scratched. So, be careful when you style, brush, detangle, and shampoo. Also, towel-dry gently; roughly rubbing your hair can cause split-ends and breakage. Try to use a soft, microfibre towel instead.
 
 What are the some of the main dos and don'ts ahead of the wedding? 
"First, do not crash diet leading up to your wedding," advises Anabel. "Rapid weight loss almost always causes hair to shed in excess 6-12 weeks later; and one thing you certainly don't want before your wedding day or on your honeymoon is a distressing amount of hair loss.
"Leading up to your wedding, eat a healthy, balanced diet and don't skip meals. Hair is the first part of us to suffer when we're not eating regularly. As mentioned before, try to include at least a palm-sized portion of protein with your breakfast and lunch. Great options are eggs, fish, lean meat, low-fat cottage cheese, and quinoa. To give your hair an extra daily boost of protein, try taking a protein supplement. Due to your hair's unique nutritional needs, it can be difficult to meet its requirements through diet alone. Also, try taking Biotin as it helps your body to break down protein in the foods you eat.
"Include a portion of a complex carbohydrate, such as wholewheat toast, brown rice, potatoes or pasta with each meal. Carbohydrates provide your hair with the energy it needs to grow. Hair cells are the second fastest growing cells the body produces, meaning they are very hungry. Also, try to eat iron-rich foods, such as steak, dark leafy greens, dried apricots and beetroot. 
"Strengthen your hair with a weekly moisturising pre-shampoo mask. Our pre-shampoo conditioning treatment, Elasticzer, adds strength, bounce and shine to strands. Try to limit your use of hair straighteners and high-heat styling tools as much as possible. They can cause a lot of breakage, which will affect the fullness of your mid-lengths and ends. When you do heat-style, use a good heat protection product, too."
 
Are there any cutting or colouring tips which could help stimulate growth?   
"Start by trimming off all your split ends," says Rianna Henry, GHD hairstylist. "If you have colour, make sure it's applied by a professional to ensure your hair is not being over-processed, and always use the right aftercare products to keep your hair in great condition. The environment and weather are also a big part of growing hair longer. In winter months, keep hair well moisturised with hydrating masks. In the summer months find a product that has UV protectant. Most importantly – use a silk pillowcase. Hair rubs against cotton causing friction and breakage, but with a silk pillowcase your hair can glide against the silk."
"Schedule to have a trim every 10-12 weeks, which will allow for better growth while also getting your hairdresser to take the very minimum off – just to seal the ends and stop the hair from splitting," adds Kieran. "This should allow for four trims in the year with the last one a few weeks before the big day."
 
There's a year to go until the wedding – what do you advise?
"If you have 12 months and you're hoping to grow your hair as long as possible, then there's plenty of time," advises Kieran. "It varies from person to person but you can expect to add between five and ten inches of length over a year. During this time, take a course of at least three months-worth of hair growth supplements along with a weekly scalp massage using our En Root Scalp Treatment.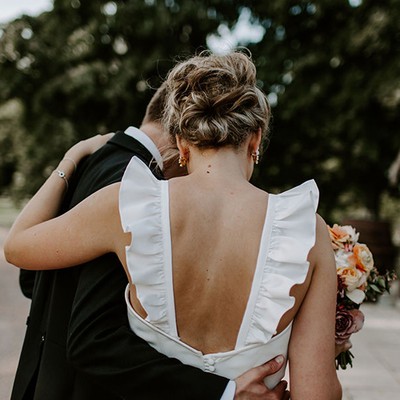 Leading up to your wedding eat a healthy, balanced diet and do not skip meals. Hair is the first part of us to suffer when we are not eating regularly and nutritiously. Try to include at least a palm-sized portion of protein with your breakfast and lunch.
There's three months until the wedding – what do you advise? 
Inanch Emir, extensionist and creative director of Inanch London says: "The quickest and most effective way to achieve length for your big day is to have hair extensions. With extensions you don't need to worry about your own hair's length or thickness to achieve the look you want. Even if you don't plan to wear your hair down on the day, length and volume gives you more flexibility when it comes to styles. If you're looking to have extensions for the first time, try them out ideally three to four months before the big day and then have a fresh set applied closer to the big day."
"In three months, expect to add between one to three inches to length, depending on your rate of growth," says Kieran. "Try taking our supplements and apply our En Root Scalp Treatment twice a week with a minimum of five minutes of massage each time. Lifestyle habits are also really key – try to eat a well-balanced diet, drink 2-4 litres of water a day and get enough sleep. If you can, reduce stress as much as possible."
There's only a month to go – what are some of the ways to get longer/thicker hair? 
"If you're getting married in a month, have extensions fitted two to three weeks prior to the big day to give your extensionist enough time to make any adjustments, if required, so that you feel 100% comfortable and happy with them," advises Inanch. 
"Go for Great Lengths tapes – they are fantastic," advises says Vicky Demetriou from Larry King. "They are small and discrete and will extend your hair quickly with almost zero commitment. They are so easy to adjust or remove, too – you can have them applied during the lead up to your wedding and have them removed soon after."
Award-winning hairdresser and co-owner of gfc Hairdressing, Paul Falltrick, advises: "Even if you do opt for extensions or additional hair pieces for your big day, it is still crucial to have a healthy scalp that is growing strong hair, as this will be the foundation for the additional hair."
 
Supplements have come up a lot – do they actually work?
"Any time one of my clients wants to grow their hair faster, I always recommend they take at least three months of Hair Gain Grow," says Josh Wood celebrity session stylist Pete Burkill. "It's vegan-friendly and packed with AnaGain, zinc and biotin. It's good at boosting hair growth and giving it that extra shine and fullness ahead of the big day."
"Yes, supplements do work," says Rianna. "I couldn't recommend a better brand of hair vitamins than Hair Gain – they work and don't cause your skin to breakout. They come in a capsule form, as well as a chewy gummy and the bonus is they're completely vegan friendly, so it's suitable for everyone."
"Absolutely they work," agrees Kieran. "When it comes to hair health, you have to nourish yourself inside and out. Our supplements help send key nutrients to the hair follicles to promote stronger, healthier, shinier, more voluminous hair. They're also more than just a hair growth supplement – each capsule contains a unique blend of vitamins, minerals and herbs that also help to increase energy levels, counteract the effects of stress and support the immune system."
 
What about textured or afro hair – is there anything brides should know in this case?
"If you have afro hair, try adding a humectant oil like olive oil or coconut oil to your deep conditioner," says hairstylist Cimone Cheveux. "Apply the conditioner and then cover your scalp with some cling film or a steamer cap – this helps to push the products into your strands, which is great if it has low porosity."
"Afro hair can withstand a little more oil, so use a growth scalp oil," advises Rianna. "There are so many options out there to choose from – whether it's a homemade complete naturally oil you make yourself or store brought one. Afro hair needs more hydration more than anything, and it always needs a good cleanse before shampooing. A light cleansing shampoo will get rid of all oil and dirt in the scalp, while a moisturising shampoo followed by hydrating mask will work wonders. When using heat, also use a protective spray and a scalp oil three or four times a week followed by a good head massage."
 
Is there anything else I should be aware of?
"When it comes to brushing dry hair, choose your hairbrush with purpose in mind," says Pete. "Brushing your hair (preferably with a boar bristle brush like Kent Brushes Classic Shine Large Pure Black Bristle Hairbrush) will help to distribute the scalp's oils through the length of your hair, and, as a result, your hair will stay moisturised and your scalp healthy. In terms of how to brush, start a few inches from the bottom and slowly work your way up the strands in small sections to prevent breakage. Also take care when brushing wet hair. Hair is more susceptible to breakages, so use a detangling brush which is designed to go easy on your tresses."
DISCLAIMER: We endeavour to always credit the correct original source of every image we use. If you think a credit may be incorrect, please contact us at info@sheerluxe.com.