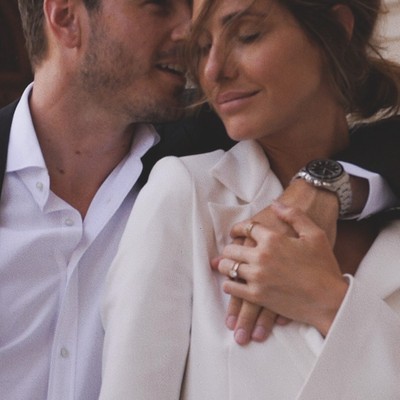 How To Plan A Lockdown Wedding

Trying to plan a wedding during the pandemic has been hugely challenging – not to mention upsetting – for couples. Ceremonies have been postponed, suppliers and venues put on hold, and dream dress fittings cancelled. But whether you're choosing to have an intimate wedding now or wanting to go through with a bigger event in the future, there is hope, ways and means. We asked some of the biggest names in the industry for their advice on all aspects of your special day.

From The Wedding Planner:
"Given the disappointment and disbelief that the wedding you've been planning and visualising isn't going ahead, it would be natural – but wrong – to think a micro-wedding will feel less special," says founder and creative director Louise Hughes of One Stylish Day. "Yes, it will be different, but it is possible to create a celebration that is as stylish and unforgettable for six guests, as it is for 150.
"If you're working with a planner to redesign your wedding day, they'll be holding the reins and managing the process for you, guiding you through each stage and decision. If, however, you are doing everything yourselves, there are a couple of points to bear in mind.
"First, this is still your wedding day and so it should remain entirely and unequivocally 'you'. Consider which elements of your plans you were most excited about and try to maximise them. Use this as an opportunity to fine-tune the day.
"Second, on a logistical level, when you're making emotional decisions, try to talk openly to your suppliers. Through open communication, ideas and suggestions will arise that you may not have considered or thought to be an option before. Your team will be invested in the day, too – we want it to be everything you want it to be. While we can't make the pandemic disappear, we are pros at troubleshooting and finding a way to make the impossible possible. Most importantly, we're here for you."
From The Celebrant:
"One of the most-asked questions that crops up is 'Should we just cancel?' In my view, if you don't want to wait, then go ahead and plan your wedding," advises celebrant Jennifer Patrice.
"As a celebrant who has conducted weddings during the pandemic, I've found open and honest communication to be key. While we have no idea when weddings with bigger numbers will go ahead, you can still plan for an intimate ceremony filled with love and fun. I give my couples some different options so they can include more of their loved ones in the proceedings. Delivering a reading, taking part in something like a rose-exchange ceremony, or performing a favourite song – all are lovely ideas to include friends and family. Don't forget guests who can't attend in person can always attend via Zoom, too.
"The first thing to do is contact your venue to find out if they can still accommodate your date or if you need to reschedule. If you do need to reschedule, ask them for two or three dates which you can look at with your other suppliers. Bear in mind some of these dates could now be mid-week. Once you have those dates, contact all your other suppliers to find one everyone can do. If you do settle on a date during the week, it's possible some fees will be lower, which will only be good news for your budget.
"If you find yourself in the position where your venue, or any other suppliers, have had to cancel your booking, then look at your contracts. Read through the terms and conditions and see where you stand with regards to a refund. Usually, venues and suppliers will only cancel as a last resort and will bend over backwards to accommodate your day. As wedding suppliers, we really do want you to have the most memorable day."
From The Dress Designer:
"We're seeing brides become more confident in their fashion choices, and if there was ever going to be a time to wear what you want, this is it," says Jess Kaye at The OWN Studio. "Our biggest advice for brides is to go for an outfit that makes you feel happy. In normal times, brides can sometimes feel pressure to dress in a certain way, but the change in format is giving them the confidence to dress exactly how they want. Our customers are leaning towards relaxed tailoring (think jumpsuits and tux suits) and shorter hemlines (our sequin mini dresses and mid-length gowns are really popular right now), which of course reflects the more informal vibe of a lockdown wedding. Brides still want every element of the outfit to feel extra special, though, so fabric remains incredibly important and, insterestingly, we're seeing more people go for satin than ever before.
"Colour is also a big trend this year – we've had requests for pink suits and yellow dresses. It's great to see people experimenting with an alternative aesthetic. Re-wearability continues to be hugely important for brides (and bridesmaids) – with plenty of people buying their lockdown wedding outfit while thinking how they can then wear it at the wedding party once they're able to host a bigger gathering.
"One of the biggest areas of anxiety we're seeing among brides is whether they'll have to make a rushed decision when it comes to buying their wedding outfit/s, especially as they're currently unable to visit the studio for an appointment. That's why we've launched OWN AT HOME so brides can try pieces on at home. Because we make everything here in London, we're able to turn orders around quickly – we recently made a made-to-measure outfit in under a week. We waived our rush order fee at the start of the pandemic, too, to eliminate the stress for brides who are forced to make a last-minute decision. So, stay open minded – it might not be how you expected the experience to be, but the feedback we've had has been incredible."
From The Caterers:
"It's been a real nightmare this past year for the hospitality industry, and especially for clients who had been looking forward to their weddings. But coronavirus won't stop happy couples from planning their day," says Clare Doggart, co-founder and owner of caterers Doggart & Squash. 
"For those who find themselves forced to postpone or cancel, don't rush into making decisions; instead, speak to your suppliers before you make any revisions. And remember to check terms and conditions when booking any new event, in case plans have to change again. Also, couples should focus on why they are getting married and plan their special day with that in mind – you can still enjoy delicious, seasonal food no matter the size of your wedding. We are all having to be flexible and creative, so, don't give up hope – keep planning for your happy day and we'll be here to help you along the way." 
From The Florist:
"Although the size of your wedding may have been scaled back, it doesn't mean your special day should be any less memorable, so there's no reason to compromise on all the wonderful touches," says Elspeth Tull, founder of Blume florists. "Small and intimate can be even more beautiful, and with smaller spaces to decorate, you can focus on quality over quantity. We may be biased, but for us, flowers are a wedding non-negotiable. Flowers hold so much emotion, whether it's a bloom that reminds you of a loved one, or perhaps of where you grew-up – and they also remind us how precious nature is for our wellbeing and happiness.
"Experimentation with colour has been a common theme for smaller weddings, with unconventional colour palettes that veer away from the traditional. Our couples are being bolder with their schemes and experimenting, so we suggest going with flowers you love, rather than typical bridal blooms. 
"For us, bridal bouquets are still very much in demand. However, brides appear to be opting for smaller, more pared-back designs. So, why not go for a bunch that's a little less formal? With fewer guests and a budget that will stretch further, gift bouquets or dried flower bunches are also a fun way to say thank you to your guests for coming.
"The desire to create an impactful tablescape seems to be at the forefront of our clients' minds, too. A candlelit, intimate dinner-style set up is popular, as opposed to a typical wedding breakfast. Why not go for tumbling blooms trailing from your table (which is not always possible at larger scale weddings due to the number of tables) or personalised name cards with intertwined stems or endless bud vases bursting with seasonal flowers? With only your nearest and dearest around the table, our couples have been keen to go the extra mile when it comes to dressing the table."
From The Make-Up Artist:
"These days, many brides are opting for (and have no choice but) to do their own wedding make-up," says Boe Wright, founder and owner of Botias. "It can be a little daunting, so if you feel you need extra help you can always seek advice from your original make-up artist. Someone that specialises in bridal is best, as bridal make-up is different to everyday application. You could set up a Zoom call and have a lesson. YouTube videos are also a great way to pick up some pro tips and tricks.
"If you have time to begin skin preparations, then at-home facials are a good option. Remember exfoliation and hydration are key to smooth glowing skin, while tissue masks are a worthwhile purchase to apply on the morning of your wedding to plump, smooth and hydrate, too.
From The Photographer:
"This has been an incredibly turbulent year but there is so much hope for the industry and couples who plan to get married in the spring and beyond," says photographer Benjamin Wheeler. "As a small business, I've been able to offer more bespoke, intimate photography packages to couples who may have been disappointed I wasn't available for their bigger wedding before. It's been so lovely to reconnect with people who are excited to collaborate with me. 
"For couples now looking to book photography for their day, remember your photographer will be quite busy juggling new enquiries as well as postponements, so a busy diary is to be expected. Weekday dates are proving really popular in the UK, and people are still planning weddings in several European destinations, even with the continued uncertainty around travel. Aligning all your suppliers is key, so try to get in as early as possible before your day. Or try your luck with a last-minute booking – you may find a date suddenly opens up.
"With a small, intimate wedding comes a different style. Bridal suits and off-the-peg pieces are popular, as are vintage items that have been handed down – as we saw at the Royal wedding of Princess Beatrice back in July 2020. As such, couples appear to be so much more relaxed in front of the camera because the pressure of hosting a full-on wedding has been taken away. They have the chance to focus on themselves, with the photography feeling so much more authentic and timeless as a result." 
From The Videographer:
"If there is one thing we've learnt this past year, it's that things can change drastically from day to day," says filmmaker and founder Angel Mellizo Guazo of Each And Every Moment. "Try not let the uncertainty drive you mad – try to keep a level head and focus on the reasons why you decided to get married. Do not wish time away, either. Despite everything, forge ahead in a way that works best for you. 
"Everyone involved, including vendors, wants to find a way to help give couples their dream wedding and we do our best to support and accommodate those that want to get married as soon as possible.
"For our clients, most are opting for either micro weddings, moving up their civil weddings, or even eloping. This has definitely lifted spirits and added an element of romance and excitement. By moving up the ceremony, but postponing the larger celebration, couples can reduce the stress and plan something to look forward to. The way we see it, the sooner we know about any changes, the more helpful we can be to ensure we can provide couples with a keepsake of their wedding day – no matter how different it may look to the original plan." 
From The Stationery Designer:
"Planning a wedding requires patience and careful consideration even at the best of times," admits Jennifer Grant of stationery studio Romeo + Jules, "However, with a global pandemic and an overwhelming sense of uncertainty, it can all feel very overwhelming. 
"As someone who believes in celebrating the little things in life, my hope is couples continue to plan a day that is meaningful and full of personal touches. Practically speaking, couples should send out digital versions of their save the dates in case of the obvious need to reschedule. This cuts down the level of stress when it comes to re-printing anything, as well as the impact on the environment. 
"With the rules changing week by week, couples should also wait to print any other materials until the last moment, just in case. It's a very easy process to change a date on a design rather than re-print materials. 
"No matter how small the wedding, the day should still be beautiful. Our design aesthetic leans towards the whimsical, and thus, a wedding menu could easily be created for a small party without feeling too formal. Lastly, the one item that will never have an expiry date are your thank you cards, so don't be shy about printing those well in advance."
Visit JenniferPatrice.com, OneStylishDay.com, Botias.co.uk, RomeoAndJules.studio, EachAndEveryMoment.com, BenjaminThomasWheeler.com, DoggartAndSquash.com, TheOwnStudio.com, BlumeStudio.co.uk
DISCLAIMER: We endeavour to always credit the correct original source of every image we use. If you think a credit may be incorrect, please contact us at info@sheerluxe.com.