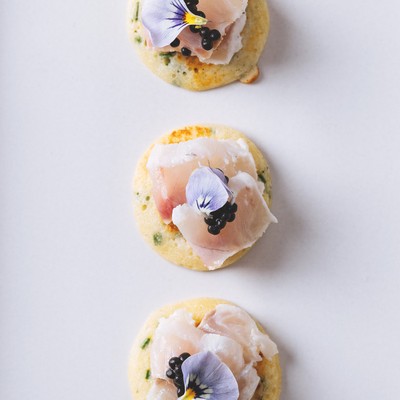 The Latest Wedding Food Trends To Know Now

Sit-down meals at weddings can often follow the same format, so if you want to make your day a little bit different for both you and your guests, it pays to think about switching things up. Here, we spoke to three foodies to find out how Covid has changed the professional catering industry, as well as the biggest trends worth knowing about.

The 'New Normal' 
"Gone are the days of sharing platters and family-style dining," says Alex Head, CEO and founder of Social Pantry. "We are loving the proliferation of small plates which focus on using the best quality and locally sourced ingredients. But we've also seen more demand for heritage cooking, a trend that's here to stay. Couples want to embrace and highlight culture through food by using historic family recipes that have been passed down through the generations."  
"With a proud history in events, for us it is modern, signature British dishes which are the focus nowadays," says account director at Searcys, Allan Heard. "There has been more of a drive towards quality and sustainably sourced produce; there is no going wrong when you're using the best ingredients for fresh, simple dishes, which are all presented beautifully. We also like to blend our British heritage with more contemporary trends to elevate crowd-pleasing classics – for example our newest dessert at The Gherkin is a Searcys Victoria sponge with raspberry jam, vanilla and bramble mint tea."
"The likes of boutique restaurants (including Annabel's, Nobu and other chic eateries) have also cottoned on to the fact that couples are looking for more unusual wedding breakfast ideas and are now offering unique wedding cuisine in place of a standard wedding menu," says creative director of luxury events Kristina Kempton. "Buffets have been done before (and in light of Covid-19, they're unlikely to continue in the future), while sharing platters don't seem to be quite as exciting as they once were."
More Intimate Settings
"The pandemic has had a dramatic impact on the wedding industry, with couples across the world having to adapt their original wedding blueprint to opt for something on the smaller side," says Kristina. "The benefit of hosting a micro wedding is that with a reduced guest list, you can really focus on the finer things, like spoiling your guests with a delicious dining experience. Where your budget would have once extended to cover over 100 guests, you can redistribute it to cater for an elaborate five-course wedding breakfast – and so much more!"
"There is something beautiful and intimate about a micro wedding," agrees Allan, "and it offers each couple the chance to plan every detail and share their special day with their loved ones. With fewer people, there's less stress and pressure to keep every guest happy, which gives couples the opportunity to personalise the meal on a granular level. Also, think about tailoring your choice of drinks – instead of a huge champagne reception, miniature champagne bottles are a sweet, and Covid-safe idea. Don't forget about your virtual guests, too – our venues all offer AV so everyone to join in the toast to the happy couple."
"A smaller wedding party doesn't always mean a smaller budget," advises Alex. "Couples are enjoying the freedom of allocating additional money to the styling (think hand-stitched, personalised linen napkins; hand-painted menus and place names, and dreamy flowers). They're embracing the food even more, and enjoying more courses, opting to add in an amuse bouche or palette cleanser and sometimes finishing with a lavish dessert trolley. Our advice is to always go for your favourite foods; it's your day, so enjoy every bite."
Meat-Free Menus
"Plant-based menus are booming," says Allan. "As with restaurants, there's definitely a bigger appetite for meat-free dishes, which allows companies such as ours to become more inventive when it comes to delivering the same quality food to match any taste or diet. We have also noticed a drive for healthier eating, with couples wanting to make conscious swaps for lighter and healthier alternatives."
Kristina agrees: "Many couples are looking for ways to be more sustainable and are even opting for plant-based and root-to-table wedding breakfast options. Supply chains have also been hit dramatically by the pandemic, so sourcing locally and seasonally will be taking on a new importance – expect beautifully prepared dishes full of bright, bold fruits and vegetables designed to reflect the season."
Traditional Values Vs. Laid-back Dining
"Many couples still prefer tradition," says Allan. "If that's you, then dessert can be a good opportunity to experiment. Dessert tables or food stations for the end of the meal get people socialising and interacting, which is something we expect to continue once restrictions allow."
"Show stopping menus and top-quality food still play a major role in creating a dream day," says Alex. "Canapés are always a popular choice, but we often get requests to include a live food station for the reception, and after the rise of baking during lockdown, we are seeing more homemade wedding cakes replacing the dessert course."
"For a laid-back alfresco barbecue, locally sourced meat is what will make it more special, and of course the classic Bloody Mary station is always popular," adds Alex. "Paella stations work well outdoors too, and are a great way to feed a hungry crowd be it on the wedding day itself or the day after. The rise of the wood fire pizza oven is a new trend, too, and food trucks will always be a popular late night snack option to soak up the booze and help refuel the dance floor!"
Other 2021 Trends
"In light of the past year, catering is moving away from buffets towards seated and plated food for receptions. Touch-free catering has become a particularly strong trend for weddings and events – for example, 'bento' boxes from individual cuisines," says Allan. "This year has also seen more outdoor dining on terraces and rooftops and there are plenty of venues offering this kind of catering. With the continued uncertainty around numbers and weddings sizes, outdoor receptions can be a great solution (fingers crossed for good weather this summer), while gardens can be easily adapted to fit any theme."
"Lots of couples have, sadly, had to cancel their destination weddings," adds Alex. "Understandably, they'd like to incorporate a touch of their overseas wedding into their menu – for example, adding in a Tuscan lemon granita as a refreshing dessert if an Italian wedding has had to be postponed. Plant-based sushi is having a moment, too – you'll have to trust us on this one!"
"While food will still be a priority, the table layout and styling will also play a more important role moving forward," says Kristina. "We use a range of different table details – consider using beautifully matched napkins, table linens, cutlery and crockery alongside statement florals. Also, think about creating meaningful menus in place of a typical wedding breakfast, such as the meal you enjoyed on your first date, recipes that have been in your families for years or quite simply, your favourite go-to supper."
"Weddings will also become more bespoke this year – there is a lot of demand and many couples' plans have been on hold for a long time, so they know exactly what they are looking for," predicts Allan. "This will include a wider variety of options on menus – from dietary choices to cuisines and styles (touch-free, sit down meals), as well as flexible event spaces which can adapt to various party sizes.
"We also expect a desire for more experience-led venues and packages for a unique day. This can range from themed weddings or inventive venue options (such as a wedding in the sky at Searcys at The Gherkin) to statement features, for example champagne poured from magnums or a Champagne fountain for that Instagram-worthy moment."
 
For more information or help with your wedding, visit SocialPantry.co.uk, Searcys.co.uk and KristinaKempton.com.
DISCLAIMER: We endeavour to always credit the correct original source of every image we use. If you think a credit may be incorrect, please contact us at info@sheerluxe.com.