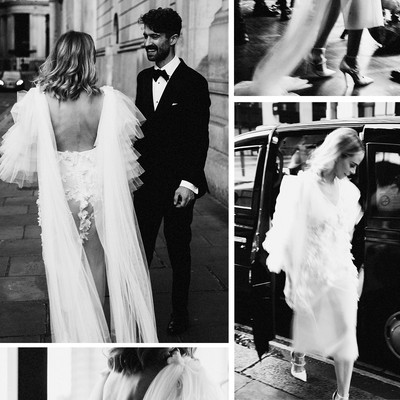 Me & My Wedding: A City Ceremony In East London

From the proposal to the cake, the flowers to the dress, we love hearing what goes into making someone's big day their own. If you're after some inspiration, look no further – we're shining a spotlight on some of the most stylish weddings out there. For features editor Emily and her husband Ben, their disco-themed wedding in Shoreditch was full of fun, laughter and cocktails on the roof. 

The Engagement 
We got engaged in Capri, Italy. The weather wasn't great when we arrived, but on the third day it cleared up and Ben convinced me to head out on a pre-lunch hike. We reached an amazing viewing point and decided to stop for a photo. It was then that Ben got down on one knee. Once it registered what he was doing, I burst into tears!
The Ring
I love fine jewellery, so have always been pretty set on what I did and didn't want in an engagement ring. I've dropped a lot of hints over the years, so I was over the moon when Ben lifted the lid on the ring box. It was a gorgeous 18ct yellow gold band with an elevated central round-cut diamond in a rub-over setting, set with two smaller diamonds either side. It's equal parts contemporary and classic. We designed a double wedding band to go with it – it gives the effect of wearing three rings.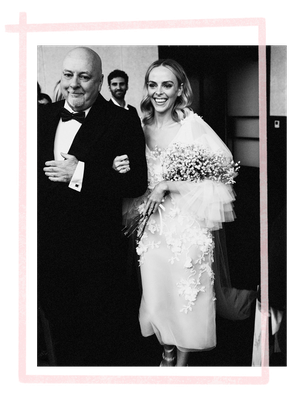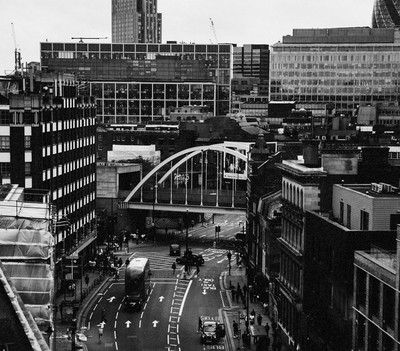 The Non-Negotiables
Our top priority for the day was that our loved ones enjoy it. We wanted a great atmosphere, delicious food, plenty of drinks and amazing music. We had the official wedding a few days before at Hackney Town Hall, where I wore denim and Ben wore trainers. 
The Venue 
We chose the Ace Hotel, as it's where we first met in 2012. We've lived in East London the entire time we've been together, and the venue had great views of the area, as well as a beautiful rooftop terrace.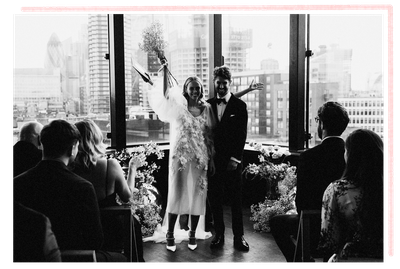 The Planner 
We didn't use a wedding planner, but we did have an events specialist at the Ace who helped answer our logistical questions. I planned everything – from where to put the disco balls (we had 32) to the wedding favours and the table decorations. It was a lot of work, but I loved every minute of it.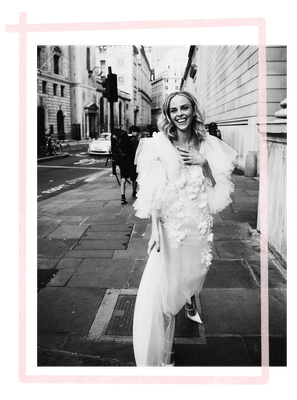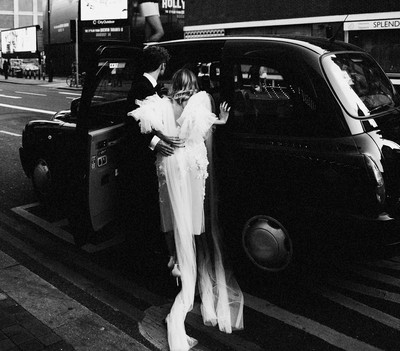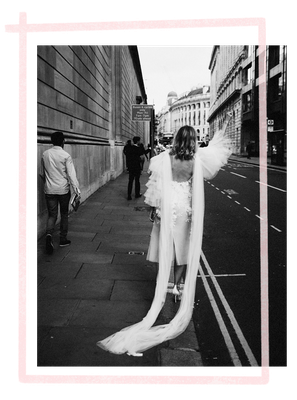 The Dress
This was my favourite part of the planning process. Growing up, I'd actually wanted to be a bridal designer, so the dress was really important to me. The tricky part was finding someone to bring my vision to life. A friend of mine recommended Emma Beaumont – a Cheshire-based designer. She really made the whole process a dream. 
 
Over the course of 10 months, Emma and I met in her atelier for fittings, fabric selections and design appointments. I knew with a city wedding, I didn't want a full-length dress – I wanted it to be the best party dress I could ever imagine, and so Emma created this incredible semi-sheer flower-embellished organza and tulle dress. 
We opted for statement tulle sleeves, a square-cut low back, with the tulle 'wings' as a more modern take on a veil. Honestly, I have never felt more beautiful or chic.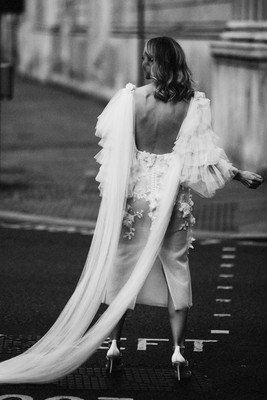 The Accessories
Because the dress was shin-length, the shoes were always going be very much part of the look. I fell in love with a pair of Jimmy Choo heels in Paris during a Fashion Week trip. They complemented the dress perfectly, with a crystal strap across the foot and a closed pointed toe. 
 
Jewellery-wise I wore a beautiful set of Roxanne First diamond huggies all the way up my ear – they're something I now wear every day. I added a small clutch bag to store my lip gloss and tissues, but that was it. I wanted to let my dress do most of the talking.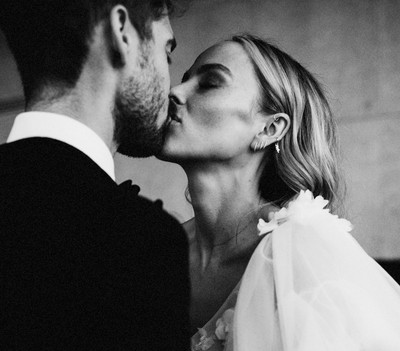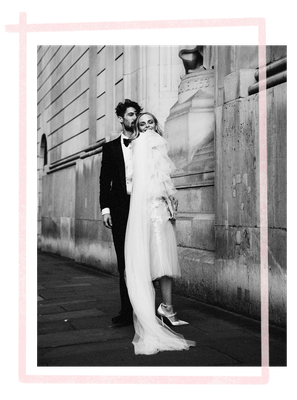 The Hair & Make-up
I did my hair myself, as I wanted an undone-done vibe and nothing too far from how I'd usually style it. I loved the final result. 
 
I'm a bit of a beauty addict and love doing my own make-up, too, so I decided to take things into my own hands for the big day.  I opted for glowy sun-kissed skin, brushed brows and a smudged, smoky eye. I watched so many tutorials online beforehand, but on the day, I felt really relaxed and created a look that felt like me. 
The Bridal Party 
My sister was my maid of honour and I let her choose her dress, and do her own hair and make-up – I wanted her to feel confident.  She went with an asymmetric black midi dress, skinny-strapped heels and old-school glossy waves.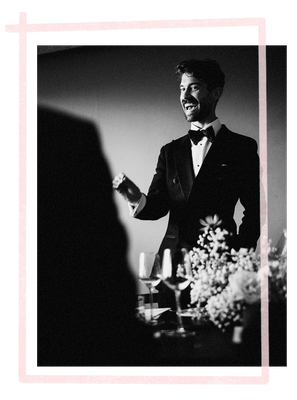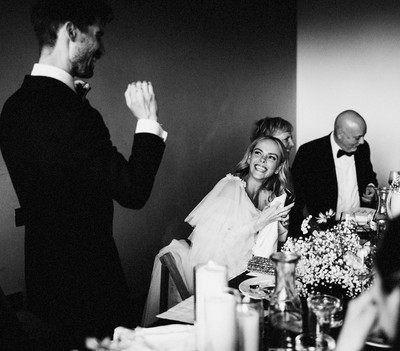 The Groom
Ben wore a custom Reiss tux – it was midnight blue with black lapels and buttons. He had his shirt made to order with our initials embroidered on one of the cuffs. His bow-tie and pocket square were from Turnbull & Asser and he wore Loake dinner shoes.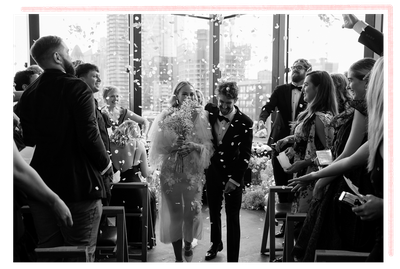 The Flowers
Myself and my sister both carried bunches of wild Gypsophila tied with linen ribbons. Throughout the space we had the most amazing mix of flowers – more Gypsophila, powder pink roses, pink and red poppies, hydrangea and mixes of wildflowers. Our florist, @GraceMaryKeeler, is currently based in New Zealand. She hand-picked the majority of the flowers, which really added to the personal feel of the day.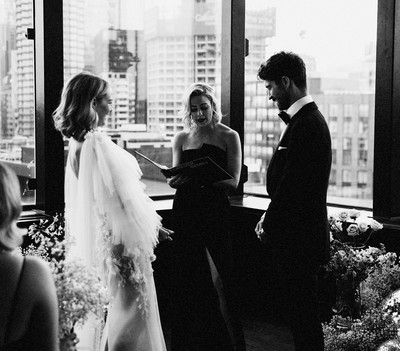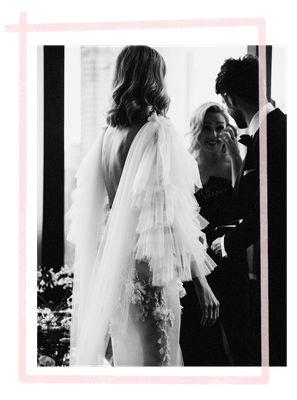 The Ceremony 
For the ceremony, we knew we wanted it to feel personal. Prioritising the commitment we were making to each other, we also wanted to include our friends and family. We asked our best friend Rachel to be the celebrant, which was great as we were so at ease on the day.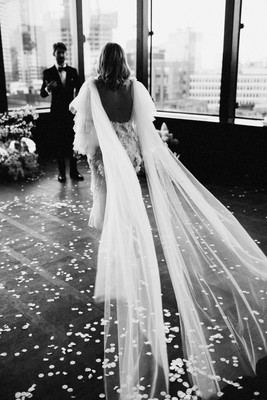 The Photographer
We chose the most amazing photographer – Alli Oughtred. I knew straight away she was the one for us, as her images capture such raw emotions while also being timeless and romantic. They have a real day-dream element to them, too, which we fell in love with. 
The Décor
We opted for a city-disco vibe, so we had disco balls scattered throughout the space, mixed in with the flowers to soften the look. Scent was very important to us too – so we went with Ambre by Dyptique to set the mood.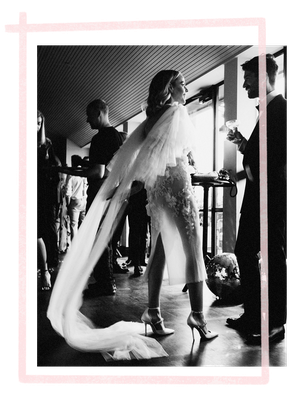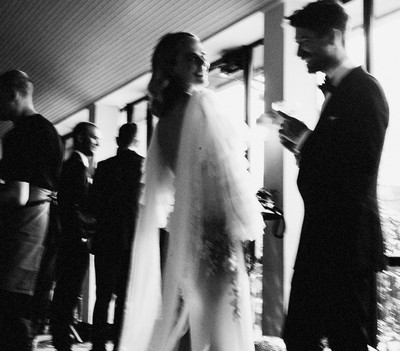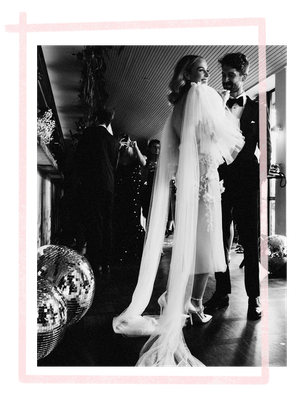 The Food & Drink
As for the food and drink, we had cheeseburger canapés to accompany the first round of bubbles and opted for pomegranate and yellow-fin Ceviche to start, butter fried lemon sole for the main, and white chocolate, lemon and Chantilly cream tart for dessert. We kept the wine light and smooth for the meal and provided a cocktail bar later in the day to serve some of our favourite drinks: cosmos, negronis and margaritas. 
The Cake
The cake was designed and made by our friend Steph – founder of Baked By Steph. It was a two-tier pistachio sponge with orange buttercream, covered in a white chocolate ganache and decorated with quotes and doodles Ben and I have sent each other over the years.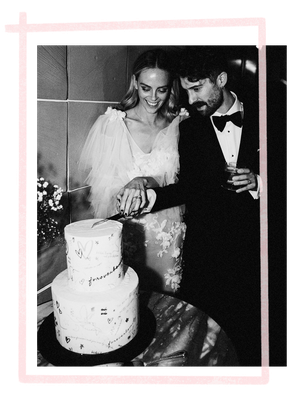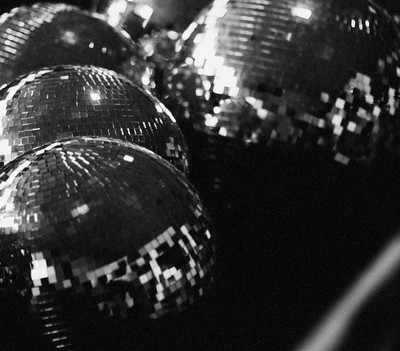 The Entertainment
It was really important to us that the music made everyone feel relaxed, so we went with soul and jazz for cocktails and disco dancing for the evening. We asked two of our friends to DJ and were blown away by their set list. We danced well into the early hours. 
The Day Before 
We had a family pizza night the night before the wedding at our favourite spot in Shoreditch – Homeslice. We then went back to the Ace for a nightcap.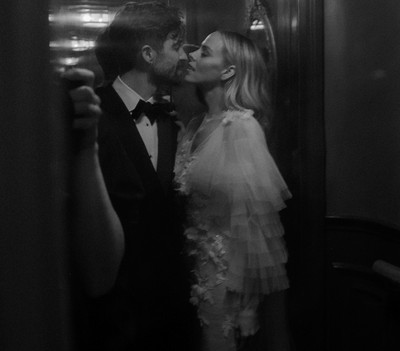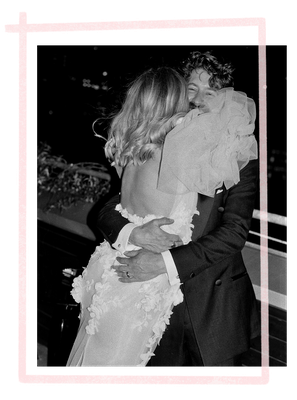 Advice For Other Couples
Break. It. Down. Rather than feeling overwhelmed by all the things you need to plan, break it into small, digestible bits over the weeks and months running up to the big day. And ask for help – people do actually want to help.
 
Also, prioritise yourself. Don't forget this is a day about you and how it makes you both feel. I've heard a lot of horror stories from brides having to compromise on guest lists, menus and plus ones to keep their friends and family happy. Be firm in your decisions, and people will understand. We loved every moment of our day, and were so lucky to have been able to spend it with all of our favourite people. We wouldn't have changed a thing.
All images: Alli.Studio
 
DISCLAIMER: We endeavour to always credit the correct original source of every image we use. If you think a credit may be incorrect, please contact us at info@sheerluxe.com.