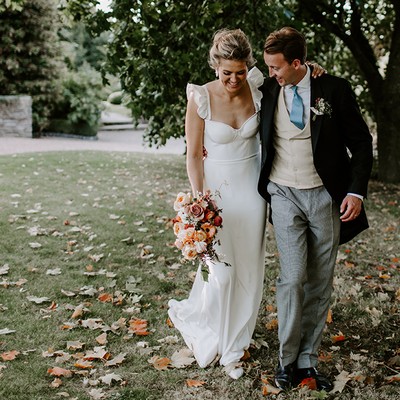 Me & My Wedding: An Intimate Day On A 17th Century Estate

From the proposal to the cake, the flowers to the dress, we love hearing what goes into making someone's big day their own. If you're after some inspiration, look no further. We're shining a spotlight on some of the most stylish weddings out there. For food lovers Tanya and Drew, a fabulous feast and a magical setting were all they needed to make their day one to remember.

The Engagement
Our engagement was completely impromptu. Drew had been holding onto his grandmother's ring for months, before waking up one morning in July 2018, and deciding that was the day. We'd not been in our new house for very long. We went for a walk on Wimbledon Common, I turned around and he was down on one knee.
The Ring
Drew was too terrified to choose a ring on his own, so he used his grandmother's on loan from his mother. A few months later we chose one together: it's a simple and timeless gold band with a solitaire diamond. It was inspired by my best friend's ring and we designed it with the brilliant Tom Hubbard.
The Non-Negotiables 
We both wanted a venue that had style, class and a bit of magic. We love to cook, so the food was also a high priority. I didn't want to compromise on the dress, either – on the whole I'm quite an understated dresser but I wanted the wow factor for my wedding day.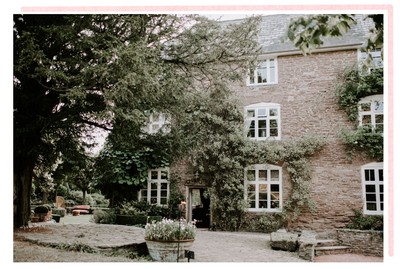 The Venue
We thought about the south of France, but sadly all the venues we liked were fully booked. Then we came across Dewsall Court in Herefordshire (not far from where I grew up in Shropshire), which is an old family home with stunning rooms. It had immaculately kept grounds, with beautiful surroundings. Food wise, it focused on the kind of seasonal produce we were after. We visited once, and booked it straight away.
The Planner
It wasn't our intention to have a planner, but when you book Dewsall Court, you're automatically allocated one. They work solely for Dewsall and know the venue inside out. Laura was a massive help during the months leading up to the wedding, and knew exactly when to encourage the decision-making process and when not to. Having her by our side eliminated some of the stress. We knew there was always someone there, steering the ship, answering questions and guiding everyone through the day. She was a total star.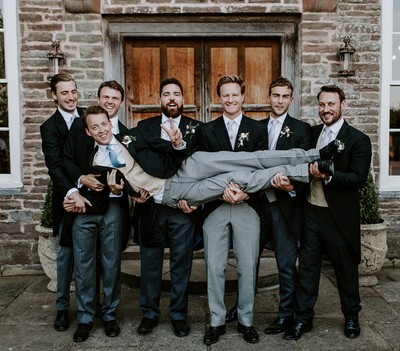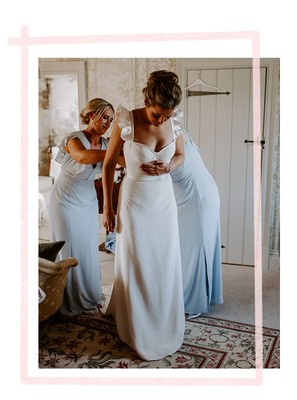 The Dress
I didn't know what I wanted at all, and I liked so many different styles. The hardest part was pinning dresses on Pinterest, and then trying to find commonalities and narrow it down. It's also tough looking at styles you like, and then realising they don't suit your body shape. I went to a few different designers and when none of them were quite right, decided to have my dress made from scratch. I'd seen Emma Beaumont's work online. It was quite a commitment as she's based in Cheshire, and I'd left it a little late (six months before the big day) to get a bespoke dress. Thankfully Emma, ever the professional, just got it done.
The Accessories 
I'm not a huge fan of accessories, but I do love earrings. In the end, I opted for some beautiful crystals, with material petals surrounding them – they were exactly the right size to be a bit different, not too traditional, not too boho.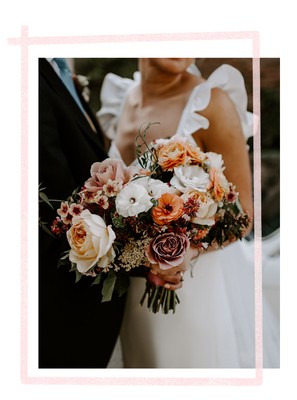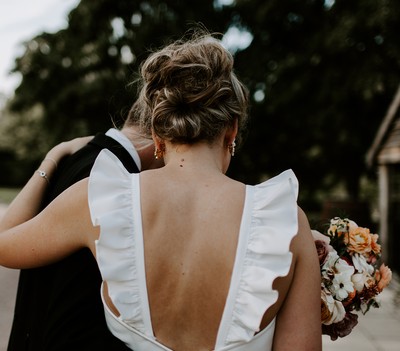 Make-up & Hair
I love eye make-up, so it was all about the mascara and a few individual false lashes. Overall, I kept my look natural, with a beautiful matte, light rose lipstick and just a touch of colour in the cheeks. My make-up artist Elizabeth Spry was the perfect match. I wore my hair up so it wouldn't get unruly and I wouldn't have to worry about it. Tabby, my hairstylist, did a fabulous job.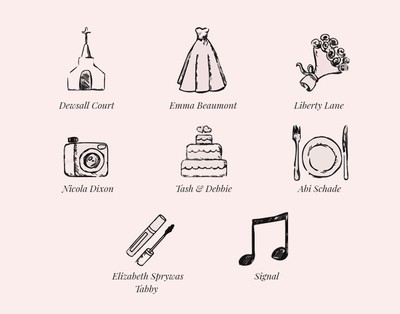 The Wedding Party
We chose to have three ushers, one master of ceremonies, two best men and four bridesmaids. We didn't want everything to be too formal, so the guys wore mixed waistcoat colours, which was fun. My best girls wore blue dresses from Maids to Measure. They were really flattering, and matched my dress perfectly.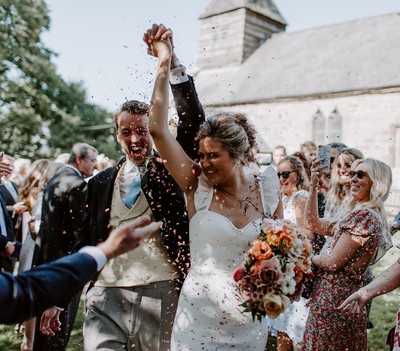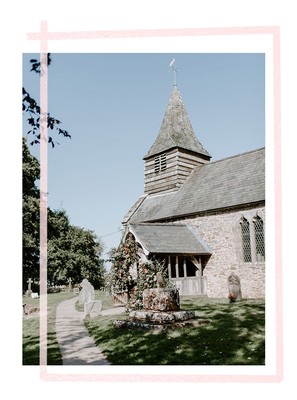 The Ceremony
We visited Dewsall Church on the first Sunday of every month for six months. It's a beautiful church situated in the grounds of Dewsall Court, about 150 metres from the main house. It's small and intimate and we had around 70 guests seated, and 30 standing. We didn't want a heavy church wedding – more of a short celebration and blessing. Mark, the vicar, did an amazing job. We chose four hymns, the classics that reminded us of school, finishing with Jerusalem. I walked into the church to the most beautiful piece of piano music by Alexis Ffrench, and we walked out to You've Got a Friend in Me by Randy Newman.
The Photographer
The fabulous Nicola Dixon was our photographer. I spent hours trawling Instagram to find the right photographer and couldn't find what I wanted. I couldn't work out why nothing was quite right, until I found Nicola. We wanted more of a lifestyle photographer and she nailed it. We are over the moon with the results – she's the nicest person to work with, too.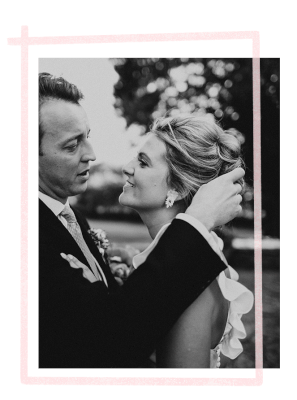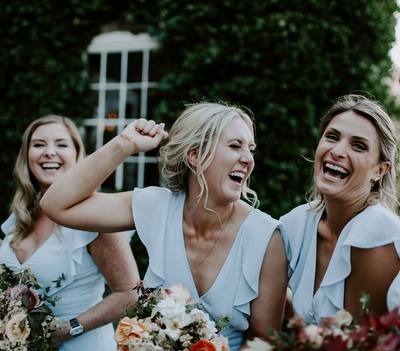 The Flowers
Dewsall is set in such beautiful countryside, you already have a backdrop of green, seasonal colour. We wanted the flowers to play a key role, so took time searching for the perfect florist. The super stylish and creative Liberty Lane was our choice. At the reception, we created a ceiling of green foliage to bring the outdoors in, with two long trestle tables, 80 tall tapered candles at the centre and cut crystal glassware that twinkled in the light. Building on our love of food, we added potted herbs for an extra touch. Outside the church, we had an organically shaped half arch bursting with bouquets of peaches, pinks and whites, mixed with green foliage. Everything was romantic and natural.
The Food & Drink
A girl we knew from University, Abi Schade, from Alliance Wines, sorted us out with the wine. We had a lovely Cremant de Loire, Pays d'Oc French Chardonnay and an Italian Primitivo Red. Abi really helped us through the process. At the bar we served a French 75 and a Dark and Stormy. We decided to skip having a starter as we wanted everyone to have longer mingling with drinks and canapés. For the main course, we opted for a feasting style of Herefordshire lamb with an array of Nigel Slater-inspired sides. Pudding was a lemon posset with a ginger biscuit. We're big cheese lovers, so to soak up the wine, at 10.30pm, we gorged on sourdough cheese toasties. They went down such a treat that some people had three – not that I'm counting! My sister Tash and our good family friend, Debbie, very kindly baked our three-layer cake.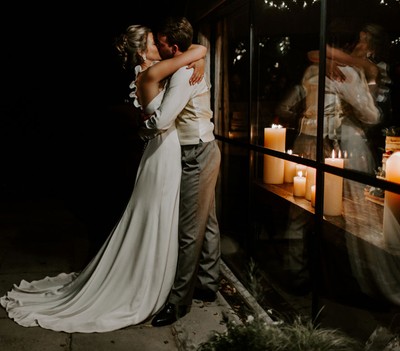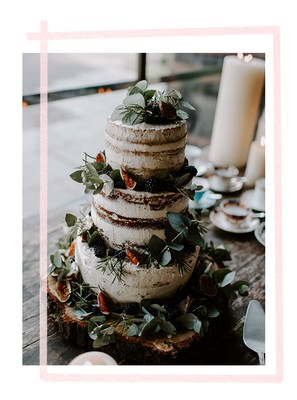 Entertainment
My husband is really into music, so this was one of the hardest decisions. We found most bands were booked two years in advance. In the end, we had a four-piece band called Signal from Surrey, and after much consideration, we opted to have a horn section (taking the band to six members) – it was an extra cost, but well worth it. Signal belted out some oldies, and plenty of cool, modern tunes, too.
After The Wedding 
The day after the wedding we nursed our sore heads. It's an amazing feeling to wake up after the best party of your life, married. We went for a long pub lunch with our family and relatives and on the Monday, we flew to Mykonos for an unforgettable week away.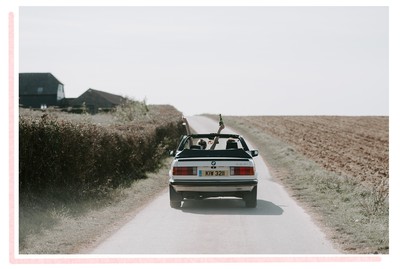 Final Thoughts 
If we had to give other couples any advice it would be to lock down your vision for the day as soon as possible. It will help bring all the other details together. Think about what you like day-to-day (in terms of design, style, colours) outside of the context of weddings, and go from there. Don't always do things 'for the crowd', either. Instead, work on the details you and your partner will notice. Remember it's your day, and everyone will have an amazing time because they are there for you. If you decide to get a dress made, start the process as early as you can. Go in with a focused brief and do your research so you can clearly articulate what you do and don't like. Book you band early, too. Get a jump on writing your speech by making notes on your phone – it will make the process much easier. Lean on a couple of friends for help if you need it, but no more.
 
Photography by Nicola Dixon
DISCLAIMER: We endeavour to always credit the correct original source of every image we use. If you think a credit may be incorrect, please contact us at info@sheerluxe.com.