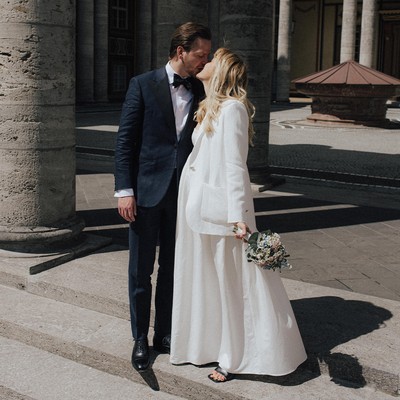 Me & My Wedding: An Intimate Spring Wedding In Germany

From the proposal to the cake, the flowers to the dress, we love hearing what goes into making someone's big day their own. If you're after some inspiration, look no further – we're shining a spotlight on some of the most stylish weddings out there. For media and digital manager Charlotte and pharmacist Lukas, an intimate spring wedding – and a baby on the way – made for the perfect day.

The Engagement
Lukas proposed just after midnight on New Year's Eve. We were in the middle of lockdown in Germany, where we now live, so we were celebrating alone – but when everyone in our apartment block came out on to their balconies at midnight to wish each other Happy New Year, we shared the good news and a glass of champagne with them. There was a really special feeling that night, even without the engagement, but the proposal made it unforgettable. 
The Ring
Lukas chose a beautiful pear-shaped platinum and diamond Tiffany Soleste engagement ring, which he picked out shortly before lockdown. For wedding rings, we went back to Tiffany's, where Lukas chose a simple platinum band, and I choose the matching wedding ring to my engagement ring – a V shaped platinum and diamond band.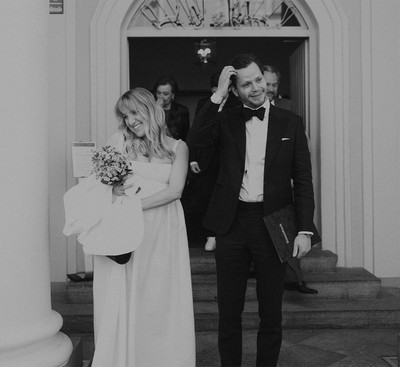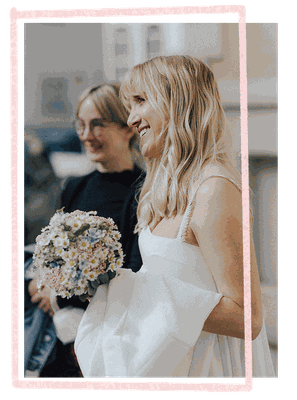 The Plan 
We never really had a proper wedding plan. I was pregnant when we got engaged and we knew we wanted to get married before the baby was born in July. We weren't even sure we would get the paperwork sorted by then, let alone being able to plan a big wedding during a pandemic. 
In the end, we got married on 14th May 2021 – it was spring, and one of the few sunny days we had that month. However, many members of my family and friends from New Zealand weren't able to join us, so we're planning another celebration over there next year.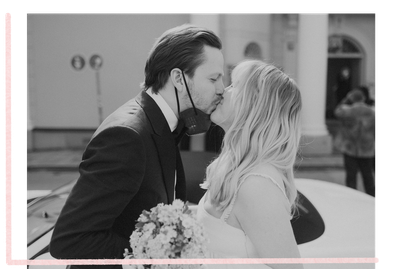 The Non-Negotiables
A good photographer was the one non-negotiable, especially when we knew that it was going to be the best way to share our day with friends and family who couldn't be there. Our photographer Katarina Fedora did the most amazing job. 
The Ceremony
The ceremony took place in Munich in the Mandlstraße registry office – a beautiful old yellow building on the edge of the English Gardens (the biggest park in Munich).
We were allowed six guests for the ceremony, which included Lukas' closest family and our photographer. We recorded everything for my family and live streamed it for our friends and the family members who were waiting outside.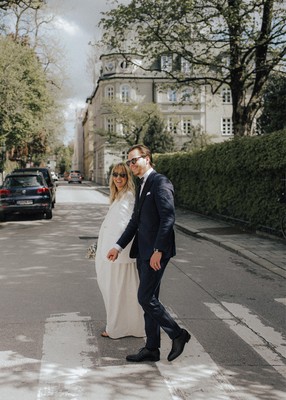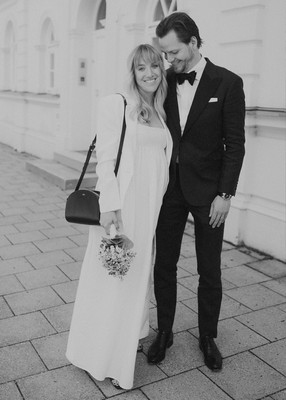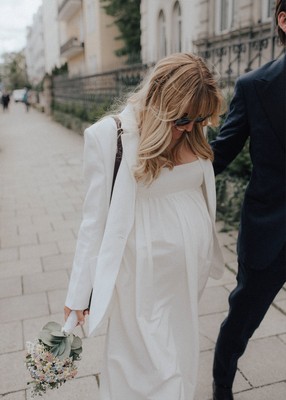 The Reception
Shortly after the ceremony we ventured into the park to celebrate with family and close friends, with good champagne and plenty of French pastries (which Lukas had picked up early that morning). We were so lucky to have beautiful sunny weather after weeks of rain, so we took our time before Lukas and I snuck off to take photos.
Being so limited on guest numbers meant we organised a long lunch for just family at our place. Later, we were joined by some friends after a few of the family had gone home.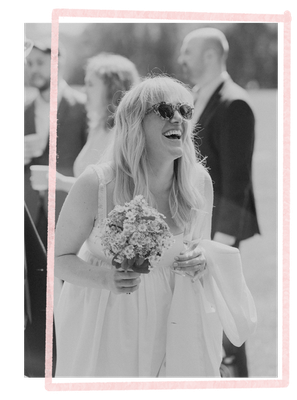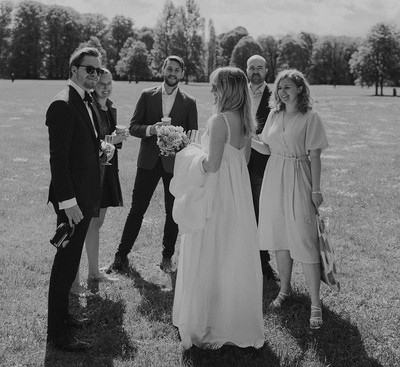 The Food & Drink
I love cooking but we wanted to make the day as easy and relaxed as possible, so we arranged for lunch to be delivered from a restaurant called Brenner Kitchen. We started with creative sushi and sashimi combinations, followed by salads, artichokes, rosemary roast potatoes and miso eggplant. The only thing we did cook were two enormous Côte de Boeuf cuts, served with herb, truffle and garlic butters. We drank Ruinart rosé champagne and our favourite wine – a rosé from a vineyard on Mallorca that we've visited a few times on holiday. Later in the evening we moved onto Aperol Spritzes and Espresso Martinis.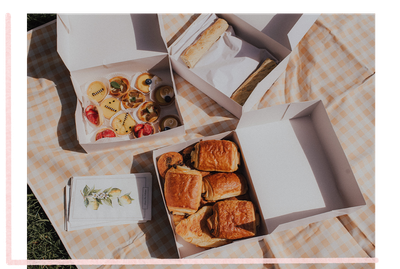 The Cake 
It was the beginning of the strawberry season, so we went with a strawberry champagne flavour cake. It was made by Urban Cake Design in Munich, but we booked it quite late and didn't receive final confirmation until the day of the wedding!
The Dress 
My dress was the Valerie June dress by LEIN Studio. I bought it as a sample from The Fall Bride in London after finding it online. With an empire waist cut I thought it would be perfect for a baby bump, and the bigger sample size meant I would have room to grow. I loved the relaxed and simple cut.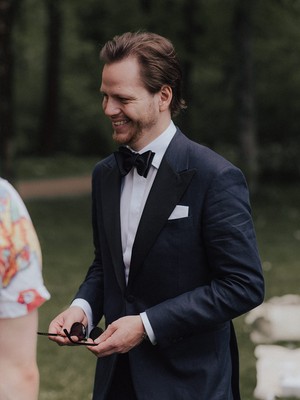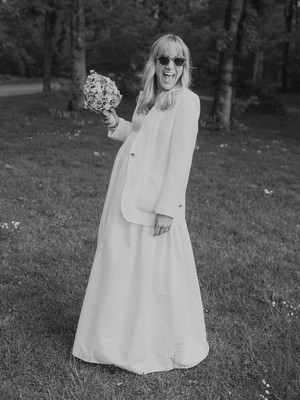 The Accessories
I accessorised with a white linen blazer by Sandro Paris (I was terrified of being cold), my APC handbag, Ace & Tate sunglasses for a touch of blue, and pearl earrings from French Toasts. I couldn't decide whether to wear heels or not but decided to bite the bullet and chose some simple black Zara heels (which luckily didn't hurt at all). 
The Groom
Lukas wore a navy blue and black linen tuxedo by Anton Meyer. We went shopping together and both loved the idea of a tuxedo, but we weren't sure about it for a morning wedding. Then he found this linen option, which felt like the right vibe.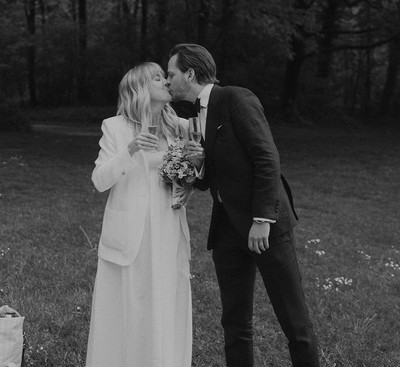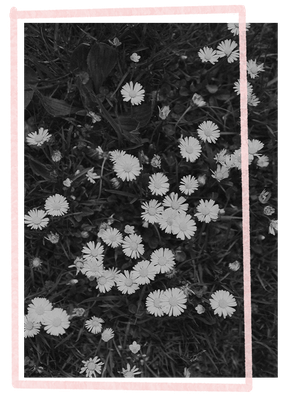 The Make-Up & Hair
As the ceremony took place so early in the day, I booked a hair and make-up appointment at 8am at a salon just around the corner from home. It was my first time there, but they were lovely and did a great job – especially under pressure. 
The Flowers & Décor 
A few days before the wedding I went to a flower shop at our local farmers/city market and gave them a very rough brief for my bridal bouquet and flowers for the table at home. I knew I wanted daisies in the bouquet and peonies for the table, as both were in season. The florist created some really fun bouquets, which Lukas picked up while I was having my hair and make-up done.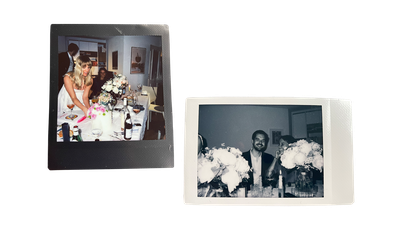 The Day
I was emotional FaceTiming with my family that morning – being apart on my wedding day was hard for all of us. But the beautiful weather put us in a good mood and the day continued to get better from there. We were both so overwhelmed by the love and happiness all around us on the day; I wouldn't change a thing. 
The Days After The Wedding
The next day we were both exhausted (and Lukas very hungover) so we just watched movies and ate cake in bed. It was perfect. The day after that, our friends came round to drop off a surprise – a frame filled with Polaroids they had taken on the day.
Advice For Other Couples 
Even though we had a micro wedding, there were still a lot of unknowns in the weeks leading up to the day itself – plus, lots to organise in the days before. We kept reminding each other that if something didn't work out as planned, it didn't matter, and not to lose sight of what it was really all about. Also, order more wine and champagne than you think you need – we were glad we did! 
Photography by Katarina Fedora
DISCLAIMER: We endeavour to always credit the correct original source of every image we use. If you think a credit may be incorrect, please contact us at info@sheerluxe.com.