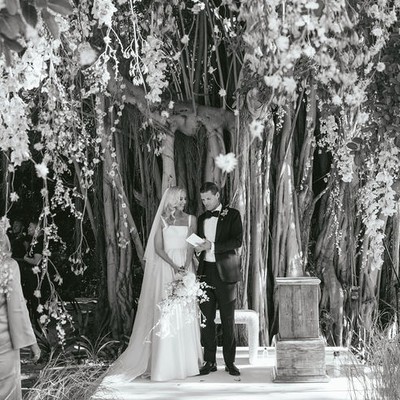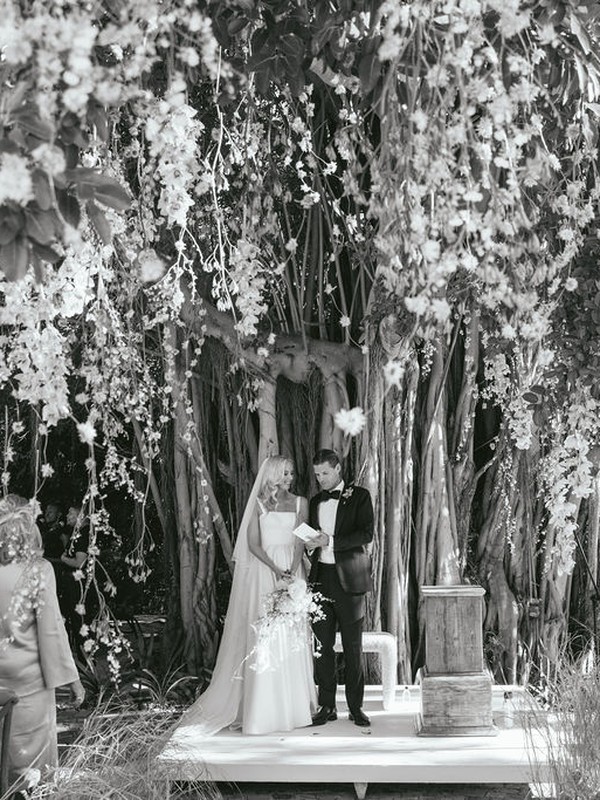 Me & My Wedding: A Long-Awaited Day In South Africa

From the proposal to the cake, the flowers to the dress, we love hearing what goes into making someone's big day their own. If you're after some inspiration, look no further – we're shining a spotlight on some of the most stylish weddings out there. For Daisy and Andrew, their wedding date may have changed more than once, but in the end their day could not have been more special.

Andrew and I met ten years ago in a bar in Sydney – he's Australian and I was there for six months after university. When I came back to London, he moved with me, and we've been together ever since. Marriage was always on the cards but when my dad fell ill, Andrew felt it was important to get his blessing before he passed away – so that played a part in the timing. Andrew proposed when we were on holiday in Mexico in 2019 at dinner on the beach. I had my suspicions beforehand – he kept locking the safe in our room which was highly unusual behaviour.
Andrew proposed with what I'd call a 'placeholder' ring. It's actually a beautiful, simple band from Cartier – which I still wear every day – but my actual diamond came from New York, and we designed the ring together. We didn't use a professional jeweller, but it's perfect – my wedding ring was made by a friend of mine Kinvara Law.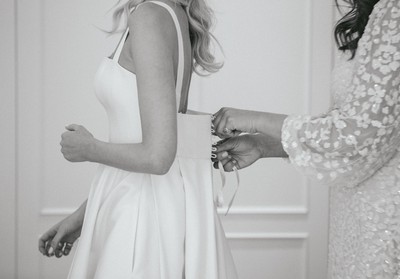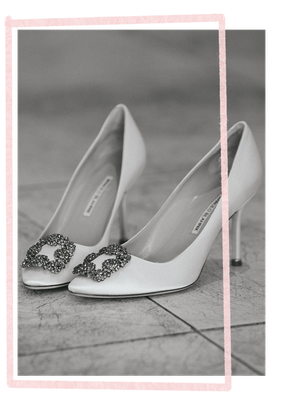 We set our original wedding date for November 2020 because it took us a while to decide on the destination. We knew we wanted somewhere halfway between the UK and Australia and we'd both been to Cape Town a couple of times together and really loved it. We had some incredible wedding planners based locally called Kraak – two guys I found on Instagram – and they were a huge help. I have to give my mum credit too, though. I couldn't have put any of it together without her.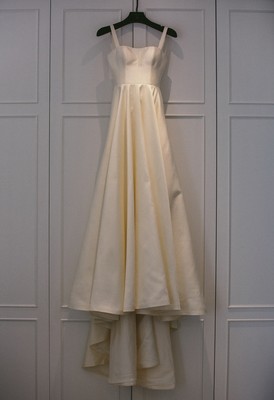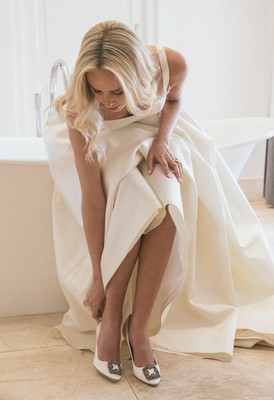 Almost everything was in place by the time the UK went into lockdown in March. At first, a lot of people said we'd be fine to still go ahead in November, but by August that felt unlikely. We moved it back to March 2021 which was upsetting, but we took everything in our stride. It was when we had to cancel it for the second time around Christmas 2020 that things started to feel more doom and gloom. If we hadn't put so many deposits down, we would probably have scrapped it – but we stood to lose a lot of money if we did that. Luckily not many of our guests had booked flights or anything, and our wedding planners were great at getting everyone to switch dates again. At that point, we pushed the entire thing back a year to March 2022.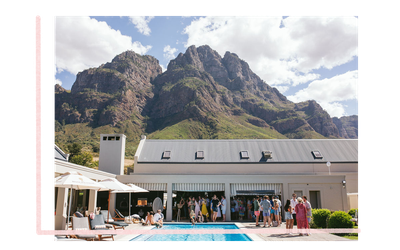 We got legally married at Chelsea registry office in October 2020 – our original date, but with only six guests – which eased some of the disappointment and frustration around the Covid delays to our South African celebration. For that, I wore a white jumper, miniskirt and shoes all from Miu Miu.
Both of us knew we wanted to find somewhere with amazing views, and preferably in the Stellenbosch or Franschhoek areas. We went with our planners to see quite a few options but we settled on Blaauwklippen mainly because of what they call the 'cathedral' – kind of like a glass marquee. We brought in all of our own suppliers, from the florists to the entertainment, and the food and drink.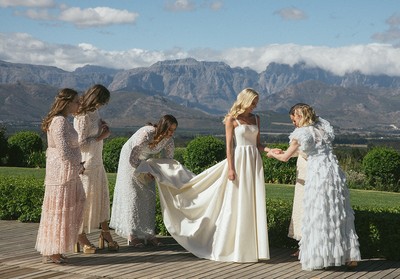 Our florist was Fleur Le Cordeur, who I very much trusted to bring our vision to life. I don't know much about flowers or styling, so I left a lot of this to Fleur and our planners to work on together. I'm so glad I did – the result was everything I could have hoped for.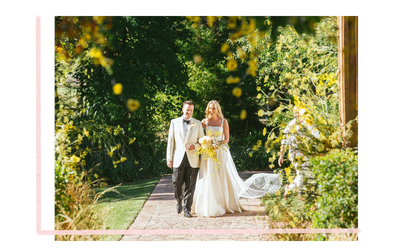 I knew I wanted the vibe to be more 'black tie' than 'morning suits' – we weren't getting married in a church and I always look better in simple dresses as opposed to something with lots of frills and lace. I also knew I wanted to change into something short and fun for the evening, though – so the first dress would have to be quite different from the second. Our family has a long-standing connection with Browns, so I always knew I'd go to Browns Bride to find it. My first dress came from Lihi Hod and my party dress came from Mira Zwillinger. I then wore a beaded vintage bag that belonged to my grandmother and shoes by Manolo Blahnik.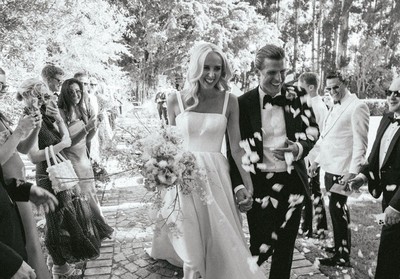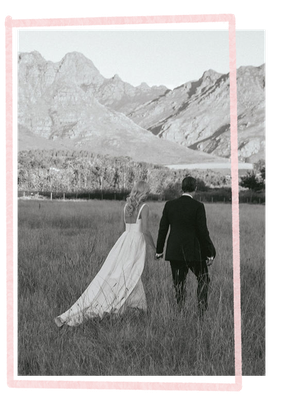 I had five bridesmaids and their dresses all came from Needle & Thread – although I gave them free rein to choose what they wanted from the collection, so they felt comfortable. Andrew's six ushers were quite an international crowd, and they all wore their own black tie.
I didn't have a hair or make-up trial – mainly because I knew I just wanted my hair down in soft waves and natural-looking make-up. My make-up artist – Algria Ferreira – was local and found by my planners, and I was only conscious that it needed to be a look that went from day to night and didn't melt in the heat!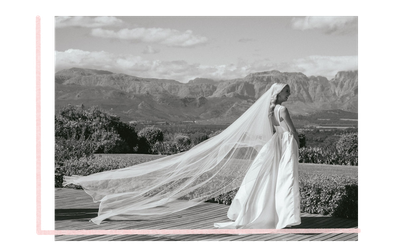 The Photographer & Videographer
Again, the planners gave us some options and one of them was Shanna Jones. The minute I saw her work online I knew she was the one – her style is much more fashion editorial, which is exactly what I wanted. We also had a videographer, Vision on Fire. They were amazing – we didn't really notice they were there during the day. They were also used to working with Shanna, which was great.
Our ceremony was very personal to us. One of Andrew's friends was our officiant – he's Nigerian and wore his own traditional dress for the occasion. My maid of honour did a reading of Rudyard Kipling's If (my dad's favourite poem, which I had read at his memorial). I walked down the aisle while an African a cappella choir sang. We also wrote our own vows, although they were still quite traditional in feel.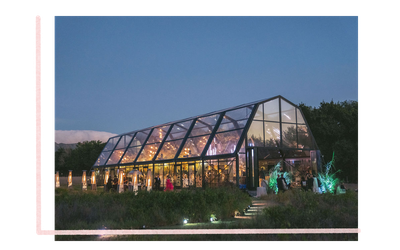 Immediately after the ceremony, we had a drinks reception on the lawn. We served wine from the local vineyards – both at the wedding and at our various drinks receptions throughout the weekend. For our wedding meal, we served three pasta options to start then steak and chips for the main (although my husband had mussels as he doesn't eat red meat!). We had an ice-cream truck draw up outside afterwards for something sweet. We didn't have a wedding cake – I thought it was a waste of money seeing as we wouldn't be able to take it home with us.
Tones of Note arranged everything – they have lots of artists and acts on their books. As well as the a cappella choir during the ceremony, there was a guitarist for the drinks reception and a band after dinner, followed by a DJ. I changed into my second dress for our first dance – Kygo's remix of Whitney Houston's Higher Love.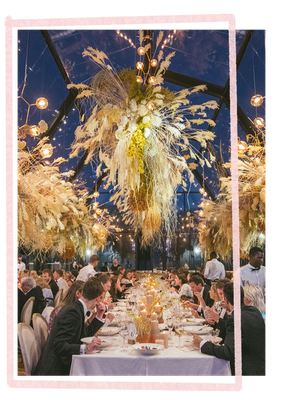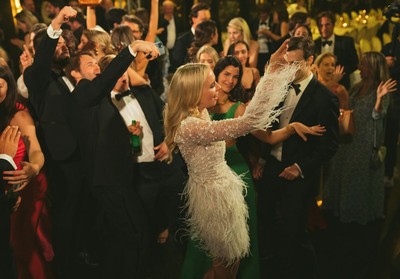 We had pre-drinks on the Thursday night before the wedding on the Friday. I'd been there since the Friday before thinking I'd be quite busy, but everything was quite calm. I suppose it gave me plenty of time to build a base tan! On the Thursday I made a speech, which I didn't find too daunting. I just split it into sections and family members, and it was fine. Would I recommend it? That's down to the individual. If it's going to stress you out, don't bother. On the Saturday, we had a pool party with a BBQ and lots of margaritas. We also had a DJ to set the mood, which was really fun.
Don't get worked up about the small stuff – delegate and you'll be able to enjoy yourself much more. I also think there's a lot of value in hosting dinners or drinks for family on the days either side – that way, on the wedding day itself you don't feel like you need to spend all your time with them. It gives you more freedom to speak to everyone in the room. Finally, remember that the best things come to those who wait.
Visit BellCo.uk
All imagery courtesy of Daisy Bell & Shanna Jones.
DISCLAIMER: We endeavour to always credit the correct original source of every image we use. If you think a credit may be incorrect, please contact us at info@sheerluxe.com.