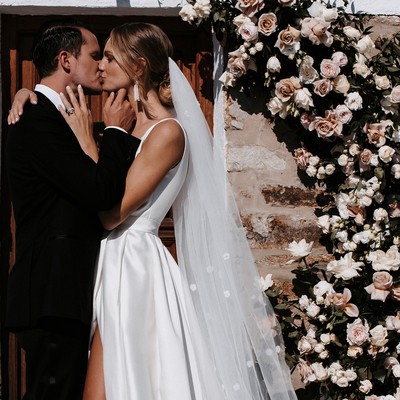 Me & My Wedding: A Luxe Laid-Back Day In Mykonos

From the proposal to the cake, the flowers to the dress, we love hearing what goes into making someone's big day their own. If you're after some inspiration, look no further – we're shining a spotlight on some of the most stylish weddings out there. For model Sabina and entrepreneur Lino, their beautiful Greek wedding was filled with joy and laughter.

The Engagement
Lino's proposal in Lisbon back in 2019 was a complete surprise. We weren't even meant to be there – we ended up having to stay there for a night on our way to the Algarve after missing a flight. We left our bags at the airport, jumped into a taxi and told the driver to take us into the city. Lino booked a beautiful hotel en route and proposed to me on the terrace. I remember him saying then that whatever happens, we always turn the unexpected into something positive.
The Ring
Lino designed the ring – it's a rectangular cushion cut diamond with smaller diamonds on the band­. It's perfect – the kind of piece that looks great with both a leather jacket and a ball gown. My wedding band, meanwhile, is plain gold (it matches his) and I have a diamond eternity ring, as well.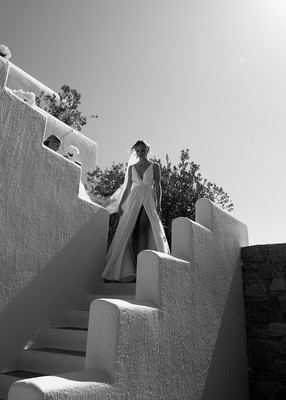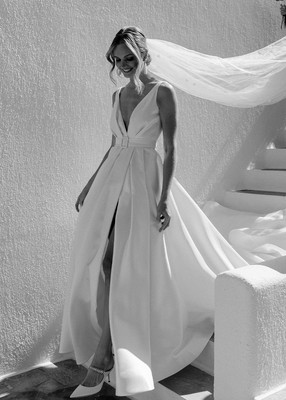 The Non-Negotiables
Knowing your priorities is so important. For us, the non-negotiables were an outdoor wedding (warm weather); minimal distance between venues (no buses or taxis); a black-tie dress code, a wedding planner; total control of the guest list; a hair and make-up artist I knew already; our original date (there was never a plan B); and a great photographer.
The Venue
We got married at Soho Roc House in Mykonos and the pre-event was at Scorpios. Six years ago, when we went to Scorpios for the first time together, Lino had said it would be a cool place to get married. Since then, we've returned to Mykonos almost every year. Even though we looked at venues in Ibiza, Portugal and Finland, nothing ever came close. Then, when Soho Roc House opened within five minutes' walking distance from Scorpios, we knew it was meant to be. They had never done a wedding at Roc House before, which was fine by us as we didn't want a typical wedding anyway. We wanted the weekend to feel like a big party, so we took over the entire Soho House for the weekend (though most of our guests ended up staying for at least a week). Lisa from Isla & Smith was our planner, and we couldn't have done it without her.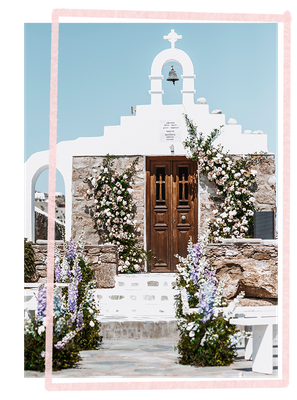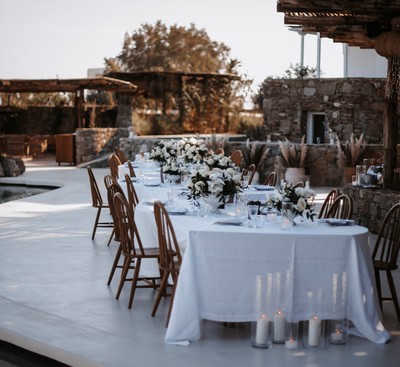 The Dress
Finding a dress was challenging. Covid meant I started looking late, but I knew I would find one when the time was right. In the end I found it in Dubai by a designer called Eva Lendel. I knew I wanted to be comfortable on the day, so I ended up making quite a few changes to the dress – the design process was fairly long, but it meant I had my dream dress and felt so good all night. Before the first dance, I changed into an evening dress by Luce + Sposa. On the Friday night, I wore a sparkly dress by Kaviar Gauche.
The Accessories
I chose my veil before my dress because I fell in love with it. My dress was simple, so they worked together well. I only wore family jewellery (partly my own, some borrowed from my mother and mother-in-law). My shoes were from Jimmy Choo and I didn't have a bag.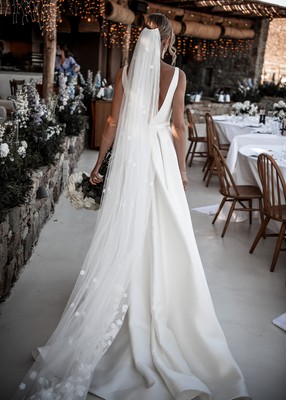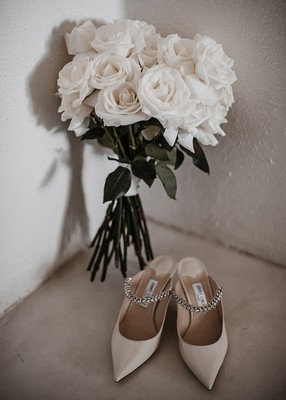 The Hair & Make-Up
Joana Greimers did my hair and make-up. We flew her in from Germany as it was very important for me to work with someone who knew my hair and face, especially as we couldn't do a trial during the pandemic. We went for a slightly messy low bun with some loose strands of hair at the front. The make-up was very natural, too – just beautiful glowy fresh skin, a light brown/golden/smokey eye and a natural lip.
The Bridesmaids
My bridesmaids wore light blue silk slip dresses by Shona Joy. All three of them had the same colour but a different cut. I wanted it to look coherent, but I also wanted them to feel good in their dresses, so they all chose their favourite. I liked the idea of keeping the colours quite natural – the light blue dresses worked so nicely.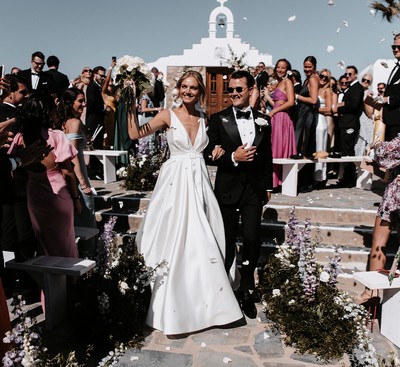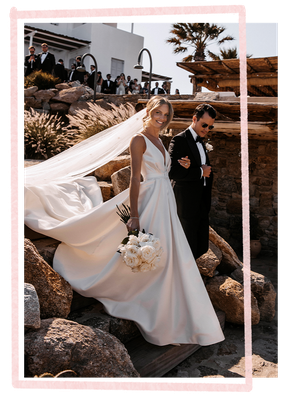 The Groom & Groomsmen
Lino wore a black tie by Suitsupply and shoes and accessories by Tom Ford. The groomsmen were all in tuxedos as well. I trusted Lino to take care of their outfits – and he did.
The Flowers
The flowers were from a Mykonos-based florist called Studio 7 Flowers. The concept started with white and light-blue delphiniums – they're so pretty but quite bohemian. I wanted the flowers to look natural and not too 'done', and we used an asymmetrical flower arrangement in front of the chapel instead of a typical arch. It turned out so beautifully. We also had pampas grass in big Greek pots all around the dining area and pool.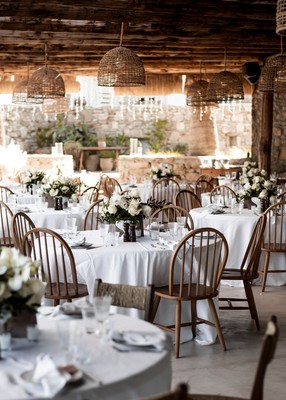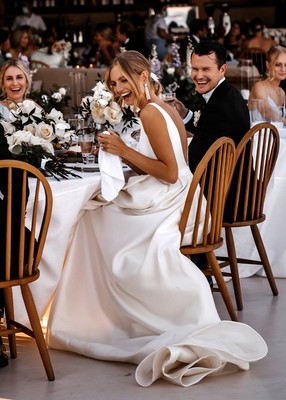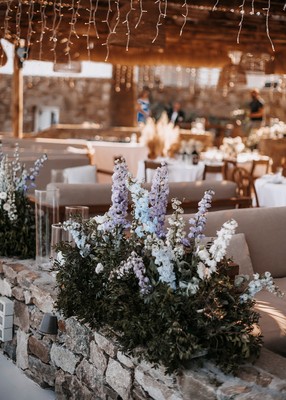 The Ceremony
The ceremony was held outside, in front of the little chapel at the Soho Roc House property. I walked in to Canon in D Major by Johann Pachelbel and we also had a violinist, Eva Presley, who played live music. We walked out to an acoustic version of Runaway by Kanye West.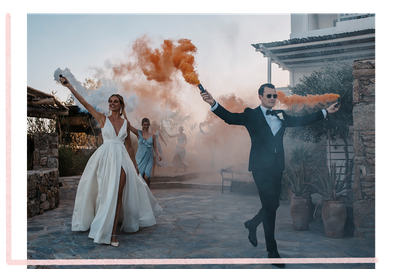 The Photographer
We chose Tali Photography to capture our day. We found her on Instagram and loved her work. We also found our wedding planner through Tali's Instagram account. Having chosen to invest in a great photographer, we didn't have a videographer.
The Décor
Soho Roc House is such a stunning location, we didn't want too much extra décor – we wanted the setting to speak for itself. We only used neutral colours – white tablecloths, white flowers on the tables, lots of candles and fairy lights. The hero piece was the curved head table that followed the curve of the pool.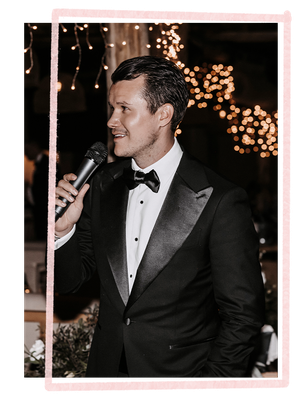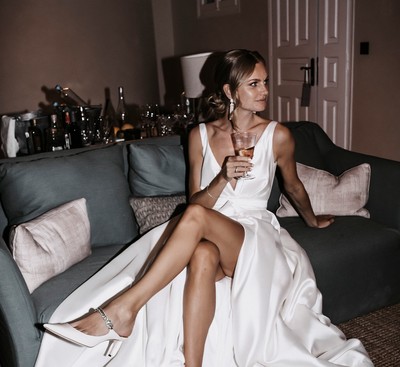 The Food & Drink
During cocktail hour we had different canapés: fried calamari, zucchini fritters and hummus wraps. The dinner was Greek food (all the things we love on the Roc House menu) served family style. Having lots of food was a priority – I've been to enough weddings where there was too little. I'm glad we ended up doing it in a more relaxed way, because people could have exactly what they liked. The vibe was very laidback – we wanted our guests to have a good time. The Lady A rosé was our signature drink, but we also served white and red wine, Aperol spritzes, prosecco, beer, soft drinks and cocktails. For a midnight snack we had gyros (a Greek meat dish) – it really hit the spot.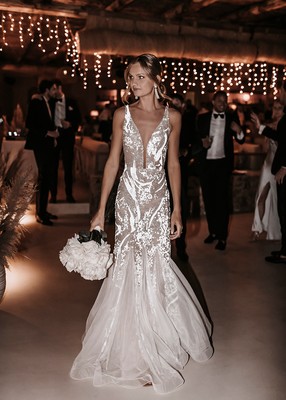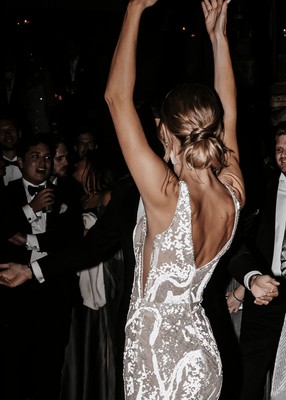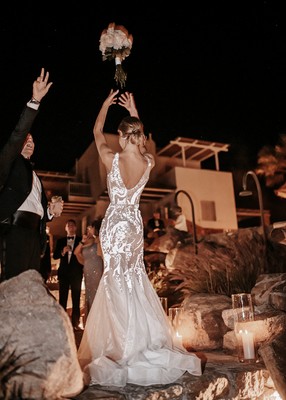 The Cake
We had a pavlova cake with berries, as well as two different desserts which were served family style on the tables – one Greek style and the half-baked Roc House signature cookies. They're too good to skip.
The DJ/Entertainment
We hired the awesome DJ George K. Music was very important to us, so we worked closely with him to create the right playlist. Later in the night he brought out his bongo drums – it was a big hit!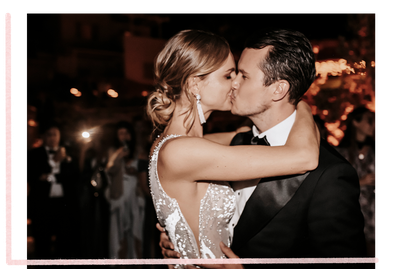 The Day Before/After The Wedding
Most of our guests stayed for a week or more, so we organised a lot of activities around the wedding day. On Friday we had a pre-party that we called The Sunset Ritual at Scorpios, and on Sunday we had a brunch at Soho Roc House. On Monday we took speed boats to one of our favourite restaurants called Spilia for lunch, stopping for a swim and some drinks on the way back.
 
On the wedding day itself, my bridesmaids and I started with a yoga class at Soho Roc House overlooking the ocean. I had done a class with a teacher called Radhicka there a year before – since then I knew I wanted to start my wedding day with her. Afterwards, we all got ready on the terrace. Everything went so well on the day, and we feel so fortunate and happy to be able to say it all worked out.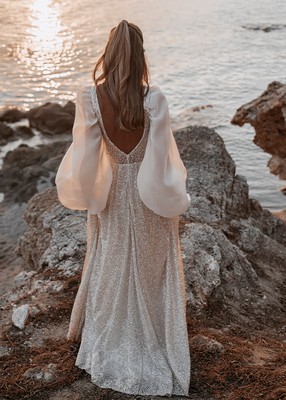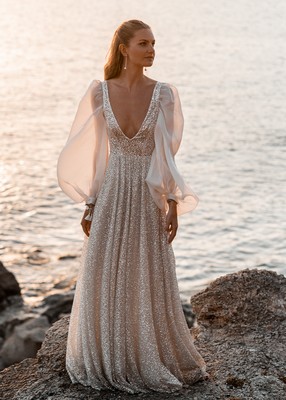 Advice For Other Couples
Do whatever you want to do. It is your wedding. Don't worry too much about your guests. If you are having a good time, your guests will as well.
 
Photography Tali Photography
DISCLAIMER: We endeavour to always credit the correct original source of every image we use. If you think a credit may be incorrect, please contact us at info@sheerluxe.com.