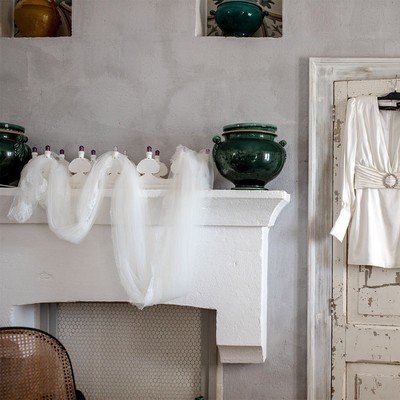 Me & My Wedding: A Party In The Puglian Countryside

From the proposal to the cake, the flowers to the dress, we love hearing what goes into making someone's big day their own. If you're after some inspiration, look no further – we're shining a spotlight on some of the most stylish weddings out there. For lifestyle concierge director Malin and financier Philip, their wedding weekend in Italy marked a celebration with close friends and family.

The Engagement 
Philip proposed to me in Kensington Gardens in West London, where we used to walk our dog. It was a very cold and wet December day, so I was surprised when he asked me to go for a walk with him. He wanted the place he proposed to be somewhere we could always come back to. The next day, we celebrated with our family.
The Ring
I'm quite a minimalist at heart, particularly when it comes to jewellery, so we designed my engagement ring together. We loved the process of working with a small workshop in Hatton Garden. The final product was a gold band with surrounding baguette-cut diamonds. We also designed our wedding bands together – matching delicate bands made out of the same piece of gold.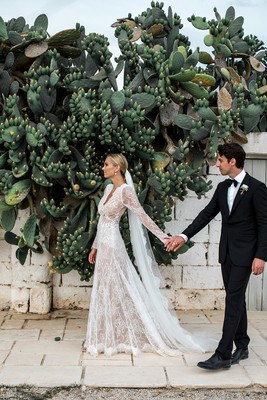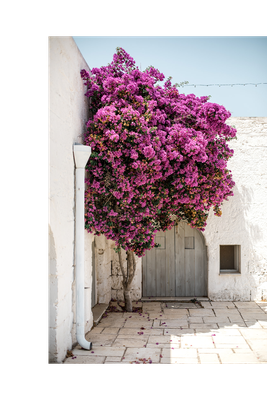 The Non-Negotiables
We had to cancel our wedding in 2020 due to the pandemic, so making it a fun and light-hearted celebration was very important. As both of us are expats living in London, it would also be the first time many of our friends and family would meet, so we planned events over the course of several days so everyone could get to know each other. 
The Venue
Philip's grandfather is from Puglia, so this region of Italy is very sentimental to us. It's where we did all of our venue scouting. We fell in love with Masseria Potenti – a converted farmhouse tucked away in the vineyards of Manduria. It's an incredibly bohemian and intimate space. It's a family-owned establishment, too, and when you arrive, you instantly feel at home.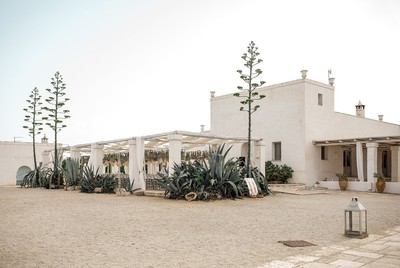 The Planner 
Our planner Cristina (owner of Le Jour Du Oui) came recommended by our venue. She suggested most of our suppliers and made our vision a reality. When we had to postpone due to the pandemic, she took care of everything. On the wedding day itself, she also liaised with all our suppliers and ensured the day ran perfectly. We were so grateful for her professionalism, expertise and hard work throughout the entire process. 
The Dress
I knew I wanted a traditional dress. After a lot of searching, I found it at Morgan Davies in Islington, and knew almost instantly it was the one. It was a Sonique lace gown in ivory made by the Israeli designer Alon Livné. The dress had long lace sleeves but was light and airy. I chose a matching long veil with lace borders. It felt very Italian and romantic. After our ceremony, I changed into a white silk Retrofête mini dress with a crystal embellished belt. It was a last-minute decision, so I had to find a tailor in Puglia a few days before the wedding to ensure it was the perfect fit.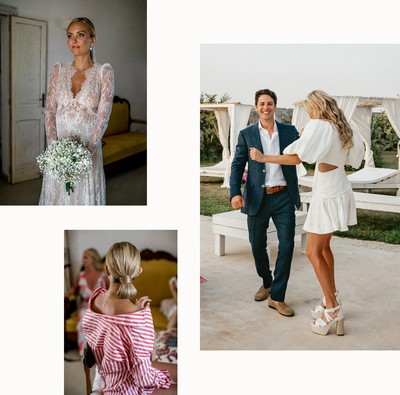 The Accessories
I bought several earrings ahead of time and ended up deciding on the day which ones to wear. With my main dress I wore vintage-inspired costume pearl drop earrings from Liberty in Love.  With my dancing dress I wore long white pearl ear climbers by Completedworks (bought on FineMatter).
The Make-Up & Hair 
I wanted my hair pulled back in a simple but elegant style, mainly because didn't want anything to take away from the dress. Ruslana Regi was my hair stylist and make-up artist, and she came with a small team from Milan for both the welcome party and the wedding. I saw a lot of her work on Instagram and knew she would understand what I wanted. I loved the final result.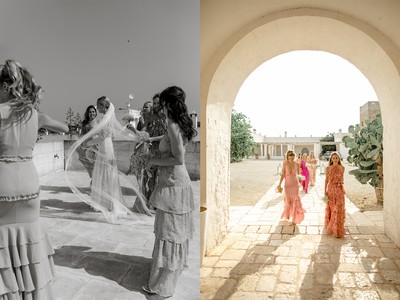 The Bridesmaids
It was important to me that their dresses didn't feel too formal, so I decided to mix and match. It was also important everyone felt comfortable. I asked my girlfriends to choose a romantic-style dress with pink tones. But I told them to go crazy with florals, silk ruffles and fabrics. I also had a few other close girlfriends wear red and orange dresses – the colours together looked really cool. 
The Groom 
Philip wore a custom navy linen suit for our welcome party, which was perfect for the Puglian heat. For the ceremony, he wore a tuxedo from Ermenegildo Zegna. His shoes were Del Toro loafers, which were a gift from my best friend – the same one who introduced us almost a decade ago.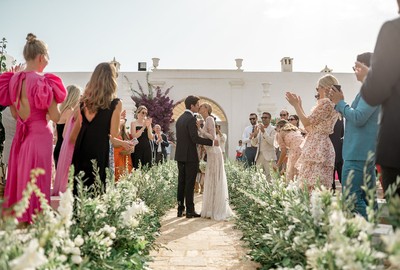 The Ceremony
We got married in front of an ancient olive tree just outside of the gates of the masseria. Our friend Gabi played Vivaldi's The Four Seasons on the violin while I walked down the aisle with my father. It was all so surreal and beautiful – I couldn't stop crying. Our close friend Ben ordained a very personal and non-religious ceremony. It was 40°C in Puglia that day, so he kept it short and sweet. 
The Flowers
The masseria is filled with so much natural beauty – the prickly pears, Bougainvillas and olive groves, so that's where most of our inspiration came from in terms of the flowers. 
 
Our vision was rustic and eclectic. My bouquet was made up of gypsophila and other small white flowers. The olive tree was the centerpiece of the ceremony, and the aisle was surrounded by gypsophila and tall white flowers. 
 
For the rest of our décor, we mixed-and-matched a lot of traditional plates in coral and blue. We also hung hand-painted tambourines above every seat to replace traditional place cards, which were created by @Madalina_Andronic.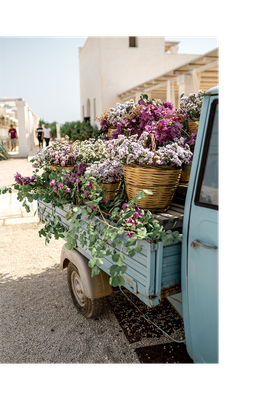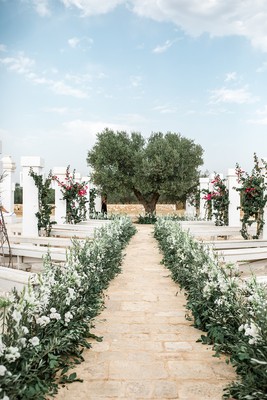 The Photographer 
My best friend is a photographer and surprised us by taking photos throughout the evening of our welcome party. Her work is mostly editorial, so the photographs really captured the energy of the night. 
 
For our wedding, Lilly Red was our photographer. Her work is romantic and quite fashion forward. She's also really positive and energetic. My husband hates having his photo taken, so she bossed him around all day. Everyone loved it.
The Food & Drink
Our venue was responsible for the food. We visited twice to taste test the menu. I'm a vegetarian so Philip and I compromised with the choice of vegetarian paccheri pasta with zucchini flowers, and fish, specifically sesame tuna with caramelised onion and yogurt sauce. For our welcome party, we had meatless pizzas with big bowls of salad. Our canapés were delicious and very Puglian; Apulian friend dumplings, stuffed fried mussels, eggplant meatballs and burrata cheese. The food was one of the highlights of the weekend.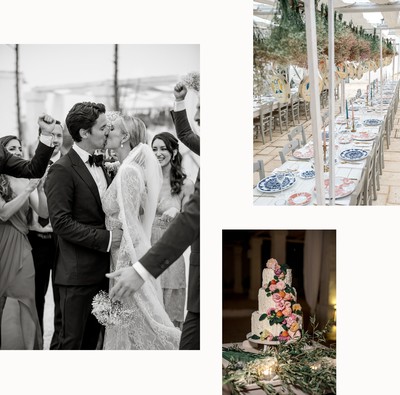 The Cake
I'm Swedish and my favourite dessert is a traditional strawberry cake called jordgubbstårta that's normally enjoyed in the Swedish summertime. We asked the Masseria Potenti family to create one for the wedding, with a bit of a twist. For that reason, our wedding cake had three tiers of sponge cake with layers of vanilla cream, layers of strawberry jam, fruit and whipped cream. It was decorated beautifully in pink roses and apricots from their garden. 
The DJ/Entertainment
The entertainment was very important to us, and we wanted to surprise our guests throughout the weekend. Our violinist, Gabi, also played later alongside the DJ and during cocktail hour we surprised our guests with Vagaband, a ten-person local Puglian band. They got everyone dancing. We finished the night with a champagne tower and watching the fireworks display.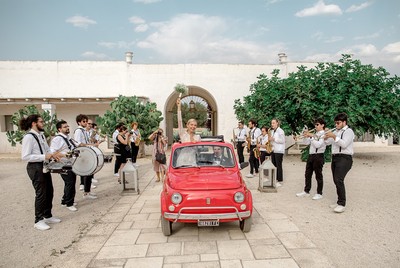 The Day Before & After The Wedding 
The welcome party served as the perfect ice breaker for our friends and family who were meeting for the first time. Some of our close friends had planned interactive games for our guests to play, with myself and Philip competing against each other. 
The day after the wedding we all went to a beach club near our wedding venue. We relaxed, swam, drank Aperol spritzes and reminisced about the night before. It was the perfect way to end the weekend. 
The Take-Aways
I'd be lying if I said planning a wedding during a pandemic wasn't stressful. There were many times we asked ourselves if having our dream wedding (after postponing) was even realistic or worth it. The answer, in the end, was yes, and we'd do it all over again. It was the best day of our lives.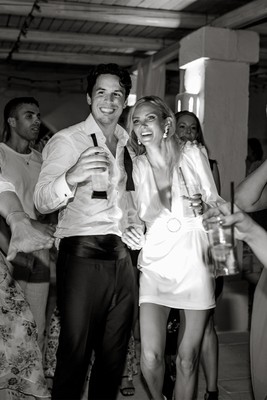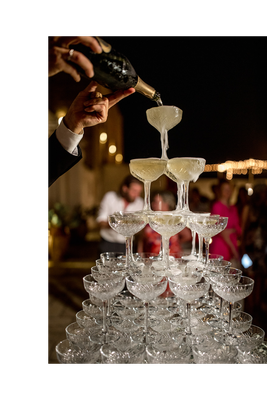 Tips For Other Couples 
After so many twists and turns, we weren't convinced our wedding would go ahead, even the week before. The pandemic really taught us to appreciate what's important, and let go of the little details that don't matter. As long as you have an experienced planner, you can be present in the moment. 
 
Photography by Lilly Red 
DISCLAIMER: We endeavour to always credit the correct original source of every image we use. If you think a credit may be incorrect, please contact us at info@sheerluxe.com.