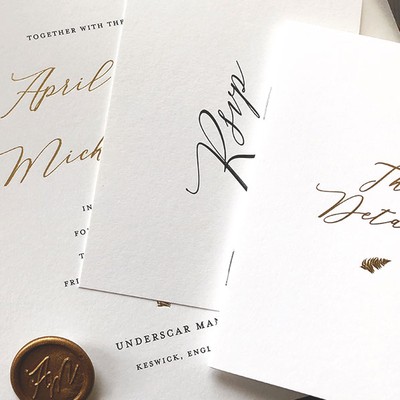 A Practical Guide To Wedding Stationery

Choosing your stationery is a really fun part of the planning process, and the design you choose can set the tone for the whole look and feel of your big day. From the important things like when to send your invitations, down to the finer details, we asked the experts for their advice.

Think About The Style
"Your wedding stationery sets the theme for your big day and is a great way to reflect both you and your partner's personalities and tastes," says Sophie Agar, brand director for Papier. "When choosing your design, think about the style of wedding you're having – traditional or modern, town or country and the key colour themes or flowers. Weaving a cohesive theme throughout is one of the most effective ways to tell a story from start to finish." Vaishali Shah, creative director of Ananya Cards adds: "The best source of ideas is the couple themselves – their stories and all the things they love and share. Take a step back and think about what matters to you  – whether that's your favourite flower, hobby or destination, and let the stationery designer get to work." 
Order Some Samples
"If the source and quality of the paper are important to you, mention it to your stationer right away and ask them for suggestions. Thicker paper gives a much more luxurious feel, while handmade paper adds artful layers of texture," says Vaishali. "The saying 'try before you buy' should definitely apply to your wedding stationery," adds Sophie. "Getting samples in your hands means you can really have an idea of the look and feel of the paper, and to see if the font you've chosen is easy to read." Also, consider whether you are honouring a particular culture or heritage, or combining multiple backgrounds. "A stationer with experience in diverse cultures can advise you on cultural conventions and suggest creative ways of bringing them to life," advises Vaishali. 
Weigh Up Bespoke Vs. Off-The-Shelf
"Most stationers offer both 'off-the-shelf' (pre-existing designs that are modified slightly to reflect your wedding details) and bespoke designs (where something is created according to your brief). The latter is unique to you – just remember to clarify if there is an additional charge for this service," advises Vaishali. Smythson offer beautiful off-the-shelf invites, embossed thank you cards and place cards, plus personalisation of your invitations if required. All cards come in their iconic blue boxes. 
Remember The Extra Details
"If you're looking for that extra-special touch, you could go for a foil-pressed invitation created using traditional, hand-printed techniques," says Sophie. "Discuss with your stationer the different printing techniques they offer," adds Vaishali. "What are the particularities of each technique? What finishing touches do they offer? For example, we offer wax sealing, envelope liners, suites tied with silk ribbon, calligraphy and more." Ashley Sherrard, director of Pale Press London agrees. "Wedding stationery is an art, with invites often treasured as keepsakes to remember your day. Investing in beautiful paper stock and tactile print finishes such as letterpress or hot foil makes it all the more special. If you love hand-lettered designs, choose a calligrapher whose writing style resonates with you. That lettering can also be carried through seamlessly into all of your on-the-day paper goods."
Get Your Timings Right
"Make sure you send out your invitations on time. In today's world, people are busy and their diaries get booked out quickly. Send your save the date cards as early as possible, 9–12 months in advance, and invitations three to four months before the big day," says Jessica Ware, creative director of Ware Studio. Vaishali agrees: "We ask for three months notice to create bespoke stationery designs, and we suggest a typical timescale of six to 12 months before the wedding for sending out save the dates, depending on your guest list and venue. For a destination wedding or one on a bank holiday weekend, give your guests extra notice. Eight to ten weeks is the usual timescale for sending invitations, but this will depend on what is right for you." For on-the-day stationery, your stationer should typically start creating it four to eight weeks before the wedding. "The seating plan is the last item that goes to print – as close to the wedding date as possible," says Vaishali. Jo Chapman, director of Emily&Jo Stationery Design, agrees. "Always factor in the production time for save the dates and invitations. We work on a general timeframe of four weeks from receipt of deposit to delivery of your finished stationery, but this can fluctuate depending on the complexity of the design and print finishes, and how proactive you are at feeding back your comments on creative proofs." Another option for save the dates is to go digital. "Papier can provide a beautifully designed digital save the date – a nice alternative to an email or if you'd prefer not to spend money on a printed one," says Sophie. "The impact of the coronavirus has made 2021 an exceptionally busy year for weddings, with many 2020 couples having to move their dates in addition to existing 2021 couples. With that in mind, try to get save the date cards out for next year as soon as possible," adds Jo.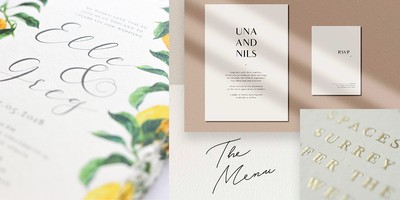 Ananya Cards | Ware Studio
Keep It Simple
"Only include the key points on your invitation, such as the date, time, location, your names and RSVP date – it will make it easier to read and much more elegant. You can include further details on separate cards or online if you choose to have a website," says Jessica. Sophie agrees: "Siphon off all the additional information, such as accommodation suggestions, travel details, gift list and detailed timings to keep the main invitation nice and neat. Just don't forget to add an RSVP deadline – guests always need a prompt."
Order an extra 10 per cent for last-minute guests, personal keepsakes or any mistakes made during addressing and assembly.

Calculate The Right Quantities
"It's best to order more invitations than you need, as most printers will charge for a minimum order if you need more. Plus, it's always nice to have some as a keepsake," says Jessica. Vaishali agrees: "Order an extra 10 per cent for last-minute guests, personal keepsakes or any mistakes made during addressing and assembly." Also, remember to keep the guest list and mailing list separate. "When calculating the number of save the dates and invitations to send out, some of your guests will be couples or families so will only need one invitation between them. This will provide you with the correct number to order," advises Jo.
Complete Your Set
"You'll most likely need items such as menus, name cards and seating plans for the day itself. It's best to get them printed at the same time if you can, as it will help with costs," says Jessica. Think about other ways you could save money, adds Jo. "For example, personal menu cards also double up as name place cards, and they make for a gorgeous table embellishment, too." Vaishali agrees. "Order the whole set of cards at the same time. This includes invitations, thank you cards, save the date, menus, maps, order of service booklets, place cards and signs. You have a better chance at negotiating the price if your stationer is designing and printing several items at once. This also allows for consistency of design across all your stationery. An added advantage is having your thank you cards ready to send straight after the wedding or when you return from honeymoon." Also, think about how you would like to present all the components you wish to include with your invites, adds Jo. "Pocket-fold invitations are a great way to house the items, or a belly band or twine that can wrap around and fix everything together." Finally, don't forget about a guest book. "It's so lovely to look back on people's comments but also, if you your guests took instant photos during the day, it's a great place to keep them and reminisce," says Sophie.
Don't Forget To Proofread
"Once your invitations are ready to be printed, check, check and check again. Make sure you proofread all of your copy, and show it to a few other people as well. The smallest errors aren't always easy to spot and you don't want to pay for re-prints," says Jessica. Sophie agrees: "If you can, ask a relative or friend to check over your invitation design before ordering them to make sure you're not missing anything obvious. It's an expensive mistake to have to reprint your invitations."
Avoid This Common Mistake
"Don't write your guests' names on the invitation. So often a beautifully designed invitation is spoiled by handwriting names in the corner as an afterthought. They should be addressed on the envelope, and if it's a little tricky to do this, include them on a small card and enclose with the envelope," says Jessica.
Pay Attention To The Envelopes
"The envelope is the very first glimpse of your wedding. There's no limit to what you can do with envelope liners – think colourful tissue, modern geometric patterns, words from your favourite book, bespoke illustrations, bold prints or delicate motifs. You can choose to either match, complement, or contrast the visuals of your invite or save the date. The guest names and addresses can be beautifully inscribed in calligraphy on the front of the envelope, too," advises Vaishali. "Address your envelopes with class," says Jessica. "Have them printed with the addresses or using a professional calligrapher. It will save you time and also ensures your envelopes are up to the same standard as your invitation suite." If you want to print address labels, there are lots of ways to make these look beautiful. "Use a font style that mimics hand-written script, or use the same typeface as your invitation suite to tie everything together," advises Jo. "For those with the skills (and the time), calligraphing the addresses on your envelopes will make for a beautiful opening experience for guests. If you aren't able to do it, perhaps ask family or friends to see if they can, but be sure to treat them to a little gift as a thank you for their hard work," says Sophie. "Some stationers offer hand lettering of envelopes and can even post the invitations for you, at an additional cost. Ask what services they offer in this regard, and what the typical process is," adds Vaishali.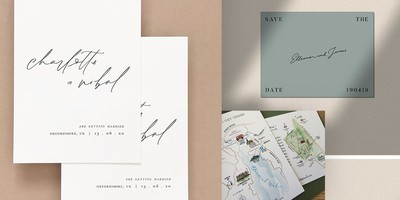 Pale Press London | Ware Studio | Emily&Jo
Check The Postage
"Try and select a stamp that will complement your design so your invitation makes an impression before it's even been opened, and remember to include a stamp on your RSVP return card if you have one," Jessica advises. "Once the assembly process begins, take one, fully assembled sample invitation suite (complete with the envelope) to the post office to have it weighed. Many wedding invitations are heavier than a standard letter, and will require additional postage. At the post office, they can tell you how much postage you'll need so you can ensure your invitations make it to your guests," Jo says.
Remember To Say Thank You 
"Thank you cards should be sent no later than three months after the big day, and ideally you'll have had them printed with your invitations to save on cost," says Jessica. "This is the final stage in your wedding stationery journey – a lovely way to express your gratitude to your guests and those involved in your wedding. Once you've adjusted back to normal life and you've received all your beautiful wedding photos, you could pick a few of your favourites to be turned into thank you cards. If you're able to, try and send these out as soon as possible, otherwise the task will hang over you and feel more like a chore," advises Sophie.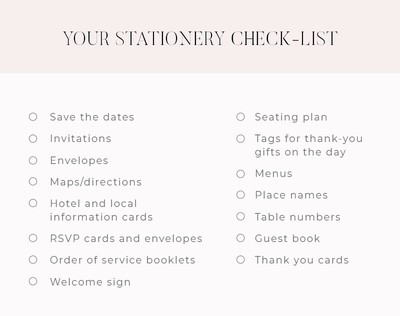 DISCLAIMER: We endeavour to always credit the correct original source of every image we use. If you think a credit may be incorrect, please contact us at info@sheerluxe.com.