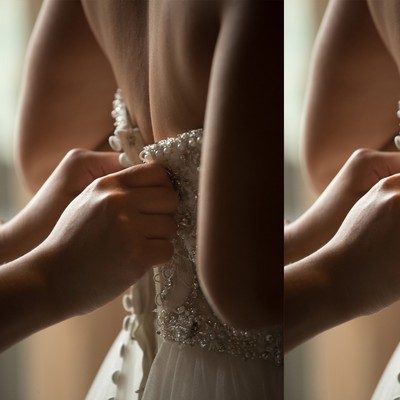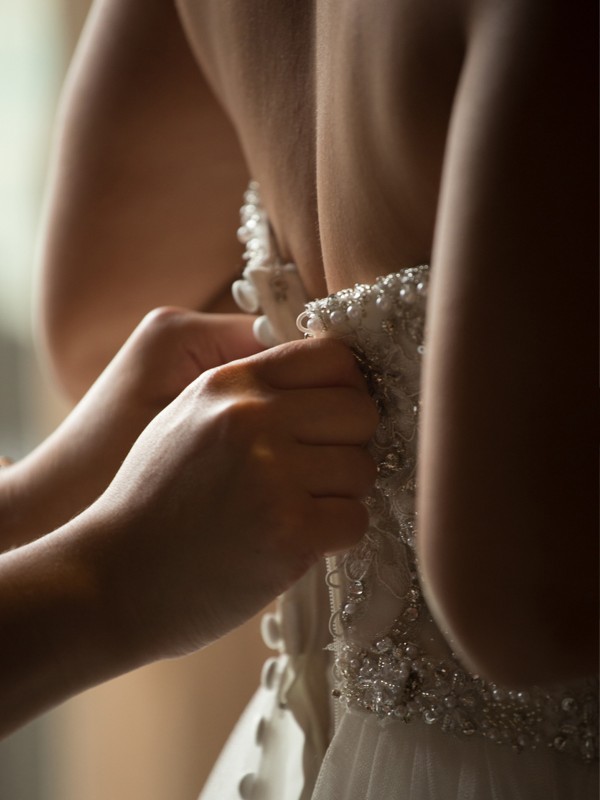 What To Do If… You Hate Your Wedding Dress

Even if you've worked with your dream designer on a dress you thought would be perfect, sometimes the end result just isn't what you envisioned. We asked three pros for their best advice on what to do – and when…

There's Six Months To Go And…
…You change your mind on what you've ordered?
"Wedding dresses typically take around six months to be made so it's really important to be sure of your choice at the point of ordering and remember how you felt in the dress when you tried it on for the first time. I've been doing this a really long time, and if a bride has a wobble at her fitting, the vast majority of the time it has nothing to do with the dress. Sometimes, the pressures of a wedding can get on top of you and it's best to take a moment and look at the situation with fresh perspective. If you still feel the same, talk to your boutique about your options." – Kate Halfpenny, owner of Halfpenny London
"If you've chosen a brand and purchased a standard size dress, you need to discuss with the boutique if the gown can be changed, or if they would be prepared to take your gown into stock and allow you to choose another dress. If you were with us, your gown would be created to order, and at six months prior to the wedding you would be having a toile fitting – this is a fitting of the template of your gown to ensure the perfect fit. At this stage, if you did change your mind, we would – for a small charge – allow you to choose another gown. The fee would just cover the cost of having produced your first toile, which would've been made to your exact measurements." – Caroline Castigliano, owner of Caroline Castigliano
"Each and every bride has her 'wobble' moment – it's to be expected for something so filled with emotion. Our team are expertly trained in supporting brides, should they experience any concerns. If you have spent enough time at the start, searching for the right dress and speaking to the experts, it's unlikely you will change your mind entirely. If this does happen, go back and re-try on the sample and compare it to other dresses. Just look at everything again in a calm manner. It is possible to adapt your dress design quite a lot if you have chosen to create a bespoke look, as long as there is enough time." – Phillipa Lepley, owner of Phillipa Lepley
 
...The colour is wrong for your skin tone?
"Again, if you're purchasing a gown from a brand that is a standard size you can speak to the store or boutique you ordered from to see if it comes in other colours. Large manufacturers often make their gowns in a few different shades and, at six months prior to the wedding, this change may be possible without incurring extra cost. With us, it would be possible to change the shade of fabric for your gown this far out – just discuss your ideas with the team." – Caroline
"If the colour of your dress turns out to be different to what you ordered, bring this up immediately. You should have seen the correct colour when you tried on the sample, so the boutique or designer will have to rectify their mistake." – Kate
  
…The neckline isn't right for your body shape? 
"Standard gowns can rarely have the neckline changed. If you make this decision at the six-month mark, you would need to speak directly with the boutique to see if they are prepared to take your gown back into their stock and order a different style with the appropriate neckline shape. Our gowns are created individually for you, so at the six-month mark you would be having your toile fitting and any neckline changes can be made at this point." – Caroline
  
…The venue changes?
"It is possible to adapt your dress if your venue changes and you don't feel it is the right look anymore. How much you can change depends on what stage the dress is at, and if it is made to measure or if you are buying off the peg. You could always make the skirt bigger or smaller by adding or removing petticoats, for example, and you can formalise or relax the look by adding veils, changing the length of the sleeve or adding accessories." – Phillipa
 
"My advice is actually not to choose a dress because you think it suits a particular venue, or because it's on trend, or for any other reason than because you love it and feel incredible in it. There are no rules: we've had brides wear wide-leg duchess satin trousers for a church wedding, or a beaded gown for a registry office, so go with what you love! If your venue does change, it doesn't necessarily mean your dress is wrong. We'd always be happy to discuss your concerns and work towards a solution you're happy with." – Kate
Do not to choose a dress because it suits a particular venue or it's on trend or for any other reason than you love it.
…Your dress supplier goes bust?
"If you're in the position where this does happen, contact your boutique and see if you can go and collect your dress, or contact the designer directly and see if they've not yet sent your dress to the boutique and if there's anything they can do. If you don't receive your dress, you may be able to have the costs reimbursed by your credit card provider if you used that method of payment. If time is short and you still need a dress, consider a sample gown or a rental from somewhere like My Wardrobe HQ. Ready-to-wear options are also available – we have a gorgeous edit of dresses and separates for next-day delivery on NET-A-PORTER and now in Harrods too. If you contact other boutiques and designers nearby, they'll go above and beyond to find you a new dress." – Kate
"I would highly recommend getting insurance to cover all eventualities should any of your suppliers go out of business. Just be aware wedding insurance does not cover 'change of mind' decisions, though." – Caroline 
There's Three Months To Go And…
…Your body has changed since the original measurements were taken?
"At three months before your wedding, your weight might have changed from the day the measurements were taken. It is easy to alter a dress and make it smaller as long as you are not taking the dress down by more than one dress size – this equates to roughly two inches. But if you've put on weight, that can be more challenging. If you have ordered a brand in a standard size, you would need to discuss with the store if they would be prepared to take the dress back and order a larger size for you. If your dress has been specifically created for you, at three months it would be very close to being completed. There would usually be a charge to make the dress larger, although it depends enormously on where the sizing has changed, what the design of the dress is and what is possible to achieve. It's going to be very different on a simple understated crêpe dress than it would be for a dress covered in lace, for example. You would need to discuss it immediately with the boutique. My advice would always be, if you feel at any stage your weight is changing, contact the store as quickly as possible." – Caroline
 
…You want to add a longer train?
"If the dress is already cut, you would need to change the entire skirt to add a longer train, and this would be likely to incur extra charges. You also need to be careful because there may not be enough of the same fabric or the same lace, and you really do want any additions to be made from the same pieces. Anything is possible, but you do need to factor in time and money for the workmanship. An instant remedy in this situation would be to choose a longer veil, which becomes a very beautiful and elegant train." – Phillipa
"If you have ordered a brand in a standard size, in most situations it would be impossible to actually alter the length of the train. If your dress has been created for you individually, it may well have been cut out by this stage, making it more difficult to add to the train – unless you are having a lace gown where one can hand appliqué extra length onto the back of the train. It would be a big job, but it would be possible – talk to your boutique and see what the options are." – Caroline
 
…You realise the dress needs to be more modest?
"You would need to speak with the fitter at the store to see if they were able to get any extra fabric to raise the neckline. Brands work differently when it comes to offering extra fabric, so if the fitter was unsuccessful with the manufacturer, they could look at purchasing a fabric that tones or blends with your dress. You should be aware most stores would charge for all changes and alterations at this stage." – Caroline
"Making a dress more or less modest usually comes from raising or lowering the neckline or changing the sleeves. Your designer should have got that right at the start and spent a lot of time deciding the specifics with you, if you are having a couture dress made. They would draw the neckline onto the fabric during multiple toile fittings. Should changes need to be made though, it really depends on what stage the dress is at. Raising the neckline usually requires a new bodice being cut, and it is less complicated changing the sleeves. You could add an embroidered overlay with a higher neckline on top – the Phillipa Lepley overlays have been exceptionally popular recently, and they allow such flexibility. Brides can opt for a low, décolleté neckline showing a little bit of cleavage and add a demure, embroidered tulle overlay with a bateau neckline. The overlay can be to the waist or full length." – Phillipa
"At Halfpenny London we have so many beautiful layers – tops, capes, jackets, sleeves and lots of other things – so we could certainly look at making a wonderful addition for you." – Kate
Every bride has a 'wobble' – it's so emotional. If you've invested time at the start, it's unlikely you'll change your mind entirely.
…The final look is too traditional?
"If you find your look needs some edge, make sure you bring your shoes and accessories, and style your hair and make-up the way you're planning to wear it on the day. You would have chosen this dress for a reason, so perhaps it's as simple as adding a red lip, or a statement accessory to completely change the look to suit your own style." – Kate
 
…The budget is starting to feel over-stretched?
"Think carefully about what's most important to you and prioritise those things. Be very clear about your budget when you come in for your initial consultation and, if you know a dress is out of budget, don't try it on! There are so many wonderful options at every price point, so you'll still find your perfect outfit regardless. If you know you want an epic dress, you could compromise on your shoes, for example. It's all about what's important to you. That's also why it's extra important to discuss any additional requests before you order so you're completely comfortable." – Kate
"At three months, if you're requesting added alterations or wanting to purchase extra accessories, it is going to cost more money and it's really not a time to be looking at the budget. I would say to all brides: look at your budget before you set out to make any purchases and make sure you're not going to feel overstretched. You want to love this journey and the build-up to your wedding day." – Caroline
"I agree. It's really important to be clear on budget from the start. Multiple changes that were totally unplanned will mean a significant amount of work and therefore more charges. Be aware of this and look for other ways to save if you really do feel this is where you want to focus additional budget. You can make savings by sourcing sample veils and accessories. Perhaps you don't have to wear as many accessories as you originally envisaged because there is quite a lot going on with the dress or the flowers etc. It is possible to shift things around, but budget is one of the first things to nail down." – Phillipa
There Are Just Days To Go And…
 …The dress is late being finished?
"Keep in contact with the store you have ordered your dress from. On a daily basis, find out what is happening with the alterations and why it is taking so long to finish. It is a good idea to have agreed dates well in advance with the fitter, and you should expect to collect the gown a week before the wedding. At Caroline Castigliano Knightsbridge we take care of all alterations, so the gown is ready for collection a week before the wedding, or a date agreed with the bride." – Caroline
 
…It comes out of the garment bag badly wrinkled and creased?
"You'll be given instructions on how to store your dress between your last fitting and your big day, so be sure to follow those to the letter. Some dresses are best hung up, some are best laid flat – just ask if you're not sure and your boutique will help you. If it's a little creased, a quick steam will make it perfect and ready to wear. If you're a novice steamer, practise beforehand on a pair of silk pyjamas or something similar, and use a clean cotton tea towel or hanky to protect your dress from the steamer spitting." – Kate
"You should be able to press your gown to ensure there are no creases. If the gown is creased, take a large piece of fabric (in ivory or white) and place it between your gown and the iron. Somebody will need to hold the gown high so that the fabric of your dress can be put on the ironing board. Have the iron on a medium heat, place the fabric between the dress and the iron. The fabric will ensure no damage can be done. Should there be boning and structure in the bodice, this should not require any pressing as the boning will keep the bodice from actually creating creases." – Caroline
 
…You spot a stain or mark on it?
"Your dress should have been inspected at your final fitting so you know it's perfect. The temptation will be to go home and try it on again but please try to resist – you don't want to risk overhandling it. Be very careful with make-up and moisturisers, and things like that. If you do notice a new stain or mark, a quick dab with a fragrance-free baby wipe is a little trade secret." – Kate
"Do not touch the stain with water or any over-the-counter stain removers. Immediately speak to the boutique to discuss how the spots can be removed – this will be different depending on the fabric of your dress, but most marks can be removed. Often, a bride removes her gown from the bridal bag and it gathers dust particles that can create what appears to be a stain or mark, but this is easily removed using masking tape, repeatedly lifting the dust from the dress." – Caroline
 
…It just doesn't feel very 'you'?
"It's very sad to imagine a bride deciding just days before the wedding that the dress isn't right, but it's also very late in the day to make any changes. From many years in the industry, I have very rarely seen this happen, but what you want to remember is that over the previous six months you've loved it. Often, it's the pressure of the wedding that starts to make you wonder. It's a big occasion and my advice would be: try to relax. You've chosen something because you loved it – and everyone will see you as a beautiful bride. I'm sure when you look back, you'll realise why you chose it in the first place." – Caroline
 
 
For more information visit CarolineCastigliano.com, PhillipaLepley.com and HalfpennyLondon.com
DISCLAIMER: We endeavour to always credit the correct original source of every image we use. If you think a credit may be incorrect, please contact us at info@sheerluxe.com.