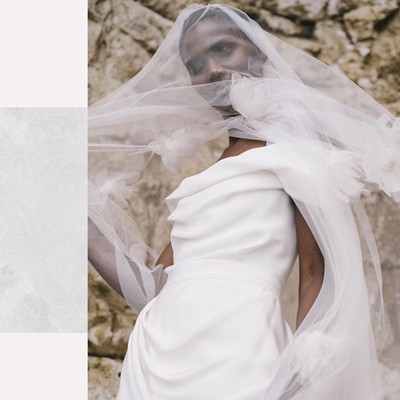 What You Need To Know About Bridal Veils

From Hailey Bieber's cool, Cathedral-length veil, to Sophie Turner's super-pretty lace-edged number, brides have fallen in love with the romance of veils once more. With so many options out there, we turned to the experts for their know-how…

Bridal Designers Love Veils 
Because veils aren't something you wear every day, they can feel a little intimidating at first. But most designers agree it's the perfect way to finish off a look, as well as add a more personal touch to your dress. Whether it's a bespoke length, hand-embroidered details, single versus double tier, there are plenty of ways to make it your own.
"I adore veils. The way in which the layers of triangle-shapes frame the bride is so romantic, feminine and soft. The moment when the bride reaches the altar, comes out of the vestry or signs the register is absolutely made by the veil blusher being placed back off the face." – Phillipa Lepley, creative director and founder of Phillipa Lepley
"I am a huge fan of veils, too – they bring drama to a look, and have a really special feel to them. I also love tulle veil-like capes – if you are against wearing something on your head try positioning something on your shoulders instead." – Kate Halfpenny, designer and founder of Halfpenny London
"I strongly believe in the importance of finding a bridal look that reflects who you are today, yet still feels timeless. I love the idea of our brides wearing one of our veils that they'll be proud to pass down one day. It's also not every day you get to wear a veil. It gives you two different bridal looks: your ceremony look and your reception/party look." – Lauren Crispin from The Mews Bridal 
"When the right veil meets the right dress, it creates a truly magical moment that will be remembered forever." – Sassi Holford, founder of Sassi Holford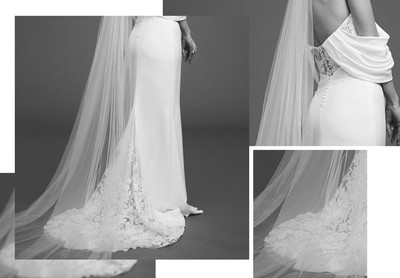 The Mews Bridal | Rime Arodaky
There's A Range Of Lengths & Styles
It might surprise you to know wedding veils can range from a face-framing 4in to a floor length 120in. Experts agree it's about choosing what suits you, and the look of your dress.  
Birdcage or pop veils are the shortest, measuring between 4in to 9in and are usually made from net or lace – a good option if you're looking to wear something into the evening. 
Shoulder-length veils are ideal for those brides wanting a traditional style that doesn't compete with the details of their dress. 
A blusher veil is great for a traditional, grand reveal and usually measures at least 30in to fall over the face. 
Fingertip veils fall just beyond the hip, and work to highlight details on the back of a gown. 
Knee-length veils are designed to graze the floor and match the length of the dress. 
A floor-length veil is great for those torn between a ball gown style dress or a more fitted silhouette and want to add a little volume. 
Chapel or cathedral length veils are the longest option, and are hard to beat when it comes to the 'wow factor'.
"What we call 'cathedral' length veils are usually cut up to 12in to 18in longer than the dress train although the shape means it sits behind the dress and frames it perfectly. Brides may also choose a short veil which would usually be approximately 30in long at the front and 60in at the back. You can choose to have it either gathered at the top, or flat with no gathers. It depends on the fabric of the dress and the bride's preference, but I personally favour full-length silk veils – they are absolutely majestic and utterly beautiful." – Phillipa Lepley
"We always style our gowns with a long, romantic veil – it keeps the line of the bridal look clean and exquisitely feminine. We love the juxtaposition of an endless, delicately embroidered veil paired with the simplest of silk slips." – Lauren Crispin
"It's all about finding the veil that perfectly matches the dress silhouette. Whichever style of veil a bride chooses, balance is most important – neither the dress nor the veil should overpower the other." – Sassi Holford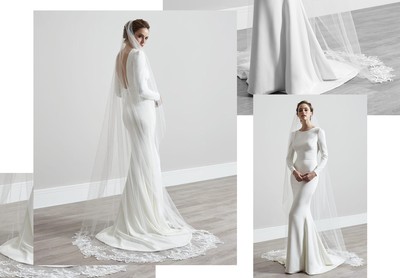 Certain Styles Suit Certain Dresses
Different styles of tulle lend themselves to various styles of dress. For example, if you're going for a full skirt, traditional tulle has the right structure. But for more form-fitting slinky dresses, a silkier style will probably be a better option. According to the experts, it's all about envisioning the overall look and experimenting before making a final decision.
"If you have a heavily embellished dress then a simple tulle veil works perfectly. Likewise, if you've gone for a simple dress, then go for it with your veil. We have the most magical veil called the Dandelion – the 3D silk organza flowers look incredible with our Cheryl dress." – Kate Halfpenny
"A veil is there to complement your outfit, so think about how the fabric looks with that of your dress. Slinky dresses look great with soft drapey silk tulle, for instance, while full structured dresses look amazing with voluminous organza veils." – Ann-Marie Faulkner, founder of AM Faulkner
"I've designed an extensive selection of veils to work with every individual dress, including intricate floral lace-edged veils, embroidered, beaded, or simply satin-bound. A bride could incorporate a very special personal message in to her veil, her new initials, or a picture of her favourite animal or favourite flower, hidden discretely." – Phillipa Lepley
Your Hairstyle Matters
Whether you're wearing your hair fully up or half down, the style creates the foundation for where the veil comb will be placed. It's important to think about the type of hairstyle you're planning for your big day when choosing a piece, and don't forget to take your veil along to your hair trial.
"I'm a bit of a rebel, so I believe you can wear whatever you want. All my veils are made on fine metal combs so they grip into hair – up or down it doesn't matter. Even if you have fine hair, there are ways around that. If you're in love with how something looks on you, but someone tells you it doesn't go with your face shape or dress, just go with your instinct." – Ann-Marie Faulkner
"We always say you should wear your hair how you normally wear it, as you want to look like you on your wedding day. But it also depends on the style of the dress. If your dress has a high neck and lots of detail you don't want to cover, then I would suggest a high messy ponytail or a low, effortless bun. If your dress has a low 'v' back then style it with beachy waves or a dutch braid. We love effortless hair – chic yet nonchalant with the perfect, 'I woke up like this' flair." – Lauren Crispin
"Personally, I always start with the hairstyle, as that is fundamental to the bride's personality and sets the tone and style for the dress bodice and the veil." – Sassi Holford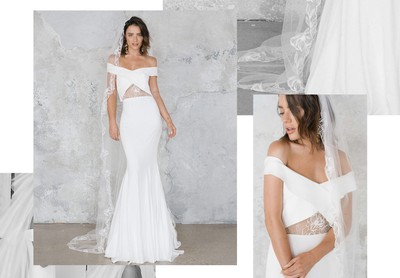 The Mews Bridal | Rime Arodaky
The Prices Can Differ Greatly 
The cost of veils can differ greatly, depending on the fabric and craftsmanship involved. 
"My veils start from £50 for a minimal French tulle veil and go up in price depending on the work and materials involved." – Ann-Marie Faulkner
"Our simple veils start at £275. The prices increase depending on the tulle, the edging, lace detail, embroidery or appliqués." – Kate Halfpenny
"Completely clean plain, silk veils, which are made to order to the exact measurements for each dress, start at £950. A bespoke Phillipa Lepley veil will often include a variety of different laces embroidered together; from plain laces with wide, decorative borders, to intricate floral or leaf motifs to corded and finely beaded laces. The variety is unrivalled, as is the workmanship." – Phillipa Lepley
"The couture veil standard prices start at £60 and rise to £1,000. But because of the extensive bespoke service on offer, some can cost up to £4,000." – Sassi Holford 
"Our veil prices range from £300 – £700." – Lauren Crispin
DISCLAIMER: We endeavour to always credit the correct original source of every image we use. If you think a credit may be incorrect, please contact us at info@sheerluxe.com.