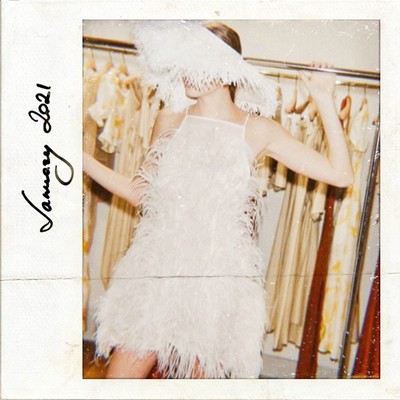 What You Need To Know About Pre-Loved Wedding Dresses

The pandemic has been the catalyst for so many trends over the past year, not least a greater desire for pre-loved wedding dresses. Often considered a more conscious – not to mention more affordable – choice, here's what you need to know…

What
The term 'pre-loved' refers to any dress which has been worn before. It may mean vintage – a dress sourced from decades gone by – or it may have been bought recently and worn once, and is now on sale via resale sites or shops. 
Why
There are so many reasons to opt for a pre-loved wedding dress. Sustainability is key – naturally, it's more environmentally friendly than buying a new style you'll likely only wear the once. Then there's also the cost factor – chances are, if you're looking for a reputable designer name, you'll get a lot more bang for your buck going second-hand than you would if you shopped new. Plus, think of it as an opportunity to get your hands on an old-season or discontinued style you may have fallen in love with, but is no longer available.
 
As for the timing, the 'why' to buy pre-loved has never felt more relevant. The pandemic has pushed more brides to choose the pre-loved path. Shoe designer and bride-to-be Camilla Elphick says: "There has definitely been a shift away from traditional wedding dresses [over the last year] – whether it's not being able to attend fittings or realising there are plenty of options available online at an appropriate price point moving away from the traditional route feels more modern." She also points out how useful resale platforms can be: "I like the idea of seeing my dress on someone who is the same height and size as me, and being able to have a conversation with the bride to know whether it was right for a certain climate, or comfortable for dancing." Even once bridal stores reopen, the ease, convenience and low-key nature of shopping for styles online (something many bridal brands don't offer) is likely to make the trend stick. 
Where
Still White has long been the most popular bridal re-sale platform, but these days there are multiple options, depending on what you're after. Vestiaire Collective and eBay are both reliable sources – just be mindful that they're not specialist, so it may take time for the perfect piece to crop up. Similarly, 1st Dibs has a stellar selection of vintage pieces available, from 1960s Dior styles to 70s Geoffrey Bean, 80s Nina Ricci and 90s Valentino, while BridalReloved.co.uk stocks Sassi Holford, Caroline Castigliano, Charlie Brear and Elie Saab. 
Looking for a pre-loved dress online? Stylists Abi Gadsby and Grace Richmond, founders of new bridal resale platform, The Loop, share their tips… 
Practice Your Own Quality Control
"Quality, authenticity, versatility and condition are the things to look out for in a pre-loved dress. There is still such a stigma around buying second-hand pieces, but when we are sourcing our items, we are not afraid to spark up a conversation with the seller first – asking for extra photos, sizing, more comment on the fit or the story behind it, for example. We implore potential customers to do the same. Who made the dress? Has it already been tailored or custom fit? Why are they selling? What's the story? These are all important questions to ask."
 
Know Your Sizing
"From a broader perspective, getting to know your body, sizing and shape is also really important when it comes to buying pre-loved. Easier said than done, but understanding what kind of styles, shapes and pieces work best for your body is always an essential place to start. Don't forget if it doesn't work, most resale sites make it easy to re-upload and sell it on again. One thing to note – resale sites often have very few large sizes available."
 
Look For Reputable Brands
"There are so many incredible pieces to be found on the internet. When you buy from quality brands, you know the fit is likely to be spectacular. Our fluid cream Azzaro wrap silk dress took our breath away, as did many of our Jenny Packham pieces. We just uploaded a new KHAITE piece, too, which epitomises a new take on the modern bride."
 
Know The Value Of A Piece 
"Do your research on the original price of the dress you're interested in – or at least find some comparison online. You can trust sites like The Loop to price pieces responsibly, but on wider resale sites it's fair game, so do your research to ensure you're not overpaying. We know that luxury goes hand in hand with quality, longevity and a great design, so if the condition of the preloved item is good and you're comfortable with the price, it's likely you are walking away with a total steal." 
 
Get A Good Tailor
"We all have totally different body shapes but amazingly a size 12 dress, for example, can fit numerous women of all shapes and sizes. But even if an item is brand new, let alone preloved, a tailor can do an exceptional job of elevating it. A few tweaks can give you that extra confidence you might need, not only on the fit, but also on the style, giving it a fresher finish. People also forget a tailor can help reimagine items, making them more wearable and practical."
Visit The-Loop.uk
SL reader Frances Tucker bought her lockdown wedding dress via Instagram after spotting it on PR Lauren Maybank. Here, they tell us what happened…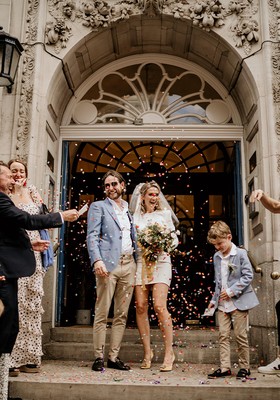 Lauren
This was my third attempt at a wedding due to the pandemic. Because it was just a quiet registry affair and we thought it would be just close family, it felt a bit much to wear my original Suzanne Neville dress. I had just few weeks to plan everything – I bought a lovely dress from ASOS but I kept looking around as it didn't feel quite edgy enough for me. In my head I wanted a little 80s influence to nod to the year I was born, and it had to be short. When I saw the shoulder pads, the open back and the zip on this Alex Perry number, I snapped it up. I'm not even sure if it was intended to be bridal, but as many of us had had to change our plans, dresses and venues, it stood out to me as perfect for a registry office. I personally would have felt OTT in anything else. The bargain veil only added to the Madonna/80s vibes. As for how Frances and I met, it was through celebrity tanner and my friend James Harknett – she saw me on his Instagram and the rest is history!
Frances
I first saw Lauren's wedding pictures on James Harknett's Instagram page. I started following her for wedding ideas and we began chatting. She was selling a different dress on her stories which I wanted to buy from her; I said how much I loved her dress and she said if I wanted it, she'd happily sell it to me. I originally bought it in September, as a potential evening dress for our postponed wedding bash this year. But in November 2020 we realised we'd have to postpone again, and we really just wanted to be married. So we decided to organise an intimate registry office ceremony around Christmas time and that dress was just perfect. Lauren had it dry cleaned twice for me and it meant I could have an Alex Perry dress for a fraction of the price. I would never have considered buying a wedding dress second-hand before the pandemic, but I now love it more than my full length Pronovias dress that's been locked up in the Bond Street boutique for the last 12 months.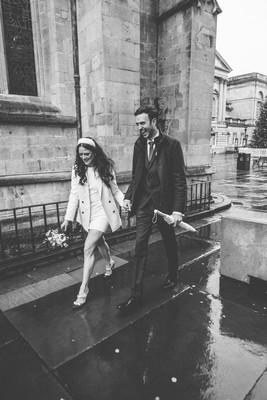 DISCLAIMER: We endeavour to always credit the correct original source of every image we use. If you think a credit may be incorrect, please contact us at info@sheerluxe.com.