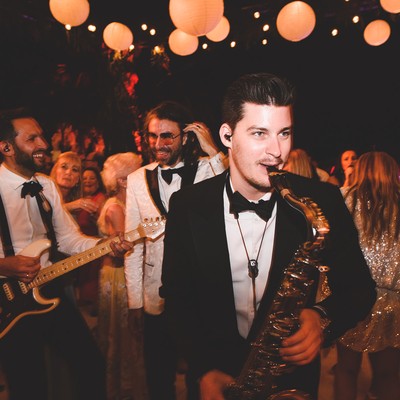 What You Need To Know About Reception Music

Perhaps you already know which song you want to walk down the aisle to or what should accompany your exit from the ceremony. But choosing the right music for your reception is just as key when it comes to setting the overall tone for your big day. From first dances to the band versus DJ debate, we asked a couple of events pros to share their insights…

We all know the tone of any wedding day is key. But how can music help this? 
"Music is always going to set the tone for your wedding because it directly reflects part of your personality," says Sarah Balfour, founder of Orchid Events and Music by Arrangement. "Music can add another layer of emotions to your wedding, too, so it's important think about the atmosphere and mood you want to create. You may decide on a serious and emotional ceremony, a light and fun reception, a sophisticated and elegant dinner, followed by a great big party, for example."
What music would you recommend to start the day?
"For the welcome drinks, a live acoustic jazz band or an individual musician are good choices," says Hannah Evitts, luxury events planner and founder of Hannah Evitts Events.
"Then, after the ceremony, it's time to ease into the celebrations," advises Sarah. "Some easy-listening background music will add atmosphere and set the mood. You could opt for some jazz classics, maybe a jazz trio performing Sinatra classics or even a more modern repertoire if that's your style. Alternatively, go down the instrumental route with a string quartet, harpist or jazz guitarists."
To what extent should the music reflect the guest list?
"You should definitely think about your wedding guests when it comes to music," advises Sarah. "Not only is it a good idea to choose songs that mean something to you and your spouse, but also music that means something to your guests – especially your families. Find ways to involve them in the decision-making, too – for example, ask guests to pick a song they would love to hear and leave space for them to jot it down on their RSVP."
Hannah says: "Just remember not to let the guest list hold too much sway – after all, this is your day. Choose the music that you both love, that makes you feel happy and is part of your love story."
Should music be playing when the couple arrive at the wedding breakfast?
"Sure," says Hannah. "Although, that said, it really depends on the style of the wedding and the couple's taste. A more reserved duo may want a string quartet, whereas a more extrovert couple might opt for a grander entrance."
"In my view, music should always mark the couple's entrance into the wedding breakfast," agrees Sarah. "Go for something upbeat and romantic, as this is what the day is all about, and choose a song that has meaning to you as a couple."
Is it appropriate to play music during the wedding breakfast? 
"Music, whether it be background or foreground, is going to create a certain mood," admits Sarah. "During the wedding breakfast, therefore, it's best to go for something relaxed and chilled out. Take into consideration the volume level too, as people will want to chat and relax before the party gets going."
"If you're having a large wedding and the couple are huge music fans, a roaming band to compliment the toasts can be a great idea," advises Hannah. "The beauty of this is you can gradually increase the tempo to lead up and into the wedding reception and draw people to the dance floor for the first dance – it creates a smoother transition."
Sarah agrees: "When the wedding breakfast is over, you'll need to indicate now is the time to party. Kick off with a guaranteed up-tempo floor filler everyone knows and loves." 
Music can add another layer of emotions to your wedding, too, so it's important think about the atmosphere and mood you want to create.

What goes into choosing a first dance song? 
"The first dance choice tends to be a special song for the couple, however this isn't such a simple choice for some. Try to think of a song that reminds you of a special memory you share together, or one that fits within the theme of your wedding. In that moment, it's all about the two of you."
"Choosing a first dance song is a different experience for everyone," agrees Sarah. "Maybe there's a song which played a lot on the radio when you first met or maybe there's a song that reminds you of a particular event – like a first holiday together or special anniversary. If you're a romantic then you could go for a classic love ballad to make everyone gush, or if you have a theme to your wedding, then pick a song to fit it." 
And for the cake cutting? 
"The music doesn't tend to be the focus during the cake cutting," says Hannah. "However, having something light in tempo in the background is probably best, as you don't want the moment to be upstaged."
What are the reasons to have a band or a DJ – or both?
"You can easily make a case for having either a band or a DJ," says Sarah. "A band can get the party started, but also make some songs sound more heartfelt and emotional. They can also improvise and adjust the tempo when needed, and even if some guests that don't enjoy dancing, they'll have fun watching them perform.
"With DJs, there's usually an endless variety of songs available, so they can adjust to the mood or take requests. You can also give them a list of favourites before the big day. DJs also require smaller spaces to set up, while reputable companies will always have a stand-by ready to take over should anything go wrong – plus, they're normally more affordable.
"Another option is to have both. The band could perform two 45-minute sets, and then a DJ can take over while they're off stage. This way you get the best of both worlds. You could also add live energy to the DJ set by adding some musicians to perform with them, for example saxophonists, electronic violins and a percussionist," suggests Sarah. 
The last dance is a great way to finish your wedding and allows everyone a final moment of celebration altogether. A slow song gives people the chance to cool down, and provides a sweet, thoughtful moment before the party breaks up.

Should there be a 'theme' to the day's music?
"Although this day is about you as a couple, it's rare to find couples who like exactly the same genre of music," says Hannah. "It's good to mix it up – for example, play old-school classics that you and your best friends love, and remember to add in the mother-of-the-bride's favourite song as a little surprise."
"It's crucial your wedding reflects your musical taste," says Sarah. "But that doesn't mean it shouldn't cater to the guests for at least some part of the evening. A bit of swing or older pop music might bring out people who otherwise wouldn't have got on the dance floor. As the night goes on, it's usually the hard-core party animals who are left, so the rules inevitably become looser."
What should you think about for the last dance of the night?
"My only advice here is to choose something that gets the whole wedding party singing their hearts out – it'll ensure your day ends on a high," says Hannah.
"The last dance is a great way to finish your wedding and allows everyone a final moment of celebration altogether," agrees Sarah. "It's also a good way to signal that it's time to go.
"Just give some thought to the tempo. At the end of the party, your guests may be a bit tipsy, so a ballad might be a good choice. A slow song gives people the chance to cool down, and provides a sweet, thoughtful moment before the party breaks up." 
If couples are having a smaller wedding, what changes should they make?
"The main thing is to take the size of your band into consideration," says Sarah. "You don't want to have too big a band for a small or intimate wedding as it will feel overwhelming. Bear in mind a smaller band will need a smaller PA system too."
 
For more information or help with music for your big day, visit OrchidEvents.co.uk, MusicByArrangement.com and HannahEvitts.com.
DISCLAIMER: We endeavour to always credit the correct original source of every image we use. If you think a credit may be incorrect, please contact us at info@sheerluxe.com.