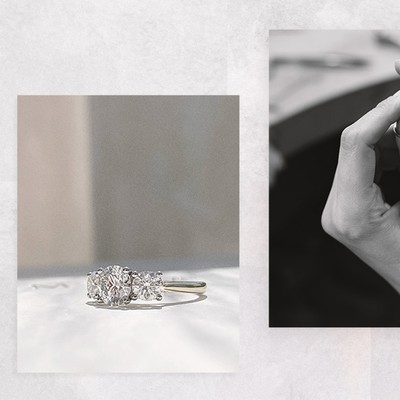 What You Need To Know About Bespoke Engagement Rings

Designing your own engagement ring can be a really special time for newly-engaged couples, but there's a lot that goes into getting it right – from the upfront cost to the materials used and even the special touches, like engravings and settings. To point you in the right direction – and help you avoid costly mistakes when going fully bespoke – we asked a selection of jewellery experts and designers to share their insights.

THE BUDGET
What sort of budget you set aside depends on the engagement ring you have in mind, says Richard Warrender, owner of jewellery companies W&W Jewellery and Warrenders Jewellers. "Truly bespoke pieces that are individually designed usually start at more than £5,000, but it may be possible to choose an existing design and select diamonds or gemstones for less. Ready-to-wear options or vintage jewels can offer better value, too. Just don't let budget be the only decider – there are lots of ways to get creative and work with a jeweller who can explain all your options." 
Meanwhile, Liz Olver, director of product design at Vashi says: "There are no rules about how much you should spend on a bespoke engagement ring; it's about finding one that sparks an emotional connection. We will always work within your budget – whatever it may be – to create the perfect ring." 
Brooke Rohan, owner and designer of Brooke Jewellery adds: "There are lots of options available for all budgets, including something like a beautiful cluster diamond ring which will give the impression of a larger single stone – it can be a more affordable option." Similarly, director and designer of fine jewellery brand Gemima, Gemima Taylor, recommends the following: "Splitting your budget across smaller stones will give you a more impactful-looking ring than searching for a lower-grade single stone. Go for elongating shapes as your side stones – such as pears or trillions – to make your entre stone appear larger, too." 
THE DESIGN PROCESS
According to Richard, it's important to trust your jeweller understands your vision. "Make sure you get advice and as much information as possible. It may turn out you need to consider a more straightforward design than first anticipated, or a smaller individual diamond or a group of smaller stones to create a more impressive overall look. Working with an expert will ensure you get the best design at the right price."   
It's also important to decide what you're willing to compromise on and what you're not. Maybe the brand is the non-negotiable, maybe its sustainable or ethical materials or perhaps it's the quality of the stone. Either way, you wear your ring for a lifetime, so you want it to be a timeless design by someone or a brand you really admire.
"If you have a specific idea in mind, it's worth coming in to discuss all your ideas," says Liz. "You might be surprised at what you can do. For example, by being clever with the 4 Cs – cut, carat, colour and clarity – you can choose a diamond with a different colour grade to make it more affordable but ensure it still looks beautiful." Brooke adds: "There are lots of parts fo the design process couples will be unaware of. For example, solitaire stones – they can increase the cost significantly – especially if the quality is high. It's worth discussing your plan with a jeweller, as they might be able to come up with some alternatives that actually achieve a similar effect to what you envision."
THE MATERIALS
In Richard's opinion, it's best to stick with the superior jewellery metals – platinum, 18ct gold, 18ct rose gold or 18ct white gold. "Traditionally, engagement rings are made from 18ct gold or platinum," explains Gemima. "But during the pandemic, the price of gold has jumped, so choosing platinum is the more popular option right now. It's worth bearing in mind that platinum jewellery can always be dipped later into yellow or rose gold. The diamonds are protected, and the gold dipping will last up to a year. If you change your mind, it can be easily polished off later."
"If you can, go for solid gold as plated will fade over time," agrees Brooke. "Personally, I love 18ct gold and would choose the exact colour based on the client's individual skin tone, ring type and personal style. Bear in mind that platinum can sometimes look dull in certain lights, too."
THE GEMSTONES
"When it comes to selecting gemstones, remember that each one is different and that they range in value," warns Richard. "In my opinion, sapphires, aquamarines, tourmalines and rubies are the hardest wearing gemstones if you plan to wear them every day. You can always incorporate smaller diamonds into your ring to add some extra sparkle." 
"The rarer the gemstone, the more valuable it is," explains Liz. "For example, some people are surprised to hear rubies can be more expensive than diamonds of the same size. Sometimes, the difference between one grade and another means a big jump in price, which won't be visible to the naked eye. Every stone is unique and has its own character. That's why you can look at three stones of the same size, shape and quality and one of them will just feel 'right', no matter what it says on the grading report."
"Certain varieties of coloured stones are more affordable, and lab grown diamonds are also an option," adds Brooke. "Always know that colour and clarity are what matter, so examine both closely when you're selecting a stone. Personally, I would prioritise colour, as this gives the stone its nice bright look. You can also compromise on clarity to make it more affordable. If you can, try to spot any imperfections – it can be very hard to see them with the naked eye, so if you know someone who's an expert, take them along with you to inspect."
THE DIAMONDS
These days, lab-grown diamonds are everywhere. Molecularly and visually identical to mined diamonds, the only difference is how they're made – that is, often with minimum negative environmental impact. "Right now, it's all about lab grown diamonds," agrees Richard. "They cost less than natural diamonds but are cut from pure diamond crystal, so you may be able to get the size and quality you've always wanted. If they're produced using renewable energy, then they're fully sustainable, too – if that's a priority for you." Just remember that trends do affect diamond prices, and some in-demand shapes will cost more than others. "Start with the diamond cut or ring you want and see what the options are," advises Richard. "It's always worth looking at alternative shapes so you can compare the aesthetic and the price." 
"Brilliant diamonds (round) are the most expensive because they're popular and a larger amount of the original rough diamond is discarded. A cushion cut is slightly less expensive due to the cutting process," adds Brooke. As for trends, Gemima says oval cuts are having a moment. "The demand is nearly as high for ovals as it is for rounds," she says. "If you're looking to create real impact, then choose a pear cut or marquise. They both look much larger than a round diamond of the same weight." Finally, some coloured diamonds are in high demand right now. "Tinted diamonds, such as pale yellows are on the rise – plus, what we call 'Salt and Pepper' diamonds are proving to be a unique choice."
THE SETTING
The setting you choose will largely be informed by the stone, so when it comes to bespoke designs, it's best to leave this part until later. "It isn't so much the style of setting as the stones that inform the design of the ring," adds Richard. "In my opinion, if you focus on a simpler design, it'll let the stone shine." A good example of a simple setting is a plain gold band with a four-claw setting. "It's refined and timeless," agrees Gemima. "You can always design a diamond band as your wedding ring later down the line if you're craving some extra sparkle."
"As an alternative, a half-band diamond eternity ring is another great option," says Brooke. "Set it in my signature bezel setting – it gives the stones a larger appearance. This type of engagement ring would also sit beautifully beside a small pavé-set wedding band and can be further stacked with other rings to mark special milestones in your life."
THE PERSONAL TOUCHES
"Don't forget you can make your ring even more personal by adding an engraving – your initials, perhaps, or your wedding date," says Liz. "Going bespoke is all about the subtle, personal touches that make your engagement ring truly one of a kind. Equally, you might want a less polished finish, or even a different shaped diamond. Going bespoke, with a little guidance from the design team, will help your ring be totally unique."
THE FINAL NEED-TO-KNOWS
"If you've inherited any family jewellery, it's worth remembering you may already have the perfect diamond or gemstone to use in your bespoke engagement ring," suggests Richard. "We can polish any vintage stones to get them ready to feature in your chosen design. Plus, reusing a stone allows you to be freer with other elements of the ring. And it turns your piece into a real heirloom." Just remember to inspect the craftsmanship, says Gemima. "If you custom design your ring, it's most likely going to be handmade rather than produced from a batch collection. In my experience, when something is handmade, the attention to detail is usually far better."
 
 
For more information or assistance in creating a bespoke engagement ring, visit WAndWJewellery.com, Warrenders.co.uk, Vashi.com, BrookeJewellery.com and Gemima.co.uk.
 
 
Our Pick Of The Best Styles Out There...
DISCLAIMER: We endeavour to always credit the correct original source of every image we use. If you think a credit may be incorrect, please contact us at info@sheerluxe.com.