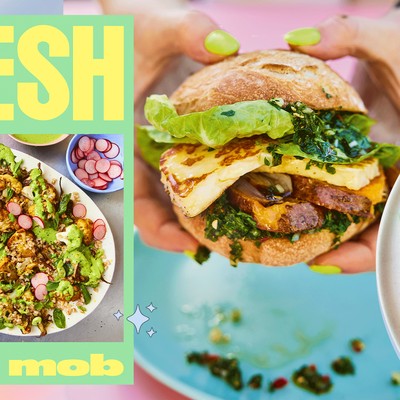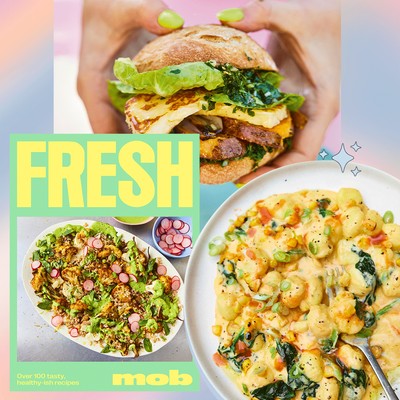 How To Cook Fresh Meals With Your Housemates

Bored of cooking the same meals on repeat with your housemates? Mob Kitchen's new cookbook 'Fresh Mob' has more than 100 tasty and healthy-ish recipes to try at home. Here, we asked Mob's food lead Sophie Wyburd to share three of her favourites, and some of her best tips…

The best meals to cook with housemates are sharing dishes. Anything that involves popping lots of things in the middle of the table are my go-tos. If in doubt, make tacos. You can cook a cheap cut of meat slowly with lots of spices, then serve it with tortillas and lots of fresh, pickled bits. Everyone gets to tailor their meal exactly to how they like it, but it still feels communal. Lasagne is another winner. Serve it with a big, crisp green salad and some garlic bread. A total crowd-pleaser. 
For dessert, I love the yoghurt and honey cheesecake from our new cookbook. It has no base, like a Basque or Italian cheesecake, but a sprinkle of crushed pistachios on top for a bit of texture. It has all the creaminess of a cheesecake, but yoghurt makers it lighter, and it's sweetened with honey rather than sugar.
Every kitchen should have a good chef's knife, a microplane grater and a big chopping board. Prepping can be frustrating if you don't have a big space to do it in, and a sharp object to chop with. Microplanes are game changers for grating parmesan and zesting lemons, both of which are simple and affordable ways of adding flavour and freshness to your food. 
If you invest in one gadget together, buy a blender. You can get some really good ones that aren't too expensive and they don't take up a lot of space. I've had my trusty NutriBullet for years, and it has been used for countless meals – making curry pastes, blitzing soups, whizzing up breadcrumbs. It's the MVP of my kitchen. 
A killer condiment shelf goes a long way. I have two shelves for them in my fridge, and my favourites include hot sauce, mayonnaise, rose harissa paste and miso paste. They all transform very simple store cupboard ingredients into a delicious meal. Also, jars of capers and gherkins are a must.
If you're cooking on a budget, focus on building a well-stocked store cupboard over time. This will help you cook really delicious food with minimal ingredients. I always have pasta, lentils, tinned tomatoes and beans to hand. When it comes to fresh produce, I try to shop local where possible, picking up bits from my local butcher, fishmonger and greengrocer. This isn't always possible, so I also spend a lot of time in Sainsbury's! 
Setting the scene for a house dinner is all part of the fun. I like getting a tablecloth and some napkins out, then arranging lots of pillar candles and some fresh flowers on the table. These extra touches really give it a sense of occasion, and none of them have to be expensive – unscented candles are really affordable, and lots of my crockery and decorative bits are second hand. 
My favourite new food discovery has to be whizzing up whole dried chillies and simmering them in oil with lots of garlic and fresh curry leaves. This makes a really vibrant, flavoursome chilli oil to drizzle on my food. Expect to see lots of this coming on Mob soon. 
Fresh Mob is all about celebrating fresh food and making eating fun and joyful. After a busy and indulgent weekend, we found that our audience were keen to eat healthier during the week. We wanted to give people recipe ideas for food that feels healthy and packed full of veggies, but still exciting. This book isn't about dieting and counting macros. Instead, we've chosen 100 tasty, filling, nourishing and balanced meals.
---
Inspired? Here Are Three Recipes To Try With Your Housemates…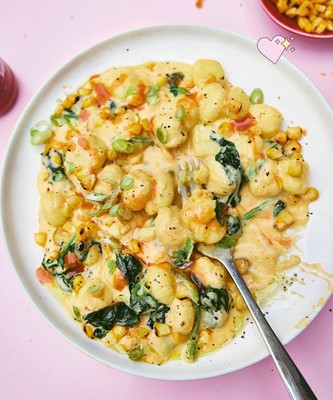 Corn & Ricotta Gnocchi
If you're debating what to have for dinner, make this. We used corn to make this sauce rich in fibre, which, when combined with the ricotta, creates a creamy sauce that wraps around the pillowy gnocchi. The epitome of a crowd-pleaser.
Ingredients
4

tbsp

of hot sauce (we like Frank's)
A big green salad, to serve
Method
Step 1
Thinly slice the garlic cloves and spring onions (both green and white parts) while you boil a kettle.
Step 2
Pour the boiling water into a saucepan and add a pinch of salt. Then drop in the corn cobs and cook for 3 minutes, then remove 2 of the cobs with tongs and transfer to a plate. Cook the remaining cobs for 3 minutes more until completely tender, then remove with tongs – making sure to keep the two lots of corn separate. Turn down the heat on the water to low.
Step 3
Get a large frying pan searingly hot. Lay in the less-cooked corn and char the kernels, turning regularly. Once charred, set aside.
Step 4
Holding the more-cooked corn upright, slice down with a knife, removing the kernels from the cob. Put these into a blender with the vegetable stock, ricotta and 2 tablespoons of hot sauce. Blitz to a velvety sauce and season to taste.
Step 5
Come back to the charred corn. Cut the kernels off the cob and tip into a small bowl. Mix with the remaining 2 tablespoons of hot sauce and season.
Step 6
Put the frying pan back over a medium heat. Melt in the butter, add the garlic and most of the spring onions and cook until soft, then tip the spinach into the pan.
Step 7
At the same time turn the heat back up on the pan of water; once boiling, drop in the gnocchi and cook until the gnocchi just floats. Use a slotted spoon to add the cooked gnocchi to the frying pan with the spinach.
Step 8
Pour in the sweetcorn sauce, toss everything together to warm through and season to taste. Divide between four bowls, top with the charred hot sauce corn and remaining spring onions. Serve with a big green salad on the side.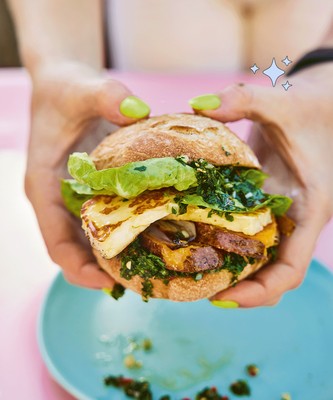 Sweet Potato & Halloumi Sandwich
This has all the makings of the perfect veggie sandwich. Softened, caramelized shallots and hearty chunks of sweet potato get along famously with salty halloumi, crunchy lettuce and the chilli tang of chimichurri.
Ingredients
½

-1

red chilli (depending on how spicy you like it)
1

tbsp

of red wine vinegar
Method
Step 1
Preheat the oven to 220°C/200°C fan/gas mark 7.
Step 2
Leaving the skin on, cut the potatoes into roughly 1cm rounds. Peel and halve 2 of the shallots lengthways. Put the potatoes and shallots into a large roasting tin, toss with 1 tablespoon of the olive oil, 1 teaspoon of dried oregano, the cumin seeds and plenty of seasoning, then spread roughly into a single layer so that everything roasts evenly. Roast in the oven for 20 minutes, flipping halfway, until soft and a little caramelized.
Step 3
Meanwhile, make the chimichurri. Finely chop the remaining shallot half and the red chilli and scrape into a small bowl. Finely chop the parsley (stalks and all), add to the bowl, then crush in the garlic clove. Add the remaining ½ teaspoon of dried oregano, tablespoons of olive oil, the vinegar and 2 tablespoons of water. Stir and season to taste.
Step 4
Once the veg is roasted, set aside to cool a little while you fry the halloumi. Cut the halloumi into thick slices and get a non-stick frying pan over a medium–high heat. Add the halloumi and fry until deeply golden, about 2 minutes on each side.
Step 5
Assembly time. Roughly tear the lettuce leaves. Halve the ciabatta rolls and spread the bottom of each roll with a little chimichurri. Layer in the roasted veg, halloumi and torn lettuce leaves, then spoon over any remaining chimichurri and sandwich together. A veggie sandwich dream.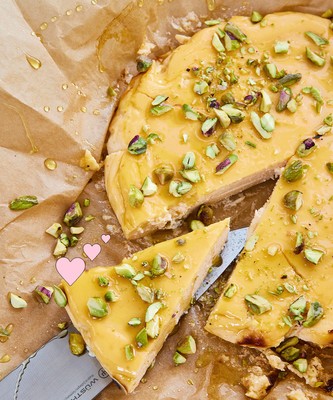 Salted Honey & Yoghurt Cheesecake
This is a lighter version of the cheesecake you might already be familiar with. It's rich thanks to a combo of soft ricotta, tangy yoghurt and honey but it doesn't come with any of the baggage or heaviness of cream. Start with all your ingredients at room temperature for the best results.
Ingredients
250g

of thick Greek yoghurt
2

tbsp

of shelled pistachios
Method
Step 1
Line a sieve with a clean tea towel and set it over a bowl. Add the yoghurt and ricotta to the lined sieve, then leave to strain for a couple of hours at room temperature.
Step 2
Preheat the oven to 180°C/160°C fan/gas mark 4 and line a 15cm springform tin with two squares of baking paper.
Step 3
Tip the ricotta and yoghurt into a large bowl, discarding any of the liquid that has come out of it, and whisk until smooth.
Step 4
Add all but a tablespoon of the honey and whisk again. Add the eggs one at a time, whisking until you have a totally smooth batter before adding the next one. Add the vanilla extract, the zest of the orange and the sea salt, then whisk until just combined.
Step 5
Pour the cheesecake mixture into the lined tin and bake in the middle of the oven for 45 minutes. When it is done, it should be set around the edges but jiggle in the middle.
Step 6
Leave to cool to room temperature, then pop your cheesecake into the fridge to chill for a couple of hours.
Step 7
When ready to serve, finely chop the pistachios. Remove the cheesecake from the tin and top with the remaining honey and chopped pistachios.
Fresh Mob: Over 100 Tasty Healthy-Ish Recipes by Mob (15th September, Hodder & Stoughton £20).
Photography: David Loftus.
Visit Waterstones.com
For more recipes & food inspo, follow @Mob & @SophieWyburd.
DISCLAIMER: We endeavour to always credit the correct original source of every image we use. If you think a credit may be incorrect, please contact us at info@sheerluxe.com.
All products on this page have been selected by our editorial team, however we may make commission on some products.