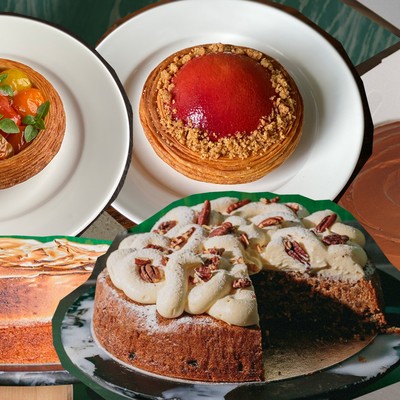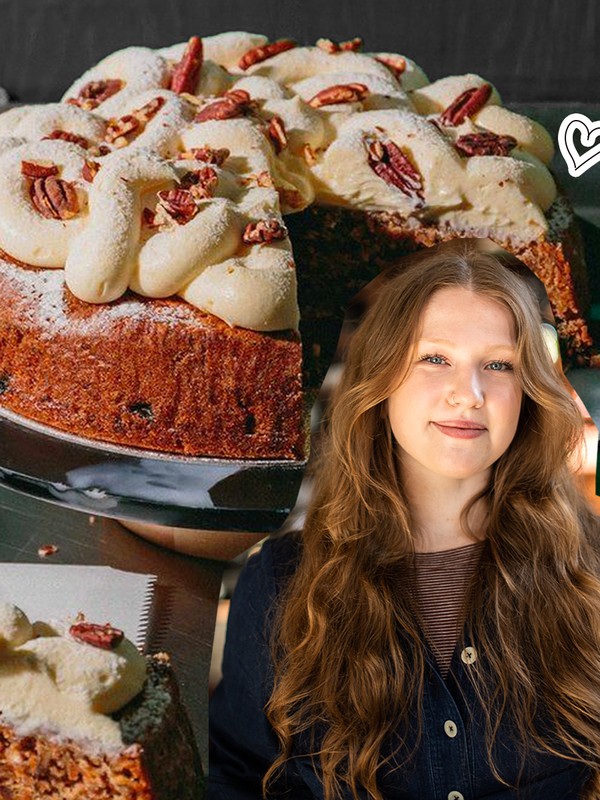 My Life In Sweet Treats: Darcie Maher

Darcie Maher is a patisserie chef who recently opened her first bakery, Lannan, in Edinburgh and her technical bakes and next-level croissants have already prompted queues around the block. Here, Darcie shares her favourite sweet treats – from her most requested birthday cake to her go-to desserts…

By Sherri Andrew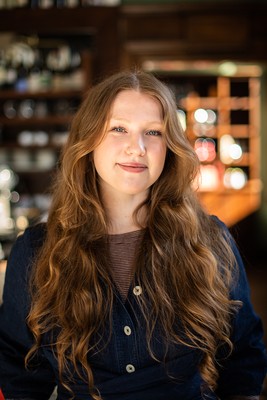 I have lots of fond memories baking with my grandma in Ireland when I was younger. We used to make Irish griddle bread on the stove with buttermilk and wholewheat flour. I also remember making a chocolate and almond cake with my mum. I've always wanted to be a baker for as long as I can remember and started baking and getting experience as soon as I left school. The school system never quite suited me and I've never looked back; baking feels like home.
One sweet treat that reminds me of childhood is Scottish strawberry tarts. I remember seeing them glowing on the counter of the local bakery. They always seemed so special, which is why I made my own version of them last year using croissant pastry.
Now, my signature bake is a classic croissant – or anything made with laminated pastry. These days I love simple, classic flavours elevated with intricate techniques, so another favourite is a custard slice. Classic and delicious.
I have a soft spot for rice pudding. Perfectly cooked, studded with vanilla seeds and topped with some kind of fruit. Again, it's very classic. I like it with slightly sweetened but still tart raspberries, rhubarb or tinned peaches.
BIRTHDAYS ARE ALL ABOUT CARROT CAKE. MY FAMILY AND I ALWAYS MAKE THE SAME RECIPE FOR EACH OTHER WITH LOTS OF ORANGE ZEST, SPICES AND WALNUTS.
One of the best bakes I've ever eaten was in Copenhagen. I was there earlier this year for Fastelavn, the city's carnival celebration, and I ate lots of amazing fastelavnsboller, a type of Danish éclair. When I'm abroad I always like to try local treats that are traditional to the area – they're always the best. 
Stewed apples are total comfort food to me. My mum used to make them for us all the time using apples from the garden, so I have lots of lovely memories tucking into a warming bowl.
Birthdays are all about carrot cake. My family and I always make the same recipe for each other with lots of orange zest, spices and walnuts. I can't imagine having another flavour.
I always look for custard-based desserts in restaurants. Custard is one of my favourite ingredients so flan, crème brûlée and custard tarts are a winner. 
One recipe I always return to is Ed Kimbers' brown butter cookies. They're slightly salty, gooey and so addictive.
MY DEATH ROW MEAL (DESSERTS ONLY) WOULD INCLUDE RICE PUDDING, BAKED CUSTARD AND A CUSTARD SLICE.
For a dinner party with the girls, I'd make baked fig leaf custard with roasted peaches. I like to roast them with a swig of brandy and top everything with marcona almond crumble. 
One of my favourite bakeries is Toad Bakery in Peckham. There's always something new and exciting to try. I also love anything from Jolene and Arôme Bakery in Covent Garden. The UK has so many amazing bakeries, so other favourites include Two Eight Seven in Glasgow, Flori Bakery in York, Northern Rye in Newcastle, and Pollen in Manchester. 
There are so many pastry chefs I admire, but Mateusz Ulman is one of my favourites. He makes the most incredible bakes and his videos on Instagram are dreamy.
Opening my own bakery has been amazing. The most popular items are croissants, but some of the specials have been really popular, too, like our 'nduja, fermented honey and murcia al vino pastry. I love walking so wandering around Edinburgh really inspires my baking. I always get my best idea when I'm somewhere quiet and peaceful. New ideas tend to come as the season changes and new produce is available.
My death row meal (desserts only) would include all the yummy things I've mentioned like rice pudding, baked custard and a custard slice. I'd also have to add rum baba and chocolate mousse with prunes in armagnac. The stickier, the better.
Follow @DarcieBakes 
DISCLAIMER: We endeavour to always credit the correct original source of every image we use. If you think a credit may be incorrect, please contact us at info@sheerluxe.com.