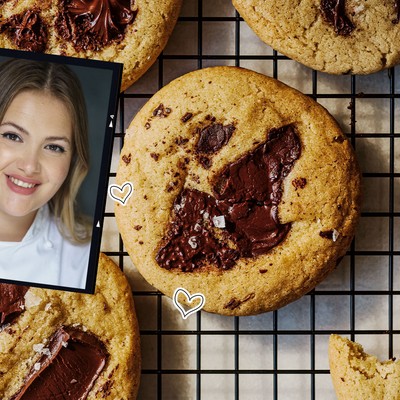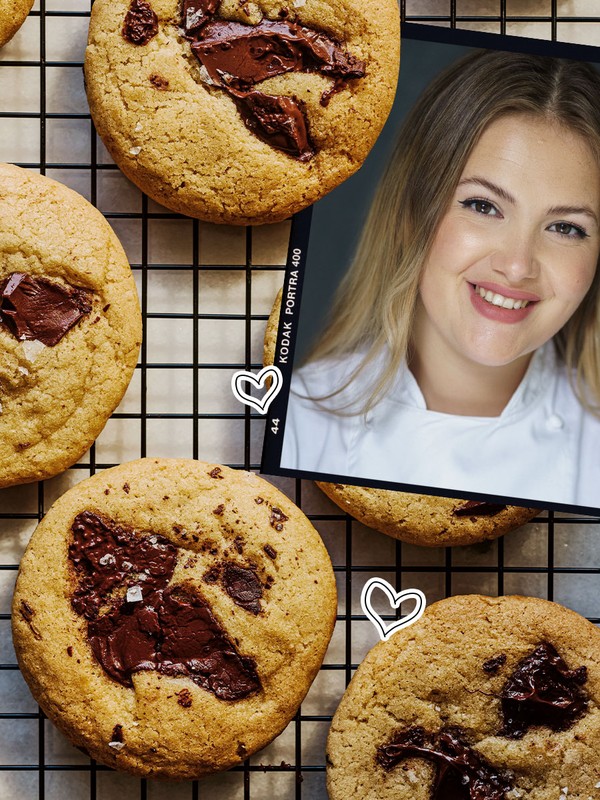 Poppy O'Toole Shares Her Air Fryer Tips & Recipes

Poppy O'Toole is the self-proclaimed 'potato queen' with millions of followers on social media thanks to her creative ways with the humble spud. In her new cookbook, she shows us how to make delicious and versatile dishes in an air fryer. Here, Poppy shares her air fryer tips, go-to meals and three recipes to try at home…

All products on this page have been selected by our editorial team, however we may make commission on some products.
I was always in the kitchen when I was younger and the first dish I ever learned to cook was an omelette. I also remember trying to make my own calamari as my mum always had frozen seafood in the freezer. I managed to make some squid rings in the deep fat fryer – much to my mum's surprise! I never really thought about becoming a chef when I was younger, but I've always been obsessed with food and cooking.
I started worked in a pub when I was 16. That was good training before I ended up in a Michelin- star kitchen. It really opened my eyes to the world of cooking and all the amazing things you can do. I worked in professional kitchens for about ten years before I lost my job when lockdown hit.
During that time, my younger siblings introduced me to TikTok. We watched lots of cooking videos together, so I decided to start posting my own recipes and tips – it was a great creative outlet when the world had shut down and I couldn't go back to work. I loved the idea that my cooking videos might brighten someone's day or help them at home.
Now, I'm probably best known for my potato videos. My 15-hour potato recipe was the first to go viral, but one of my favourite types of potato is actually Hasselback. It's the perfect combination of crispy and fluffy. I also love golden fondant potatoes and roasties. I'm a Maris Piper girl through and through as they're the most versatile type and readily available.
An air fryer is one of the most versatile kitchen tools. My mum was given one for Christmas a few years ago so I started playing around with different recipes. For easy home-cooked meals, they are brilliant. They also take away the pressure of cooking – just turn the air fryer on and pop things in straight away. There's no faffing with the temperature or making sure you don't open the door at the wrong time.
At home, my go-to dish is paella. I love Spanish cooking and paella is so easy to make for a big group. You can throw in any ingredients, so it's pretty hard to get wrong. If I'm short on time, I'll cook my coconut shrimp recipe in an air fryer: ready-cooked king prawns coated in eggs, flour and breadcrumbs – served with a coconut and coriander dip. Serve them with noodles, pasta or as a starter. Yum.…
If you're cooking on a budget, stock up on tinned food. Ready cooked lentils are always useful to have in the cupboard (plus they don't need much cooking), as are chickpeas and beans. A stir fry with fresh veg is another affordable meal, as is anything with frozen fish. It's always cheaper than fresh and is often just as good. I like to make canned butter beans with broth and fish. Make a broth using some stock and add a little knob of butter. Then add chorizo and the beans. Leave it to cook until it thickens, then pop your fish on top to steam. You could even add a bit of cream cheese to make it creamier.
One of my favourite recipes from the new book is the whole roast chicken. It's actually easier in the air fryer and you can do a whole roast dinner in a fraction of the time. I also love the rolled pork belly recipe which has herbs and spices in the middle – the crackling gets really crispy.
My desert island meal would start with some American appetisers (I love TGI Fridays). I'd have hot wings with buffalo sauce, potato skins loaded with bacon and cheese – there's a recipe for this in the book – and some chicken strips. I'd then have Korean BBQ for a main course with all the extras. Lots of meat, with lettuce, rice and kimchi. I'm an ice-cream fiend, so for dessert I'd have a scoop of mint choc chip ice-cream, a scoop of chocolate and a scoop of coconut. I also love sweet drinks, so I'd finish with a bubblegum daiquiri, a can of Coke and a bottle of champagne.
My food hell is jelly. Something must have gone terribly wrong when I was younger because I hate the texture. I love the idea of trifle but I can never enjoy one because of the jelly layer. Not for me!
Luckily, air fryers aren't just for savoury dishes – you can make delicious sweet treats and desserts. During the recipe testing process for the book, I was blown away with the desserts we were able to create. The book features cheesecakes, cookies, fudge cakes and more.
---
Feeling inspired? Here are three air fryer recipes to make at home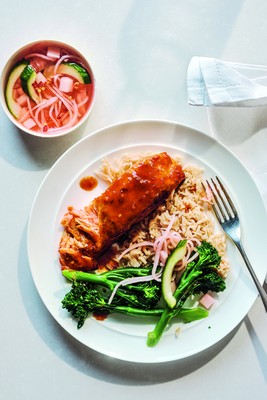 Honey Soy Salmon
Beautifully flaky salmon seasoned perfectly with a sweet, sticky, salty glaze. Salmon is easily one of my favourite fish and it's so simple to cook with great results in the air fryer. Serve it with steamed rice, grilled spring onions or broccoli.
Ingredients
1

½

inch piece of fresh ginger, finely chopped or grated
4

skinless salmon fillets
Method
Step 1
Make a marinade by whisking together your soy sauce, honey, sesame oil, garlic, ginger and chilli flakes. Pour the marinade over the salmon and set aside in the fridge for at least 30 minutes.
Step 2
Heat the air fryer to 180°C/350°F.
Step 3
Lift the salmon fillets out of the marinade (reserve the marinade in the bowl), place them in the air-fryer basket and cook for 7-9 minutes, until cooked and flaky.
Step 4
Meanwhile, tip the reserved marinade into a small saucepan over a medium heat, add ½ cup of water and reduce until glossy. Taste to check the seasoning – you might need to add a splash of rice wine vinegar and honey to balance the flavours. Blitz until smooth if you like.
Step 5
Serve the salmon with the sauce drizzled over.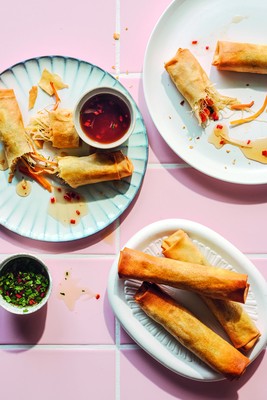 Veggie Spring Rolls
A spring roll makes sense in the air fryer because you achieve that perfect crisp that is so satisfying. Try shredding any veg you have in the fridge to mix it up, or even add a bit of shredded chicken or beef, if you fancy.
Ingredients
100g

of vermicelli rice noodles
200g

of carrots, julienned or grated
3

spring onions, julienned
¼

garlic clove, finely chopped
3cm

piece of fresh ginger, peeled or julienned
15g

of fresh mint, leaves picked and torn
1

-2

tbsp

of dark soy sauce, to taste
Handful of plain flour, to assemble
Vegetable or olive oil, for brushing
Method
Step 1
Soak the vermicelli noodles in warm water until softened, then drain and add to a large mixing bowl. Add the carrots, spring onions, garlic, ginger, mint, bean sprouts, soy sauce and sesame oil to the bowl and toss everything together.
Step 2
To assemble the spring rolls, mix a little flour and water together to make a smooth paste. Lay one spring roll wrapper out on a clean surface and cover the rest with a damp tea towel. Add about 1 tablespoonful of mixture to the centre of the wrapper, just below the middle. Fold the bottom edge over the filling, then fold the sides over the top, so you have a rough rectangle forming a sort of envelope. Roll up the wrapper tightly into a neat sausage shape around the filling and seal the edge with a little flour-water paste. Brush with oil and place on a lined baking tray, then repeat with the remaining mixture and wrappers.
Step 3
Heat the air fryer to 200°C/400°F.
Step 4
Place about 4 spring rolls in the air-fryer basket, making sure there is plenty of space between them, and cook for 15-17 minutes, until crisp and golden. Repeat with the remaining spring rolls and serve hot.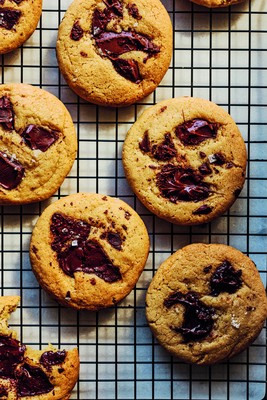 Chocolate Chip Cookies
Cookies are great, and they're best when they've just been baked – a little bit warm and a little bit melty – and the air fryer is the perfect way to get this in the quickest time. I love this recipe because you probably have the ingredients in the cupboard and you could have some warm cookies in no time.
Ingredients
125g

of light brown soft sugar
½

tsp

of bicarbonate of soda
200

-300g

of milk chocolate, roughly chopped
Method
Step 1
Line a baking tray with greaseproof paper. Using a stand mixer fitted with the paddle attachment, or a hand whisk, combine the butter and sugar together until light and fluffy with no crunchy bits left.
Step 2
Whisk in the egg, then sift in the flour, bicarbonate of soda and cornflour, to form a dough. Break off pieces of dough, each about 50g, and roll them into little balls. Roll the balls in the chopped chocolate and place them on the lined baking tray. Transfer to the fridge and chill the cookies for at least 10 minutes to firm up.
Step 3
Heat the air fryer to 160°C/325°F and line the air-fryer basket with greaseproof paper.
Step 4
Gently flatten the balls slightly and place them in the air fryer to cook for 12 minutes, making sure they're spaced well apart. How many you can cook at one time will depend on the size of your air fryer.
Step 5
Once they are cooked, remove from the air fryer and leave to cool for, like, 1 minute before digging in. Repeat for the next batch.
DISCLAIMER: We endeavour to always credit the correct original source of every image we use. If you think a credit may be incorrect, please contact us at info@sheerluxe.com.