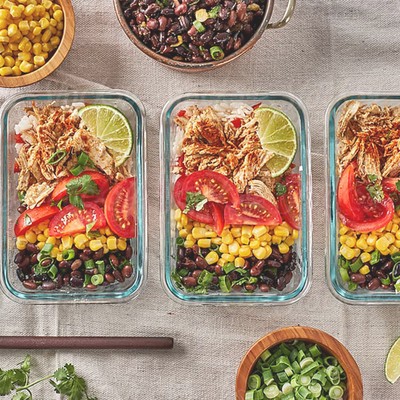 How To Meal Prep Like A Pro

New year, better habits, blah, blah, blah, blah… If yours starts with better meal plans and prep, then read on…

It's All In The Prep 
"The most effective way to get into the meal planning game is to make a habit out of it. Choose one of your days off as your meal preparation day and batch cook your meals for the week. Keep what you need for the next three days in the fridge and put the rest in the freezer, then take out the night before. If you don't have a lunch prepared for the next day, simply double up your dinner and put half in a Tupperware box."  – Sophie Thurner, Nutritionist & personal trainer
Invest In Quality Containers 
"The only initial investment you need to make for successful meal planning is in a few high-quality containers to store your food in. You want your food to stay fresh as long as possible in the refrigerator or freezer. If you take prepared meals to work, it is vital they're leak-proof. Your container must therefore be airtight, and ideally microwave, dishwasher and freezer safe, as well as stackable. Good containers can make or break your meal planning experience and determine your motivation going forward." – Sophie Thurner  
"I recommend investing in some decent glass Mason jars which are ideal for bringing salads to work. Or they're great for storing a pre-made omelette in: crack a couple of eggs, add your favourite fillings (cheese, tomato, spinach, mushroom etc), then heat the omelette up in your microwave at work.  This is a cheap, healthy, filling lunch."  – Olly Leicester, Health Coach
It's About Quantity, Not Just Quality 
"It might be easy to list what you need, but to forget to write down the quantity you need. This will reduce unnecessary food waste, so get into the habit of writing exactly how much you need of each item. Another tip is to consider how you can cook with similar items throughout the week. For example, if you only need half a cauliflower one night, use the other half to make cauliflower rice for other dishes later on in the week." – Kajsa Ernestam, Dietitian at global health app, Lifesum
Think About The Timeline Of Your Food
"If you buy all fresh produce, it is good to plan three to five days ahead, to ensure the food keeps fresh. Most fresh foods that aren't in season locally will have been in transport for some time before reaching the shelves of your supermarket. Green beans from Kenya or bananas from Costa Rica are often at least a week old. Once harvested, vegetables and fruits immediately start to lose nutrients, colour, flavour and moisture, and become vulnerable to microbes and toxins. If you're not able to get good-quality fresh fruits and vegetables, frozen ones are a good option, especially if you want fruit and vegetables that aren't in season. Studies show that foods in the freezer aisle have just as many nutrients as fresh ones." – Kajsa Ernestam 
"Canned and frozen foods are extremely convenient, cheap and can still be as nutritionally dense as fresh ones. Frozen vegetables, for instance, can contain just as much, if not more nutrients as fresh veg, as they are frozen at source, which limits nutrient loss." – Sophie Thurner, Nutritionist & Personal Trainer 
There's An App For That
"Mealime is a simple and healthy way to meal plan, build your shopping list, and cook. The library contains over 200 personalised options, so you can eat exactly how you want. Choose your recipes, or upload your own, and the app helps you build the shopping list. 
 
"Lifesum offers over 1,000+ healthy recipes, with shopping lists attached, as well as diet plans inspired by the Mediterranean diet, Keto and 5:2. Now you can also track what you consume by telling Lifesum the foods you want to log through its new Google Assistant app.  
 
"Karma is a food waste app that allows you to buy high-quality and discounted foods from local restaurants and independent retailers - foods that would otherwise go to landfill if unsold by the end of the day. A great app which helps to tackle the food waste issue." – Kajsa Ernestam
 
"I use MyFitnessPal as it's so quick and easy to keep a check on macro intake (protein, carbs and fat) and also calories, sugar levels and other vitamins. The Vegan Life app is great too – loads of interesting recipes, and stories." – Lisa Gawthorne, Team GB athlete, author of vegan fitness book Gone in 60 Minutes & co-founder at Bravura Foods
Stop Meal Prep Fatigue
"Meal planning can become tedious and after a while it can feel you're eating exactly the same thing every week, but that doesn't have to be the case. I try to make meal planning a mindful activity I do once per week. Set aside time to read through your cookbooks, food magazines, or scroll through Pinterest and health apps, and get lost in inspiration.  
 
"You can also divide your days into categories. For example, Monday is meat-free, Tuesday is fish, Wednesday is vegetarian, Thursday is soup, Friday is international, Saturday is take-away or eating out, and Sunday is family or friend dinner. Some consider this an 'old-school' way of eating, but it can be helpful to keep you on track, get a balanced and nutritional diet, and try a new dish." – Kajsa Ernestam  
The Best Ingredients For Time-Strapped Preppers 
"Batch-cooked meals that have plenty of portions and don't require much attention are your friend when you are time-poor. These are meals like curries, slow cooker stews and anything roasted in the oven. They have a couple of advantages: firstly, they are generally one-pot meals which means less washing up. Secondly, they don't need babysitting so you can use this spare time efficiently to do the clearing up or prepare another meal simultaneously." – Sophie Thurner 
 
"Buy pre-cut or frozen veg and fruit, tins of tuna, microwave rice or quinoa pouches etc. It may be a little more expensive, but it saves you time and gets you out of the kitchen to enjoy your weekend, so it's up to you to balance the cost versus time, and work out what is most important to you." –  Sophie Dillon, Nutritionist at Fresh Fitness Food 
Cook Food You Actually Like 
"Prep food you actually like. You need to be motivated to make the food in the first place and to WANT to eat it. Write a list of your favourite foods (with some consideration of a balanced, healthy diet!) and get enthusiastic about eating what you have prepped. Otherwise, the office doughnuts or a pit stop in Five Guys at lunchtime are going to get in the way. Maybe even go so far as to find some inspiring food boxes, jars or containers, so your meals look cool and enticing." – Vicki Anstey, Founder of BarreWorks.co.uk and star of SAS Who Dares Wins.
Know Your Numbers 
"Knowing exactly how many macros (proteins, carbs, fats) you should aim for each day makes shopping and meal prep tons easier. I always plan my foods around my proteins first and then build the fats and carbs around that. Also, I'd suggest buying some digital scales to weigh your food to work out how many grams/ounces you need, but eventually you'll be able to do this by eye." – Jeannette Jackson, Nutritionist and Wellbeing Expert at The Manchester Institute of Health & Performance
Spice It Up 
"Embrace herbs, spices and marinades and play around with different combinations. They can transform meals, plus add more phytonutrients. Basil, for example, gives that instant Mediterranean feel, while thyme makes stews more fragrant. Ginger, lime, chilli and cinnamon give meals that extra kick. Also, mixing up your grains, beans and pulses makes a huge difference. Instead of opting for rice, consider buckwheat, spelt, barley or quinoa. Experiment with different types of beans, like borlotti, butter, black, mung and kidney beans. Green lentils can be replaced with red, yellow, puy and brown lentils." – Sophie Thurner
Optimise your protein, fat and carbohydrate intake 
"You should include a protein source of 20-50g with every meal, aiming to get most of your daily intake from animal-origin sources, such as eggs or white fish. There is no specific timing requirement for dietary fats, such as nuts, seeds, oils and cheese, so add them to your plan based on personal preference. A good starting point is to spread your fat intake across each meal to help add texture and flavour.
"When it comes to carbs, aim to fill half your meal with non-starchy veg such as asparagus, carrots, and broccoli at every meal. Fruits make a great low-calorie snack and can also be incorporated into meals, and you should aim to add one to two servings to your meal plan per day. We recommend starchy carbs, like oats, rice or sweet potatoes, are consumed after training and before bed, for best results." – Nick Mitchell, CEO and Founder of Ultimate Performance Fitness
Keep The Essentials
"Always try and have some essential food ingredients in the house so even if you don't have time to do a full food shop, you can still eat healthily. I always have eggs and spinach in, so I can always make an omelette or scrambled eggs. 
Good items to have in include: frozen vegetables, eggs, no added sugar baked beans, wholegrain rice, rye bread (great to freeze), tinned tomatoes or passata." – Nicole Wright, Personal Trainer & Nutrition Coach
Stack Your Salads 
"To avoid limp leaves, try preparing salads in a jar. Put the dressing in the bottom and layer the ingredients, putting sturdier things like peppers and cucumber near the bottom, and the leaves at the top. This keeps everything fresh all day." –  Sophie Dillion, Nutritionist at Fresh Fitness Food
Clear Out Your Fridge Once A Week 
"If you're guilty of regularly throwing away fresh food, set aside one night of the week and declare it 'clear out the fridge night' where you aim to use up all of the ingredients which will soon be out of date. This approach adds spontaneity to meal planning, ensuring you don't get bored and also stops you wasting food." – David Wiener, Training and Nutrition Specialist at Freeletics
Try A Meal Kit Delivery  
"There are a couple of great food delivery companies who help keep healthy eating varied and interesting. I recommend a weekly organic vegetable delivery box (such as Riverford) who deliver seasonal veg and help you get out of the habit of eating the same vegetables week in, week out. I also like healthy meal kit deliveries - I'm personally a fan of Mindful Chef due to the quality of their ingredients and the fact they offer low carb and vegan options." – Kim Pearson, Nutritionist and Weight-Loss Specialist
DISCLAIMER: We endeavour to always credit the correct original source of every image we use. If you think a credit may be incorrect, please contact us at info@sheerluxe.com.