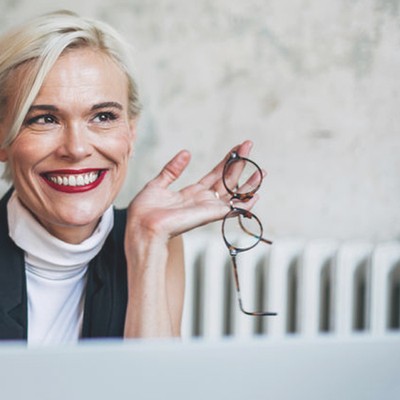 How To Create A Successful Side Hustle

These days, people are favouring portfolio careers rather than a traditional 9-5. More and more professionals are choosing to build their own brand and move into a career created by them, but how exactly do you get started with a successful side hustle?

Whether you keep it as a side project to your main job or decide to make it your full-time career, we asked some successful side-hustlers for their best advice on starting their own personal projects alongside the regular jobs.
Louisa Maycock, Co-Founder of Girls On Tops: "Seek out talented people"
Even if you don't recognise the name, you'll recognise the tees – Girls On Tops is exactly what it says on the tin, putting the names of some of our favourite women in film on their t-shirts. As she was finishing up a Masters in contemporary culture in 2017, Louise and a few of her friends decided to print 30 t-shirts to share among themselves and to put a couple on Etsy. The simple but powerful message struck a chord with people and demand grew. "My initial plan was for the t-shirts to be a passion project while I found a full-time job in film marketing, but I was applying and all I got were rejections," she said. Meanwhile, as Girls On Tops was growing, Louise she decided to throw herself into her business instead. Now, her t-shirts that feature names such as Greta Gerwig, Carrie Fisher and Sigourney Weaver have been worn by the likes of Timothee Chalamet, Laura Dern, and Gerwig herself.
"It's now my main hustle, but it's still very much my passion project. I couldn't do it if it wasn't," Louise says. "With a start-up you get out what you put in, so it can sometimes feel like you can never do enough, or you could always be doing more. I won't say every moment has been fun or empowering and I've also struggled (and still do) with imposter syndrome. But I'm slowly getting better at owning my title as a young (I'm 25), female entrepreneur and feeling like I deserve a seat at the table." 
"My biggest and best piece of advice on how to build your side hustle is to seek out collaboration with talented, smart, knowledgable, fierce people. Whether it's with organisations that respect your values, or communities that share them – support each other and lift each other up. Also, I can't stress how useful finding an accountant is if you're not naturally good with numbers."
Alice Levine, Television & Radio Presenter: "You have to love it"
When it comes to careers Alice Levine is a multi-hyphenate. She is the queen of side hustles, creating a career for herself that is based on this alone. As well as working at Radio One, she also stars in the My Dad Wrote A Porno podcast with her friends James and Jamie, designs clothes for Finery and creates homeware for Habitat. She started her career making sketches and videos for fun with her friends as a student, and soon realised she wanted to try and make a career out of her hobby.
Alice discovered after working a nine-to-five job, that this lifestyle wasn't for her.. "I discovered that I like part of my job to entail some flexibility."
Her advice for a successful side-hustle? "If you're willing to stay up late and dedicate your weekend time, that's the first green light – you have to LOVE it. If it feels like a chore at the end of the day, then it's important to realise that it isn't the right project for you. So, I would say pouring your spare time into it is the most important thing you can do to make it a success."
Charlotte Moulder, Not So Basic London: "Don't wait until everything is perfect"
Charlotte moved from Wales to London seven years ago and fell in love with the city's food scene. By day she works at a theatre and production company in the West End but by night (and at the weekends), she visits the best restaurants and pop-ups on London's food scene for her blog, Not So Basic London. Through this and her Instagram, she has amassed quite the following who rely on her opinion for which food spots to spend their hard-earned cash – in fact, she currently has over 28,000 followers that hang on to her every recommendation.
With the success of her blog she started to work with brands and PRs on food collaborations and now also runs a monthly supper club called The London Food Social, a monthly meet-up for foodies at different restaurants.
"My number one piece of advice would be this: Don't wait until everything is 'perfect' to take action," she says. "It's only through action that you get clarity. I've been my own worst enemy at wanting to 'start at the end' and have everything neatly packaged in a bow before I could hit that publish button or send that email. Truth is, it's only by doing we understand what works for us and what doesn't, what works for our audience and what doesn't. Just do something and if it works, that's great. But if it doesn't, then that's okay too, but you'll never know until you take action."
Kim Palmer, Clementine App: "Make sure you're obsessed with your idea"
Kim Palmer was a strategy director at a major digital agency in London when an onslaught of panic attacks caused her to rethink her life plan. She now owns and runs the hypnotherapy app, Clementine, that aims to help women practise positive mindfulness. At the time she began creating the app, she was working in a senior position and was pregnant with her second child, coming up with the idea in February 2017 and launching the business in the November – with the help of the Book The 100-Year Life by Lynda Gratton & Andrew Scott, which talks about the idea of having side gigs in the portfolio of your career. Clementine was subsequently featured on the Guardian's front page as one of the seven apps women should own.
"The absolute most important thing is to make sure you have picked the right hustle to spend your time on. Having a job and a side gig is not for the faint-hearted – you'll be putting in more hours on top of probably an already long day, so make sure that it's something you're passionate about, something that your obsessed with, that fills you with joy," Kim advises. "Because when you're tired and can't be arsed doing more work, it will be the thing that gets you through and keeps you going."
"It's also important to have a 'progress not perfection' mindset. This was something I had to quickly get my head around. With limited time in the day to spend on my side project, I had to keep reminding myself not to get too bogged down with making every single part of my proposition perfect, otherwise I would never have launched it. It will also really help your mental wellbeing as you learn to ditch perfection. Just get started and you'll learn as you go."
Delphine Chui, co-founder of FToxins: "Set yourself a strict schedule"
As a digital editor at Hearst, Delphine knows a thing or two about making great content. She runs the organic lifestyle site ftoxins.com with her sister Ariane, and together they aim to give people honest advice about natural beauty and lifestyle products that are completely guilt-free. Their blog has received accolades from the likes of Elle, Stylist and Byrdie UK.
"Setting yourself a schedule allows you to really take your side hustle seriously," Delphine tells us. "It's really important not to let your side hustle become something you only do when you have free time because we're somehow always 'busy'. And yes, that might involve a Netflix binge or an unnecessary Marie Kondo session – but as a generation, we're the ones who fill our weeks with work, dinners, hobbies, drinking, browsing Instagram etc."
She continues: "I'm lucky that I collaborate with my sister so I can share the load, but it wasn't until she put in a strict weekly schedule for us that we really started to grow the website. Now, I have a structure where I know I must do posts on Thursdays, Fridays and Saturdays so it doesn't even feel like a choice anymore, it's now my routine."
DISCLAIMER: We endeavour to always credit the correct original source of every image we use. If you think a credit may be incorrect, please contact us at info@sheerluxe.com.