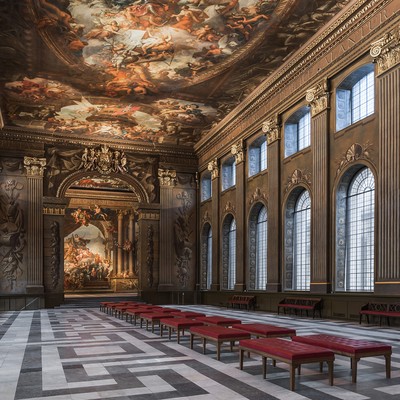 10 London Hidden Gems To Visit

Our capital city is filled with iconic attractions and world-famous museums, but it's also full of lesser known yet equally exciting treasures – some in the very centre of town. Here, we bring you our favourite under-the-radar spots you must see…

Photography: © Old Royal Naval College
St Dunstan In The East Church Garden 
The lowdown: Hidden away in the City, this is one of London's most secret gardens. The original Norman church was built around 1100 on St Dunstan's Hill, halfway between London Bridge and the Tower of London. It was repaired in 1631 but, like so many City buildings, was severely damaged in 1666 by the Great Fire of London. It was then given a new tower by Sir Christopher Wren at the end of the 17th century. That, in turn, was largely destroyed in the Blitz of 1941. Today, the tower and steeple, along with the north and south walls, are the only parts that still stand. In the 1960s, it was decided to turn the ruins of the church into a public garden – a lawn and trees were planted with a fountain in the middle of the nave. Now this is one of the last World War II-damaged buildings in Britain, with trees, ivy and vines growing among the ruins. Often referred to as the most beautiful garden in the City, it is certainly a gorgeous spot to explore and to relax in. 
 
Where: St Dunstan's Hill, EC3R 5DD. Nearest stations are Tower Hill and Monument.
 
Opening hours: 7 days a week from 8am to 7pm/dusk.
 
Entry: Free.
 
Click here for more information. 
St Bartholomew The Great
The lowdown: The Priory Church of St Bartholomew the Great – sometimes abbreviated to Great St Bart's – is an atmospheric medieval church in Smithfield. It was founded in 1123 by Rahere, a nobleman at the court of King Henry. Today, the Norman chancel and apse survive and, in fact, there are very few sites in London where the early medieval period has been so well preserved – entry to the church is through a 13th-century arch. If it all looks rather familiar, it might be because the church appeared in one of the weddings in Four Weddings and a Funeral and as a location in Shakespeare in Love.
 
Where: West Smithfield, EC1A 9DS. Nearest stations are Farringdon and St Paul's.
 
Opening hours: Monday to Friday, 8.30am-4pm (until 5pm in spring/summer); Saturday, 10.30am-4pm; Sunday, 8.30am-8pm
 
Entry: There is no admission fee, but a donation is welcome.
 
Click here for more information.
Ranger's House
The lowdown: This elegant, red brick Georgian mansion on the boundary of Greenwich Park and Blackheath houses one of the greatest surviving private art collections in Europe. Amassed by 19th-century businessman Sir Julius Wernher, it includes medieval sculptures, enamels, jewellery, Renaissance paintings (such as Botticelli's Madonna of the Pomegranate), Dutch Old Masters and French tapestries. The house – a Grade I listed building previously known as Chesterfield House – derives its name from the Ranger of Greenwich Park, a royal appointment. This was the Ranger's official residence for most of the 19th century, and it is also the Bridgertons' house in the Netflix series.
 
Where: Chesterfield Walk, SE10 8QX. Nearest station is Blackheath.
 
Opening hours: 11am to 4pm. The house will close on 31st October for the winter.
 
Entry: Free for English Heritage members. Adults £10.
 
Click here for more information.
The Tulip Stairs
The lowdown: The ornate wrought-iron Tulip Stairs in Inigo Jones's beautifully designed Queen's House in Greenwich are an original feature – and the first geometric self-supporting spiral stairs in Britain. They are also the location of the Rev RW Hardy's famous 'ghost' photograph taken in 1966, which appears to show two or three shrouded figures on a staircase – a phenomenon that has never been fully explained.
 
Where: Romney Rd, SE10 9NF.
 
Opening hours: 10am to 5pm. Nearest station is Cutty Sark DLR.
 
Entry: Free.
 
Click here for more information.
The Painted Hall – Old Royal Naval College
The lowdown: Here's another reason to visit Greenwich. Within the Old Royal Naval College, the breathtaking Painted Hall is a true masterpiece and one of the most spectacular Baroque interiors in Europe. It was designed by Sir Christopher Wren; its incredible ceiling and wall decorations were conceived and executed by the artist Sir James Thornhill. The epic paintings – often referred to as 'Britain's Sistine Chapel' – took 19 years from the start of the commission to their completion in 1726, and depict kings, queens and mythological creatures. The hall has recently undergone a two-year, £8.5 million conservation project.
 
Where: Old Royal Naval College, SE10 9NN. Nearest station is Cutty Sark DLR.
 
Opening hours: 10am to 5pm.
 
Entry: £12.50 valid for 12 months when you register on day of your visit.
 
Click here for more information.
Sir John Soane's Museum
The lowdown: This Holborn museum was once the home of Sir John Soane (1753-1837), one of the foremost architects of the Regency era, who built the Bank of England and Dulwich Picture Gallery. He was also a dedicated collector of paintings, sculpture, architectural fragments and models, books, drawings and furniture. Of special interest among the 40,000 fascinating objects he acquired is the sarcophagus of the Egyptian pharaoh, Seti I, which he bought in 1825 for £2,000 – a sum the British Museum had refused to pay. Today, the museum occupies three buildings on Lincoln's Inn Fields – each of which Soane acquired and rebuilt during his lifetime. 
 
Where: Lincoln's Inn Fields, WC2 3BP. 
 
Opening hours: Wednesday to Sunday, 10am to 5pm. Nearest station is Holborn.
 
Entry: Free.
 
Click here for more information.
The Kyoto Garden 
The lowdown: The beautiful Kyoto Garden opened in Holland Park in 1991. It was a gift from the city of Kyoto to commemorate the long friendship between Japan and Great Britain. A traditional Japanese garden, you'll find tranquil tiered waterfalls, a serene pond full of koi carp, stone lanterns, Japanese maple trees and you might even spot a peacock or two wandering around. This is the perfect place to relax, right in the heart of Kensington.
 
Where: Ilchester Place, W8 6LU. The nearest stations are Holland Park and High Street Kensington.
 
Opening hours: From 7.30am to 30 minutes before dusk.
 
Entry: Free
 
Click here for more information.
Dennis Severs' House
The lowdown: In 1979, American-born Dennis Severs bought a derelict Georgian house in Folgate Street in Spitalfields. Then he set about imagining what life would have been like inside for a silk-weaving Huguenot family who had lived there since it was built in 1724. He refurbished the ten rooms of his house, each in a different historic style (mainly from the 18th and 19th centuries) and arranged them as if they were in use and the occupants had only just left. There are displays of items such as half-eaten bread, and different smells and background sounds for each room. Through the generations of this imaginary family, the house chronicles the changing fortunes of the house – from a home for affluent merchants to a Victorian slum. For 20 years, Severs opened his house to visitors and hosted tours himself; the house was bought by the Spitalfields Trust shortly before his death in 1999. During lockdown, staff discovered some 200 cassettes featuring Severs' tours as well as his ideas and thoughts, and these have now been used to create a new tour for visitors. Some of the rooms will have a Christmas theme from 25th November to 9th January.
 
Where: Folgate Street, E1 6BX.
 
Opening hours: Tours are offered Thursday to Sunday. Nearest stations are Liverpool Street and Shoreditch High Street.  
 
Entry: £15 for a silent, self-guided tour. £70 for the new Dennis Severs tour. Booking is essential. 
 
Click here for more information.
Eltham Palace & Gardens
The lowdown: Nestled between Greenwich and Sidcup, this stunning site was an important royal palace from the 14th to the 16th century. Monarchs often stayed and hunted in the surrounding parks – Edward III lived here as a youngster and visited when he was king, and Henry VIII spent much of his childhood here. From the mid-17th century, Eltham Palace was neglected for hundreds of years until 1933, when millionaires Stephen and Virginia Courtauld leased it and built a grand Art Deco house. The exterior, built in a 'Wrenaissance' style, was partly inspired by Hampton Court and designed to complement the original Great Hall. The result: a unique marriage of medieval and Tudor palace with 1930s millionaires' mansion in 19 acres of award-winning gardens. 
 
Where: Court Yard, SE9 5QE. Nearest stations are Eltham and Mottingham.
 
Opening hours: 10am to 5pm.
 
Entry: £15.70 for an adult. Booking is essential.
 
Click here for more information.  
Horniman Museum
The lowdown: Located in Forest Hill, the museum first opened as the Surrey House Museum in 1890 within the Horniman family residence. The founder – Victorian tea trader Frederick John Horniman – wanted to "bring the world to Forest Hill" with his collection of artefacts and natural history specimens from across the globe. By the early 1900s, his collection had grown and was moved to a purpose-built site next door. This is the Horniman Museum where, today, you can still see displays of anthropology, natural history and musical instruments. The museum is also known for its large collection of taxidermied animals, including a statement walrus.  
 
Where: London Road, SE23 3PQ.
 
Opening hours: 10am to 5.30pm. Closed on Wednesdays.
 
Entry: Free. Booking is essential.
 
Click here for more information.
DISCLAIMER: We endeavour to always credit the correct original source of every image we use. If you think a credit may be incorrect, please contact us at info@sheerluxe.com.