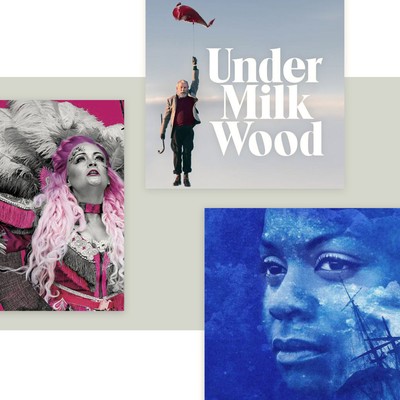 13 Top Theatre Shows To Book Now

Theatres have reopened in a socially distanced capacity, so be sure to book ahead for some of the biggest performances of the year. From new, big-name musicals to old favourites reimagined, here are the ones to look into.

The Two Character Play
Sam Yates has made a highly anticipated return to the Hampstead Theatre following his Olivier-nominated production of The Phlebotomist (2019). Kate O'Flynn and Zubin Varla star in his version of Tennessee Williams' The Two Character Play – an innovative, psychological thriller, which received its world premiere at the theatre in 1967. Fellow actors, and brother and sister Felice and Clare, have been on tour far too long. Abandoned by the rest of their troupe, all that's left is each other, an empty stage and an expectant audience. They will have to adapt accordingly and perform the only appropriate work in their repertoire: The Two Character Play.
Hampstead Theatre, Hampstead, NW3 3EU; until 28th August 
Visit HampsteadTheatre.com
Rockets & Blue Lights
On the set of a new film about Victorian artist JMW Turner, young actress Lou is haunted by an unresolved history. Meanwhile, in 1840, Londoners Lucy and Thomas try to come to terms with the meaning of freedom. Moving between London past and present, Rockets & Blue Lights embarks on a powerfully personal voyage through time. Directed by Miranda Cromwell and first staged at the Royal Exchange Theatre in Manchester, this astonishing and fiercely political new play by Winsome Pinnock was named winner of the 2018 Alfred Fagon Award. A must-see.
National Theatre, Upper Ground, South Bank, SE1 9PX; 25th August-9th October
Visit NationalTheatre.org.uk
Bach & Sons
Johann Sebastian Bach (the brilliant Simon Russell Beale) writes music of sensuous delight for his aristocratic patrons and gives voice to his deep religious faith in music for the church. He's touchy, he's fabulously rude, he has high standards (he stabs a bassoonist for playing badly) and he's constantly in trouble with his employers. Music is the family business – both his wives and all his children are musicians. His eldest son, Wilhelm, is brilliant, chaotic and paralysed by his father's genius. Tense, industrious Carl is less talented than his father but more successful. As the years pass, their gripping family drama provokes furious arguments about love, God and above all music. Nina Raine's beautiful, profound and funny new play – directed by Nicholas Hytner – is an ode to the art that draws us together.
Bridge Theatre, 3 Potters Fields Park, London Bridge, SE1 2SG; until 11th September
Visit BridgeTheatre.co.uk
Constellations
A quantum physicist and a beekeeper meet at a BBQ. They hit it off, or perhaps they don't. They go home together, or maybe they go their separate ways. In the multiverse, with every possible future ahead of them, a love of honey could make all the difference. This summer Nick Payne's beautiful and heart-breaking romance Constellations is revived in the West End with a twist: four different casts take turns to journey through the multiverse exploring the infinite possibilities of a relationship; each altering the play afresh. Starring Sheila Atim and Ivanno Jeremiah (until 1st August), Peter Capaldi and Zoë Wanamaker (23rd June-24th July), Omari Douglas and Russell Tovey (30th July-11th September) and Anna Maxwell Martin and Chris O'Dowd (6th August-12th September), these performances offer a mind-bending return to the theatre.
Vaudeville Theatre, 404 Strand, West End, WC2R 0NH; until 12th September
Visit NimaxTheatres.com
Anything Goes
Emmy-Award winning Megan Mullally and Tony and Olivier Award-winning Robert Lindsay are set to star in this major new production of Cole Porter and PG Wodehouse's classic golden-age musical, Anything Goes. Featuring an uplifting score of some of theatre's most memorable tunes – including 'I Get A Kick Out of You' and 'Anything Goes' – this is everything you want a big Broadway musical to be – ideal after more than a year away from the stage. Joining Mullally (Will & Grace) and Lindsay (My Family) as Reno Sweeney and Moonface Martin will be Felicity Kendal (The Good Life) as Evangeline Harcourt and Gary Wilmot (Chicago) as Elisha Whitney.
Barbican, Silk Street, Clerkenwell, EC2Y 8DS; 23rd July-17th October 2021
Visit Barbican.org.uk
Amélie The Musical
Following a critically acclaimed and sell-out tour in 2019, a Grammy nomination and three Olivier Award nominations, Amélie The Musical has arrived in London. The much-loved, five-time Oscar-nominated film is brought to life by a cast of talented actor-musicians and set to a critically acclaimed re-orchestrated score. Amélie, played by the Olivier Award-nominated Audrey Brisson (The Elephantom, Pinocchio, Pericles), secretly improvises small, but extraordinary acts of kindness discovering the possibilities around every corner and bringing happiness to those she encounters. When a chance at love comes her way, Amélie realises that to find her own contentment she'll have to risk everything.
Criterion Theatre, 218-223 Piccadilly, St James's, W1V 9LB; until 20th September
Visit AmelieTheMusical.com
Come From Away
Following continuous sold-out, record-breaking dates on Broadway, across the US and in Canada, Come From Away landed for its UK premiere at the Phoenix Theatre in 2018 – and has been a hit on the West End ever since. This joyous musical shares the incredible real-life story of the 7,000 air passengers from all over the world who were grounded in Canada during the wake of 9/11, and the small Newfoundland community that invited these 'come from aways' into their lives. As uneasiness turns into trust and music soars into the night, gratitude grows into friendships and shared stories become a celebration of hope, humanity and unity.
Phoenix Theatre, Charing Cross Road, Covent Garden, WC2H 0JP; until 12th February 2022
Visit ATGTickets.com
Happy Days
Happy Days has arrived at Riverside Studios for a landmark 60th-anniversary production. Brought together by a multi-award-winning creative team, with direction from Trevor Nunn and starring 'Beckett interpreter of the first rank' (Observer) Lisa Dwan as heroine Winnie, this is a spirited and triumphant revival of Samuel Beckett's classic play. Winnie and her husband Willie are stuck in every sense of the word. Endless days and nights pass by while they struggle on, with only each other for company. But ritual and a sunny disposition can only keep Winnie's head above the parapet for so long, before the futility of her and Willie's existence threatens to engulf her completely. This enduring, potent and lively tale of existential limbo presents a playful, but poignant, look at human strength and survival amid the most surreal of circumstances. 
Riverside Studios, 101 Queen Caroline Street, Hammersmith, W6 9BN; until 25th July
Visit RiversideStudios.co.uk
Romeo & Juliet
Established in 1932, the multi-award-winning Regent's Park Open Air Theatre is one of the largest theatres in London and resides in the beautiful surroundings of a Royal Park. Passionate about producing first-class theatre in an unusual setting, its al fresco credentials make it one of the most Covid-friendly theatres in the capital. Its 2021 season has kicked off with Kimberley Sykes' take on a classic: Romeo & Juliet, Shakespeare's timeless story of two young people torn apart by a divided society and forbidden love. If it's anything like its famed performance of Jesus Christ Superstar in 2016, we're expecting great things. Following that, we're excited about Rodgers & Hammersmith's Carousel. Featuring a score that includes 'If I Loved You' and 'You'll Never Walk Alone', Timothy Sheader directs with choreography by Drew McOnie.
Regent's Park Open Air Theatre, Regent's Park, NW1 4NU; until 24th July and 31st July-25th September
Visit OpenAirTheatre.com
Singin' In The Rain
Based on the classic Metro-Goldwyn-Mayer film, song-and-dance legend Adam Cooper reprises the iconic role made famous by Gene Kelly in Jonathan Church's critically acclaimed production of Singin' in the Rain. A hit at Chichester Festival Theatre and the West End, this charming show returns to the capital this summer. Andrew Wright's high-energy choreography and Simon Higlett's set design – which includes over 14,000 litres of water on stage every night – combine with the charm and romance of one of the world's best-loved films to create a thrilling production. The show features the same famous score, including 'Good Morning', 'Make 'em Laugh', 'Moses Supposes' and – of course – 'Singin' in the Rain'.
Sadler's Wells, Rosebery Avenue, Islington, EC1R; 30th July-5th September 
Visit SadlersWells.com
Under Milk Wood
A community is sleeping – and if you listen closely, you can hear their dreams. There's the retired sea captain yearning for his lost love, the landlady living in terror of her guests, a father who can no longer access his memories and a son in search of redemption. As they awake to boiled eggs and the postman, the residents of a small Welsh village juggle old secrets and new realities in this reimagining of Dylan Thomas's poetic masterpiece. Michael Sheen, Karl Johnson and Siân Phillips star and Lyndsey Turner directs. While Under Milk Wood is sold out for all performances, Friday Rush tickets will be available closer to each performance.
National Theatre, Upper Ground, South Bank, SE1 9PX; until 24th July
Visit NationalTheatre.org.uk
A Midsummer Night's Dream
Shakespeare's Globe is welcoming audiences back into its theatres for socially distanced performances. First up is a fiesta like no other as the theatre's raucous 2019 production of A Midsummer Night's Dream returns with piñatas, streamers, glitter and a cacophony of brass for its debut run of 2021. Four love-drunk teens, escaped from the confines of an oppressive regime, caught in a dispute of increasingly magical proportions. A posse of wannabe actors, determined to put on a play against the odds. The Fairy Queen and King at war, and one wild spirit hellbent on causing as much havoc as possible. What could possibly go wrong? This promises to be a "joyful explosion of vivid chaos", with direction by Globe associate artistic director Sean Holmes and music from Jim Fortune, performed by members of the Hackney Colliery Band.
Shakespeare's Globe, 21 New Globe Walk, Bankside, SE1 9DT; until 30th October 
Visit ShakespearesGlobe.com
Paradise
Director Ian Rickson returns to the National Theatre following his acclaimed, sold-out runs of Translations. A thrilling story of pride, glory and betrayal, writer, recording artist and performer Kae Tempest has forged an epic new take on the Greek legend, Philoctetes. Once a celebrated wartime hero, now a wounded outcast on a desolate island, when a young soldier appears, Philoctetes' hope of escape comes with suspicion. And as an old enemy also emerges, he is faced with an even greater temptation: revenge. The all-female company, with Lesley Sharp as Philoctetes, will perform inside a dramatic wasteland designed by Rae Smith (War Horse, Barber Shop Chronicles).
National Theatre, Upper Ground, South Bank, SE1 9PX; 4th August-11th September
Visit NationalTheatre.org.uk
DISCLAIMER: We endeavour to always credit the correct original source of every image we use. If you think a credit may be incorrect, please contact us at info@sheerluxe.com.