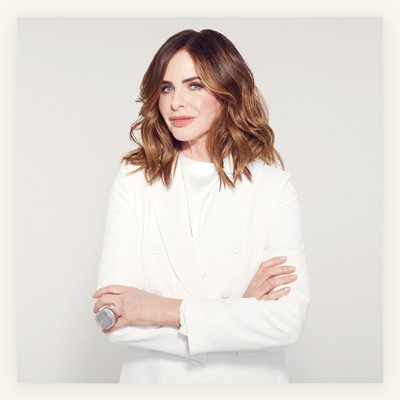 An Anti-Ageing Make-Up Masterclass, With Trinny Woodall

Have you stuck to the same beauty routine for years? If so, you could be making mistakes that are ageing you unnecessarily. Whether it's using unflattering shades, textures or neglecting your best features, we all need to adapt our routines as we get older. Here, Trinny Woodall shares her pro tricks to make you look and feel your very best…

Firstly, Re-Think Your Foundation 
A big mistake mature women often make is wearing heavy foundation. As you age, this is not only unflattering, but also quite suffocating for your skin. On top of this, thicker bases are mostly matte, which means they absorb the light and any oils on your face. The reason babies' and teenagers' skin always looks so healthy is because they have a certain level of oiliness in their skin, which is a sign of plump collagen. This is exactly why you don't want to get rid of shine entirely – instead, look to sheer textures and tinted creams that give an overall glow with just enough coverage, like my Trinny London BFF. It's a simple switch but it's guaranteed to take years off your face.
Use Mattifying Textures Sparingly
Once you've created a soft-focus glow with your foundation, you can then use a mattifying formula in small doses to fill in areas where you don't want shine. For instance, radiance should mainly be seen on your forehead, cheeks and the bridge of your nose – think about where the sun hits your face – while your eyes and chin don't need it. Try using a formula like my Miracle Blur on these areas. This will also contour and lend shape to your face. 
Ditch Any Powders In Your Make-Up Bag
One of the best switches you can make as you mature is to ditch powders and instead opt for cream formulas – that's across everything: blushers, bronzers and your foundation. This is important in my opinion, because as skin begins to show wrinkles and creases, powder can settle into them, which is incredibly ageing. Creams, however, have a dewy finish that bring about a joyful flush – they're far more wearable and easy to blend, too. They can also make you look like you follow a rigorous plumping skincare routine when, perhaps secretly, you don't. 
Look For Softer Shades 
Black eyeliner may be a staple in your make-up bag but, after a certain age, it just looks too heavy. As we get older, our eyelids aren't held up by the forces of gravity, so any colours that are dark will just make your entire eye area look smaller than it is. You want to keep your eyes looking bright and alert, so it's about ditching black and investing in softer tones – think deep browns, taupes or even navy. You'll still gain the drama and wide-eyed effect you're used to, but without any hardness. 
Get Crafty With Your Products 
Don't be afraid to mix and match your products – especially your highlighter and blusher if they are both cream-based. Blending the two gives your cheeks a plump, hydrated look without much fuss. My Trinny London Sheer Shimmer works really well for this and is very flattering for all skin tones. 
You want to keep your eyes looking bright and alert, so it's about ditching black and investing in softer tones.
Don't Neglect Your Eyebrows 
Many women may have over plucked their eyebrows when they were younger because the fashion back in the day was a thinner arch. However, neglecting them and leaving them undefined can be so ageing. Counteract this by building up your brows lengthways. This approach will give a more ageless effect, whereas if you overarch your brow, it will accentuate any lowering of the skin above your eye. Do this by using a brow pencil in feathered strokes to mimic the appearance of hair. Then, for best results, use a gel, running it against the natural growth of your brow and back again. 
Get Acquainted With Shimmer
So many rules get put out there when it comes to mature make-up. One is that if you have hooded or aged eyes, you can't wear shimmer – it's rubbish, you absolutely can. The key is where you place it. Try applying a small amount at the inner part of your eyes, but also directly onto the centre of your lids. These areas will reflect the light well and, in turn, lift your eyes and make them look wider apart for an opening effect. 
Place Your Concealer Carefully 
Concealer should always be applied to the skin before anything else – especially if you have bad melasma (brown spots). Use your ring finger and gently pat it onto any areas that need brightening or covering the most. Once you've finished this, apply a tinted moisturiser on top to bring everything together and to even out your coverage. If you still feel there are areas that need a touch-up, you can always go back in, using the same finger to gently pat on a bit more product. 
Pay Attention To The Outer Edge Of Your Lips
Many of us worry about our lips ageing, but we forget to focus on the outside area where lines occur. Again, use my Miracle Blur to fill in any creasing around the outer edges of your lips. This gives the illusion of fullness because it covers wrinkling fast, while adding definition, too. Another trick for more youthful-looking lips is to apply some shimmer in the centre of your mouth. You want to avoid placing any product to the side of your mouth where you may have fine lines, so keep the focus in the middle. This simple placement gives the effect of a soft, full and pillowy pout. 
Finally, Try A Scissoring Massage 
This isn't a make-up tip, but it warms up the skin, giving it more life and glow. Take your fingers and imagine two scissors facing each other. You then pinch the skin, going in and out in a gentle 'V' squeezing motion. This friction doesn't pull the skin, as you're going in both directions, but it brings oxygen to the upper epidermis, boosting regeneration and a tired, dull face. It's a must-do before applying any make-up – it brings about that healthy, rosy glow we all want.
Shop Four Of Trinny's Top Make-Up Picks For Mature Skin…
DISCLAIMER: We endeavour to always credit the correct original source of every image we use. If you think a credit may be incorrect, please contact us at info@sheerluxe.com.