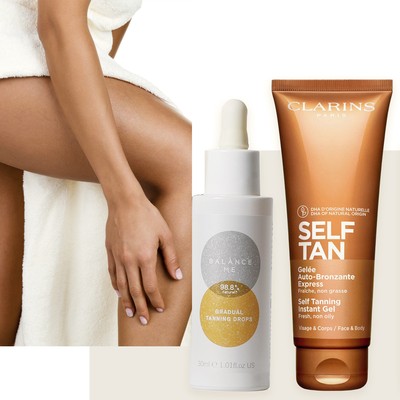 All Your Fake Tanning Questions Answered

Sun-kissed skin is flattering and mood-boosting, and despite breaking all the rules on sunbathing and never using a sunscreen in our youth, we all want to prevent further pigmentation and, at worst, skin cancer. That's where a good self-tanner comes in. New formulas and textures mean it's easier than ever to create a flawless, streak-free glow at home. We've asked Amanda Harrington to answer any fake tan queries you may have, as well as the best products to try…consider this your go-to cheat sheet.

Photography: ISTOCK/JOHN SOMMER
All products on this page have been selected by our editorial team, however we may make commission on some products.
Q: Is skin prep important before using fake tan? If so, how should you do it?
 
A: "It's incredibly important – especially for mature skin which can be quite dry. The biggest mistake people make when they fake tan is not spending enough time preparing their skin. We prep our face before applying make-up and our hair before styling it, so why wouldn't you do the same before a fake tan? Good prep will give you the best, long-lasting colour. Start by exfoliating the skin and getting rid of any dead skin cells. Look to scrubs that contain key ingredients like glycolic. These will work to renew the skin and keep it looking and feeling softer. This can feel like a scary step if you have dry skin – often people think of exfoliators as 'stripping the skin' – but most formulas are packed with rejuvenating ingredients to replace any moisture loss. A prepped canvas – for face and body – will allow your colour to blend and absorb much better."
 
 
Q: When it comes to choosing the right fake tan, what are the key tips?
A: "It really is essential that you work with your natural colouring and not against it. We've worked hard to ignore the traditional 'light, medium and dark' formulas on the market – people want to deepen their tan so head straight to dark, but this doesn't work for everyone. The tans we've created at Amanda Harrington are tonal, so they work with your natural complexion – you can, of course, layer up to go darker, but you're always working with your own colouring. This is important because no matter how deep the colour is, it always looks true to you and this is much more flattering. In terms of choosing between different products, let your current routine guide you. If you're a big moisturiser fan and want a slow release of colour, try a gradual tan. Or, if you want to streamline your make-up routine, opt for a facial tanner with benefits, like our Illuminating Face Mist."
 
 
Q: Can you apply fake tan without getting streaks, and also without it settling into wrinkles?
 
A: "My mantra is 'better by brush' and, honestly, it's a game-changer when it comes to minimising streaks. Firstly, apply your body tan using a professional, latex-free tanning glove. I prefer these to mitts as they won't absorb too much of your product and they are more hygienic. Then, to make sure you tan is streak-free and not settling into fine lines, follow up by using a big, fluffy body brush to buff the colour into your skin. When doing this, pay attention to your knuckles, feet and around your ankles. I've been using brushes to tan and contour the body for 18 years now – it's brilliant for addressing the curves and contours of your body. Plus, every expert uses some form of brush for the ultimate, professional finish – your hairdresser, nail technician and so forth. It's really no different when it comes to your body. It's great as it gives you optimum control, too."
 
 
Q: Speaking of feet & ankles – what is the easiest way to tan these smaller, trickier areas?
 
A: "Tan notoriously collects around areas like the feet, elbows and hands – this is incredibly common. All you need is a layer of hydration first, like our Ultra Balm. This acts as a barrier between your skin and the tan, preventing streaks and patchiness. It's brilliant for mature skin, too, which is prone to dryness. I also spent years developing a '3-step' method for those tricky, hard-to-reach areas. This includes tanning with gloves, followed by a good buff with a brush to ensure everything is even and smooth."
 
 
Q: Aside from prep, how else can you make your fake tan last longer?
A: "Try using gradual tans when you want to extend your colour. These have amazing moisturising benefits now, with added DHA to boost your colour and give your tan maximum longevity. If you don't want a DHA formula, avoid using oil-based products that aren't tan-friendly – these tend to strip colour instead of prolonging it. If you want to keep your tan going over a long period, try using formulas and creams that are full of hyaluronic acid. This ingredient will make sure your tan fades gradually as the skin stays hydrated. The nourishment it gives also means your skin is ready for you to add colour whenever you need a top-up."
 
 
Q: Is there a right time to apply your fake tan?
 
A: "Ultimately, there's no right or wrong time to apply sunless tanning products – it's all about personal preference. However, because a lot of tans develop gradually, most people prefer to apply them in the evening so that their colour develops as they sleep. Look out for transfer-free formulas – like ours – so that you don't wake up to tinted bedsheets."
We prep our face before applying make-up and our hair before styling it, so why wouldn't you do the same before a fake tan? Good prep will give you the best, long-lasting colour.
Q: Fake tan can go a little scaly – why does this happen?
A: "I can't emphasise this enough – a flawless tan that fades evenly all depends on a good canvas. This means prepping your face and body thoroughly before applying any colour. It's all about hydration and moisture. The skin needs to be full of hydration for products and tanning formulas to adhere properly. Look for products that contain aloe vera, almond and shea butters. These will keep your skin nourished and scaliness at bay as you maintain and prolong your glow."
 
 
Q: When it comes to tanning mature skin, do some textures work better than others?
A: "What's more important than texture is picking a sunless tanning product that can unlock your skin's potential. Hydration is paramount for mature skin – more so than texture – so look for formulas that contain hyaluronic acid for extra nourishment. It's important you try to use tan that's alcohol-free, too – formulas that use alcohol contribute to dryness and premature ageing of the skin. I recommend looking after your skin in-between tan days with our Ultimate Face & Ultimate Body Miracle Moisture Creams. Both are packed with skin-loving ingredients that plump, smooth and moisturise."
 
 
Q: If you struggle to reach your back, what is your top tanning advice?
 
A: "This is probably my most-frequently asked question. While tanning your back will always be that bit harder, there's definitely a few options you can try to find what works best. The obvious one is asking a friend or family member to help out – ask them to use a brush as it's less messy and gives them more control for a streak-free finish. If you're flying solo, be sure to stand in front of a full-length mirror. I recommend using a mousse formula, pumping it directly onto the back of some gloves, then use the back of your hand to spread the tan evenly. Once you've finished, minimise the risk of patching and streaking by using a brush to buff the tan onto your skin, pushing the colour in deeper. Unlike mitts, our latex-free Tanning Gloves don't absorb product – they're more hygienic, too."
 
 
Q: What about when fake tan goes wrong – can this be fixed easily?
A: "Prevention is always better than cure, so as mentioned, moisturised skin is best for a seamless, longer-lasting glow. However, if you do hit some bumps in the road, a soak in a hot tub with a good quality bath oil will help to slough uneven tan away. I recommend using a glycolic body scrub too – this ingredient causes DHA (fake tan's active ingredient) to separate on the skin, so it lifts much quicker. If you want to remove tan off your face, try our Skin Face Advanced Glycolic Facial Pads which allow for precision and remove misplaced colour fast."
 
 
Q: Finally, should you use the same fake tan on your body as your face?
 
A: "Sunless tanning products for the face are often developed with added skincare ingredients, so it's best to stick to dedicated face formulas and dedicated body formulas. Our Illuminating Face Mist has added CQ1O, hyaluronic acid, collagen and vitamins A and E – all with amazing moisturising, firming benefits that you'd miss out on if you used your body tan on your face. Plus, its fine mist atomiser design makes it easier to apply and blend for a fool proof finish that will give you the confidence to forego any foundation."
 
 
Follow @AmandaHarrington and visit AmandaHarringtonLondon.com for more tips and bookings. 
 
Shop Our Edit Of The Best Fake Tan's
DISCLAIMER: We endeavour to always credit the correct original source of every image we use. If you think a credit may be incorrect, please contact us at info@sheerluxe.com.