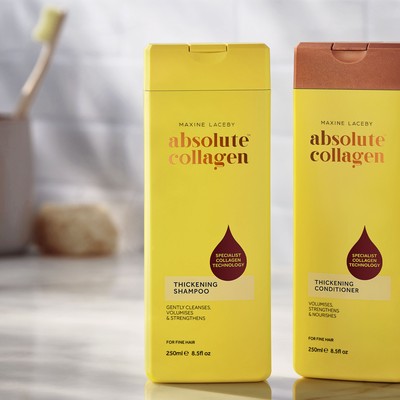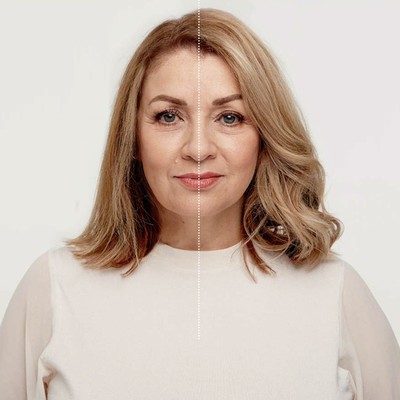 Two Products That Prevent Thinning Hair

It's pretty shocking to find out that hair thinning affects nearly half of all women. But just because the condition is common, doesn't mean it isn't stressful. In short, it can be a real confidence knock. Thankfully, there are topical remedies that can help. Cue Absolute Collagen, whose new shampoo and conditioner duo is proven to thicken hair by up to 20%. It's the first UK collagen complex formula developed by top hair experts for speedy results – here's how it works and why it's so effective.

Created in partnership with ABSOLUTE COLLAGEN
Led by brand co-founder Maxine Laceby, Absolute Collagen hit the market in 2017 with its daily marine collagen drink, which provides the most concentrated doses of the protein to promote smoother, more hydrated, youthful looking skin, plus glossier, thicker looking hair, and stronger nails. Having sold in excess of ten million doses, it's safe to say the brand is well-versed in the efficacy of collagen and now it's using this key ingredient once more – in haircare. The inspiration for the innovation came from the brand's community, who shared their concerns around thin, fine hair as they aged. In direct response to this feedback, the brand set about providing a breakthrough solution where collagen, as always, was the hero product.
Maxine worked with top, world-renowned trichologists from Harley Street to develop this ground-breaking new shampoo and conditioner – something that sets these products apart from a rather crowded market. Eva Proudman, chairman of the Institute of Trichologists UK, used her clinical expertise with thousands of patients to develop the haircare offering, and led the clinical trial into these products' powerful results. She explains: "Both the shampoo and conditioner have been developed to ensure that volume, thickness, density and manageability are all improved. We have taken a scientific approach to developing the formulas, using soluble collagen to wrap the hair cuticle in a protective layer to deeply nourish it (providing shine and gloss), while collagen amino acids penetrate the cortex of the hair to add volume and thickness. The shampoo gently but effectively cleanses both the hair and scalp, without causing any dehydration or drying. A balanced scalp is important in preventing problems with hair growth. It works to remove dirt, preparing the hair for the collagen-boosting conditioner which then locks in hydration and smoothness immediately, in turn boosting shine." 
It's all in the ingredients. As the UK's first collagen-based haircare formula, both the shampoo and conditioner are real standouts, working to strengthen hair from the inside out. Eva continues: "Our hero ingredients for volume are collagen amino acids and soluble collagen. This clever combination means  that while the amino acids penetrate into the cortex of your hair, the soluble collagen works externally to protectively wrap the hair cuticle in a thin film, forming a protective shield around each strand. The result? Shiny, easy to manage hair that feels fuller and thicker, and looks visibly healthier."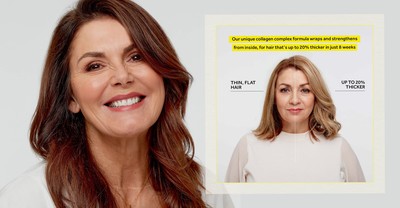 Everyone can benefit from the new shampoo and conditioner regardless of hair type, though some may see more noticeable benefits, as it has been specifically formulated for thin and fine hair types Eva continues: "Those with thin, fine hair who would like to increase their hair's thickness and volume will benefit the most. It can, however, be used by all and, as it's so conditioning – thanks to the collagen (though this does mean it isn't suitable for vegetarian or vegans) – it's particularly good for those with bleached or dyed hair." Results are rapid, too. Clinically proven to thicken hair by up to 20% in just eight weeks, testers found the duo got to work fast at increasing hair's density for a thicker and fuller appearance. "Some people have even reported changes in just a few days but, typically, you'll see fuller, denser hair within two to four weeks. It's all about consistency – the more you use it, the better the results," adds Eva.
While good haircare is key, it's important to take a 360 approach to target thin hair. Eva finishes: "To achieve healthy hair, you also need to focus on your inner self. Diet plays a vital role in keeping hair healthy, so eat a balanced diet with plenty of protein. Try using the Collagen liquid supplement alongside your shampoo and conditioner, too. It can support your diet, delivering 8g of protein alongside the amino acids that hair needs to be healthy, so it's a great addition." 
What Fans Say About The Shampoo & Conditioner…
"All I can say is WOW, it's amazing, my hair is in the best condition it's been in since I don't know when. The breakage I suffered each time I washed my hair has completely stopped,the shedding is at a minimum and my hair is noticeably thicker and has such a great shine and texture to it,before I started to use it my hair was dull and lifeless. Needless to say I have most definitely subscribed to this amazing product and will only ever use this from now on, thank you!" – Patricia
"I don't have bad hair days anymore. Previously it would bring me down." – Tiffany
"I have super fine hair and I am loving the shampoo and conditioner, it's getting thicker every day." – Susie
To find out more and to shop the products, head to AbsoluteCollagen.com – just £28 when you subscribe to both products, or £34 as a one-time purchase. 
DISCLAIMER: We endeavour to always credit the correct original source of every image we use. If you think a credit may be incorrect, please contact us at info@sheerluxe.com.