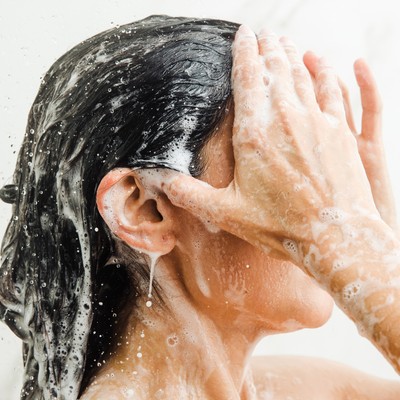 What To Know About Thinning Hair & How To Tackle It

More than half of all women experience thinning hair, especially post menopause. The good news is you can fight and minimise the problem with topical treatments. Cue Color Wow, whose Color Security Shampoo is proven to rid build-up on your scalp and maintain healthy hair growth. Working just like a skin cleanser, it nourishes your scalp and hair for healthier-looking strands, better bounce and shine. Here's why it stands out, plus some key things to note on hair loss...

Image: STOCKSY/ANNA TABAKOVA
Created in partnership with COLOR WOW
Firstly, Hair Thinning Explained…
During and post menopause, up to 40% of women experience hair loss. Though alarming, there are several ways you can improve the situation. Color Wow's chief chemist, Dr Joe Cincotta, explains: "One of the biggest causes of hair loss is your genetics, but also your hormones and unfortunately both are unavoidable. Eating a healthy diet and keeping your scalp clean and healthy can, however, slow the process down. When you start to see hair loss occur, seek advice from a dermatologist or trichologist immediately – don't want until it's too late. Be very gentle and kind to your hair and use products that say – and are proven to – increase the anagen (growth phase) of your hair. That includes products like Color Security Shampoo."
The Background On The Color Security Shampoo…
The Color Security Shampoo has been thoughtfully created by a team of experts to ensure hair thinning is minimised and prevented as much as possible. Multi award-winning, the formula is proven to deliver results gently and swiftly. Dr Joe expands: "It's not what we put in it that boosts its efficacy, it's what we left out. It contains no sulphates and the formula has been clinically proven to gently cleanse the scalp and leave nothing behind. The testing and thought process behind the formula is the idea that there are bad consequences to build-up on your scalp – too much can relate to hair loss and thinning, which is why we created this innovative product. It's important you avoid shampoos that claim to thicken, de-frizz and condition, and promise more than a simple cleanse of your hair and scalp. The formulas that promise the earth are likely to leave behind ingredients such as silicones and conditioning agents that build up on your scalp, leading to irritation and hair loss."
As Dr Joe mentions, the formula has been created without any thickening, anti-frizz or conditioning agents, which you typically find in most shampoos. Leaving these out of the formula guarantees a 100% clean wash that removes every trace of dirt and build-up. This means you never have anything left behind on your hair or scalp post-use that can block your follicles and, in turn, prevent growth.
The more you use it, the more it closes your hair's cuticles too, sealing in moisture and protein to boost your strands suppleness, flexibility and overall health. Acting like a skin cleanser, but for your hair, it benefits from Japanese amino acids which buff away dirt and simultaneously soften hair – they're also responsible for the satisfying, creamy lather that builds. Another benefit? The shampoo doesn't use any essential oils, which can cause your colour to yellow and darken. Instead, it helps to prevent any colour you have from fading for at least 20 washes.
"Believe the hype. This is a 10/10 product and it does exactly what it promises."
"Love this shampoo. It makes my hair so soft and I swear my colour lasts for longer because of it. I have fine hair but this shampoo bulks it up and it properly cleanses my scalp."
"This shampoo actually works. I can go days without washing my hair as it prevents it from becoming too oily. It gives my hair a nice shine and better bounce too."
"I have fine, oily hair, but this shampoo gives it better body and controls grease. I can go a second day without washing it when I use this. It's a godsend."
Takeaway Notes On Hair Thinning…
"Your hair will physically become thinner in diameter (finer) as you age. It's important you're always gentle and kind to your hair and that you minimise chemical processing," finishes Joe. "Use volumising products that don't contain alcohol, salt or hard resins to ensure nothing is left on your scalp, blocking follicles and preventing hair from growing. Finally, never comb or brush your tangled hair while it's wet. Pulling on wet hair will cause irreversible damage to your strands."
Along with seeing an expert, it's worth adopting some new habits, too, if you're concerned about hair thinning. That includes using a low heat setting while styling your hair and leaving dye and colouring to the professionals. Experts also recommend giving your hair a break from tight hairstyles such as a bun or a snatch ponytail. Finally, always keep your hair as hydrated and conditioned as possible to keep it supple, free from breakage and to give it a healthier, fresher appearance overall.
---
Try Color Security Shampoo with 25% OFF throughout August – Hair Loss Awareness Month.
Use code SHAMPOO25 at checkout*
---
Shop Now At UK.ColorWowHair.com
*25% off code for Color Security Shampoo (250ml), valid through 31/8/23. Cannot be combined with other promotional codes. Available on UK.ColorWowHair.com only, while stocks last. Does not apply to orders before 14/8/23.
DISCLAIMER: We endeavour to always credit the correct original source of every image we use. If you think a credit may be incorrect, please contact us at info@sheerluxe.com.