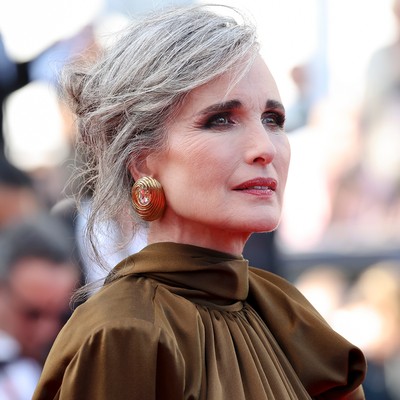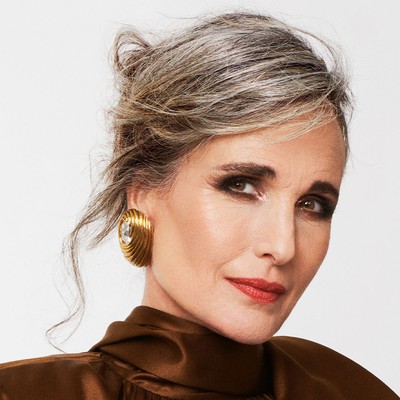 Beauty Lessons With… Andie MacDowell

Andie MacDowell starred in some of the most popular films of the 80s and 90s – including 'Four Weddings and a Funeral' – and her fans have always admired her unique sense of style and positive approach to ageing. As the longest-serving brand ambassador for L'Oréal Paris, Andie – now 65 – sat down with The Gold Edition to chat about how she stays healthy, her best beauty advice and why we all need to accept women with silver hair.

All products on this page have been selected by our editorial team, however we may make commission on some products.
My favourite way to stay healthy is to hike. It's my 'thing' and I try to do it every day to keep fit. You'll often find me at the top of Griffith Park in Los Angeles, but I will hike everywhere and anywhere. It makes me feel good, as does a green juice, which I try to drink daily too. 
SPF is the product I get through the most. Because I'm always outdoors, I slather the stuff on. I am so conscious of it and I try to protect my skin every way that I can. My go-to is L'Oréal's new Vitamin C UV Fluid SPF50+. I love the texture – it's dense and really covers you, but it doesn't look ghostly, nor do you see it on the skin.
I learnt to avoid the sun at a young age. Growing up in South Carolina, everyone would lie in the sun without any protection. My mother would yell out the window: "You'll ruin your skin." It definitely stuck with me, but I can't ever sit still either and that's served me well in terms of never being patient enough to lie out in the sun for hours. I'm grateful for it as I don't think my skin would be in the condition it is now had I sunbathed extensively. 
You'll never find me without peppermint balls. I carry the doTERRA ones around with me wherever I go. They are sugar-free, just pure peppermint, and they leave the best taste in your mouth and keep you feeling fresh.
Having fun with make-up is important. I love a red lip and the only tweak I now make when wearing one is to go for more of a balm. I don't like it too matte as I have a lot of little lines in my lips, so I try to keep some moisture in there. I love that, if you're just wearing a t-shirt and a pair of jeans, you can apply a red lip and immediately look glamorous. It's very French and looks good with my silver hair. L'Oréal's Satin Lipstick in Volcanic is my current go-to.
Seaweed facials are one of the weirdest treatments I've had. Years ago, when I lived in New York, there was this fad for getting these types of treatments. I went to this woman who made all these concoctions that were natural and full of promise to change your skin – I quickly realised it was all boloney and, honestly, I didn't see any results at all. That said, I am always listening to people and what new innovations are up and coming, both in wellness and skincare. 
Woods Incense Sticks are my favourite smell. They remind me of a lovely spa – sometimes I rub a little onto my skin and I get so many compliments.
I used to love getting my hair coloured in my 50s, I felt I looked better, but SOMETHING CHANGED and I had a feeling SILVER WOULD SUIT ME, my skin tone, my eyes, but also the ESSENCE OF WHO I AM.

Eyebrow pencils are my repeat buy. I have so many and my favourites are those with a very fine, thin tip. I was once told to always use a brow pencil that's a bit lighter than your own brows, and it's definitely the tip I'd pass onto others. Otherwise, it can look harsh if you use what you think is the same colour as your natural brows – so, always go lighter for a natural effect. I also love a good blusher. These two products are all I need to feel good. A bit of colour instantly perks me up and makes me feel more confident. I love to switch up my blushers seasonally and I try out so many, but often use a rose or peachy tone.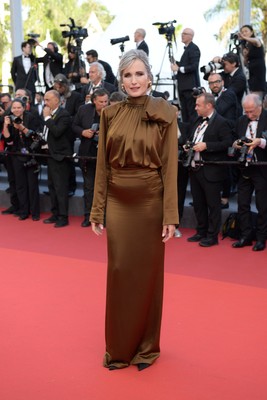 I use heaps of conditioner and hair treatments. Over the years, I've learnt how to care for my hair because I've seen what happens if you don't. When I go to events, like Cannes and other red-carpet festivals, there is so much heavy heat styling which I never do at home as it really takes its toll. I'll always go back and take the time to use reparative bonding treatments that help seal moisture into my hair follicles. It takes a bit more time but, trust me, it's worth it and makes all the difference in the world to the condition and appearance of your hair. I love a good purple conditioner too; they work well to enhance silver colours.
Internal dialogue is key to feeling good. That's where beauty begins, with yourself. I always watch what I think about myself and I try not to put myself down – something that, as women, we often do. I believe it's essential to be kind to yourself.
When I wanted to go silver, I was discouraged from doing so. Lots of people told me it was too soon, but you should always trust your instincts – you know how you feel about yourself far better than others. My daughters, however, encouraged me and said I looked badass – nobody ever told me that before and I liked that. I used to love getting my hair coloured in my 50s, I felt I looked better, but something changed and I had a feeling silver would suit me, my skin tone, my eyes, but also the essence of who I am. What's important is while it's right for me, it's not for everyone – my two sisters will go out of this world with fresh hair colour and that's fine. Just know what you want as an individual. 
I am thankful everyone embraced my hair colour. Nobody made fun of me as that would have been painful – not just for myself but for women, for all of us! I am glad to see it's opened a conversation around silver hair and it's becoming accepted – as it should be. You would never question a man if he turned grey or silver. We have the choice to do what we want; everything is an option and that's very freeing.
Facial massage is my favourite treatment before an event. It relaxes all the muscles in your face and gives you a great glow. If you think about it, we constantly present ourselves with our faces, using certain expressions that can tighten and fatigue our facial muscles. It's why it's key to loosen things up – when someone's face is relaxed, you know about it and can sense it. I prefer someone doing it for me – who doesn't? But day to day, I do use my own hands and fingers to apply pressure to my skin and to try and tone it. My jaw is big and I often work on this area with my hands – this area is home to some of the strongest muscles in our body, so it pays to work at it.
Finally, I believe your skin is a by-product of what you put into and onto your body. Because of this, I am hugely into moisturiser – I've never not applied it daily. I love to have healthy skin, especially as I don't wear a lot of make-up day to day. Drinking water is essential too. We all know that, but it's the difference between dull and plumper, healthier-looking skin. 
---
Shop Andie MacDowell's Essentials
DISCLAIMER: We endeavour to always credit the correct original source of every image we use. If you think a credit may be incorrect, please contact us at info@sheerluxe.com.