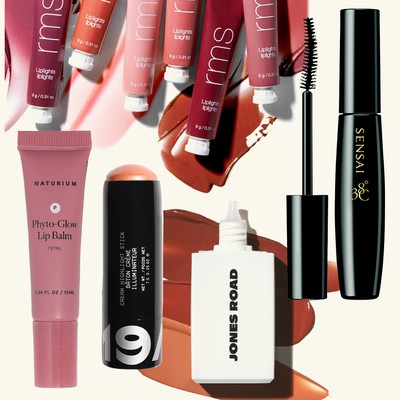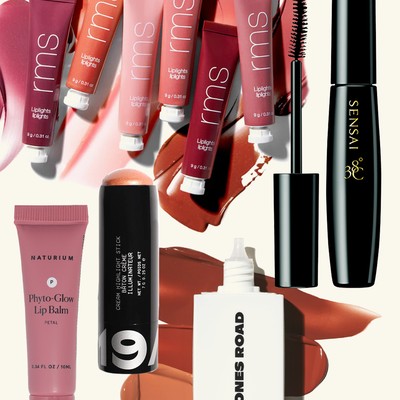 8 Insiders Share Their Favourite Make-Up Products For Summer

Looking to update your make-up bag with some reliable recommendations? We asked eight in-the-know beauty experts which products they swear by in the warmer months. From glow-boosting cream bronzers and flattering highlighter sticks to the best products offering sheer, lightweight coverage, here's what they told us…

All products on this page have been selected by our editorial team, however we may make commission on some products.
RMS LIP LIGHTS & ILIA TINTED SERUM & SURRATT RELEVEE LASH CURLER
Loved By: Tahira Herold, Make-Up Artist
"ILIA's Tinted Serum is a personal favourite come summer. Not only does it even out your skin tone, it also offers a little protection with coverage that enhances your complexion and makes it look quenched."
"For lips, I'll be taking RMS' Lip Lights everywhere with me over the summer. They are glossy and balmy, giving lips a youthful, healthy glow with just a hint of colour. I swear by Suratt's lash curlers too. They are the best for helping you to create lift and definition, so that when you apply mascara, the result is big, fat juicy lashes."
Follow @Tahira_MakeUp
---
SENSAI MASCARA 38°C VOLUMISING MASCARA & WESTMAN ATELIER VITAL SKIN FOUNDATION STICK
Loved By: Mary Greenwell, A-List Make-Up Artist
"I am never without Sensai's clever mascara. The name says it all – this doesn't budge unless you're in 38°C temperatures which, presumably, most of us avoid. You can swim in it, sweat in it: it doesn't move. I've used this mascara for years and I'll never deviate. It washes off with just a warm cloth too. Expect lots of volume and definition."
"For foundation, my summer go-to are these sticks by Westman Atelier. The colour range is so good – each shade looks natural, and you can easily mix and match them to adapt to any skin colour changes from the warmer weather. They work nicely as a concealer too, minimising redness and dark spots."
Follow @MaryGreenwell
NATURIUM PHYTO-GLOW LIP BALM & 3INA THE 24HR AUTOMATIC EYE PENCILS
Loved By: Ingeborg Van Lotringen, Beauty Journalist & SL The Gold Edition Contributor
"Let's start with the lip balms – they are the best. Apparently, they went viral and, for once, I can see why. They make my lips feel twice as plump and have just the right level of stickiness to last a long time, but without being too gloopy or tacky. The finish is that of a seriously glossy lip gloss, but they feel like proper balms, with shea and cocoa butter to nourish. They also have a subtle vanilla flavour which doesn't irritate my lips. The colours are wonderful – not too flimsy but still sheer, with a lovely red, grape, baby pink and fleshy pink in the mix, and a clear one too. Instant favourites for summer."
"Second on my list are the 3INA's Eye Pencils. Finding pencils that stay put is a nightmare – it's one thing when you're young with taut eyes, but once lids become looser, make-up gets put through its paces and colour melts off much more easily. I've tried dozens that say they last, but don't. I'm delighted to have found some that do and that aren't hideously expensive. These pencils stay put for hours, apply smoothly and come in 12 shades that range from your classic black and dark brown, right through to colourful – but sophisticated – greens and silvers. Game-changers."
Follow @TheOGBeautyBoss
ROSE INC SKIN ENHANCE LUMINOUS TINTED SERUM & 19/99 CREAM HIGHLIGHT STICK IN MIELE
Loved By: Millie Kendall OBE, CEO of The British Beauty Council & Brand Founder
"For lightweight coverage in the summer, I love Rose Inc's Luminous Tinted Serum. I wear shade 060 or 070. It's a great, sheer skin enhancer. It gives me such a healthy glow, evens out my skin and feels sufficient in terms of coverage over the summer. It also wears well with SPF and sits comfortably on my skin in warmer weather."
"In the summer, I don't use as much blush as I normally do, as my skin tends to have a bit more colour. I prefer to use a light contour and soft highlight. So I apply 19/99's Cream Highlight Stick in 'Miele', I'll use the 'Kave' shade around my jawline for some definition and 'Miele' just above, where I'd normally place my blush. Both provide the soft definition I love and the colours blend well with a tan too."
Visit BritishBeautyCouncil.com
---
ERBORIAN BB CRÈME & HOURGLASS AMBIENT LIGHTING EDIT PALETTE
Loved By: Alice Hart-Davis, Beauty Journalist & The Tweakment Guide Founder
"I am deeply attached to Erborian's fabulous BB Cream which glides on beautifully and obliterates dark shadows and pigmentation marks from old spots. It also minimises all signs of redness, yet looks so fresh and glowy. It also contains an SPF20 which is a bonus for the summer months." 
"My other summer essential is Hourglass' Ambient Lighting Edit Palette. It's what I call my 'one-and-done' product. It gives me the sort of glow that causes people to ask me which tweakments I've been undergoing. I've used it right down to the pan and can't recommend it enough."
Visit TheTweakmentsGuide.com & Follow @AliceHartDavis
JONES ROAD GEL BRONZER & SUPERGOOP! UNSEEN SUNSCREEN
Loved By: Bobbi Brown, A-List Make-Up Artist & Jones Road Founder
"My new gel bronzer is a make-up bag essential for me this summer. It's so sheer and gives your complexion a healthier, dewy finish compared to that of a powder bronzer which can settle into fine lines. You barely feel it on your skin, but you get the look of a natural, believable suntan." 
"A second summer favourite for me is SuperGoop's! Sunscreen. We all know it's a must everyday – not just in summer – and this is one of my favourite formulas for more mature skin. It's so hydrating and applies as a clear, smooth fluid, leaving your complexion with a satisfying, velvety finish that never interferes with make-up either."
Follow @JustBobbiDotCom & Visit JonesRoadBeauty.com
---
NARS BRONZING CREAM & CHARLOTTE TILBURY BEAUTIFUL SKIN SUN-KISSED GLOW BRONZER
Loved By: Ruby Hammer MBE, Make-Up Artist
"I am loving the new wave of cream bronzers – specifically these two by NARS and Charlotte Tilbury. They are so easy to use and bring immediate warmth to your complexion. Both have extended shade ranges, too, for deeper skin tones. I always recommend using a bronzer that's a couple of tones deeper than your own – sweep it over the areas the sun naturally hits for seamless definition. It should give you a nice, healthy radiance, without changing your skin colour."
Follow @RubyHammer
HAUS LABS TRICLONE SKIN TECH MEDIUM COVERAGE FOUNDATION
Loved By: Joy Adenuga, Make-Up Artist
"I'm currently taking this new foundation everywhere with me. It has an in-built primer, so you don't need extra products to smooth out your skin – this does it all. I always look to products that multi-task in the summer as I like the bare minimum on my skin. This base makes you feel as though you have nothing on, but still have a flawless, smooth-looking complexion. I love that it has fermented arnica inside too which targets irritation and redness."
Follow @JoyAdenuga
DISCLAIMER: We endeavour to always credit the correct original source of every image we use. If you think a credit may be incorrect, please contact us at info@sheerluxe.com.