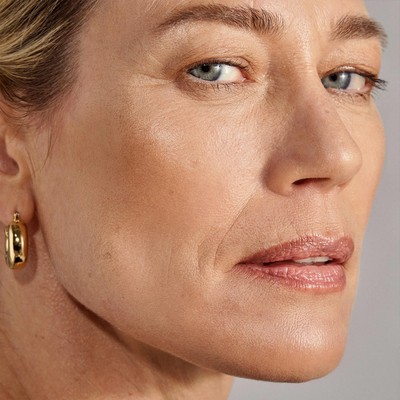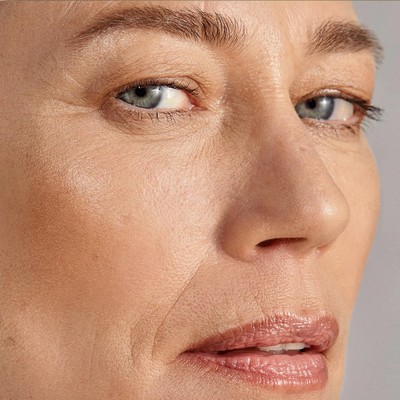 Make-Up Masterclass: How To Cover Pigmentation & Dark Spots

Dark spots and discolouration – known as hyperpigmentation – can pop up on your skin as a result of sun exposure, hormones, inflammation and genetics. It's a common issue that will plague over 90% of us at some point, especially as we age. The good news is that, with some of the new make-up formulations and a few savvy techniques, it's never been easier to cover them up. We asked two make-up artists to share their top advice for a smoother-looking complexion.

Image: MERIT BEAUTY
All products on this page have been selected by our editorial team, however we may make commission on some products.
Firstly, Always Prep Your Skin
"Skin prep for dark spots is paramount. You need to create a smooth and flawless canvas, but without over-greasing your skin. Look for a non-oily primer that will create a great base for make-up and concealer to adhere to, while keeping skin fresh, but never shiny." – Lynne Sanders, cosmetic scientist & CEO of Cosmetics à la Carte
"Prepping the skin with good skincare is key, regardless of what you're doing make-up-wise – especially as you mature and your skin becomes dry. You want to take the time to prep, so that when you do cover darker areas, you don't look like you're just caking product on." – Ruby Hammer MBE, make-up artist
"The tried-and-tested route for great coverage is to always apply your foundation first so that you can then see which areas actually need concealer – and it's all about application in thin, light layers. You then want to take a high-pigment camouflage concealer in a tone that is slightly warmer and more golden than your natural skin tone. Layer this gently and lightly on your key areas of hyperpigmentation. While light layers are key, so too is a thorough blend – make sure you take the time to really massage or buff the formula into your skin so it 'melts' and doesn't just sit there – it will last much longer this way, too. Take your time to blend at each stage of application, don't rush, or it will just slide and begin to flake." – Lynne
Approach Colour Correction Differently
"Concealer and foundation aside, you can also use colour correctors to smooth out dark spots. The only difference is these should be applied pre-foundation, as the base then sets everything in place. My advice? Not everyone needs a colour corrector and often foundation and concealer will suffice, but they do work well for specific uneven tones. For instance, green is great at reducing redness; purple will counteract sallowness and boost radiance; while terracotta and peachy colours reduce blue and darkness from the skin – like dark spots and under eye circles. If you opt for a colour corrector, take a step back first. Look at your face and figure out which areas really need it. Often, it's not the whole face, but just specific areas – think under your eyes, around the nose and perhaps over the chin." – Ruby
Maintain Glow With Your Coverage
"It's one thing covering your darker spots and pigmentation, but you need to balance this with maintaining glow, or your face will look flat and one-dimensional. To do this, use brightening and hydrating skincare under your coverage. This will give your skin better glow and allow you to get more from your foundation and concealer. I would also lean towards using a luminous cream or liquid blush on top of any coverage. This will give your skin a natural, youthful sheen – the Westman Atelier Lit Up Sticks are amazing for this." – Jessica
While you might want to COVER THEM UP, it's IMPORTANT to REMEMBER we all have SKIN ISSUES at some point, especially as we MATURE.

"Primers are such an underrated step – especially when it comes to concealing dark spots. A good one can help to smooth your skin and hold onto foundation and concealer. Some primers even help to even out the skin tone enough, so you may find you don't even need extra on top. I recommend applying primer with your fingers to make sure it melds and blends into your skin – you'll get a more flawless finish. Hourglass' Veil Mineral Primer SPF15 is my go-to, as is Rare Beauty's Always An Optimist Pore Diffusing Primer." – Jessica
Treat Eye Darkness Differently
"If you get pigmentation and darkness around your eyes, take a slightly lighter approach. My first piece of advice for darkness in this area is to hydrate it. This is essential for ensuring any foundations or concealers you use layer well. You want to keep this area smooth so that it's more receptive to coverage. When you apply concealer, start in the corner of your eye and lightly apply the first layer by tapping it into your skin with your finger. Let it settle and then set it into place with a very light dusting of loose powder – my favourite is Laura Mercier's. You can push this into place with a flat brush or mini beauty sponge. I really rate Trinny London's BFF Eye for concealing darkness in this area." – Jessica
"To cover dark spots, you want a formula that has concentrated pigments, but is still stretchy and blendable. It's why I often recommend cream concealers. Our Perfect Cover Camouflage Concealer is so bouncy and smooth in texture, it's not only easy to use, you just need a tiny amount to cover dark spots." – Lynne
"Creams are definitely best when it comes to concealer, but you want to make sure they have enough coverage. My go-to is Laura Mercier's Secret Camouflage – it's a best-seller for good reason. Available in numerous shades, it's malleable, smooth and gives skin an instantly perfected finish. Creamy foundation sticks – like the ones from Hourglass – are great too, as you can scribble them on and blend with your fingers for ease." – Ruby
"The one thing people get wrong when covering dark spots is they don't spend enough time finding the right concealer shades. The concealer you use on your skin needs to differ to the one you use by your eyes. For the latter, you want light coverage that's a bit more radiant and for the former, you need a thicker, matte consistency. It's why I recommend investing in two concealers for different jobs. When it comes to picking the right shade for your face, make sure it blends seamlessly with your foundation, so you completely cover pigmentation. You don't want it to be darker or lighter than your foundation – this will only emphasise the pigmentation." – Jessica
Finally, Remember Dark Spots Are Normal
"While you might want to cover them up, it's important to remember we all have skin issues at some point, especially as we mature. Thankfully, there are now many 'skinfluencers' embracing their skin for all it is – no matter the texture or colour. The likes of Winnie Harlow and Sasha Pallari have shown how important it is to love the skin you're in. Use make-up as a tool to help you feel better, but never to completely cake up your skin or hide it entirely." – Ruby
Visit CosmeticsaLaCarte.com, Instagram.com/RubyHammer & Instagram.com/JessicaKMakeUp
---
The Insiders' Picks For Flawless Coverage
DISCLAIMER: We endeavour to always credit the correct original source of every image we use. If you think a credit may be incorrect, please contact us at info@sheerluxe.com.