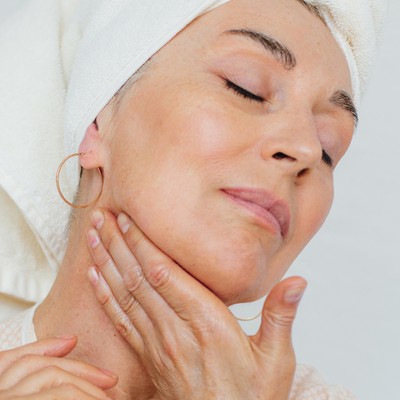 The Next Level Anti-Ageing Skincare Experts Want You To Try

Our collagen levels deplete by up to 1.5% every year so, as we age, wrinkles and loss of firmness is unavoidable. Thankfully, certain products can help – notably Clinique's best-selling Smart Wrinkle Correcting Serum. Designed to overhaul your complexion and leave it looking smoother, with less fine lines, it's easy to see why industry insiders love it. Ticking all the right boxes, it repairs, resurfaces and re-plumps, working in tandem with the brand's new Smart Wrinkle Correcting Eye Cream to keep skin looking and feeling youthful. Interested? Here's why you should be.

Images: STOCKSY/STUDIO FIRMA
CREATED IN PARTNERSHIP WITH CLINIQUE
 
A one-stop-shop, Clinique's Smart Clinical Repair Wrinkle Correcting Serum is still relatively new, but its impressive results have seen it soar in popularity and garner rave reviews. Designed to repair, resurface and promote better collagen within the skin, it works for all, but specifically those wanting to tackle the visible signs of ageing – including issues like deep-set wrinkles. Created to work alongside it, Clinique has launched its Smart Correcting Eye Cream which works to further bolster the skin's natural collagen production gently in this delicate area. With 50% of women claiming to have issues with the skin around their eyes, and 60% believing it's worsening due to increasing screen time*, this silky cream helps to keep the entire area feeling and looking stronger, as well as more moisturised and, in turn, with the right application, less puffy. 
*Mintel Skincare Report, 2021
 
It's all in the ingredients. The Smart Clinical Repair Wrinkle Correcting Serum contains three that are widely recognised as the most effective and reliable – think peptides, hyaluronic acid and retinoid. These work together to fight fine lines, stimulate better collagen production and get rid of dead skin cells, too for renewed glow and bounce. Clinique Dermatologist, Dr. Emma Wedgeworth explains the benefits: "Active ingredients such as retinoids help to boost the natural function of your skin. They ensure it works more efficiently and whip everything into shape. There's several types of retinoids out there, but the one in the Clinique Smart Serum is called 'hydroxypinacolone retinoate.' In simple terms, this is a very stabilised form, so it doesn't degrade in sunlight, meaning you can use the serum twice daily with no irritation." 
On top of this, you'll also find Clinique's unique CL1870 Peptide Complex inside. "Inside both the serum and eye cream is this one key ingredient that works harder than most," explains Ida Wong, Clinique's Vice President of Global Product Development. "It's a mouthful but, put simply, it works to help your skin's natural bounce and youthful appearance. It's also proven to lift sagging skin and increase its dermal density. Both products also use hyaluronic acid which helps to hydrate, plump and provide a comfortable feel that everyone craves, but especially those with mature skin. As for the eye cream, this contains something called Sigesbeckia Orientalis, which works to prevent the breakdown of natural collagen within your skin, so you're consistently preserving what you have, in order to smooth out fine lines and areas like crow's feet. The two products together are a must-try for those serious about upping their anti-ageing regime."
 
Just like other serums, use this one twice a day, both morning and night. It's worth noting that a little goes a long way – just one to two pumps will cover your entire face. You can take it up to the orbital bone (the bone that sits under your eye) but no further as the inclusion of retinol can cause irritation around the thin skin in this area. That's where the cream comes in, which has been ophthalmologist tested, so you can rest assure its safe for even the most sensitive eyes, as well as contact lens wearers. Using your ring finger, press a small amount in around your eyes, including your eyelids. The best bit? Its balmy, emollient-rich texture means it sets fast and doesn't slip and slide, so you get immediate hydration as well as a well-prepped skin for anything else you apply on top.
Active ingredients such as retinoids boost the natural function of your skin. They ensure it works more efficiently and whip everything into shape.

 
Unlike similar products on the market, both Clinique's serum and eye cream were designed to give a 360° approach. The creators of each formula didn't want to hone in on one just one aspect, with dermatologists regularly stating that, for great skin, your skincare needs a multi-dimensional approach. That's why both formulas focus on everything – from sagging, loss of elasticity, uneven texture to issues like dullness – using the key ingredients mentioned above. Better still, the silky textures are incredibly gentle and fragrance-free, and deliver results without any irritation so that all skin types – even the most sensitive – can reap the wrinkle and skin-smoothing benefits.
*Consumer testing after 10 days on 358 women.**Consumer testing after 4 weeks on 150 women.
***Consumer testing after 4 weeks on 151 women.
Shop The Innovative Duo Below...
DISCLAIMER: We endeavour to always credit the correct original source of every image we use. If you think a credit may be incorrect, please contact us at info@sheerluxe.com.