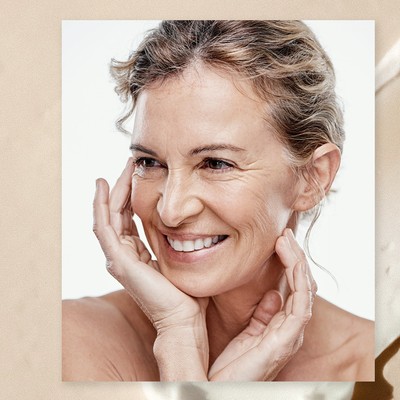 Skincare In 2022: What's New & What's Essential

A host of new anti-ageing products and treatments are set to dominate the beauty industry this year. Want to know more about the impending rise of hormone-based skincare, the steer away from at-home devices or the renewed focus on key hydrators and collagen-boosting ingredients? We asked four experts what we should be looking out for in 2022…

Images: iSTOCK/PEOPLE IMAGES | UNSPLASH/KELSEY CURTIS
All products on this page have been selected by our editorial team, however we may make commission on some products.
TREATMENTS TO HAVE ON YOUR RADAR…
High Intensity Focused Ultrasound (HIFU)
"HIFU is the latest version of pre-existing sound wave technology which creates deeper collagen remodelling for lifting and firming," explains Debbie Thomas, skincare specialist and founder of D.Thomas Clinic. "Set to be popular for 2022, you can combine it with other treatments, including micro-needling for smoother-looking skin. It's an easy treatment resulting in a refreshed and healthier complexion within just a few months. The best bit is that it can also vary in intensity depending on your needs and skin tolerance, so it can be tailored to suit your comfort levels. If you want to start with baby steps, that's not a problem – something is better than nothing." 
Lumecca IPL & Profhilo 
"Probably the most effective – and non-invasive treatment – set to be big for 2022 is Lumecca IPL," says Dr David Jack, aesthetic doctor and founder of Dr David Jack Clinic. "It can treat pigmentation and vascular issues within the skin in a small number of quick treatments. It also gives consistently good results – especially for mature skin. In terms of what will continue to be popular from 2021, it's got to be Morpheus8 and Profhilo. Patients are continuing to search for effective treatments that are anti-ageing and improve their skin condition, but without the risk of looking overdone. Both these treatments lead the way in this field and will continue to in the year ahead. Other treatments that are similar include Sunekos and Nucleofil – they will appear in this space this year, but the former two remain the leaders." 
Radiofrequency Facials 
"The trend of having a treatment menu for younger skin versus mature skin is outdated now," confirms Dr A J Sturnham, a GP specialising in dermatology. "In my clinic, we have patients in their 30s having similar treatments to those in their 60s and one that's set to be popular for 2022 is a radiofrequency facial. Not only is it great for boosting collagen, but it's also a great treatment to try if you want to start off slowly. Why? Because it feels like a relaxing hot stone massage and immediately lifts and tightens your skin while giving you 12 weeks of new collagen remodelling – it's pretty impressive. More than ever, the treatment technology being used is second to none, supporting your skin's anatomical and physiological needs, working hard to slow down or reverse signs of skin ageing." Dr Dil, aesthetic doctor and founder of DrDil.co.uk agrees: "Radiofrequency triggers collagen production incredibly well. It's a treatment that is all about the long-term – results will continue to get better within three to six months after the course of treatments. The hope is that after a course of treatments that use radio frequency – such as Evoke – all you will need is basic skincare maintenance." 
The trend of having a treatment menu for younger skin versus mature skin is outdated now.

SKINCARE RULES & INGREDIENTS TO KNOW…
Less Will Continue To Be More
"Fewer steps but more challenging products are a big theme for 2022, explains Debbie. "Simplicity is key for mature skin especially, and mixing and matching products should be taken out of the equation – after all, we're not chemists. Look to multi-tasking products that tackle overall skin health, as well as targeted issues. Another big thing for this year is microbiome skincare – these formulas support the skin's barrier function and promote better ageing of the skin, too – ceramides are a key ingredient, so look out for them when you buy products." Dr A J agrees: "Our skin enjoys consistency and simplicity. Find a skincare routine that you love and stick to it. The only thing to bear in mind is extra exfoliation as we age – this is because in our 50s and beyond, one cell renewal cycle can take anywhere from 60-90 days, so you're left with tired, dull looking cells for longer. This worsens in colder months, so make it your New Year's resolution to build in some products that keep cell turnover healthy – even just twice a week will help." 
SPF Remains A Given
"If you're not already using SPF daily, then make it your resolution for 2022," continues Debbie. "It is hands down your best age management tool. Up to 70-80% of skin ageing is due to UV-induced cellular damage. We're not just talking brown spots either – sun damage results in sensitivity, redness, broken veins, open pores, wrinkles and a loss of plumpness." Dr David adds: "It's the easiest way to boost your collagen and elastin levels. Make sure SPF is in your routine daily – it's the most important step in skin maintenance."
Hydrating Ingredients Are Still At The Forefront
"It's no secret that from our 50s and beyond, we lose our levels of oestrogen dramatically," says Dr A J. "Key ingredients that support this loss include ceramides, peptides and hyaluronic acid – all of which continue to be popular ingredients for 2022. Each one is essential for counteracting hormonal changes and locking in moisture to your skin. With hydration in mind, you can also expect to see a move away from foaming cleansers – these can be quite harsh and a no-go for mature skin anyway. Try using hyaluronic acid toners (these are set to be popular this year) straight after you've cleansed your skin, preferably with a cream or gel-based cleanser. These help to rebalance your skin's natural PH levels, while locking in hydration, too. On top of this, nourish from the inside out as well. I recommend taking a marine collagen supplement that contains ingredients like hyaluronic acid, phytoceramides and vitamin cofactors – all are essential for repairing collagen and connective tissue. My go-to is Beauty Complex by Revive Active." 
Hormone-Based Skincare Will Become Mainstream
"The idea of supporting your skin's hormone balance topically is set to become more mainstream in 2022," continues Dr A J. "I expect to see more and more brands using plant-based oestrogens (phytoestrogens) and ingredients such as Methyl estradiolpropanoate (MEP), a topical oestrogen cosmeceutical thought to be helpful for oestrogen deficient skin in the perimenopause and menopausal years. I have been compounding oestrogen creams for my patients for many years but there are some brands, such as Empelle, with MMP-based formulations. I have seen mixed results with my patients, but like many things with skin, there are multiple factors to be addressed to help reduce skin ageing and this is just one part of the puzzle. So, yes, I'd say they're worth trying." 
The Rule Of 3 Will Still Be A Gold Standard
"As mentioned, simplicity is key for 2022," adds Debbie. "Which is why I recommend sticking to the basic three-step routine that is preached by skin experts globally. This includes a daily use of an antioxidant (think vitamin C), an SPF and a retinol in the evening. You can add and swap other products in but keep to these three constantly for healthy skin and a guaranteed more youthful appearance as a result. Of course, this routine won't give you an overnight transformation, but it's the most-proven to work for long-term skin management." 
If you're not already using SPF daily, then make it your resolution for 2022.

MYTHS TO IGNORE IN 2022…
MYTH #1: At-Home Devices Are Highly Effective
TRUTH: They Can Really Vary & Often An Expert Is Best…
  
"2021 was the year for at-home devices but, being honest, I am yet to find a home radiofrequency or laser device that gives you good results," says Dr A J. "I think these treatments should be left to the experts, especially if you're wanting to see results quickly. There are always new machines being launched with big promises for youthful skin but, before you invest, I recommend seeing a specialist you trust for thorough guidance." 
 
MYTH #2: Regular Facials Do Nothing
TRUTH: Bespoke Treatments Can Have A Huge Impact
 
"I see plenty of older clients every six to twelve weeks for bespoke laser skin treatments," finishes Debbie. "I can hand on heart say that many say their skin looks better now than it did when they were in their 40s or 50s. Regular facials – especially bespoke ones that include laser – can have a huge impact on rejuvenating and repairing skin. Yes, they can be expensive but, if you're willing to invest, they will have a huge bearing on your complexion, as well as overall anti-ageing results." 
 
MYTH #3: Face Oils Work Best To Hydrate
TRUTH: They Aren't As Neccesary As Other Formulas
 
"Expensive facial oils are a hype that, in my opinion, you can ignore," says Dr Dil. "Mature skin especially doesn't need oil on the surface of the skin. It needs to be hydrated, sure, but primarily – and where possible – from within. It's why Profhilo, as mentioned above, and acid-based treatments and skincare are so beneficial." 
 
MYTH #4: Gua Sha Tools & Facial Rollers Give Long-Lasting Results
TRUTH: Results Are Temporary 
 
"Gua sha tools and facial rollers became hugely popular in 2021, with more people seeking at-home treatments," says Dr David. "But I think it's safe to say their results are so temporary that you're better off booking professional treatments for the type of results you're looking for – be it tightening, toning or sculpting. Yes, they feel nice, but if you want effects that last, I have to say these aren't for you." 
 
Up The Ante This 2022 With These Expert Skincare Picks...
DISCLAIMER: We endeavour to always credit the correct original source of every image we use. If you think a credit may be incorrect, please contact us at info@sheerluxe.com.