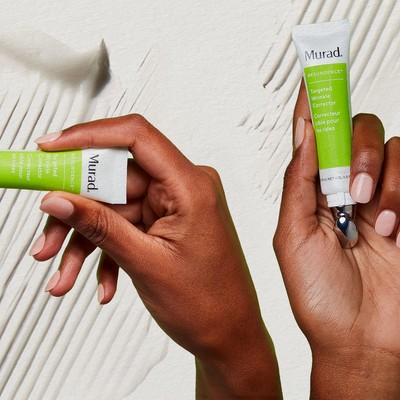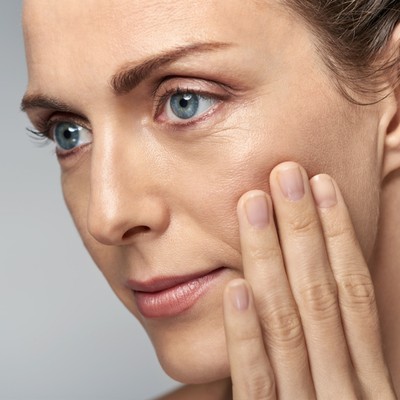 Murad's Wrinkle Correcting Serum: Why It's Worth The Hype

Wrinkles and fine lines are part and parcel of the ageing process but that doesn't mean you can't minimise their appearance. While you're unlikely to get rid of them altogether without expensive treatments, topical remedies offer an affordable alternative. Cue Murad's new Wrinkle Correcting Serum, which has been racking up near-perfect reviews thanks to its impressive smoothing results. Interested? This is why you should be…

Created in partnership with MURAD SKINCARE
The Background & Hype Explained…
You know a product is good when it sells out in two weeks! That's the case with Murad's new Targeted Wrinkle Corrector. Since it hit shelves in the USA in December it has racked up rave reviews at breakneck speed, and now it's available in the UK. Why? Because the before and after results are seriously impressive, as are clinical trials that show over 100% of testers instantly saw a visible improvement in their wrinkles. Designed to work like an 'instant filler,' it floods skin with moisture and plumping ingredients to hydrate, smooth and reduce the appearance of wrinkles. Even the most deep-set lines can benefit with regular use – think of the type that appear around the forehead, nose, lips and eyes. 
How It Works To Smooth Fine Lines…
Like all Murad products, the Correcting Serum uses only the best ingredients to yield speedy results, but also ingredients that address wrinkles from the past, present and future. These include hyaluronic acid which works to fill skin with moisture, while hexapeptide gradually boosts your skin's elasticity and tightens everything up – ideal if you're starting to see a loss of volume within your skin. Finally, the addition of plant-derived squalane – a key skin hydrator – prevents future wrinkles from forming by strengthening the skin and bolstering its resilience. Acting fast, you'll immediately see skin has a tauter appearance, with better bounce and suppleness, too. We also love how hydrating it is – you can expect skin to feel smooth and plump for the whole day post-application with renewed radiance and glow. 
Why It's Flown Off The Shelves…
Using bioavailable ingredients (which means it's readily absorbed by the skin), the serum has immediate line-filling effects. In short, that's the biggest reason this product has had such a big impact on so many – the results are not only satisfying, but instantaneous. One reviewer said: "I was expecting to wait at least a month to start seeing results but was pleasantly surprised to see immediate results." Another was equally impressed: "I saw reduced wrinkles around my crow's feet and folds around my nose and mouth, as well as slight spot reduction." It's these testimonials – alongside the ease of use – that have led this product to fly off the shelves recently. Plus the fact that many have said it mimics the effects of clinical treatments for fine lines and wrinkles at a fraction of the cost – albeit with results that aren't as long-lasting.
How To Get The Most From It…
For the best results, Murad recommends applying this serum on your forehead, over your 'elevens' – that's the two lines between your eyes when you frown – and around your eyes, lips and nose using the metal side of the applicator. Apply it morning and night for the best results, always to dry skin so it can absorb easily. If your complexion needs a further boost, follow up with the brand's Retinol Youth Renewal Serum for an extra dose of anti-ageing benefits, then lock in all the benefits with the Retinol Youth Renewal Night Cream. Both work well in tandem to deliver plumping effects but without any irritation or downtime, visibly minimising lines and wrinkles, while evening out skin tone for a smoother, firmer-looking complexion.
Designed to work like an 'instant filler,' it FLOODS SKIN with moisture and plumping ingredients to HYDRATE, SMOOTH and REDUCE the appearance of WRINKLES.
Designed to work like an 'instant filler,' it FLOODS SKIN with moisture and plumping ingredients to HYDRATE, SMOOTH and REDUCE the appearance of WRINKLES.
*Instant results are not permanent.
** Glabella lines, AKA elevens. Results reported by trial participants in a clinical study.
Shop Now At Murad.co.uk
DISCLAIMER: We endeavour to always credit the correct original source of every image we use. If you think a credit may be incorrect, please contact us at info@sheerluxe.com.